The iPhone 15 Pro and iPhone 15 Pro Max are finally here, and they are, in Apple's own words "the most advanced iPhones" ever. Marketing platitudes aside, the new iPhone 15 Pro series is definitely interesting. So, if you have pre-ordered or bought a brand new iPhone, you must be looking for a good screen guard to protect its display. Well, here are the 5 best screen protectors for iPhone 15 Pro and iPhone 15 Pro Max that you can buy.
1. Belkin Screen Force UltraGlass2
The Belkin Screen Force UltraGlass2 is at the top of this list because it is by far, the strongest screen guard you can get for your iPhone 15 Pro. It's rated to be 2.7 times stronger for drop protection than regular tempered glass, and it comes with 9H hardness rating, which means you won't end up scratching it easily. What's more, it comes with an easy align tray for bubble free installation as well. It's one of the thinnest screen guards out there at just 0.29mm, and it doesn't compromise on touch sensitivity or display clarity.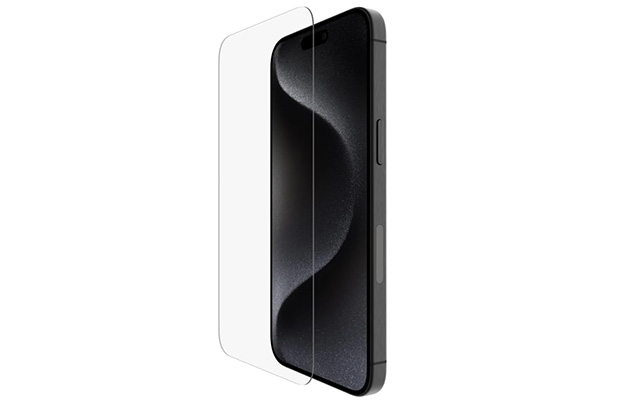 Buy the Belkin Screen Force UltraGlass2: iPhone 15 Pro ($39.99), iPhone 15 Pro Max ($39.99)
2. Spigen GlasTR EZ FIT (2 Pack)
The Spigen GlasTR EZ FIT is the perfect fit (no pun intended) for people who want to be a 100% sure that they can install the screen guard on their iPhone without any bubbles creeping in. This tempered glass offers 9H hardness rating, so you can safely store your iPhone along with your car keys (you monster) and not get it scratched. What's more, since this is a 2 pack, you will have an extra one lying around whenever you need to replace your old screen guard.
Buy the Spigen GlasTR EZ FIT: iPhone 15 Pro ($17.99), iPhone 15 Pro Max ($17.99)
3. ESR Armorite Screen Protector with Camera Protectors (3 Pack)
If you're worried not just about scratching your screen, but even your camera lenses, first of all, who are you? and second, the ESR Armorite screen protector might be your best bet. This pack of 3 screen guards for iPhone 15 Pro and Pro Max features 9H hardness, 110-lb impact resistance, and an oleophobic coating to ensure your display remains free of smudges and dirt. It also comes with camera protectors that you can install on your iPhone's camera to keep it safe from scratches, and the easy alignment frame makes installation a breeze.
Buy the ESR Armorite Screen Protector: iPhone 15 Pro ($23.99), iPhone 15 Pro Max ($24.99)
4. JETECH Privacy Screen Guard
The JETECH privacy screen guard is perfect for people who hate it when others try to sneak peeks into their iPhone. This tempered glass screen protector has a 9H hardness rating, and comes with hydrophobic and oleophobic coating to keep your display looking nice and clean. However, do note that privacy screen guards noticeably lower the brightness of your iPhone's screen, so you will have to compromise on that front.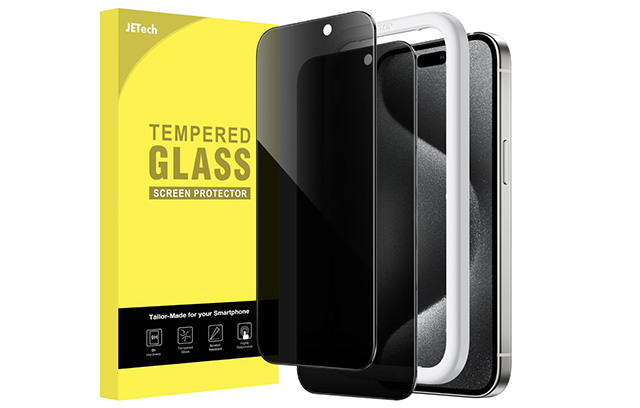 Buy the JETECH Privacy Screen Guard: iPhone 15 Pro ($9.99), iPhone 15 Pro Max ($9.99)
5. Supershieldz Anti Glare Matte Screen Protector (2 Pack)
The iPhone 15 Pro and Pro Max might feature incredibly high brightness outdoors, but I assure you, the sun is brighter. If you often find yourself squinting at your iPhone screen outdoors, or getting annoyed by reflections while playing your favorite iPhone games, this screen protector is for you. It's matte, so reflections are an obvious no-no, and it's a 9H rated tempered glass, so scratches are also a no-no. Further, the hydrophobic and oleophobic coating means that your iPhone screen will remain nice and clean.
Buy the Supershieldz Anti Glare Matte Screen Protector: iPhone 15 Pro ($7.99), iPhone 15 Pro Max ($7.99)