With more than 52 million daily active users (DAUs), the Roblox community is huge and growing. That means it can be hard to make your mark in the community or to truly fit in. But fortunately, following the trendy Roblox Slender outfits is a fun way to make your experience memorable. You just need to buy Robux, grab the perfect outfit, and jump into your favorite game. Your looks will take care of the rest and help you stand out among countless other players. Having said that, let's explore the best Roblox Slender outfits you can get in 2022!
Top Roblox Slender Outfits Ideas
Since creating a Roblox character involves individual components, you might have to purchase some of them. So, before you dive in, make sure to add some Robux to your account. Moreover, if you aren't aware of Slender outfits in Roblox, it's a goth dressing style inspired by the internet myth of the Slender Man, and players across the world are adopting it.
The Roblox Slender features a character with dark clothes alongside an extra thin and tall body. To learn more, use our dedicated guide on what is a Roblox Slender and where the trend originated from. With that said, let's take a look at some of the best outfits.
1. Squad Ghouls: Drop Dead Tedd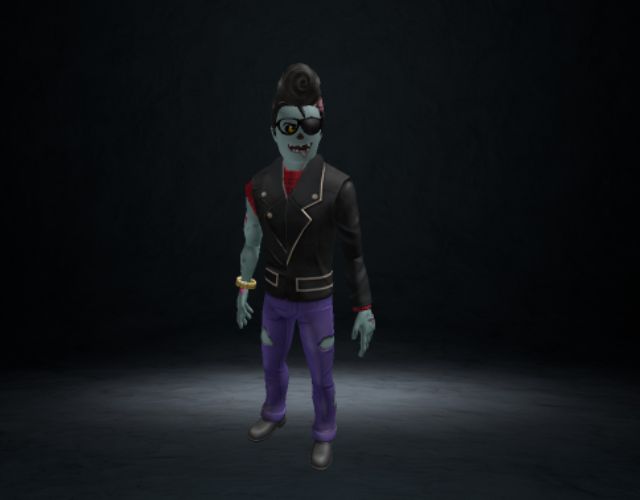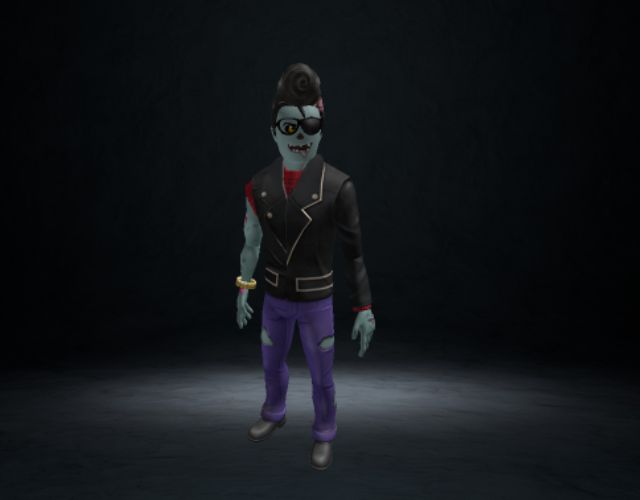 Starting with the simplest option, we first have an interesting official costume of a ghoul named Tedd. They wear modern torn clothing, an eye patch, and have a zombie-like appearance. But the best part is that Tedd's Roblox Slender outfit is completely free. On a regular day, Tedd would appear like a disco zombie, but with the Slender and think body, it can be a true nightmare.
Get the Squad Ghouls Bundle
Cost: FREE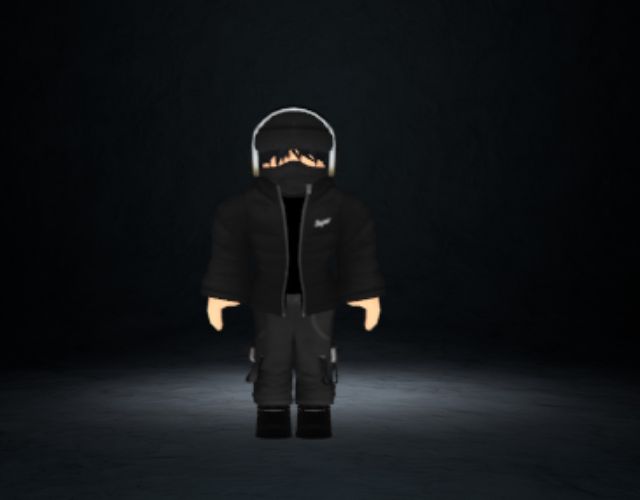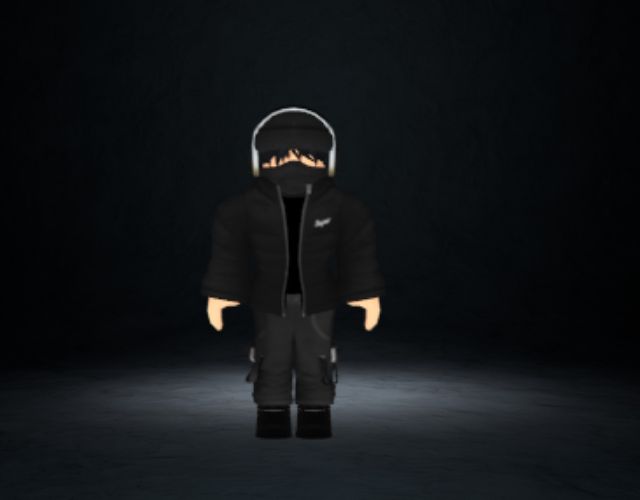 Not all Roblox Slender outfits have to be scary, some can just be mysterious, and this is one of them. You have an all-black outfit with cool earphones, a beanie, and a face mask. It is not only stylish but also perfect to be the main avatar of the players, aiming for a stealthy and emo vibe.
Required Items:
Beanie Headphones Black
Roblox 2.0
Black Hooded Puffer Jacket
Black Short Parted Hair
Black Cargo Pants
Tactical Sniper Mask
Black T-shirt
Cost: 335 Robux
3. Samurai Skeleton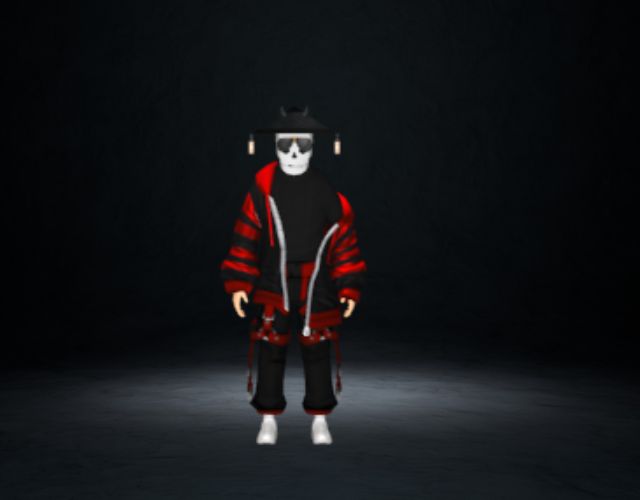 Generally, Slender outfits in Roblox are inspired by western dressing styles. But that doesn't have to be the case at all times. Breaking the stereotypes, this outfit is inspired by Japanese samurai-like costumes and streetwear-like clothing. The red-black color combination and the straw hat further add to the aesthetics. However, to top off the scary vibes, the outfit features a skull head, which reflects Slender Man's blank face.
Required Items:
Knit Sweater – Black
Plastic Jacket Black Red
Utility Pants Black Red
Skelly – Head
Squad Ghouls: Drop Dead Tedd torso
Denny legs
Ralph Lauren Pilot Sunglasses Black
Devil Straw Samurai Hat
Summer arms
Cost: 585 Robux
4. Ghost Samurai Girl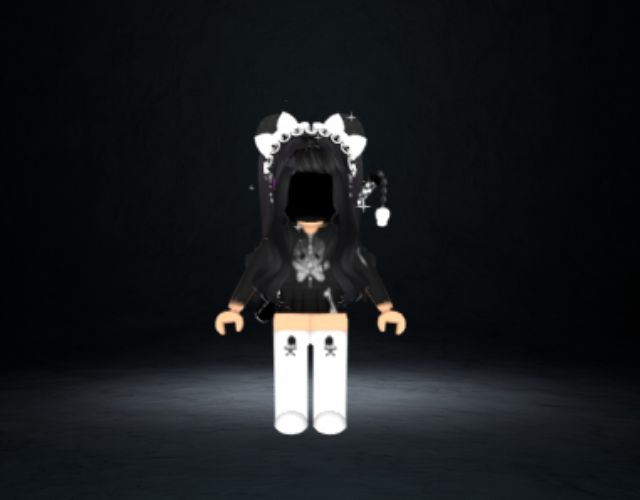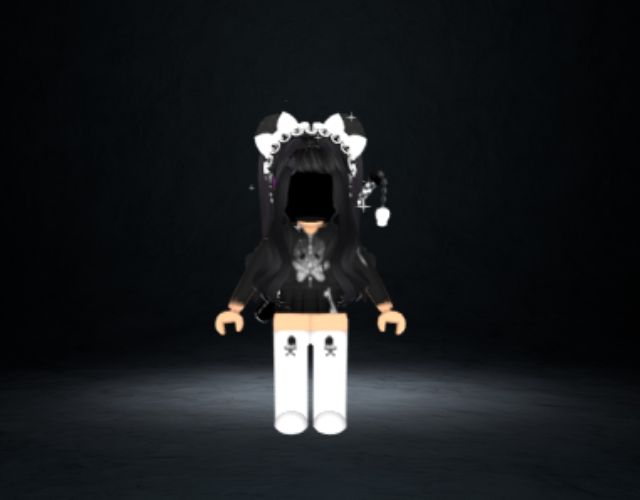 While we are on the topic of samurais, it's time to bring the girl Roblox outfits into the mix. This Slender outfit gives you a goth-style outfit along with an Anime hairstyle and a goth bat in Roblox. Along with the traditional thin Slender style, the outfit also features trendy long socks, a blank Slender face, and stylish headphones.
Required Items:
~ Shirt
~ Pant
Cutsie Goth Bat
Cuddly Teddy Bonnet Black n White
Black Wavy Simplistic Hair
Black Anime Princess Ponytails
Void Mask
Pink Punk Rock Headphones
Bow Braids & Wispy Bangs
Floating Silver Sparkling Shine
Cost: 629 Robux
5. Dark Shattered Demon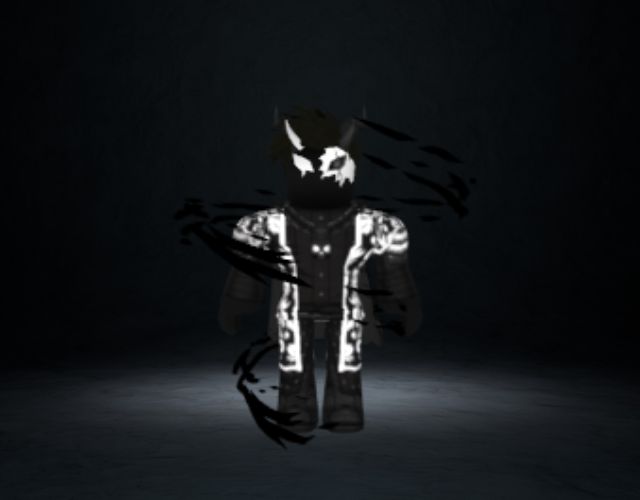 If you are a fan of some of the best Roblox horror games, you are going to love this Slender outfit. It combines Slender Man's dark style with contrasting demonic white features to give you a fresh and scary look in Roblox. And then, as if that wasn't enough, there is also a cyclone-like aura effect to keep other players away from your demonic presence.
Required Items:
Dark Shattered Demon
Dark Shattered Demon Eye
Void Skull Chain
Black and White Council Robe Shirt
Black and White Council Robe Pants
Black Flame Aura
Black Flame Aura – Top
Cape of Darkness
Wicked Devil's Horns
Beautiful Hair for Beautiful People
Robloxian 2.0
Cost: 525 Robux
6. Devil with Horns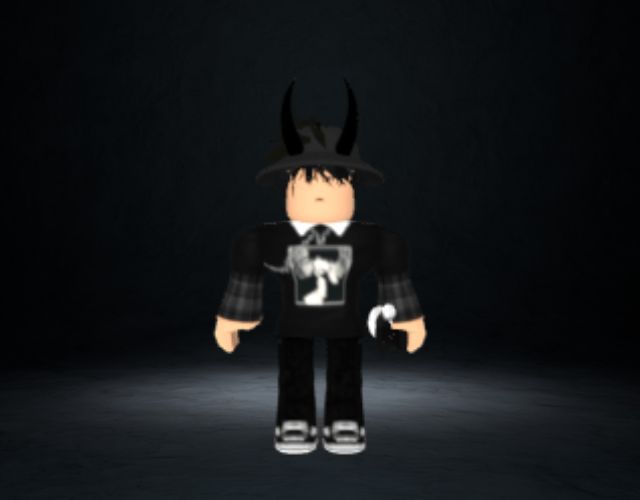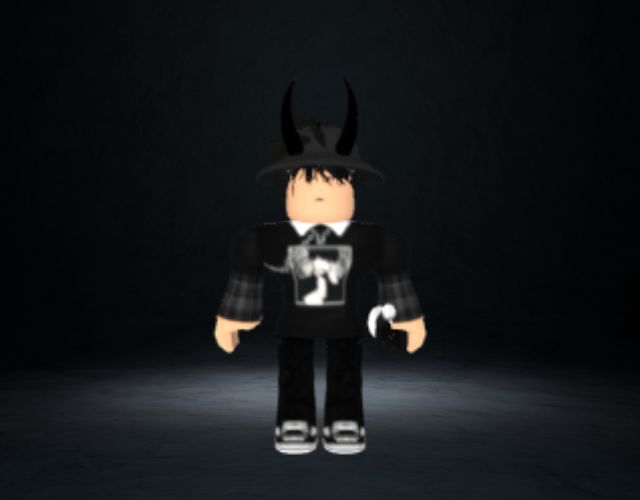 As you continue exploring this Roblox Slender outfit list, you will notice that half of our costumes are devilish while others are stylish and streetwear-inspired. But this outfit sits perfectly in the middle. You have a cool Slender outfit with a grunge look, thanks to the flannel and Vans shoes, but you also have devilish black horns to elevate the vibe. It's the perfect outfit for all the party experiences of Roblox.
Required Items:
Vintage Glasses
Black Demonic Horns
Cool Boy Hair
Black Short Parted Hair
Vans Pants
Err…
Beautiful Hair for Beautiful People
Black Trendy Hat
Eboi shirt
Dark Katana
Anime Darkness Katana
Robloxian 2.0
Cost: 740 Robux
7. Batman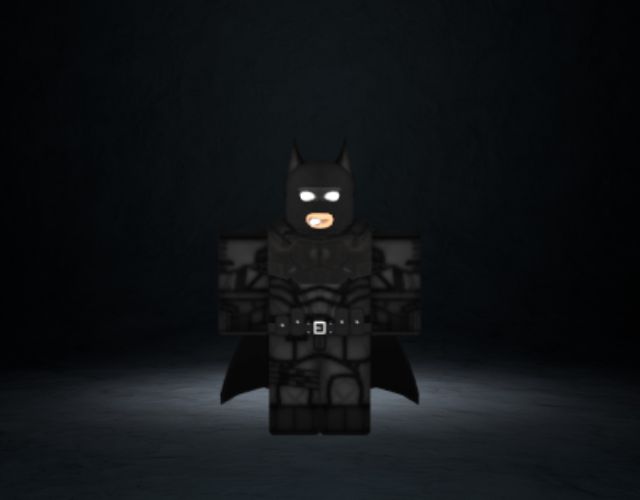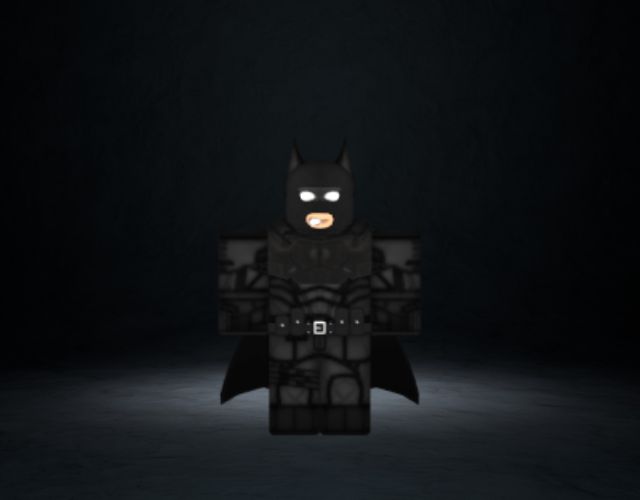 If we had to compare the Slender Man to superheroes in style, then without a doubt, Batman comes up as the obvious choice. Both of them share similar dark vibes, attitudes, and clothing choices. And if you want the heroic side of Slender outfits in your wardrobe, this is a must-have. It gives you a Lego-Batman-like look but with an interesting Roblox take on it. The concept doesn't look as thin or slender, but it's up to you to dress it according to your liking.
Required Items:
The Batman II shirt
The Batman II shirt
The Batman II pants
Pointy Black Canine Ears
Tactical Pouches
Badlander Elite Armor
Heroic Black Cape
Black Balaclava
Black Cozy Scarf
Raig Face
Robber Mask
Cost: 840 Robux
8. Simple Black Outfit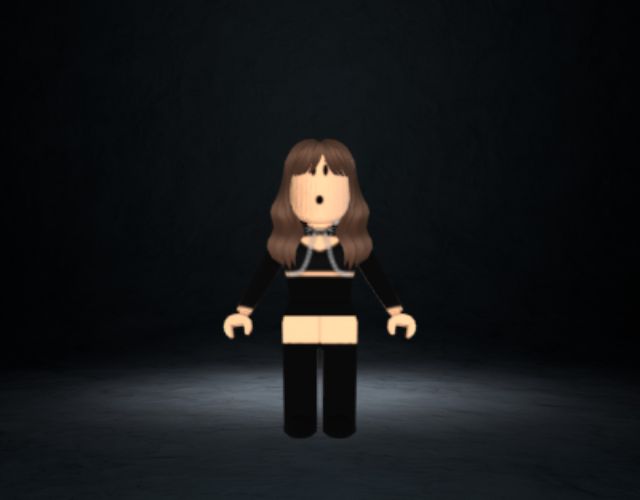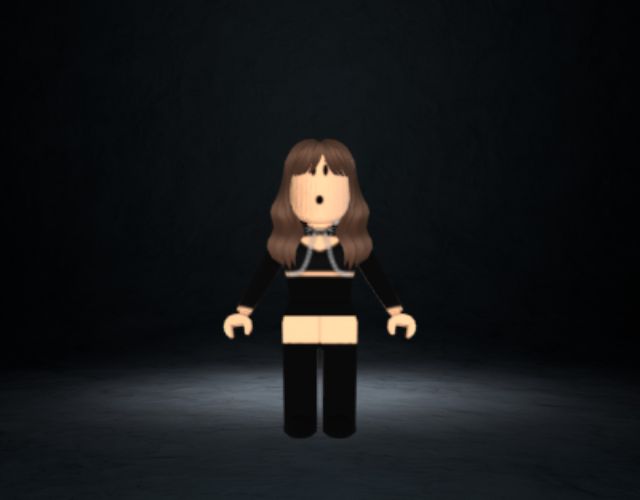 Almost all of the other entries in our list of the best Roblox Slender outfits offer some over-the-top accessories to make you stand out. But, if you are looking for something minimal yet trendy, this will be the perfect choice for you. You get an all-black outfit with a black crop top, long black socks, a choker, and a cool hairstyle.
Required Items:
Aesthetic crop black top
Black skirt w/ black socks
Whistle
Color Changing Head – White to Black
Light Brown Layered Fringe
Cost: 172 Robux
9. Demon with Trident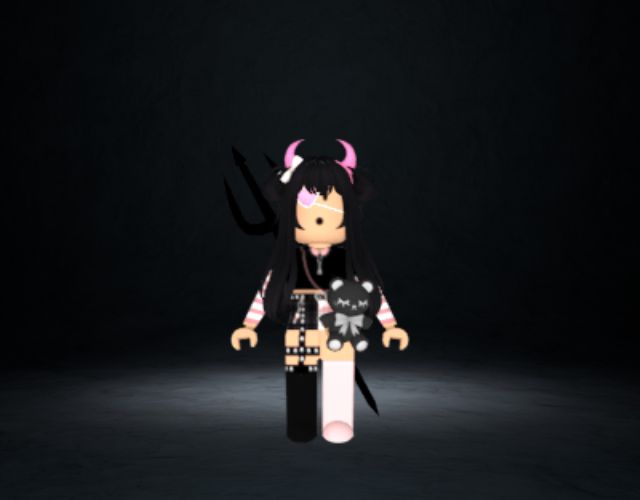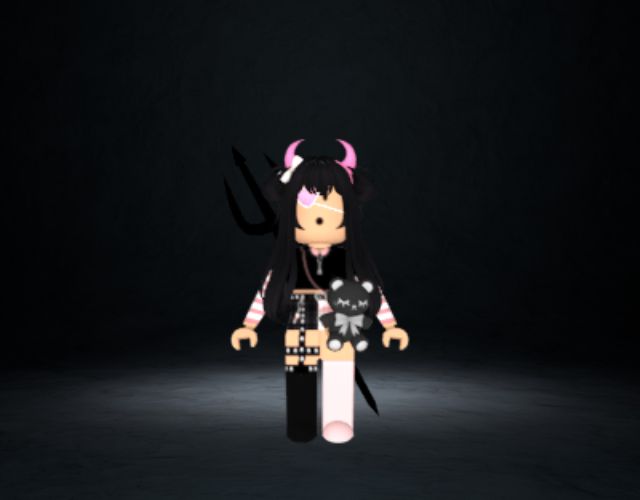 Roblox outfits are all about being memorable in a group of thousands. This Slender outfit does that by going all out in a demonic style, but with a dash of cuteness. It features a mix of pink, white, and black accessories, giving off the vibes of a dark possession – a villain that you'd want to stay away from or befriend for its immense power like Harley Quinn. You have to become a girl demon with pink horns, a black trident, and a scary teddy bear hanging from your dress to give off this vibe.
Required Items:
Loose Black Anime Side Buns
Black Demon Trident
Demon Tail
Black Polar Cub Plush
Pink Cutesy Demon Headband
Pink Heart Eyepatch
Whistle
Pink black aesthetic outfit
Black and pink kuromi crop top
Cost: 449 Robux
10. Classic Body Slender Outfit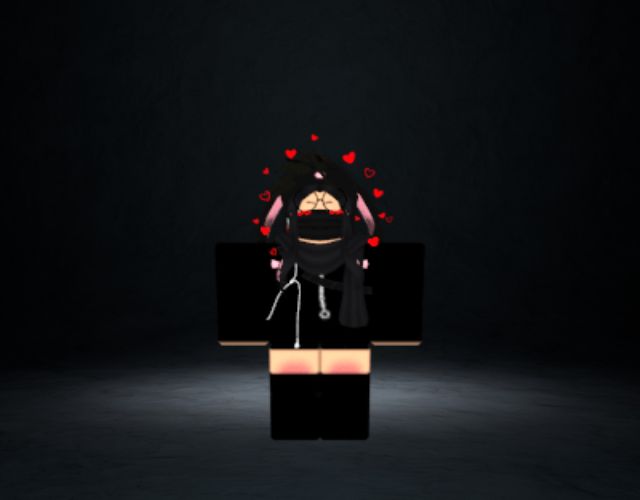 When Roblox players think of unique Slender outfits, they usually don't think of them being welcoming or cute. But this outfit breaks that stereotype. It features a gothic costume but with cute glasses, large pink blush marks on knees, and floating hearts. You get to maintain your dark style while appearing cute and welcoming. It's the perfect outfit to join friendly servers and group-based games.
Required Items
Super Shy Glasses
Classy Black High Ponytail
Red Heart Confetti
Black Fluffy Aesthetic Bunny Hat
Medical Mask (Black)
Laid-back Earbuds
Sweater Socks
Smil Nas X
Black Messenger Bag
Beautiful Hair for Beautiful People
Black Winter Scarf
Remember top
Cost: 786 Robux
Create Your Perfect Roblox Slender Outfit Today
Whether you want to join a goth group at your school or try a completely new and dark fashion style, the Roblox Slender outfits are ready to support your fashion choices. On the other hand, if you want to create a unique identity in other games, we also have a list of best Minecraft skins you can use. But if that's not enough, you can also download and use these best Procreate brushes to make a custom character on your iPad. Almost all modern communities support custom characters. That said, which Slender Man costume is your favorite in Roblox? Tell us in the comments below!
---
Load More