Adobe Photoshop is one of the most popular and capable photo editing tools available for the desktop. However, the same cannot be said about Photoshop on Android. Adobe was very late to release its Photoshop app for Android, and even when the company did release the app, it fractured the app into various apps, each of which perform certain tasks. That is not good for users who want a one-stop solution for all their photo editing and retouching needs. In fact, there are many photo editing and retouching apps out there which I prefer to use on my Android device than Adobe Photoshop. So, if you are someone who wants an Adobe Photoshop like app on Android but don't want to use the official apps, here are the 10 best Adobe Photoshop alternatives on Android you can use in 2020.
Best Alternatives to Adobe Photoshop on Android (2020)
1. Snapseed
Snapseed is one of the best if not the best photo editing app that you can get for your Android device. The app has a very pleasant user interface and makes it really easy to edit your photos. All the tools are present in the right place and even if you have not used the app before, you will quickly get the hang of it without any problem. However, the simplicity of the app should not be equated with its lack of features. On the contrary, it is one of the most feature rich photo editing apps you can find on the Play Store. Unlike Adobe Photoshop, the app brings all the features inside one app.
Snapseed comes with a set of 29 tools and filters including features like healing, brush, structure, exposure, color, masking and reshaping tools, among other things. I especially like the filters found on Snapseed as they don't make the photos look artificial and allow users to enhance their photos with just a couple of taps. The biggest strength of Snapseed is that it makes photo editing enjoyable as it encourages experiment through its nondestructive editing interface. Also, the app is completely free to use without any ads or in-app purchases, so you don't have any excuse to not try this out.
Pros:
Superb photo-editing tools
Nondestructive editing
Authentic and beautiful filters
All the styles come with fine and precise control tools
Cons:
Beginners need to invest time to take full advantage of the app
Install: Free
2. Pixlr
Pixlr is yet another good photo editing and retouching tool for Android which can act as a great alternative to Adobe Photoshop on Android. The app is packed with features and brings a plethora of filters, effects, and overlays to allow users to edit their photos on the fly. One of the biggest features of Pixlr is the ability to use layer editing to blend multiple photos together. Adobe Photoshop Mix (Free) also does this on Android, but again, that is an app which is just dedicated to layer editing while Pixlr also brings all the other photo editing features.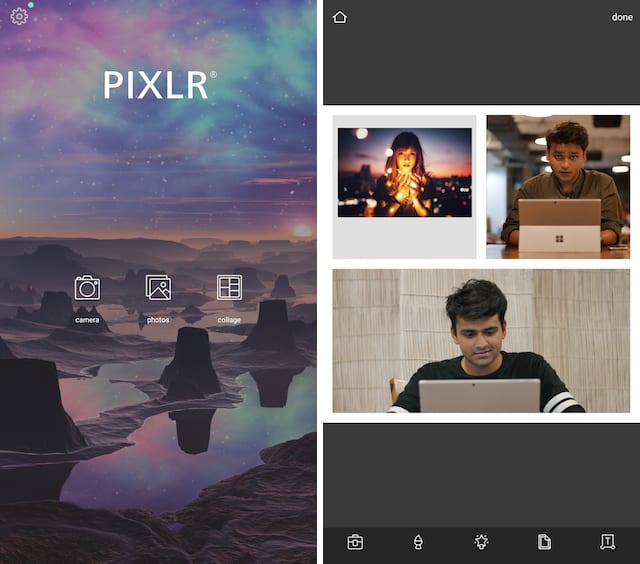 Other features of the app include the ability to create photo collages, color fixing, stylizing images with a pencil drawing, an ink sketch, or poster effects, focal blur, text overlay, masking, and more. As you can see, Pixlr is a very capable photo editing app and is certainly a great alternative to Adobe Photoshop on Android. The app is totally free to use, however, it does come with ads. If the simple and boring interface of Snapseed doesn't suit your editing skills, Pixlr is a great option for you.
Pros:
Over 2 million combinations of free effects, overlays, and filters
Layer editing
Stylize images with a pencil drawing, an ink sketch, or poster effects
New effects are added regularly
Cons:
Free but supported by ads
Too many effects mean that users might choose the easy path and refrain from learning the real photo editing process
Install: Free
3. Toolwiz Photos – Pro Editor
Toolwiz Photos is a worthy alternative to Adobe Photoshop on Android as it brings a set of more than 200 powerful tools to help you edit, retouch, and enhance your photos. While the app brings all the usual editing features, one of the major advantages of using this app is its advanced color correcting tools. You can maintain image tone using features like levels, RGB curve, brightness, contrast, gradient map, color transfer, auto tone, and more.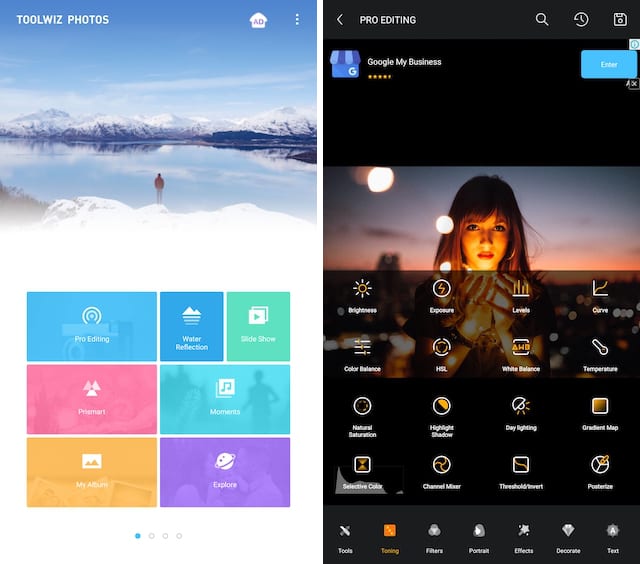 Other features of the app include magic filters, art effects, watermark, stickers, frames, borders, HDR support, twenty different types of blur effects, painting styles, drawing and doodling support, text overlay, and more. Toolwiz Photos brings more features than one will ever need and is a very good photo editing app on Android. The app is free to download and use with ads, while there are in-app purchases to disable the ads.
Pros:
More features that one will ever use
Enhanced color correction features
Good user interface
Cons:
Has a bit of learning curve
Supported by ads in the free version
Install: Free, with in-app purchases
4. Canva
Adobe Photoshop is not only used for editing photos but also for other purposes including graphics designing, creating posters and logos, and more. If you want to create such things on your Android device, your best option is the Canva app. Unlike Adobe Photoshop, the app is really easy to use and allows you to create posters, cards, and more with ease even on a smartphone. You can even use it to create YouTube thumbnails, Instagram stories, and banner images for social media platforms like Facebook, Pinterest, and more.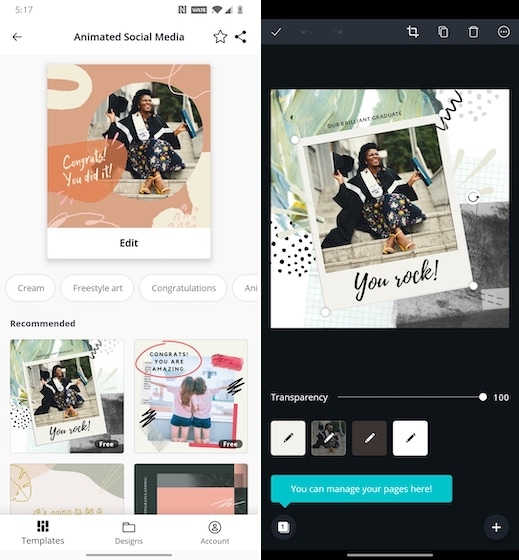 Canva is both versatile and packed with features. And the best part is that you don't need to be a graphic design wizard to use this app. I love how easy the app makes it to apply borders to photos and add styled text. It's also great for creating photo collages. I have created dozens of colleges on this app to share with my family. If you need an easy to use app that can do all the things that I just described, Canva is the best option for you.
Pros:
Easy to use
Brings a plethora of design and artistic tools
Offers a desktop app and syncs your work across devices
Allows for collaboration with other users
Offers more than 8000 free templates
Cons:
The paid plans start at $9.95/month which is quite costly
No stock images available for free-plan users
Install: Free, in-app purchases
5. PicsArt Photo Studio
PicsArt Photo Studio is one of the most popular photo editing apps on the Android. With more than 500 million downloads, the app has become one of the top most downloaded photo editing apps on Android. That said, the app is not only a photo editing app but also a photo retouching app which allows users to use effects, collage maker, free clipart library, millions of user-created stickers, and drawing tools to create collages, memes, and other kinds of shareable content.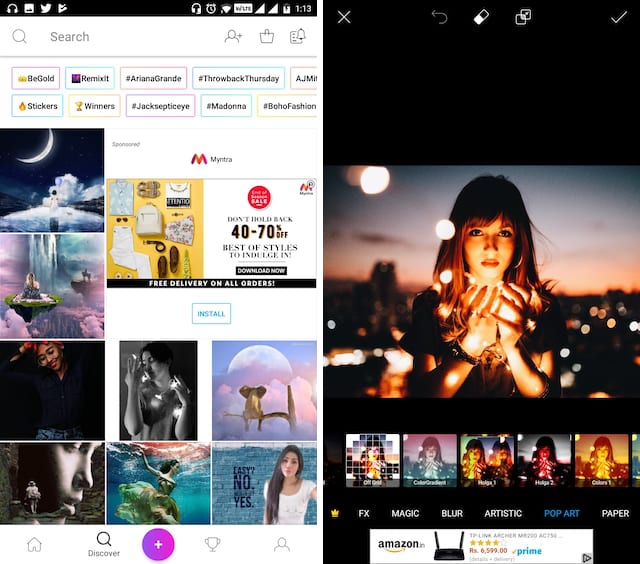 When it comes to photo editing, the app brings tools to create cutouts, crop, stretch, clone, add texts,  and adjust curves, along with a library of filters. All the editing tools come with a brush mode which allows users to apply their editing skills to a selective part of a photo and not the entire photo. PicsArt Photo Studio is a very capable photo editing and retouching app and is certainly a very good alternative to Adobe Photoshop on Android.
Pros:
The best collage maker on Android
Rich with features and effects
Free templates and stock pictures
Shared editing
Cons:
Individual photo editing is not as good as collage making
The user interface takes time to get used to
Free version comes with large ads
Install: Free, in-app purchases
6. Multi Layer – Photo Editor
While layer editing is present as a feature in most of the photo editing apps you will find on this list, if you are looking for a Photoshop Alternative which specifically focuses on layer editing, then "Multi Layer – Photo Editor" is the app for you. Just like Snapseed, the app is rich with feature while remaining easy to get used to, even for beginners. My favorite feature is the ability to add layers with just a tap and manipulating multiple layers with simple drag and drop gestures.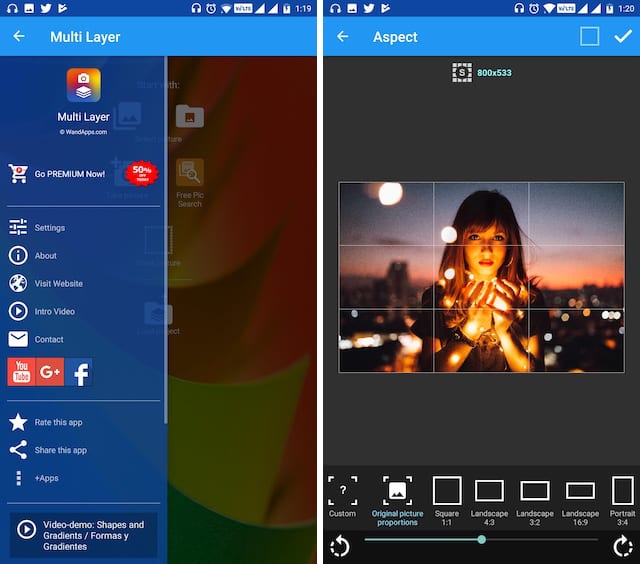 The app also allows users to start with a blank canvas, which is something that most of the mobile photo editing apps don't allow. Other features of the app include filters, paints, frames, stickers, background eraser, text and shape overlays, and more. The Multi Layer – Photo Editor is a true alternative to Adobe Photoshop on Android for users who deal with layer photo editing and is certainly worth checking out.
Pros:
Pro level multi-layer photo editing features
Supports blank canvas
Easy to add and manipulate layers
Independent editing of layers
Cons:
Free version comes with ads
Lacks in features other than multi-layer editing
Install: Free, in-app purchases
7. AirBrush: Easy Photo Editor
If you use Adobe Photoshop for editing your pictures to enhance your looks, AirBrush will help you do the same on Android. AirBrush photo editor comes with a plethora of tools allowing users to remove blemishes and pimples, whiten teeth and brighten eyes, smoothen out skin, remove freckles, slim, reshape, and lengthen selfies, add depth and style effects, and more. As you can see, the app focuses on beauty editing and if Adobe Photoshop was your main tool to do that on the desktop, AirBrush can fully replace it on Android. With AirBrush, your selfies will look better than ever before.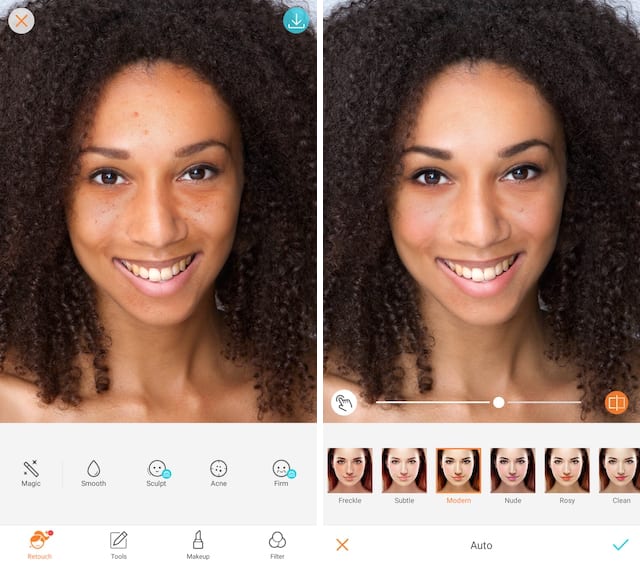 Pros:
Enhance beauty editing features
Good and beautiful filters
Works on any kind of skin
Cons:
Not recommended for editing features other than beauty editing
Free version comes with ads
Install: Free, in-app purchases
8. Fotor Photo Editor
Fotor Photo Editor is one of the best photo editing apps on Android for making collages and applying pre-configured photo effects. The app comes with a plethora of editing tools, a massive range of regularly updated photo effects and filters, and almost unlimited number of styles, including film, vintage, kaleidoscope, black and white, and more. The app also brings pre-build collage templates allowing users to easily convert their photos into pieces of art.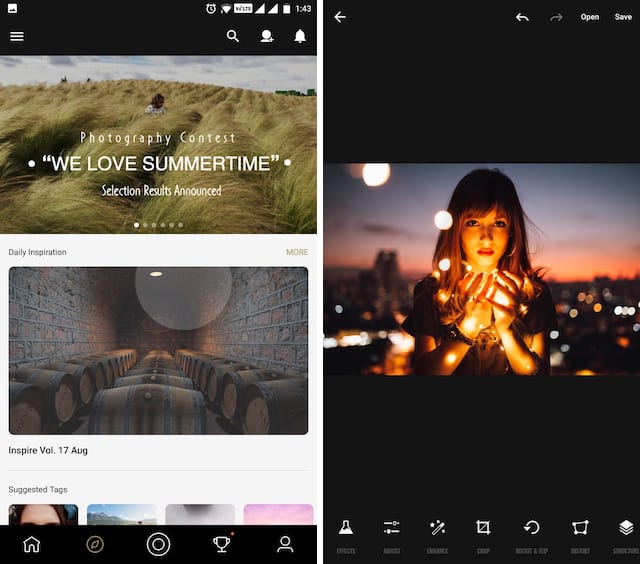 One thing that differentiates Fotor Photo Editor from any other photo editing app on this list is that the app allows users to monetize their photos by using photo licensing on PxBee,  a stock photo marketplace connecting the creative community of Fotor. Once you create your portfolio, people who want to use your photos will have an option to buy them, thereby earning you money. Fotor also holds weekly photo contests by partnering with world's leading brands, such as Uber, Ctrip, Sichuan Airlines and more. Winning the contests will give your portfolio a vast exposure thereby increasing the chances of you earning money. If you want to earn money while doing the thing you love, Fotor is certainly a good place to start.
Pros:
Exceptional collage creation and effects tools
Easy to use
Provides an avenue to earn money through your photos
Weekly competitions are great for exposure
Cons:
Too many things packed in a single app
UI is a little bit crowded
Install: Free, in-app purchases
9. PhotoDirector
PhotoDirector brings a feature-rich photo editor, a rich and creative collage maker, and a ton of live camera filters and effects to enhance your photos as you shoot them. Unlike other photo editing apps which allow you to edit your photos after you taken them, the in-app camera in PhotoDirector lets you change white balance or saturation, apply live photo effects in real-time, and make other creative adjustments to your shots even before you take them. This is great for users who are used to taking photos in manual mode as it allows them a far granular control over their phone's camera.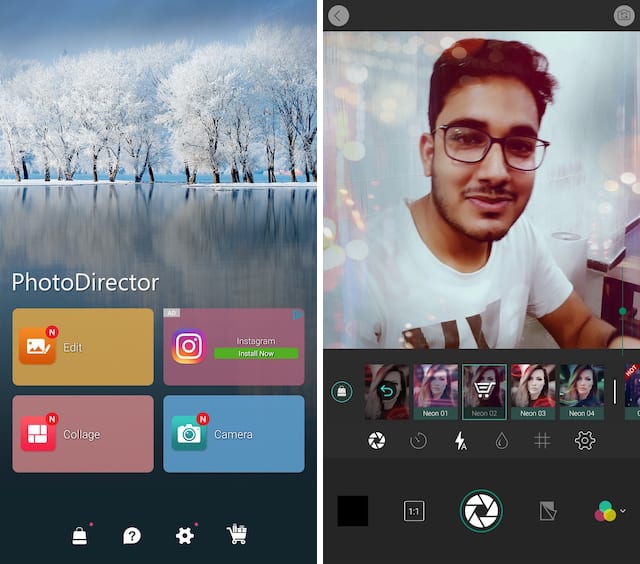 Other features of the app include the ability to remove photo-bombers, HSL sliders and RGB color channels, brightness, darkness, exposure and contrast sliders, photo effects and filters, and more. I love PhotoDirector's ability to tweak settings even before you take pictures which is something that is not found in Photoshop on Android. While it might take you some time to start using its in-app camera to its full potential, once you do learn it, it will be worth it. If none of the above apps make you happy, you should definitely try this out.
Pros:
The in-app camera is fun and powerful
Powerful editing tools
Object removal in photos
Cons:
Has a bit of learning curve
Free option is supported by ads
Install: Free, in-app purchases
10. Polarr Photo Editor
The last Photoshop alternative for Android on our list is the Polarr Photo Editor which brings advanced auto-enhance tools along with sophisticated filters to allow users to retouch their photos with just a few taps. Not only that, its pro editing tools are great for professionals too. The app supports tools such as layer editing, curve tools, local adjustments, custom overlay and complex blending modes, a complete set of masking and local adjustment tools, batch exporting, and more.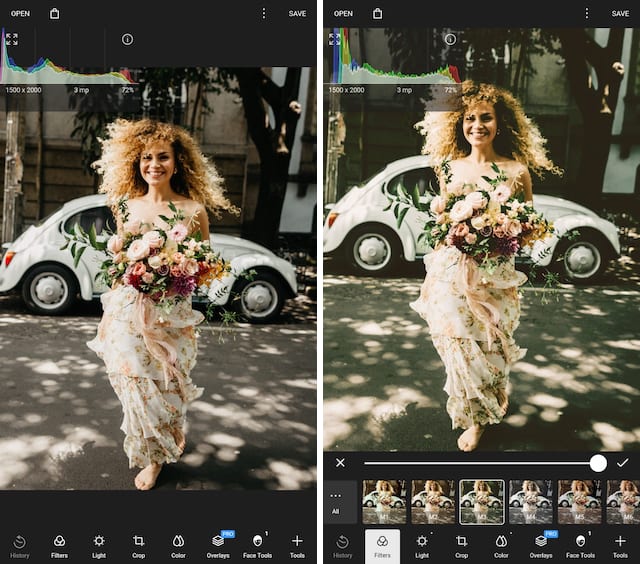 I also love that Polarr allows users to create and share their own filters. Users can get started with pre-build filters and once they are familiar with the concept, they can start creating their own filters. This is a good way to provide a unique look to your photos. I also love the support for layer editing and blending modes which allow users to use photorealistic effects like clouds, weather effects, light leaks, flares and more. Polarr is a very capable photo editing app and is a worthy alternative to Photoshop on Android.
Pros:
Powerful and yet simple editing tools
Serves both amateurs and professional editors
Layer editing
Users can create their own filters
Cons:
Need to buy pro pack to be able to sync work across devices
Install: Free, in-app purchases
Bonus: PhotoLayers
One of the big features of Adobe Photoshop is that it supports layers. Well if you want an easy-to-use photo editing app on Android that supports layers, you should use the PhotoLayers app. It's a simple app that lets you add up to 11 layers to create photo montages. While the editing features are quite basic, there are color correction tools that you can use to enhance the overall look of the photo. If you want to use this app, I suggest that you pair it with other photo editing apps on this list. Use this app to create the photo montage and then use an app like Snapseed to edit the images.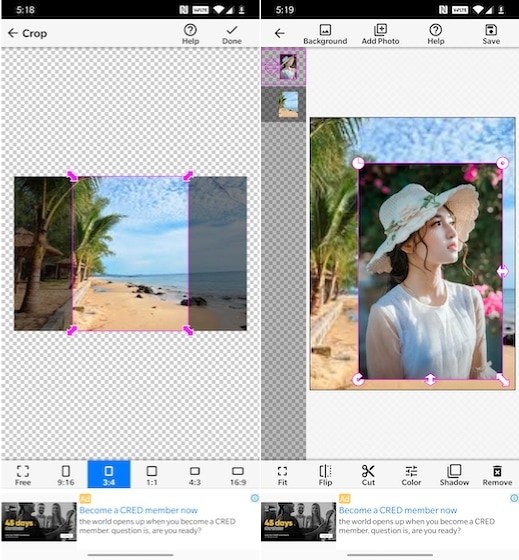 Pros:
Easy to use
Allows you to use 11 photos in layers
Cons:
The editing tools are basic
The ads are distracting
Install: Free
Edit Photos Like a Pro with Photoshop Alternatives on Android
Adobe Photoshop sets the benchmark standard for a pro photo editing tool on the desktop. However, its mobile apps are fragmented and not that great. The apps mentioned on this list bring far better photo editing experience on Android than Photoshop and I know that they will serve our readers well. So do check out our list and let us know your favorite photo editing app from the list by writing in the comments section below.
---
Load More