While most of us want to own a flagship smartphone like the iPhone XS or Google Pixel 3 , they are priced so high that not all of us can afford them. That said, if you don't care about the brand name, today, you can easily get a smartphone with flagship-level specs, well under 40000 INR. The under 40000 INR smartphone category is more vibrant in 2018 than ever before, giving consumers a lot of options to choose from. So, if you are in the market for a relatively pocket-friendly flagship device, here are the 10 best phones under 40000 INR that you can buy right now:
Best Phones Under 40000 INR You Can Buy (December 2018)
1. OnePlus 6T
OnePlus's latest addition to its flagship killers, the OnePlus 6T is definitely one of the best phones to buy under Rs. 40,000. While the phone's high end variant goes well above 40,000 INR, the base variant of the 6T is worth every penny of its Rs. 37,999 price. The OnePlus 6T packs in the Snapdragon 845 with the Adreno 630 GPU running alongside. There's 6GB of RAM here, and 128GB of internal storage.
Along with that, the OnePlus 6T comes with a 6.41-inch FullHD+ Optic AMOLED display which features an in-display fingerprint scanner that works really fast and is definitely impressive as far as in-display scanners go, plus there's face unlock here too and as we know from the days of the OnePlus 5T, the face unlock works super fast as well, which is great.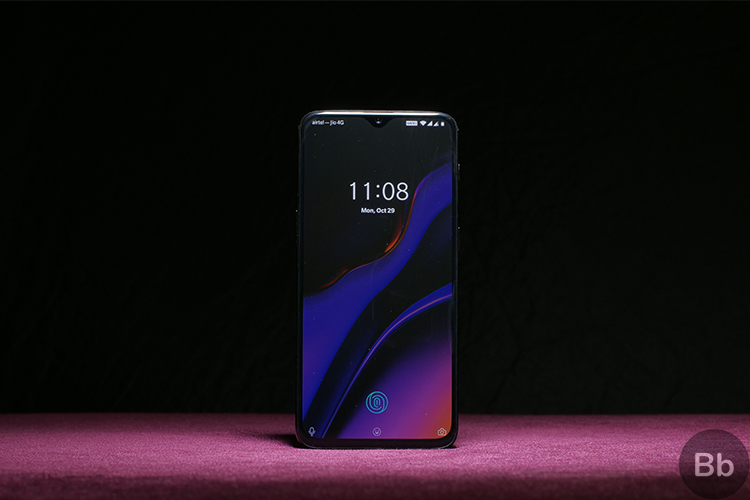 In terms of cameras, the OnePlus 6T brings the same 20MP + 16MP dual rear camera set up that takes really nice photos, and thanks to OIS, low light photography is also pretty decent on the OnePlus 6T. On the front, the phone features a 16MP front camera embedded in the dew-drop notch, and it takes really good selfies, especially in good lighting. OnePlus's front cameras have been good for a while now, and the 6T is no exception.
With the OnePlus 6T, the company has also upped the battery on the phone and this time around you get a bigger 3,700 mAh battery which will easily last you over a day, plus with OnePlus's Fast Charge, it gets topped up super fast as well. The base variant of the OnePlus 6T comes with 6GB of RAM and 128GB of storage, but if you can go slightly over Rs. 40,000, you can also get the 8GB + 128GB variant for Rs. 41,999.
Buy the OnePlus 6T from Amazon (Rs. 37,999)
2. LG G7+ ThinQ
Every year LG launches a new flagship device and every year I have to write an article saying that LG's flagship device is the most underrated device of the year as it generally goes under the radar. Well, LG is trying to change that with its 2018 flagship, the LG G7+ ThinQ, and it's one of the best smartphones you can buy in 2018. With G7+ ThinQ LG has not only improved the smartphone to match the standards set by other flagship devices, but it has also cut down its price to make it a lot more lucrative. The LG G7+ ThingQ not only brings the top of the line Snapdragon 845 processor and pairs it with the Adreno 630 GPU but it also brings 6 GB of RAM and whopping 128 GB of storage at the base model.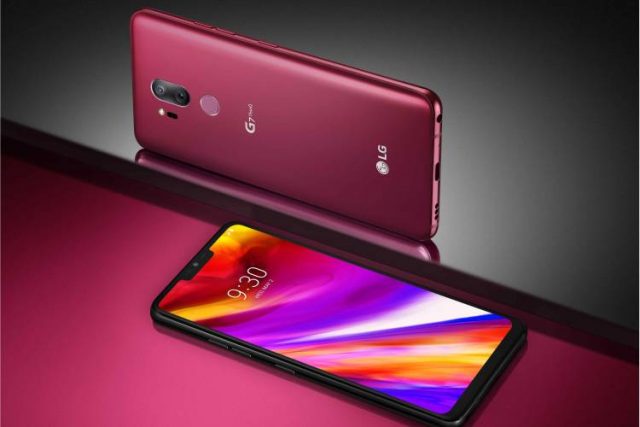 If you are someone who stores a ton of media on his/her device, this is probably one of the best phones you can buy. Talking about the screen, the smartphone is packing a beautiful 6.1-inch Quad HD+ display which is being protected by Gorilla Glass 5. The smartphone also packs some amazing cameras. The back camera housing packs a dual 16 MP (f/1.6) + 16 MP (f/1.9) camera setup while the front camera sports an 8 MP sensor with f/1.9 aperture. The smartphone can take some amazing photos and is certainly a contender for the best camera phone of the year. Finally, the smartphone is also IP68 dust and water resistant. If you want a true 2018 flagship which is not cutting any corners, you buy this smartphone.
Buy From Flipkart: ₹40,000
3. Huawei Nova 3
Huawei has just unveiled their latest mid-range flagship device, the Huawei Nova 3, and it has a lot of things going for it. For starters, The Huawei Nova 3 is packing Huawei's top of the line Hisilicon Kirin 970 processor which is being paired with Mali-G72 MP12 GPU. The Kirin 970 is an excellent processor and you will be getting a crazy fast performance with this one. There's also 6 GB of RAM and 128 GB of internal storage which is more than enough. Coming to the front of the phone, the Huawei Nova 3 is packing a 6.3-inch IPS LCD panel with a resolution of 1080 x 2340 pixels. Like all the others 2018 flagships, the display is almost bezel-less with a small notch at the top. The display is very vibrant, color accurate, and looks absolutely beautiful.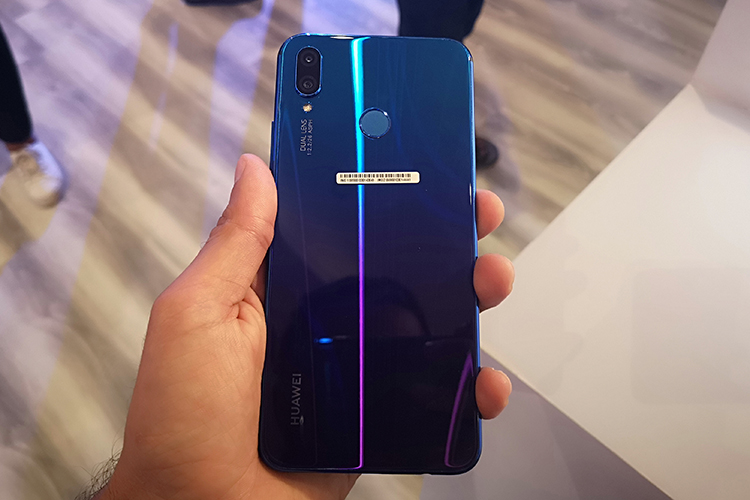 All that is good but if you ask me the unique selling point of this phone are its cameras. Their are four in total, two at the back and two at the front, which means with Nova 3, your selfie game will be really strong. Talking about the specs, the primary camera features 16 MP (f/1.8) regular sensor along with a 24 MP (f/1.8) monochrome sensor. I have always loved the monochrome sensors on the Huawei phones as not only they improve normal photography, they also allow you to take some amazingly beautiful black and white pictures. Talking about the front camera, it brings a 24 MP + 2 MP dual camera which should be amazing for selfies. The Huawei Nova 3 is certainly packing a big punch and is certainly one of the best phones you can buy under 40,000 INR.
Buy From Amazon: ₹34,999
4. Galaxy A9
The Samsung Galaxy A9 is also a phone that you can consider buying under Rs. 40,000. It's a pretty solid smartphone that comes with a 6.3-inch FullHD+ SuperAMOLED display. Samsung phones have almost always had brilliant displays and the A9 is no exception; the display here is bright, vibrant, and sharp.
In terms of performance, the A9 comes with the Snapdragon 660 paired with 6GB/8GB of RAM, and 128GB of storage. Obviously, the Snapdragon 660 is a weird choice, especially when phones in this price range are offering Snapdragon 845. However, Samsung's non-flagship phones have always had underpowered processors, and that's something to consider before you buy the A9.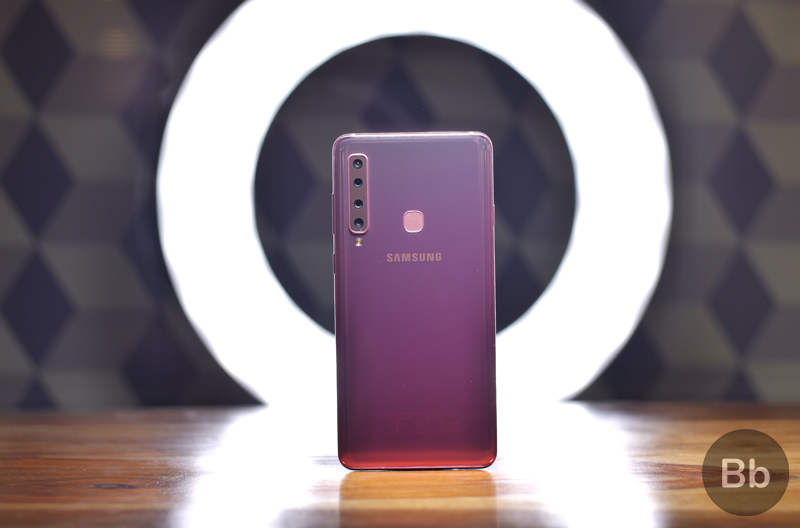 However, the highlight of the Galaxy A9 is the quad rear camera set up — it's the phone in the world to have four cameras on the back. There's an 8-megapixel wide-angle lens, a 10-megapixel telephoto lens with 2X zoom, the 24-megapixel primary sensor, and lastly a 5-megapixel depth sensor. The rear cameras on the Galaxy A9 are quite impressive and perform really well in almost every lighting condition. There's also a 24MP front camera, and while it too takes good photos, it's not as impressive as the rear cameras.
Buy the Galaxy A9 from Amazon (starts at Rs. 36,990)
5. Honor 10
Honor 10 is a great mid-range smartphone which can give flagship devices a run for their money. Starting with its design, the smartphone features a unique color-changing back panel which looks uniquely beautiful. On the front, the Honor 10 features a 5.84-inch IPS LCD screen with a notch at the top. The IPS panel used in Honor 10 is one of the best I have seen any smartphone. The display brings great color accuracy and gets sufficiently bright. Coming to the guts of the smartphone, the Honor 10 is being powered by Huawei's in-house Hi-Silicon Kirin 970 processor which is paired with Mali-G72 MP12 GPU. I have always been a fan of Kirin processors as they not only match their Snapdragon counterpart in performance but they are also more power efficient which means a longer battery life.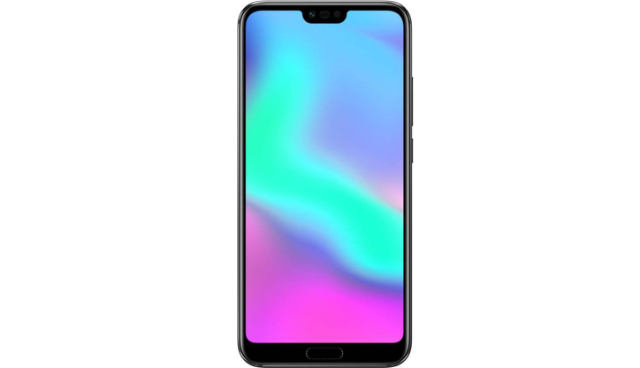 Talking about the cameras, Honor phones are known for their camera quality and Honor 10 is no different. On paper, the smartphone brings a dual 16 MP (f/1.8) + 24 MP (f/1.8) camera setup at the back and a 24 MP (f/2.0) camera at the front. Both the front and back cameras take amazing photos and can rival photos taken by the best camera phones out there. Honor even packs AI capabilities with its camera which promises to improve photo quality even further. As you can see, Honor 10 is a very capable smartphone and certainly deserves a place in your pocket.
Buy From Flipkart: ₹29,999
6. Asus Zenfone 5Z
If you are looking to get the most value for your money, Asus Zenfone 5z is probably the phone for you. The Zenfone 5Z packs in Qualcomm's latest and greatest Snapdragon 845 processor clocked in at 2.8GHz and pairs it with Adreno 630 GPU. You also get 6 GB of RAM and 64 GB of internal storage at the base model which can be increased to 8 GB of RAM and 256 GB of internal storage if you are ready to spend a little more. Coming to the front of the device, the smartphone sports a 6.2-inch FHD+ Super IPS+ display which gets really bright and has a modern 19:9 aspect ratio. This killer hardware combination at the phone's current price makes this one of the best value for money smartphones anyone can buy right now.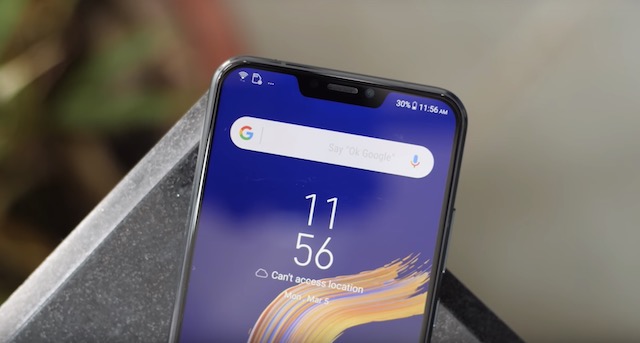 The Zenfone 5Z also packs in a respectable 3,300 mAh battery to keep the device going and brings support for Qualcomm's Quick Charge 3.0 technology for fast charging. I would have loved to see Qualcomm's Quick Charge 4.0 support, however, at this price point, I am not really complaining. In the camera department, the Zenfone 5Z sports a 12MP+8MP dual camera setup with OIS and EIS on the back, along with an 8MP selfie camera up front. While the camera performance is not the best we have seen, it's also not the worst. I have to agree that the cameras are its weakest point, and if you can live with that, you will be getting a hell lot of a phone for quite a reasonable price.
Buy from Flipkart: (₹29,999)
7. Nokia 8 Sirocco
The Nokia 8 Sirocco is one of the first really gorgeous looking smartphones from Nokia ever since the company made its comeback into the smartphone world. The phone features a gorgeous edge to edge display with only a thin forehead and chin. It may not be as bezel-less as some of the notched phones on this list, but it's bezel-less enough and doesn't have a notch. Also, the build quality of this phone is pretty solid. The phone brings in a 5.5-inch 1440×2560 OLED display with vibrant colors and a good overall brightness. There's a Snapdragon 835 processor paired with 6GB of RAM and 128GB storage, and since the phone is running an almost stock Android 8.1 Oreo, there's no bloatware at all.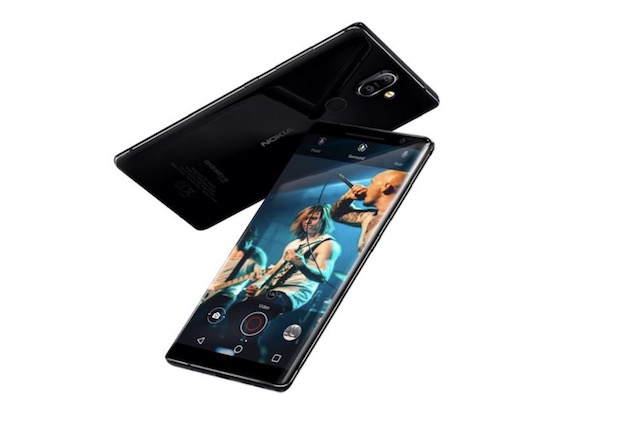 In terms of cameras, the Nokia 8 Sirocco features a 12MP + 13MP dual rear camera that performs decently good enough, but don't expect excellent performance from it. On the front, the phone has a 5MP camera for all your selfie needs. To be honest, when the Nokia 8 Sirocco launched in India, it was priced at Rs. 49,999, and at that price, the phone wasn't really something we'd recommend, but with price cuts, it's now available for Rs. 36,999 and at that price, this is a phone you can consider buying.
Buy the Nokia 8 Sirocco from Amazon (Rs. 36,999)
8. Vivo V11 Pro
Our list earlier had the Vivo X21 on this spot, but since then, Vivo has launched the Vivo V11 Pro and that phone is a much better deal than the X21. For starters, the V11 Pro brings a 6.41-inch SuperAMOLED display which looks stunning and is one of the most good looking displays I've seen in smartphones in its price range. The V11 Pro also comes with the same Snapdragon 660 as the X21, and also has 6GB of RAM paired with 64GB/128GB of internal storage, so performance wise too, the phone is pretty solid.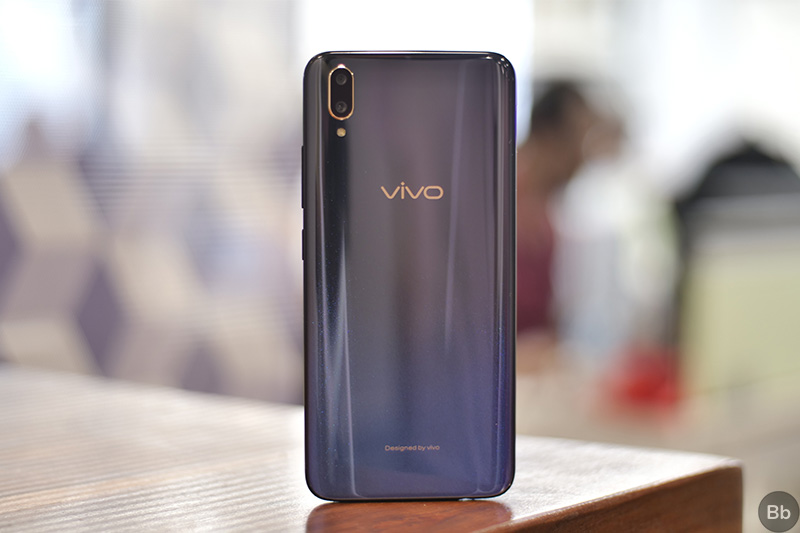 The Vivo V11 Pro also has an in-display fingerprint scanner, and while it's not as fast as the one on the OnePlus 6T, it's definitely faster than the X21's in-display scanner, which is great. Anyway, in terms of camera the V11 Pro comes with a 12MP + 5MP dual rear camera that takes really good shots in almost every condition. Even portrait mode shots turn out really good with the V11 Pro, thanks to its 5MP depth sensor. On the front, the phone comes with a 25MP selfie camera and that too takes really nice pictures. In fact, in our review, we called the Vivo V11 Pro to be one of the best camera phones in its price range.
On the battery front, the phone comes with a 3,400 mAh battery with support for Vivo's Dual Engine fast charge tech. The battery performance of the Vivo V11 Pro is also pretty solid and the phone will easily last you a day.
Buy the Vivo V11 Pro from Amazon (Rs. 25,990)
9. LG V30+
I always say that sometimes it's better to buy a last year's flagship than this year's mid-range smartphone. That statement holds true for LG V30+ more than any other device out there. The LG V30+ is a big bold smartphone which makes an even bolder statement. While the smartphone brings everything that you expect from a flagship device including the Snapdragon 835 processor, Adreno 540 GPU, 4 GB of RAM, and 128 GB of internal storage, you are not necessarily buying this phone for all these reasons. I mean, obviously, flagship-level specs are one of the reasons that this smartphone made this list, that said, the LG V30+ is much more than.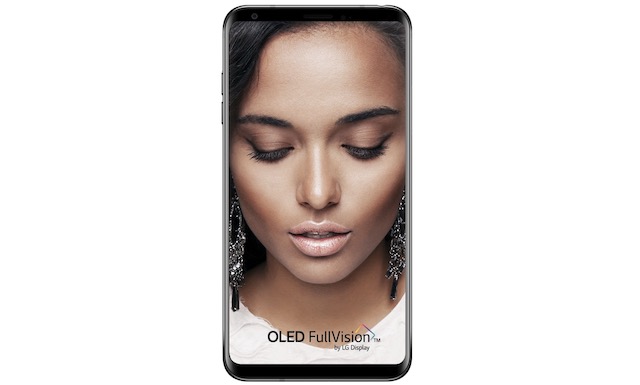 There are three main reasons that you should buy this device for; display, cameras, and audio quality. Let's start with the display. The phone packs a 6-inch QHD+ OLED panel with a resolution of 1440 x 2880 pixels, giving it a pixel density of ~537 PPI. The display looks crazy beautiful with everything looking sharp and crisp. It is surely one of the best smartphone displays out there. Coming to the camera, the smartphone packs a 16MP (f/1.6) +13MP primary dual camera setup with a 5MP front-facing shooter, both of which take some amazing photos. I am especially in love with its secondary wide-angle lens at the back which lets you capture some mind-boggling nature shots which is something that is not possible with other phones on this list.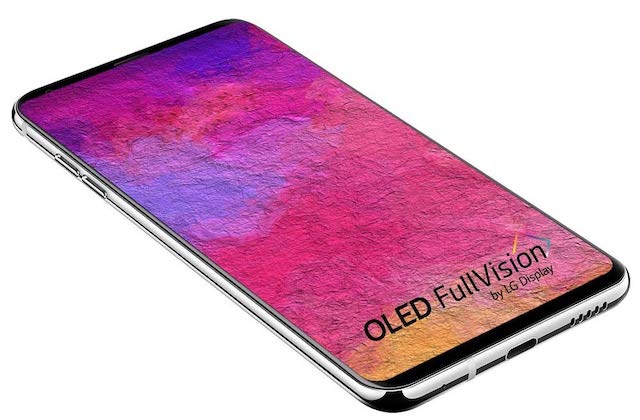 Lastly and probably the most under-rated feature of the LG V30+ is the audio hardware packed in this device. The smartphone packs a 32-bit Hi-Fi Quad DAC which allows users to enjoy music at its best. I mean, if you have the quality headphones which can drive its DAC, you will be able to enjoy music that sounds as rich, full, and layered as a live performance. If anyone of these three reasons strikes a chord with you, you should definitely give LG V30+ a chance. Do note that the price of this smartphone fluctuates a lot, so make sure to get it when it dips below 40000 INR.
Buy From Amazon: ₹38,990
10. iPhone 7
While the iPhone 7 is over 2 years old at this point, it still remains a solid smartphone. Most of that is thanks to the fact that Apple's A10 Fusion is a very powerful chipset that manages to stay relevant in 2018 as well. Plus, if you're worried about software updates, Apple's history with that is pretty solid, and the iPhone 7 should receive upgrades for 2-3 years pretty easily even at this point.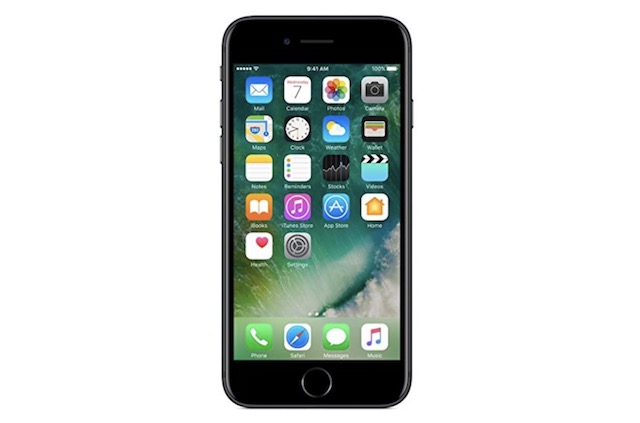 In terms of cameras, the iPhone 7 brings a 12MP rear camera with OIS and the capability to shoot 4K videos at 30FPS. The camera on the iPhone 7 is good enough, and even though it might not fare as well as most new phones on this list, it's definitely not going to let you down. On the front, the iPhone 7 comes with an 7MP selfie camera that too takes great pictures. As far as the battery is concerned, the iPhone 7 comes with a 1,960 mAh battery and while I know that sounds like too little, iOS optimisations are so good that it'll still last you a day. So yeah, if you're looking to get into the iOS world in this price range, the iPhone 7 is definitely the phone to get.
Buy the iPhone 7 from Amazon (Rs. 39,224)
Bonus: Poco F1
Normally we would never put a near 20000 INR phone in a 40000 INR list, but it's 2018, and Xiaomi has just upended the smartphone market with its Poco F1. I am still trying to comprehend how the company was able to pack top of the line Qualcomm Snapdragon 845 in a device that starts at Rs. 20,999. But Xiaomi has done it and here we are. If you are someone who used to longingly look at the high-end specs of premium smartphones and wished if you could own it, now is the time that you can do that.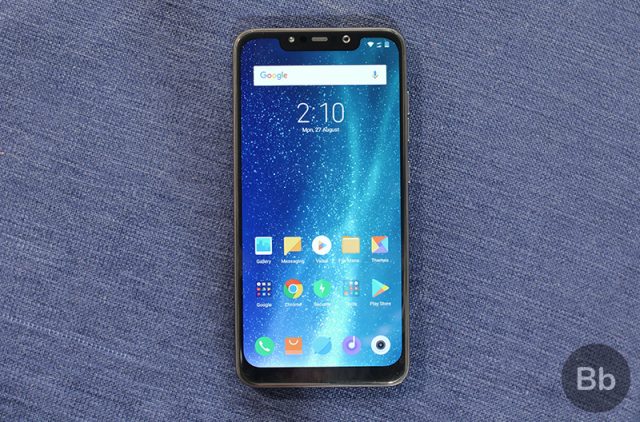 Talking about the phone itself, apart from the Snapdragon 845, the phone is also bringing Adreno 630 GPU which makes this phone a gaming powerhouse. On the camera front, the phone is bringing a great dual 12MP + 5MP setup at the back while a 20MP front camera is handling all your selfie needs. The front of the smartphone is sporting a 6.18 inch IPS LCD screen which has a resolution of 1080 x 2246 pixels. Finally, there's a huge 4000 mAh battery which is enough to easily last you the whole day. Overall, the phone is offering way more than its asking price and you should definitely check it out.
Buy From Flipkart: starts at ₹20,999
SEE ALSO: 10 Best Power Banks Under 2000 INR
Best Phones Under INR 40000 to Buy
That ends our list of the best smartphones that you can buy under 40000 INR. There are some great phones on this list and I think you will find the phone that meets your need. Do let us know which is your favorite phone from the list by writing in the comments section below. Also, tell us why you chose that specific phone over others.