Nowadays most of the Android games require you to have a constant internet connection in order to play. These type of games rely on constant internet connection to either show you ads or stream content via the internet whenever required. However, not many of us prefer playing games while connected to the internet. If you want to play offline games on your Android then you don't have to look any further because today, we bring you the best offline games for android. If you are on the train to work, or a flight to a new country, these offline android games will always keep you entertained for a decent amount of time. Take a look and choose the games that suit your taste. Below are the 15 best offline games for your Android device.
1. Subway Surfers
What is it? Arcade, Endless runner.
Why you should try it: What's good about endless runner games is the fact that they never get boring and you keep playing them for an insane amount of fun all the time. Subway Surfers is one of the top running games available on the Android platform. The game works offline and you can enjoy it anywhere regardless of your internet connectivity. Run, jump and dodge the incoming trains in this fast paced game. Make sure that the old cop and his dog don't catch up to you otherwise, you are busted. Experience amazing locations from around the world and run around the most exotic locations in this game.
Install: Google Play (Free)
2. Contract Killer 2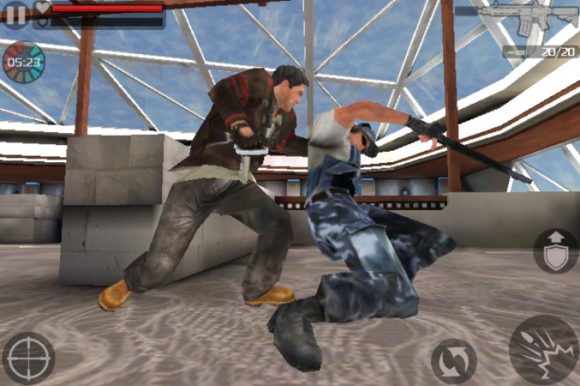 What is it? Action.
Why you should try it: If you want to enjoy some explosive action on your android device without having to connect to the internet then Contract Killer 2 is the best game you can download on your Android. You are the ultimate killer Jack Griffin who knows how to take out his targets through long shots or close combat moves. Get your paid contracts from clients all around the world and take out high profile targets. Make money killing people for a living because that's the type of explosive life you are going to live in this insane action game for Android.
Install: Google Play (Free)
3. Dead Trigger
What is it? First-Person Shooter.
Why you should try it: The zombie apocalypse has turned everyone you know and love into brain eating undead and now it's up to you to help humanity defend itself and survive in this zombie infested world. Get ready for the most amazing graphics on your Android device with Dead Trigger, it looks as good as a console quality game. Shoot all the zombies and complete missions to survive in this world full of brain eaters. From a First person perspective, shoot down incoming hordes of zombies, and gather new weapons. Upgrade your gear and show them undead suckers who the real boss is around here.
Install: Google Play (Free)
4. Monument Valley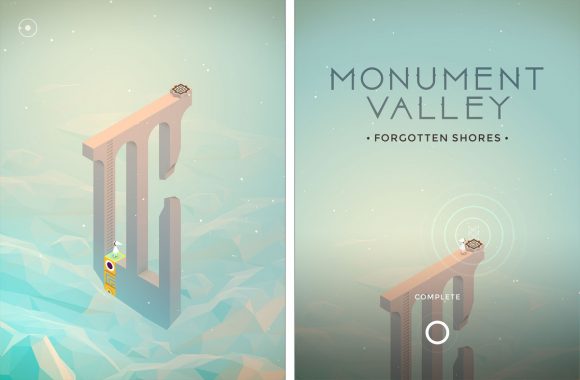 What is it? Puzzle.
Why you should try it: If you are into puzzle games then you are going to dance with joy when you try out Monument Valley. It has been featured on the award-winning TV show, House of Cards because it's definitely one of the best puzzle games available for Android. The gameplay is simple yet amazing. You have to help your protagonist reach the end of the level by passing different architectures. You have to manipulate these platforms to make your way to the end point. There are different complex puzzles that you must figure out in order to complete the levels. The graphics are calm and cool with a beautiful background score. The game is highly addictive.
Install: Google Play (Paid $3.99)
5. Jetpack Joyride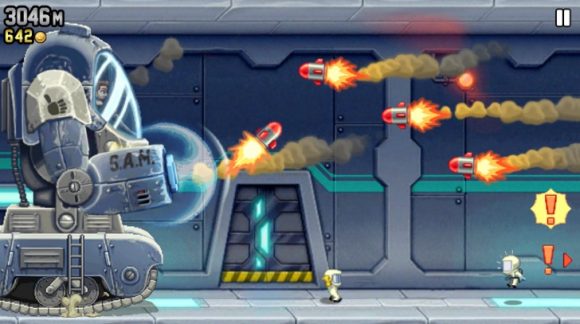 What is it? Adventure.
Why you should try it: Don't you think it's fun to take revenge on the very same people who performed different experiments on you? Get ready to snap your jetpack and start wreaking havoc in the company that has performed hideous experiments on you. Customize your selection of jetpacks, from burst fire machine guns to smooth bubble shooting jetpacks, take control of different mechanical pets like a flying dragon or the money grabbing bird. This game is all about fast-paced action and running for as long as you can in the dangerous laboratory.
Install: Google Play (Free)
6. Pixel Dungeon
What is it? RPG, Roguelike.
Why you should try it: Roguelike games are the part of role-playing games that always put you into randomly generated environments with a much higher difficulty level. When you die, you lose all your progress making it much harder for people to play the game perfectly. However, this added difficulty settings make Pixel Dungeon one of the really rewarding games out there because you play with your whole heart and mind in the game and try to avoid dying as much as possible. The pixel based graphics are amazing and the random elements make the game more interesting. If you like RPGs then you will find that Pixel Dungeon is one of the best and highly rewarding RPGs out there.
Install: Google Play (Free)
7. Shadow Fight 2

What is it? Fighting.
Why you should try it: Fight your way through a horde of enemies in this amazing fighting game for android. Train in the shadows and fight in the shadows in Shadow Fight 2, one of the best fighting games for Android. It offers amazing visuals and a fluid gameplay style. Use your invincible martial arts techniques and defeat evil bosses, demons, and ultimately close the shadow gate to stop evil shadows from pouring into your world. Master your punching, kicking, and slashing techniques and beat your rivals in an intense martial arts battle. Perform combos and beat your enemies until they are down and dead.
Install: Google Play (Free)
8. Swamp Attack
What is it? Arcade.
Why you should try it: Your good old wooden cottage in the swamp is under attack by crazy and bloodthirsty animals. Now it's up to you to take the weapons and defend your cottage from all these evil animals and show them who's the boss around these swamps. You have a variety of weapons and gadgets at your disposal that you can use to fight off these evil monsters. Defend your cottage and make sure that all these murderous animals die painfully before they ever think about attacking your home again.
Install: Google Play (Free)
9. Limbo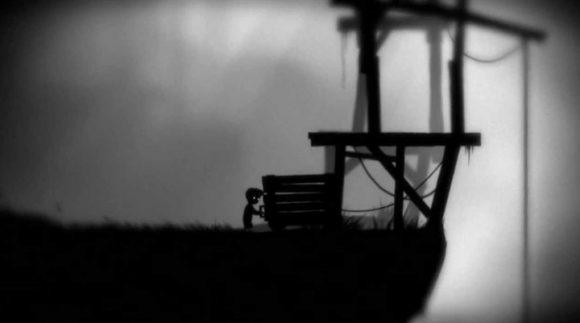 What is it? Platformer, Adventure.
Why you should try it: Limbo is an award-winning game that's available on multiple platforms for everyone. It's a dark story about a boy who loses his sister in a forest where evil spirits linger. Now it's up to this young boy to fight these evil spirits in the forest and search for his little sister. There are different puzzles, complex obstacles, and evil monsters that will try to block your way but you have to figure out a way to overcome these obstacles and keep your search on until you find your kid sister. This game makes it very simple to control the character and the graphics are just amazing. Many rip-offs have been developed but Limbo is still one of the best games out there.
Install: Google Play (Paid $4.99)
10. BADLAND
What is it? Adventure.
Why you should try it: BADLAND is also available on multiple platforms and just like Limbo it has the same dark graphics that give it a unique new look and style. The gameplay, however, is quite different a bit fast paced in BADLAND. You have to stay ahead of the screen and make sure that it doesn't catch up to you. Avoid the obstacles and jump from platform to platform to reach the end of the level. The game also offers amazing multiplayer so you can play along with your friends in an offline multiplayer game mode. Jump, run and glide in this tricky game for android.
Install: Google Play (Free)
11. Shadowrun Returns
What is it? RPG.
Why you should try it: Shadowrun Returns is a tactical turn-based RPG that combines shooter elements in the gameplay as well. You are in the future and ancient magic has awakened. You have access to the futuristic weapons but you also need the magical skills to fight these mythical creatures and show them real magic warfare. Turn based combat is gripping, you have to count all your moves and make every step count in this game. Over 12 hours of intriguing gameplay that has been optimized for touchscreen devices. You can now enjoy this amazing game on your android device.
Install: Google Play (Paid $1.99)
12. Dumb Ways to Die 2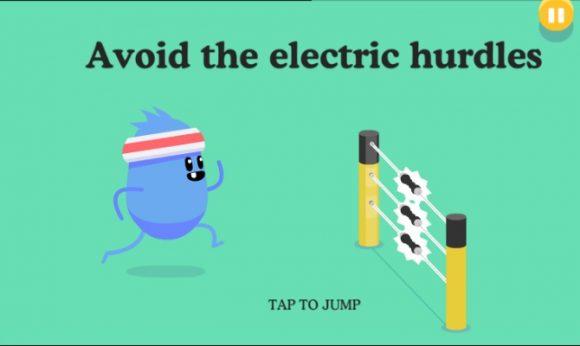 What is it? Arcade.
Why you should try it: There are countless dumb ways of dying in this game, however, you must avoid them all to set a high score in this cute game. Help these little dumb guys make it through the dumbolympics where any little mistake would lead to a dumb death for these little guys. Play in the mutliplayer mode and go head to head against your buddies to see who's the better olympian in 52 amazing little mini-games that will test your skills in not dying.
Install: Google Play (Free)
13. World of Goo
What is it? Puzzle.
Why you should try it: Use the living globs of black goo to create different structures and passages to complete the levels. Every level you will have all these squirming little goo balls that you must arrange in order to reach the finishing line. You will encounter new goo balls that will have different abilities to help you out in your adventures. The game test your creativity and patience in a fun way so you can enjoy yourself while competing for the highest position on the leaderboard. Compete with your friends and place on the top of the leaderboard, comes with bragging rights and all.
Install: Google Play (Paid $4.99)
14. Cut The Rope 2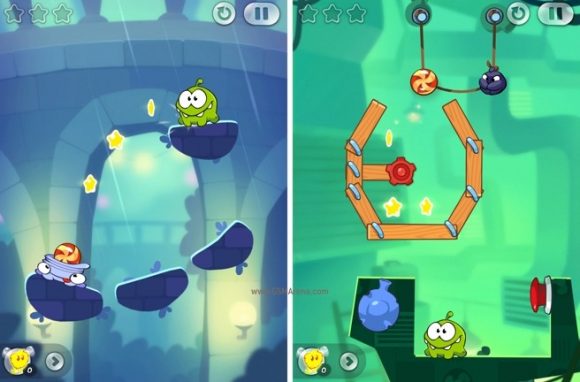 What is it? Puzzle.
Why you should try it: Hungry little Omnom is back in action and he wants to eat all the sweet candy he can find. However, this time, around he's not alone because he's brought a lot of his friends to help him out in his candy eating quest. There are different buddies of Omnom with special powers who will come in handy on different levels where you will require their assistance to solve the puzzles. Getting the candy to Omnom has never been more fun than Cut The Rope 2. You can now interact with different characters and solve some simple puzzles to deliver the candy right into Omnom's belly.
Install: Google Play (Free)
15. Can Knockdown 3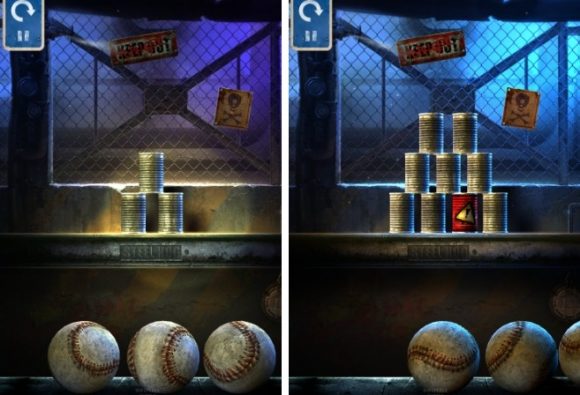 What is it? Arcade.
Why you should try it: Everybody loves using a ball or something heavy to knock down some cans but it takes a lot of work to set up the cans and then knock them all down over and over. If you don't want to put in a lot of effort into it then Can Knockdown 3 is the perfect game for you because you can knock as many cans as you like without having to set them up at all. Complete levels and figure out different throwing techniques to knock them all down. Perform as good as you can to achieve the highest rank on the leaderboards and boast among your social circle. If you think you are the best pitcher then try your throwing skills in this addictive game.
Install: Google Play (Free)
SEE ALSO: 15 Android Games You Can Play With Just One Hand
No more boring time when you are left without the internet because now you can enjoy these amazing games without a constant internet connection. You can play these games anywhere, anytime. If you have been looking for amazing games to play offline on your android device then now is your time to download these games and enjoy them on the go. If you think you have other offline android games then feel free to share them with us in the comments section below.