Breaking News, the popular news app from NBC is shutting its service down on 31st December, 2016. The app was widely used, because of its excellent notifications (which it didn't overdo), fast updates to breaking news, and real-time alerts about nearby events that were unfolding. If you were using the app as your main source of news from around the world, you should look for an alternative. So, if you're looking for some news apps like Breaking News, here are the 7 best Breaking News app alternatives we found for both iOS and Android:
1. Flipboard
Flipboard is a great app that you can tailor to display stories related to the topics you're interested in. The app has a great interface, and you can even save stories that you like, into your own magazine. When you first launch the app, you can choose topics related to the kind of news you want from the app, and then, the app will simply show you stories that are related to those topics.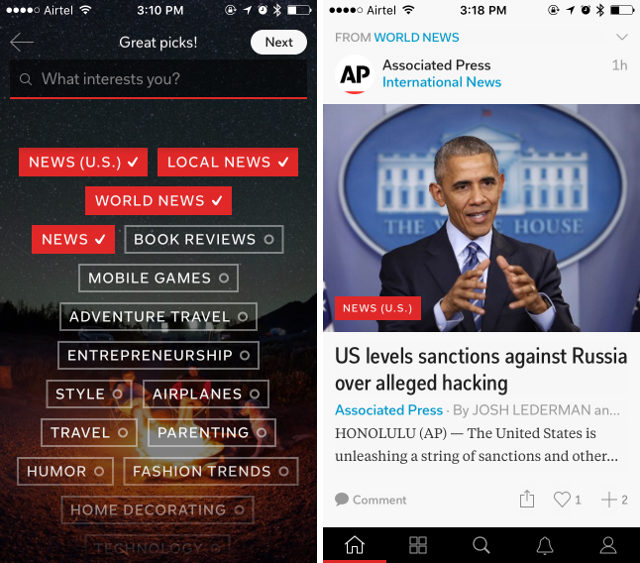 Flipboard, like Breaking News, does a great job of aggregating news from various sources, into one handy location. It aggregates news from sources such as AP, The Wall Street Journal, The Guardian, and a lot of other big names in the news industry. You can also share interesting articles from within the app itself. It is definitely a great way to stay updated about the latest happenings in topics that you care about. Plus, with the companion app for Apple Watch, you can stay updated, on to go, without having to take your phone out.
Download Flipboard for Android and iOS (Free)
2. InShorts
InShorts, or News in Shorts, as it was previously known, is another app similar to Breaking News. The app aggregates news from a variety of sources, and you can even choose topics that you're most interested in. Another really great feature in the app, is the categorisation of news articles by a variety of filters, such as "All News", "Trending", "Top Stories", etc.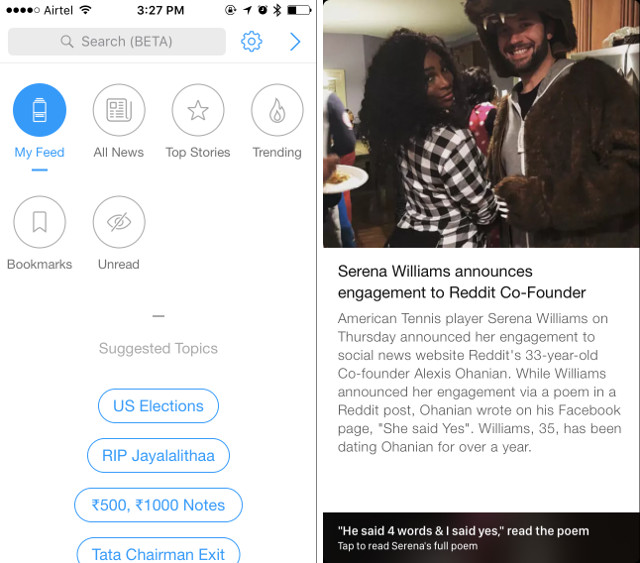 If you find a news article that you're interested in, but can't read at that very moment, you can easily bookmark it from the app. The item will then be saved in the bookmarks section of the app, so you can peruse it at your leisure. Like Flipboard, InShorts also has the option to share articles built-in the app itself, so you can easily share important news with your friends, and family.
Download InShorts for Android and iOS (Free)
3. Bundle News
Bundle News is another good Breaking News alternative that you can check out. One of the good things about this app, is that it allows you to select the region that you want to get news for. You can select international, or you can choose from the four supported countries, which include the USA, and United Kingdom. You can always change this settings from the app settings, if you need to.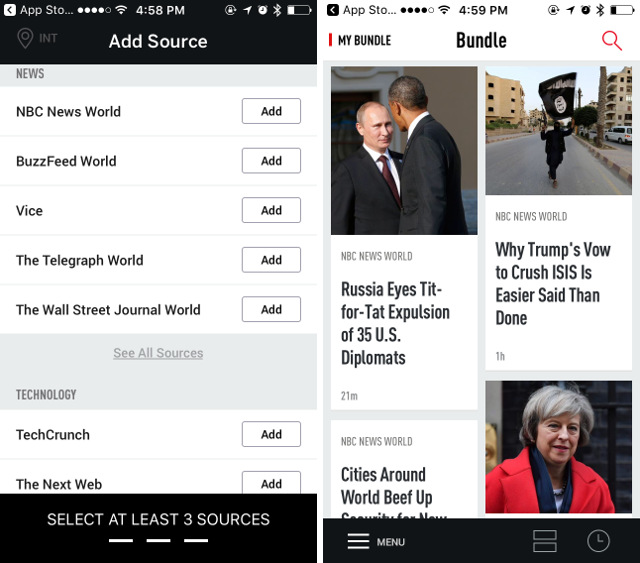 Once you have selected the region of interest, the app asks you to choose the news sources that you want. This is a great feature, in my opinion, as it lets you choose the sources that you trust, thereby keeping the information as relevant, as it possibly can. Similar to Breaking News, the app comes with Apple Watch support, so you can easily keep a check on the latest news while you're on the go.
Download Bundle News for Android and iOS (Free)
4. News Republic
Another good Breaking News alternative is the News Republic app. Much like Flipboard, the app lets you select topics that you're interested in, and then shows news related to those topics in your "My news" feed. It fetches news items from various services, such as The Guardian, BBC News, and more, and comes with a "Digest" section, which shows a selection of the most important articles from the topics that you've selected.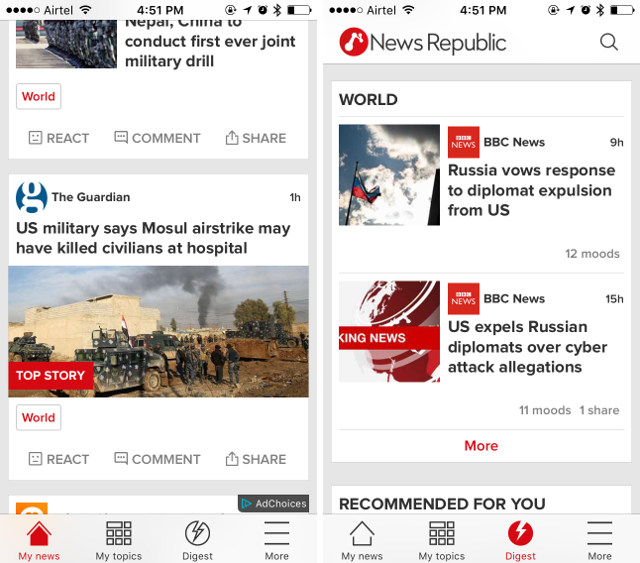 You can tap on any story in the app, to open it in full screen, and read the complete article. The app also gives options to share the story on various social networking platforms like Facebook, and also gives an option to email the article to anyone you want to share it with. The one issue I see with the app, is the ads that it displays inline with the news articles, which makes for a less than enjoyable reading experience. Fortunately, you can remove ads with an in-app purchase. The Today widget is definitely useful, and can even be customised to show the type of stories you want to see.
Download News Republic for Android and iOS (Free, with in-app purchases)
5. News 360
News 360 is another news aggregation app that lets you choose your interests to customise the app. You can select from options like "Tech", "Sports", "Politics", and a lot more. You can even tap twice on an interest to mark it as a topic you "love". The app comes with a beautiful interface, and you can simply tap on the articles you want to read about.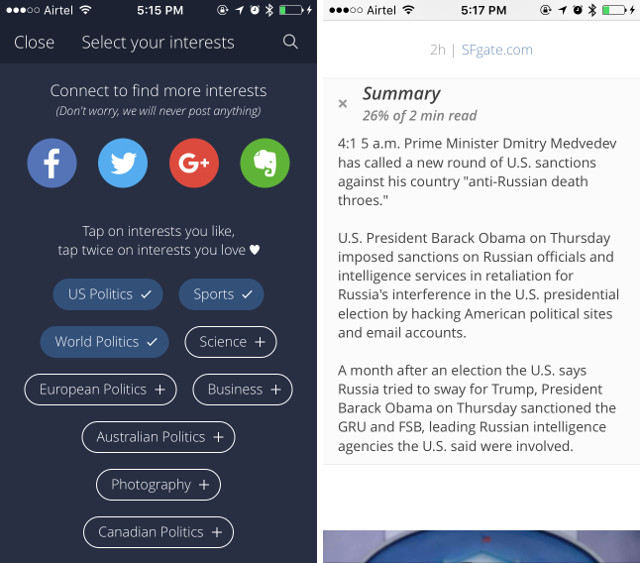 One of the best features of the News 360 app, is the great "summary" it offers. You can simply tap on any article to open it, and you'll find a summary of the entire article on the top. This is definitely great to quickly catch up on the latest news, without having to read through an entire news article. Overall, the app is very well designed, and functions as expected. It even comes with a great "swipe up" gesture that you can use to mark the article as something you like (or don't), and to bookmark, or share it. The app adapts according to your usage, so it gets better over time. It also offers an Apple Watch app, along with an iMessage app, which is definitely a plus.
Download News 360 for Android and iOS (Free)
6. The Guardian
If you're not looking for news aggregator apps, but just want an app that has good quality news articles, along with some other great features, The Guardian's app is one you should check out. The app comes with a decent interface, and gives you the headlines that you should know about. You can also use the side menu in the app to choose from a variety of topics, to read articles about the things you're interested in. Topics range from things like "Lifestyle", and "Fashion", to things like "Education", "Science", and "World" news.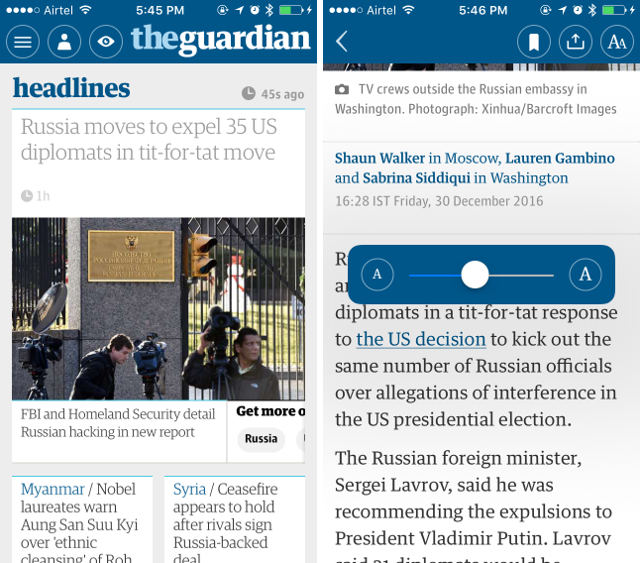 You can simply tap on the headline for any article, to open it in the full view, and read it. The app also offers an option to bookmark the article, and allows you to share it as well. Another great feature that the app offers, is the ability to increase, or decrease the font size of the article, so if you use glasses, you will be able to read news on your phone without having to put them on. From the settings, you can manage things like being alerted for breaking news, and even for the "Weekend Reading" option that Guardian provides.
Download The Guardian for Android and iOS (Free, with in-app purchases)
7. CNN Breaking News
Another great source of breaking news that you can check out, is the CNN Breaking News app. While it is not a news aggregator app, CNN itself is quite a good source of news, so you can definitely rely on this app to get your daily dose of breaking news. The app has a good interface, and the news articles are well laid out. You can tap on any article that you want to read, and the app opens it up in the full view.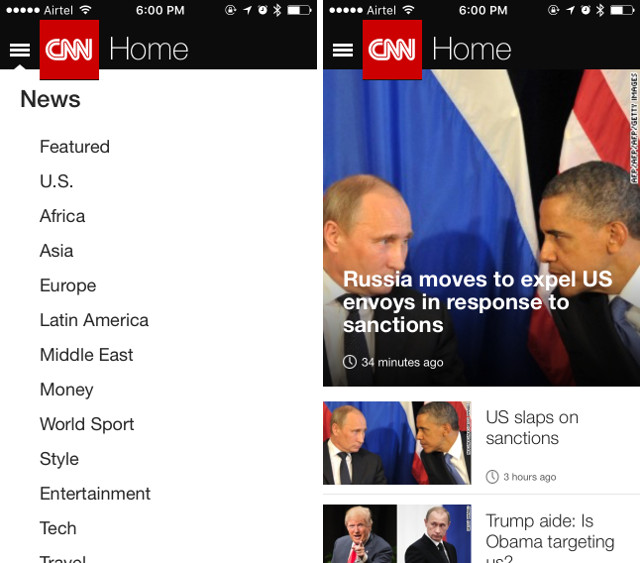 From the sidebar, you can filter out the articles by the topics that you want to read about, including "Featured" articles. From the settings, you can choose the News Preference between "US", and "International". You also get the option to choose your location, so the app can show you weather details. The CNN Breaking News app also comes with videos that you can watch about the latest in the news. The app also offers an Apple Watch app, along with one for your Apple TV, so you can check out the latest news wherever you are.
Download CNN Breaking News for Android, and iOS (Free)
SEE ALSO: 7 Best RSS Reader Apps for Android
Use These Breaking News App Alternatives
You can use any of these apps as an alternative to "Breaking News". While the perfection with which Breaking News used to filter out notifications is not replicated by any one of these apps, they come very close.
What apps do you use on your iPhone, or Android device to stay up to date with the latest news? Do you think it was a good idea to discontinue the Breaking News app? Also, if you know of any other great alternative for Breaking News, do let us know about it in the comments section below.