Minecraft's multiplayer servers provide a major escape from life for all the players. From jumping around in Minecraft parkour servers to solving quests on adventure maps, there's something for everyone in this game. But what if you could start a life on one of these Minecraft servers? You could have a house, a family, and even be part of a society. If all this sounds unreal, you need to try the best Minecraft towny servers. Building upon the concept of games like the Sims, these towny servers host functional societies in a town-like structure. From an economy to a partner, it replicates life as it is. Moreover, unlike most simulations, the people on these servers are real players, just like you and me. With that said, let's dive into our list of the best Minecraft towny servers and see what they have to offer in 2022!
Best Minecraft Towny Servers (2022)
We have covered towny servers for both Minecraft Bedrock and Java editions. You can use their respective server addresses to easily join Minecraft servers on any platform. Moreover, our list isn't ranked, so feel free to explore the servers at your convenience.
1. Pikadex
Java Address: pikadex.sedexcraft.com (Recommended for 1.16.5)
Pixelmon Mod: Sedex Pixelmon
In the world of video games, Pokemon games have the most interactive and interesting worlds. Focusing on that aspect, we have this fun Pikadex Minecraft towny server. It is one of the many fun Minecraft Pixelmon servers that brings Pokemon to your blocky world. You get hundreds of Pokemons, NPCs, gym leaders, and beautiful towns.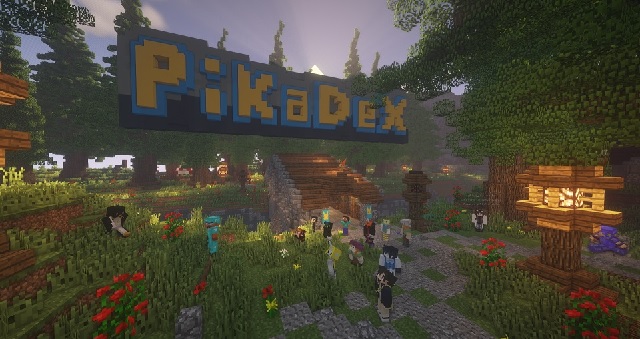 Other than interacting with the majestic characters, you can also build a Minecraft house in this server's town. There is grief protection all across the server, so no need to worry about your house getting looted. And to complete the experience, the server does support Pokemon breeding and PvP fights.
2. BlossomCraft
Java Address: play.BlossomCraft.org
Bedrock Address: play.BlossomCraft.org
Next up, we have an SMP (survival multiplayer) server that focuses on its community before anything else. You can join players across the world to enjoy the vanilla Minecraft experience with tons of added benefits. The server offers you add-ons to make your in-game journey simpler. There is no PvP mode, but you can still team up and trade with other players.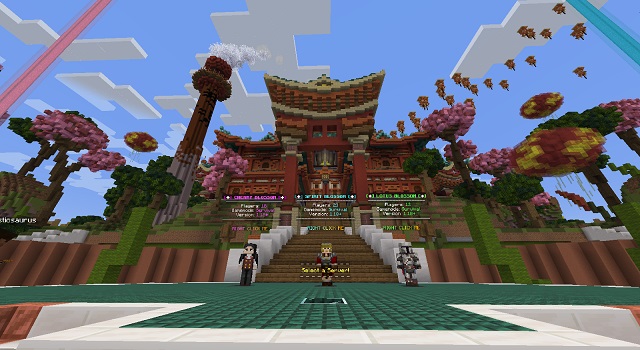 As for its features, the server has custom houses, chest shops, a player-run economy, and new enchantments. It also has a creative mode option to help you and your friends make unique structures on the server. Check out this article on the best house ideas in Minecraft for some inspiration.
3. MineSuperior
Some of the popular Minecraft towny servers are known to get repetitive after some time. But not MineSuperior. It brings new changes, regular updates, and a myriad of unique features. The server has a main town, where players can create bases, showcase achievements, and invite friends over. But that's not all.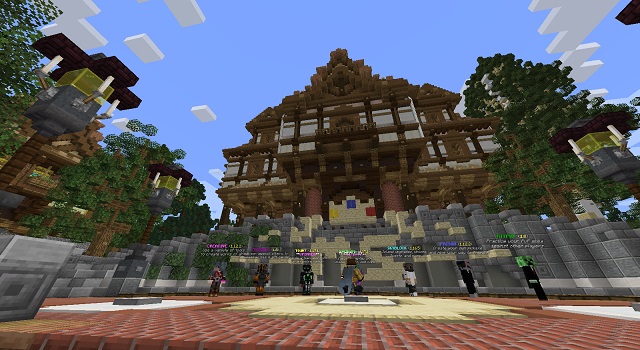 Beyond the towny part of this server, it also has other amazing game modes. These include factions, sky block, survival, prison, creative, and even a KitPvP mode. So, whether you want to compete with your friends or simply spend time with them, this server is worth your time.
4. Datblock
Java Address: Play.datblock.com
Datblock is a popular Minecraft server that always has hundreds of active players. It is known for its exclusive content, regular events, and a variety of popular game modes. You just have to jump onto it to find a place for yourself on this server.
As for the towny part of this Minecraft server, Datblock features a game mode called "Dat-Earth". Here, players can team up or work individually to create houses and even full-fledged cities in the game. The server refers to these cities as "nations" on the Earth. So, you can invite residents, trade, and form relations with other nations on the server.
5. Mox MC or Purple Prison
Java Address: play.moxmc.net
Mox MC or Purple Prison is one of those Minecraft towny servers you can never get bored of. It is known for exclusive mods and the most unique gameplay experience for players. This server has a prison, dedicated PvP modes, and some custom arenas. But its competitive side isn't what we want from Mox MC.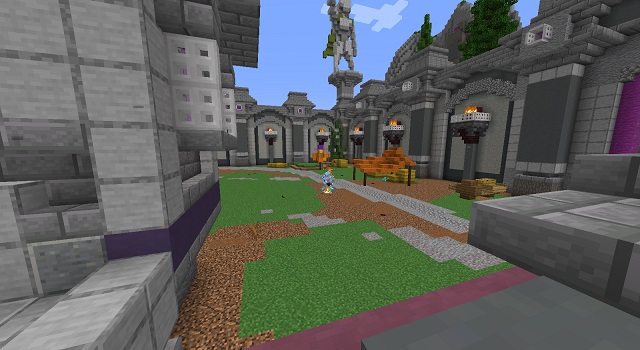 One of the best parts of this server is the amazing towny plugins. You can claim lands, get villager jobs, tame pets like cats, get cases, and more. If that isn't enough, you can even marry other players to create a complete life within Minecraft. As for other game modes, the server offers bedwards, Spleef, maze, parkour, lucky blocks, build battles, and more.
6. CatCraft
Java Address: top.catcraft.net
Bedrock Address: top.catcraft.net
Our next best Minecraft towny server does everything that a good towny server should do. But it takes the whole experience a step further by providing players with a rare chance of enjoying crossplay between Java and Bedrock. Yes, these players won't be able to fight each other, but they can still build some amazing structures in the dedicated areas. Such crossplay is hard to achieve for any online server.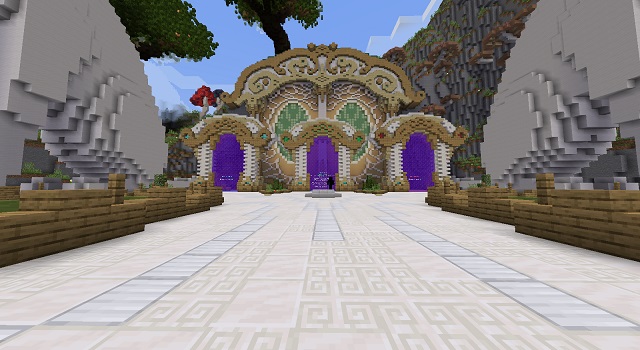 The server's goal is to provide players with a friendly gameplay experience in a fresh survival overworld. Moreover, the server has built-in realms too for players to try. As for the functionality, the server's economy is fully player-based and uses diamonds as currency. The active admins have added grief protection to keep players' progress safe.
7. EcoCityCraft
Java Address: play.ecc.eco
Our next server, EcoCityCraft, is one of the longest-running Minecraft servers of all time. And by that, we don't just mean its inception date but also the fact that this server never resets. So, you can keep your resources and your progress irrespective of how many years pass. With a decade-long history, the server has mastered the economy part of online servers.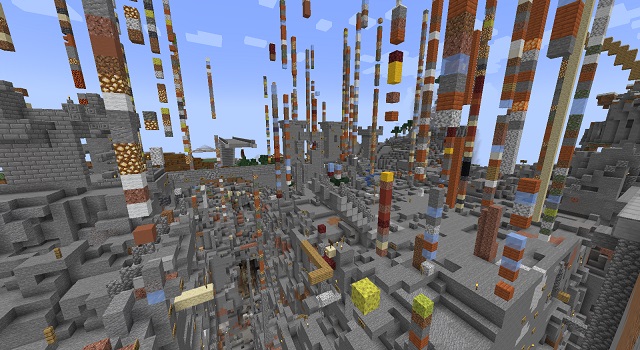 On this towny server, you can mine, craft, and collaborate much like any other Minecraft server. But unlike anything else, it allows you to become the richest Minecrafter thanks to a variety of opportunities for making "EcoDollars". The server's focus on the economy is clear from its name, and if nothing else, you can definitely take home some great lessons.
8. Lifesteal SMP
Java Address: mc.lifestealsmp.com
Bedrock Address: mc.lifestealsmp.com
To sum up our list of best Minecraft towny servers, we have a medieval server. The server is quite simple and vanilla-based. But it is much more dangerous than any other servers on our list. You can become a part of a society with towns, houses, and more. Though, you won't be safe while doing any of it.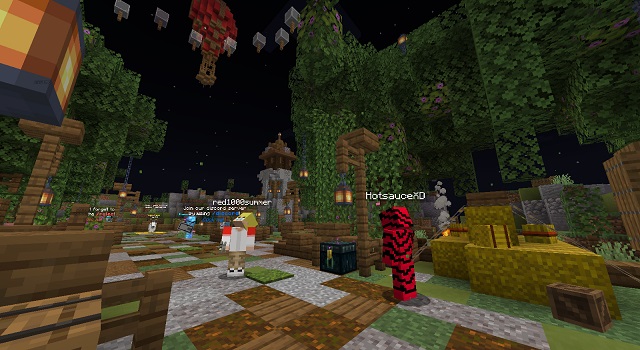 The server allows players to steal each other's lives (thus the name) by killing them. Players can also steal and raid other players' bases. So, if you want to combat challenges while living in a towny server, Lifesteal is the place for you.
Start Living in the Top Minecraft Towny Servers
With that, you are now ready to start a new life in the best Minecraft towny servers. Some of these are loaded with Minecraft mods to make your lives easier. Others are built around the best adventure maps for a unique experience. One thing that's common among all of them is that there are plenty of features to keep you entertained. But if you want to take matters into your own hand, you can also create your own Minecraft server for free. Do make sure to use some of the best Minecraft modpacks to make your life easier. You will have to install Forge in Minecraft to run them, which doesn't take long. With that said, if it's your first time experiencing these best Minecraft towny servers, do tell me which one you choose in the comments below!