In the world of Minecraft, speedrunning is always a hot topic that players keep coming back to. But unless you are a Minecraft veteran with years of experience, speedrunning the game might not be the easiest thing to achieve. And in some ways, it shouldn't be easy. However, that doesn't mean you can't take the help of our list of the best Minecraft 1.18.1 speedrunning seeds to finish the game as quickly as possible. We already have a speedrun seeds list for Minecraft 1.17 and earlier editions if you haven't installed the latest Caves and Cliffs update. And with a lot of bug fixes in Minecraft 1.18.1, good speedrunning seeds are even rarer than before. But if there's a seed out there to help you speedrun, we have covered it here. Our list contains the best seeds for both Minecraft Java and Bedrock editions. We have also added key coordinates and other information to ease out the process. With that said, let's keep up the pace and discover the best Minecraft 1.18.1 speedrun seeds in 2022.
Minecraft 1.18.1 Speedrun Seeds (2022)
We have divided the list into separate sections for Java and Bedrock editions. Use the table below to explore each of the seeds freely. These seeds aren't ranked in any particular order, but mixing the editions or versions can cause problems.
Best Minecraft 1.18.1 Bedrock Speedrun Seeds
1. Best Desert Spawn
Starting big, we have the best possible desert spawn ever in the game. This seed spawns us next to a desert village, with a pillager outpost nearby. You can then use the resources from one to loot the other. Then, separated by a river, there's a desert temple next to a huge desert village. So, within the first five minutes, you can have all the resources you want from an outpost, 2 villages, and 2 desert temples.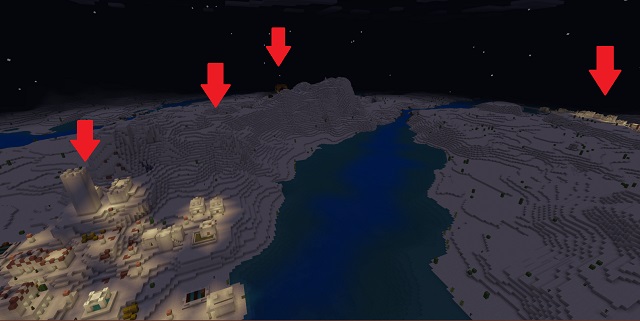 Finally, to end your quest, you need to go back to the first village and dig down to find a stronghold awaiting you. If you are quick enough in the nether realm, this is easily one of the best Minecraft 1.18.1 speedrun seeds you can ever find.
Seed Code: 1967697203
Biomes: Desert
Stronghold Village Coordinates: X: -424, Y: 70, Z: -968
Desert Temple Coordinates: X: -472, Y: 70, Z: -872
Outpost Coordinates: X: -536, Y: 100, Z: -776
Second Desert Temple Coordinates: X: -696, Y: 69, Z: -920
2. The 10-Minute Speedrun Seed
In any speedrun adventure, the important parts are resources, food, and obsidian. This seed provides all of that within the first 4 chunks of your spawn. This seed spawns us close to a shipwreck and a snowy village. You can get the resources from both of them and head to the nearby lava pool to make a Nether portal.
Once your nether adventure is complete, you can come back to this village and dig for the stronghold. If you are fast enough, the resources from this seed can help you finish the game within the first 10 minutes.
Seed Code: -100854236
Biomes: Tagia & Frozen Ocean
Shipwreck Coordinates: X: 520, Y: 100, Z: -216
Village with Stronghold Coordinates: X: 616, Y: 80, Z: -296
3. A Fair Speedrun
The next seed looks simple at the surface when you spawn. There is a plains village nearby with ironsmith to get you started. It is located close to a ruined portal, which leads to a reliable nether spawn with the fortress nearby. Then, back in the overworld, there's another plains village nearby.
Unfortunately, this village doesn't have many resources beyond food, but it makes up for it by providing a stronghold beneath it. You can dig directly under the well to reach one of its staircases. Not to forget, once you find its portal, it will already have 2 eyes of ender pre-installed in it. Keeping that in mind, you can shorten your nether journey and make the most of this simple yet giving seed.
Seed Code: 328819481
Biomes: Plains
Closest Village Coordinates: X: -360, Y: 75, Z: 104
Stronghold Village Coordinates: X: -168, Y: 73, Z: -712
Ruined Portal Coordinates: X: -472, Y: 70, Z: 216
4. Resources Galore
Our next seed spawns us in the middle of a seemingly endless snowy taiga. But you need to ignore that and head towards a snowy village a few hundred blocks from the spawn point. Here, you will find ironsmiths, a shipwreck, an almost complete ruined portal, and a pillager outpost.
If you are smart enough to not fight the pillagers first, the resources from this area are enough to get you on track to the Nether. And as you might have guessed, on your return, the stronghold is right beneath the snowy village. But, you have to carefully avoid falling into a huge cave opening connected to that stronghold.
Seed Code: -1857141965
Biomes: Snowy Taiga
Snowy Village Coordinates: X: 836, Y: 75, Z: 119
Ruined Portal Coordinates: X: 722, Y: 63, Z: 241
Pillager Outpost Coordinates: X: 563, Y: 72, Z: 276
Shipwreck Coordinates: X: 960, Y: 63, Z: 52
5. The Six Villages Seed
In any Minecraft speedrun, villages play a major part in getting the player ready. This Minecraft 1.18.1 seed keeps that principle in mind and takes it to the next level. We spawn at a location with 6 villages within 600 blocks of our spawn point. Some of these have ironsmiths, while others have great food loot.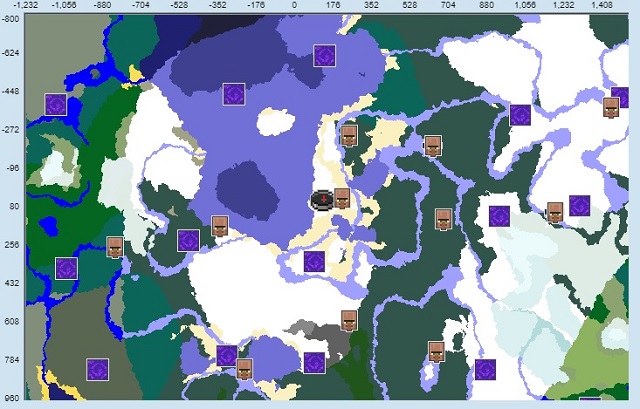 Then, to top them off, one of the villages has a stronghold beneath. However, if you don't like that stronghold, you can also try the one a few hundred blocks away from it. If nothing else, you can steal the eyes of ender from one of them to use at the other.
Seed Code: 2073720455
Biomes: Snowy Beach
Stronghold Village Coordinates: X: 632, Y: 77, Z: -200
Second Stronghold Village Coordinates: X: 1192, Y: 75, Z: 104
Best Minecraft 1.18.1 Java Edition Speedrun Seeds
6. Best Nether Speedrun Seed
A major complaint that players have with Minecraft 1.18.1's speedrun seeds is the Nether. Even with a stronghold at spawn, many players struggle to reach Nether fortresses due to the world's repetitive structure. This Java seed solves that exact problem. Well, as long as you enter the Nether using the underwater but almost complete ruined portal near our spawn.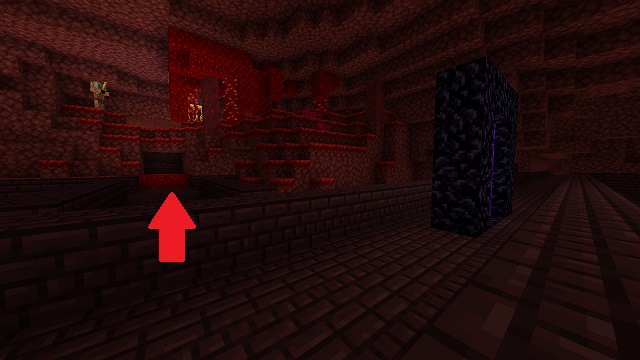 This portal spawns us on top of a Nether fortress with two blaze spawners nearby. One of them is closed off, so you can easily hunt blazes without worrying about other mobs. Once done, you can head to the overworld and start looking for a stronghold. Alternatively, you can stick around to loot the nearby bastion remnant and then trade in the crimson forest.
Seed Code: 3480185794852939950
Biomes: Savanna
Ruined Portal Coordinates: X: 277, Y: 50, Z: 181
Closest Blaze Spawner Coordinates: X: 43, Y: 60, Z: 54
7. Closest Possible Stronghold
A major aspect where speedrunning in Minecraft Java lags behind is the strongholds department. You can get strongholds within the first few hundred blocks in the Bedrock edition but never on a Java seed. So, this seed with a slightly exposed stronghold within 1300 blocks of our spawn is quite rare. Though, you will have to look for the resources before coming here as this seed lacks in village count.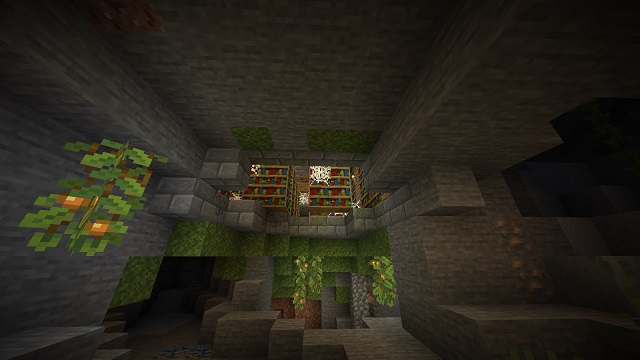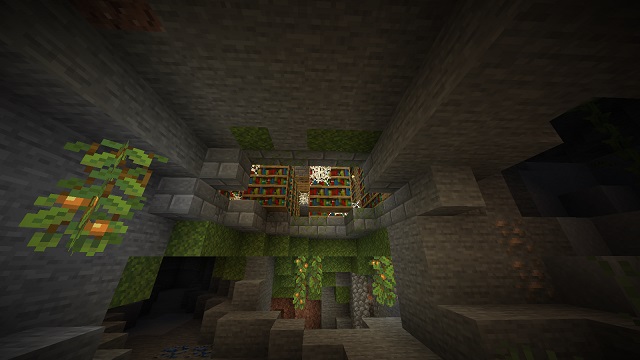 Fortunately, the route to this stronghold is filled with plenty of ruined portals and loot chests. Once you reach the stronghold coordinates, you can either dig straight or go to the nearby lush cave opening. This cave leads directly to the stronghold library.
Seed Code: 1216998451290974659
Biomes: Savanna
Cave Stronghold Coordinates: X: 1261, Y: 16, Z: 545
Stronghold Stairway Coordinates: X: 1332, Y: 28, Z: 548
8. Scattered Plains Village
Our next seed spawns us on the edge of an ocean with a scattered plains biome. There is a village next to the spawn point with an ironsmith and a variety of other villagers. Once you are done looting the village, you can simply use the two lava pools to make a Nether portal. There's not much else to explain here as you will be able to reach the Nether realm in no time.
Seed Code: 566150195776055707
Biomes: Plains
Lava Pool Coordinates: X: 20, Y: 64, Z: -17
9. Three Ironsmiths-Run Village
This entry to our list of best Minecraft 1.18.1 speedrun seeds gives us the best possible village spawn. If you have tried speedrunning before, you might know how important ironsmiths are. Their chests provide you with iron, armor, and at times even obsidian. And the best is that this seed has three of them in the same village.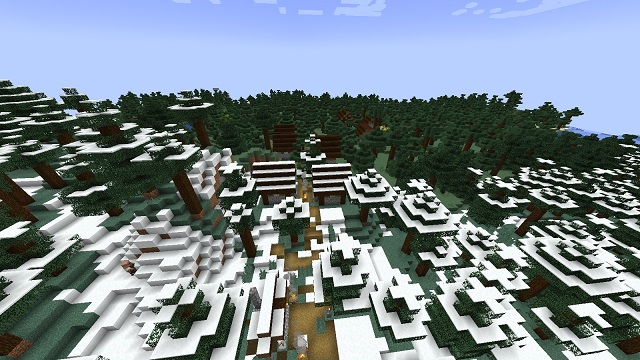 You can even find a lot of lava pools in the area to build a nether portal. Not to forget, this seed's nether spawn is amazing too. It spawns us close to 3 separate blaze spawners, and there's a plentiful of bastion remnants nearby.
Seed Code: -8042397525280544621
Biomes: Snowy Taiga
10. 3 Villages and 2 Desert Temples
Our next seed feels specially crafted for skilled players with multiple resourceful structures spread across the first 1000 blocks. You can find multiple villages close to 2 desert temples in this seed. Almost all of these seeds have ironsmith or other important villagers in them. Also, you can find ruined portals, cave openings, and more in the area.
You can use the loot from multiple ruined portals to quickly make a complete nether portal without much effort. And once you are done with the nether, finding a stronghold will be the only thing left for you to do. As for the resources, the villages have you more than covered.
Seed Code: 69069594
Biomes: Desert
Ruined Portal Coordinates: X: 310, Y: 57, Z: 141
First Village Coordinates: X: 33, Y: 78, Z: -256
Second Village Coordinates: X: 169, Y: 72, Z: 394
Third Village Coordinates: X: -543, Y: 88, Z: 39
Desert Temple Coordinates: X: -404, Y: 90, Z: -871
Second Desert Temple Coordinates: X: 210, Y: 66, Z: 264
Try The Top Minecraft 1.18.1 Seeds for Speedrunning
With that, you are now ready to set new records of completing Minecraft on the 1.18 update. You can try out multiple seeds from our list until you find the one that fits your style. Each one of them caters to a different skill set and patience. Whether you want to directly jump into the nether or explore the overworld first, these seeds give you plenty of options. Not to forget, you can always install Forge in Minecraft for additional help. It allows you to use some of the best Minecraft mods, which let you access additional in-game features and more. Speedrunning is an exciting and refreshing experience for players of all levels. So, if you try one of our seeds for your adventure, do share the experience in the comments. Our readers and fellow speedrunners would love to get some tips.