Thanks to the adoption of Google's ARCore and developments like LiDAR scanners on the iPhone, our smartphones have become capable enough to serve as a measurement tool. Instead of reaching for a physical tape, you now have the option to install an app on your smartphone and get fairly reliable results while measuring real-life objects. So with such use cases in mind, we have compiled a list of the 10 best measurement apps you can use on iPhone and Android devices.
What Is a Measurement App?
Measurement apps are apps designed to help you quickly measure real-world objects without relying on a conventional tape measure. Powered by AR (augmented reality) and on-device sensors, these apps are fairly reliable as long as you are not going to use them for professional use cases. If you are someone who wants to measure the length, angle, or distance between two objects, you could use one of the measurement apps listed below to get things done without breaking a sweat.
Best Measurement Apps for Android and iOS Devices (2022)
Google's ruler app Measure used to be my favorite measurement app on Android, but unfortunately, Google decided to shut it down in June 2021. While the Measure app will be sorely missed on this list, there are several other viable options you could try out on Android. We have also picked some apps that work well with iPhones. Having said that, let's get to the list.
1. AR Ruler App
As the name suggests, AR Ruler is an AR-based measurement app that lets you measure real-world objects. Based on Google's ARCore, AR Ruler offers measurement in feet, yards, centimeters, meters, millimeters, and inches. All you have to do is point the viewfinder towards the surface plane and tap the screen to start measuring.
Alongside the ruler functionality, the app also offers a handy feature to measure rooms and create a 3D floor plan (requires an additional app from the same company). If you're an iPhone user, you'll be glad to know that AR Ruler is also available on Apple App Store.
Pros:
Modern interface
AR-based
Reliable measurements
Cons:
Ads
Pricey subscription
Requires separate app for floor plan
Download AR Ruler App (Free, Android and iOS)
2. Measure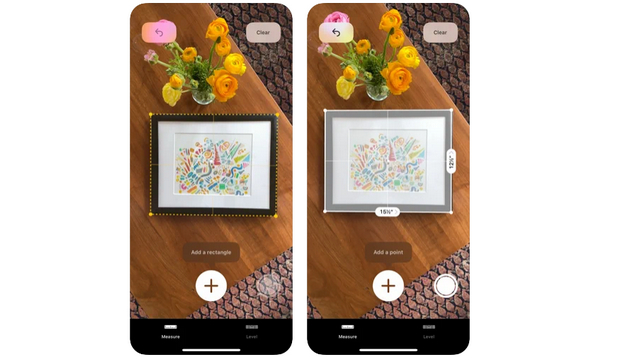 Introduced with iOS 12, Measure is Apple's built-in measuring app for iPhones and iPads. Since it is a system app that's already available on your phone, you don't have to put in the effort to download an additional app from the App Store. You can use the Measure app to draw lines and measure the length in horizontal and vertical dimensions. If you're looking for a basic yet functional measuring app, Measure has got you covered. The app works with iPhone 12 Pro and later, iPad Pro 11-inch (2nd generation and later), and iPad Pro 12.9-inch (4th generation and later).
Pros:
Present by default
User-friendly interface
Guided instruction prompts
Cons:
Limited set of features
Requires modern iPhones
Download Measure from iOS App Store (Free)
3. Moasure
Moasure is one of the best measurement apps on Android and iOS and features a 300m/1000ft tape measure, ruler, protractor, and a goniometer. You can use Moasure to measure distances up to 300m/1000ft and angles over distances up to 30m/100ft. One cool aspect about the app other than the measurement options is that it offers is a user-friendly and intuitive interface. Thanks to in-app video tutorials, you will have no trouble getting acquainted with this app.
Pros:
Intuitive UI with no ads
Helpful tutorials
Variety of measurement options
Cons:
Requires modern smartphone for accurate results
Tutorials can get annoying
Download Moasure (Free, Android and iOS)
4. Angle Meter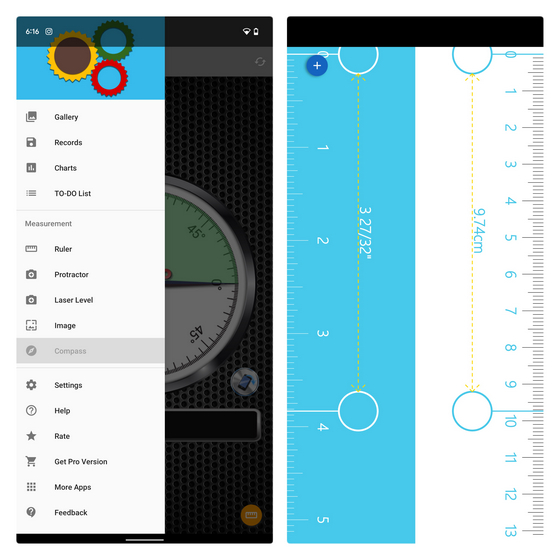 Although the UI is a little old-fashioned, Angle Meter is a versatile measurement app. Rather than utilizing augmented reality, it takes a more conventional approach and offers you an on-screen ruler, protractor, camera-based laser level tool, and more. One unique aspect of this app is that it offers you an option to measure the angle or inclination of objects, a feature you won't find in most measurement apps. An iOS version of the app is not available yet, but you can check it out if you're an Android user.
Pros:
Different measurement options
Reliable results
Angle measurement
Cons:
Ads
Basic interface
No iOS variant
Download Angle Meter on Android (Free)
5. Google Maps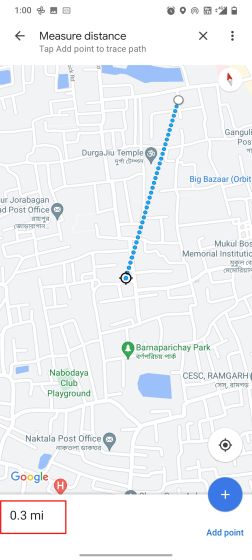 Google Maps might not be the first app that comes to your mind when you're thinking of measurement apps, but did you know that it can measure distance too? With Google Maps' built-in measurement feature, you can measure the distance between two points in miles and yards or kilometers. To get started, open the starting point in Google Maps and hit the 'Measure distance' button. You can check our dedicated guide on measuring distance and area in Google Maps for step-by-step instructions.
Pros:
Easy to use
Accurate results
Real-world application
Cons:
Not a dedicated measurement app
Download Google Maps (Free, Android and iOS)
6. Bubble Level – Angle Meter
Bubble Level is a thoughtful app that replicates the functionality of a conventional bubble level. Filled with alcohol in a vial, a traditional bubble level or spirit level is a tool to determine the horizontal or vertical directions of the surface. Alongside bubble level, the app also offers a straight ruler, a 2D ruler, and an angle meter for added convenience. Although the app has ads, you can remove them by collecting 50 coins. You get 10 coins for watching an advertisement.
Pros:
Simple interface
Reliable results
Presence of bubble level measurement
Cons:
Ads
Should calibrate phone first
Download Bubble Level – Angle Meter on Android (Free)
7. Roomscan Pro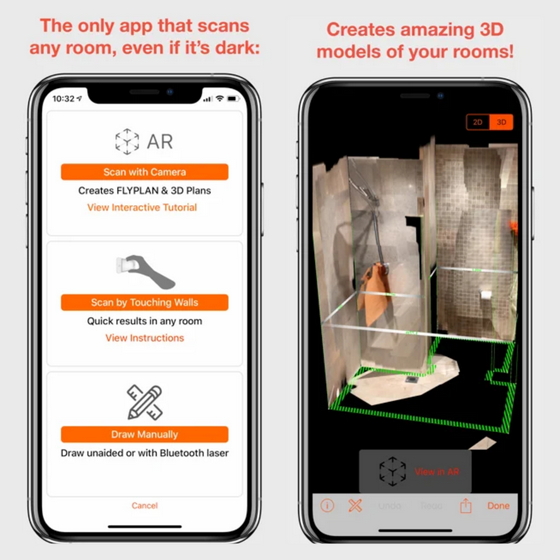 If a floor plan app is what you're after, Roomscan Pro is something you should check out. To get started, point the app towards the floor and wait for it to identify the ground. Once that's done, you can scan each wall around the room to create the floor plan with ease. If you have a newer iPhone like the iPhone 13/ 13 Pro or the 2021 iPad Pro with a LIDAR scanner, you could also consider using the RoomScan LiDAR app for more accurate measurements.
Pros:
Advanced set of features
Meant for professionals
Clean interface
Cons:
No Android app
Steep learning curve
Requires subscription for unlimited exports
Download Roomscan Pro from iOS App Store (Free)
8. GPS Fields Area Measure
You can use the GPS Fields app to measure the area, distance, and perimeter of a region with ease. Much like Google Maps' measure tool, you get the map view and have the option to mark points. You can either use manual measuring or GPS to make the measurements. To use the app, pick the start and end points within the map, and you will see the distance at the top-left corner.
You also have the option to save the measurements within the app or to your phone's gallery. If your use case involves measuring lands or fields, GPS Fields Area Measure is the most viable measurement app on Android or iOS.
Pros:
Map interface
Convenient for measuring the perimeter of fields
Can save measurements
Cons:
Ads
Practically identical to Google Maps measure tool
No other features
Download GPS Fields Area Measure (Free, Android and iOS)
9. Smart Measure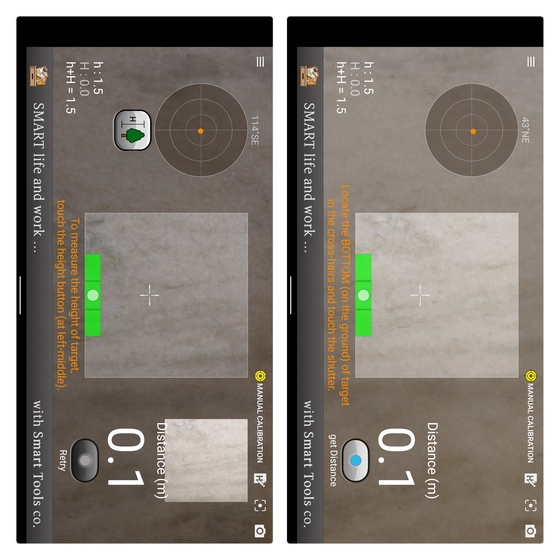 Another app worth considering is Smart Measure. While the app's usage is fairly straightforward, one crucial element you should keep in mind is that it measures height from the ground. If your use case involves measuring the distance of objects above the ground level, you should either manually offset the distance or use an AR-based measuring app. However, keep in mind that the app has ads, and you will need to buy the pro version for Rs. 110 to remove ads.
Pros:
Can measure height and distance
Works well on old phones
Lightweight app
Cons:
Outdated interface
Can't measure above ground level
Has ads
Download Smart Measure on Android (Free)
10. PLNAR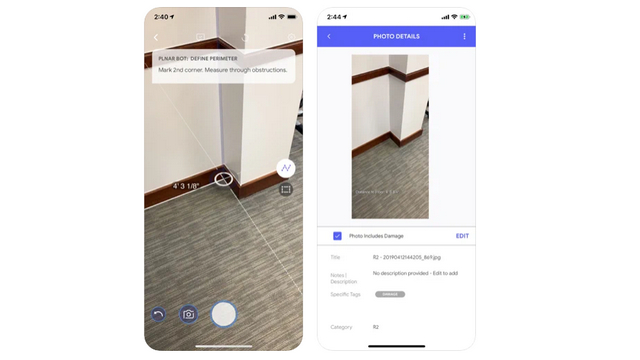 Our last pick for a measurement app is PLNAR. Going beyond a basic traditional measurement app, PLNAR offers the option to create 3D models of the room using AR. Since the app is catered towards professionals such as designers and contractors, you can use PLNAR to measure area, perimeter, surface area, and even generate a 3D CAD file of your room. That said, do note that the app is available only for iPhone and iPad users.
Pros:
AR-based
Can create 2D and 3D room plans
Generate CAD file
Cons:
No Android app
Too advanced
Download PLNAR from iOS App Store (Free)
Try Out the Best Measuring Apps on Android and iOS
As mentioned earlier, measurement apps are convenient apps that will help you out without having to use a physical measuring tool. If you are someone who often measures things in the real world, we hope this list helped you pick an app that suits your needs. In case you are looking to expand your app library, just take a look at our list of the best open source apps for Android.
---
Load More