Let's face it! Not everyone is fond of a full-fledged case – certainly not the ones who love to showcase their iPhones. However, even a die-hard caseless person wants to offer the needed shield to his/her smartphone against accidental drops and scratches. And that's exactly what makes bumper cases a popular choice for those looking for a stylish way to safeguard the iPhone. If you are one of them, these 8 best iPhone 12 and 12 Pro Bumper cases can win you over.
Best iPhone 12 Bumper Cases You Can Buy
First things first, not all bumper cases are designed for the same purpose. While some bumper suits feature nothing but a compact frame (minus back panel), others flaunt a clear back to let the iPhone shine through and also offer up a bit more protection.
That's not all, some bumper cases come with built-in screen guards to amp up the safeguard against accidental damage. So, don't be swayed by the misconception that all bumper cases have nothing but a frame.
It's worth noting that we have also covered the best leather cases, cute cases, MagSafe accessories, and other essential accessories for iPhone 12/12 Pro. Therefore, make sure to check them out if you want to explore more accessories for your device. That said, let's get into the lineup of the top bumper cases designed for iPhone 12/12 Pro!
1. RhinoShield CrashGuard
When it comes to producing top-notch bumper cases, RhinoShield has long been a noted name. So, it's befitting to kickstart this roundup with RhinoShield CrashGuard that has checked off all the boxes to stake the claim of being one of the best bumper cases for iPhone 12 and 12 Pro.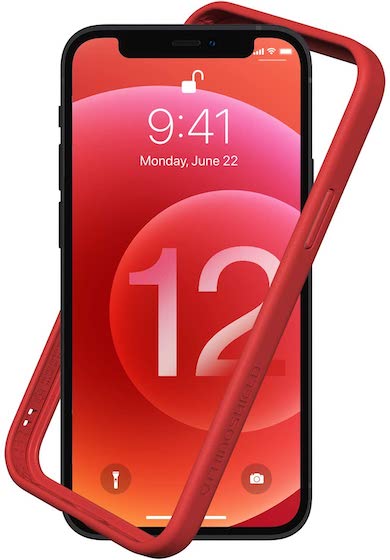 Boasting rugged construction, the bumper case can endure up to 11 feet drops. Thanks to the honeycomb structure, it can absorb shock with ease. Plus, there are also raised bezels to lift the screen off the flat surface to prevent scratches.
What's more, CrashGuard also offers an enhanced grip and supports the MagSafe charger as well as other wireless chargers to let you power up your iPhone without any issues.
Buy from Amazon: $24.99
2. Ringke Fusion
Sporting a clear design, Ringke Fusion lets you flaunt your smartphone in all its glory without endangering the protection factor. Made of rugged PC and soft TPU material, the bumper case has got the cushion to fight out bumps. Not just that, it's also equally good in terms of providing the needed grip.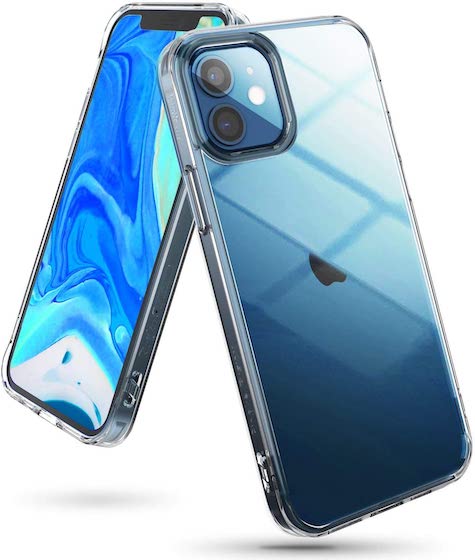 That aside, Ringke Fusion has precise cutouts to offer comfortable access to all the ports. As for the pronounced, you can trust them to offer better clicks. On top of all, it's priced at just $9 which makes it one of the cheapest iPhone 12/12 Pro bumper cases in the market right now.
Buy from Amazon: $8.99
3. i-Blasion Ares
If you are a case that can let you offer a 360° safeguard to your iPhone 12/12 Po against impact and scratches, look no further than i-Blasion Ares. Boasting an exceptionally rugged frame, the case can absorb even nasty shock with very little effort.
The hybrid construction (TPU and PC) i-Blasion Ares is touted to withstand up to 20 feet. What's more, it also comes with a built-in screen protector and elevated bezels to guard the rear camera bump against scratches, which make it probably the best iPhone 12/12 Pro rugged case in the market.
Buy from Amazon: $19.99
4. SupCase Unicorn Beetle Style Series
Both in terms of enduring shock and making a form-fitting match with the iPhone 12, SupCase Unicorn Beetle Style Series has looked up to the mark to me. The hybrid casing (PC and TPU) ensures the case can withstand accidental drops, while the rubberized sides provide the much-needed hold.
The elevated lips around the OLED display and the rear camera make sure scratches aren't able to hurt the smartphone. So, you can place your device on a flat surface without worrying about scratches.
Protection raise, Unicorn Beetle Style Series features responsive buttons and comes in two color variants namely black and clear. Overall, it's a highly durable bumper case for your iPhone 12.
Buy from Amazon: $12.99
5. CASEKOO
Showcasing an ultra-transparent design, CASEKOO is a good-looking clear bumper case designed for iPhone 12. Made of thermoplastic and polyurethane material, the case has shock-absorbent construction that can survive the impact. The built-in corner airbags play a vital role in helping it withstand drops.
Furthermore, the 1.5mm lip around the rear camera and the 1mm bezel around the OLED display provide an additional shield to the smartphone against scratches. Courtesy of these features, the smartphone can offer reliable military-grade protection to your device.
Additionally, CASEKOO bumper case also supports wireless charging so that there is no need to take off the cover before kickstarting wireless charging. Everything considered; it's one of the best iPhone 12 stylish cases you can buy.
Buy from Amazon: $21.99
6. Matone
This offering from Matone is the sort of bumper case that tends to pass the test at the very first glance. Equipped with a rugged construction (make of hard PC back and TPU bumper), the bumper case offers trusted defense to your iPhone against random drops and scratches.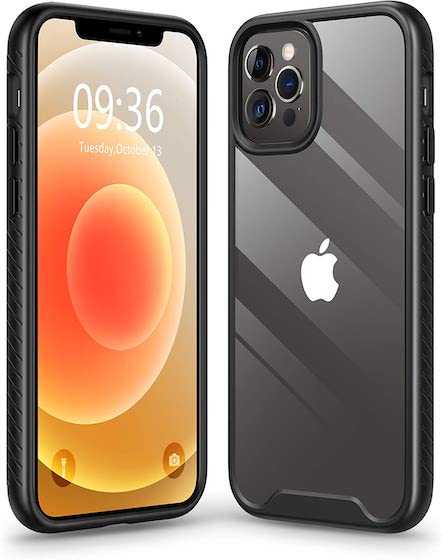 The incorporation of elevated edges works as extra shields for the rear camera and the 6.1″ expensive OLED display. Thanks to the rubberized frame coupled with the textured finish, the case also offers a better grip so that the device can remain steady in the hands.
Priced $10, it's also quite affordable as compared to other iPhone 12 bumper cases. Taking everything into account, Matone is a durable bumper cover that can offer essential protection to your device while still keeping the elegance of your device intact.
Buy from Amazon: $9.99
7. ANHONG
It's the pretty compact form-factor that has compelled me to include ANHONG bumper case in this roundup. Featuring a durable construction (PC and TPU), the case can comfortably take on random drops. And with the beveled edges ready to guard both the camera and the Retina display, it looks fully equipped to be a trusted shield for your iPhone.
As for grip, you can count on the rubberized frame to offer a secure hold. As a result, there is less chance of your iPhone slipping out of your palm. Beyond protection, it also has tactile buttons and exact cutouts so that accessing ports remain easy-going for you.
Considering these impressive specs, ANHONG seems to be a safe bet at $10. Long story short, it's one of the best iPhone 12 thin cases you can buy right now.
Buy from Amazon: $9.99
8. Miracase Glass+
Last but not least, Miracase Glass+ is a complete bumper case for your iPhone. And with complete, I mean the case that checks off all the important boxes. For starters, it has a solid construction that can take on drops without breaking any sweat. For additional safeguard against scuffs, it comes with a highly protective tempered glass screen protector.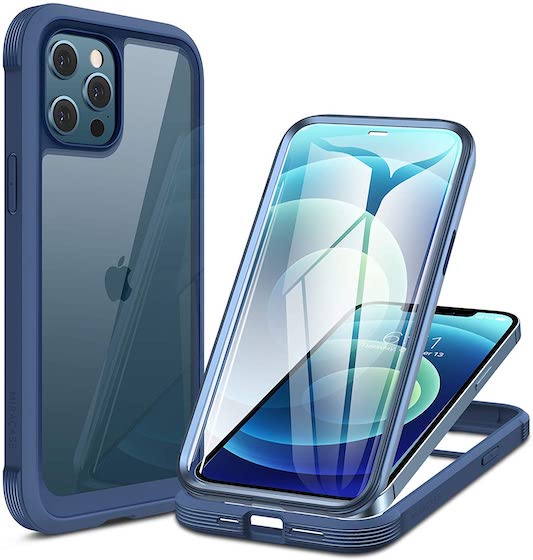 Equipped with 9H hardness, the screen guard is designed to keep even ugly scratches at bay. Besides, it also offers HD clarity and true touch sensitivity to let you use your device without any problem.
Notably, Miracase Glass+ also supports wireless charging so that charging the iPhone wirelessly will never be a hassle. Keeping in mind these features, the case and glass combo make it a reasonably good buy at $18. To sum up, it's a top-notch iPhone 12/12 Pro bumper case that delivers a 360° shield to your device.
Buy from Amazon: $17.99
Top Bumper Cases for iPhone 12 and 12 Pro Lined Up for You
There you go! So, these are the best bumper cases designed to offer a trusted shield to your iPhone 12 and 12 Pro without sacrificing the style quotient. Besides, these bumper suits also work with wireless chargers to let the device charge wirelessly without any issues.
By the way, which one of these bumper covers are going to pair with your iPhone 12? I guess it's the one that delivers a 360° shield to your device. It would be great to check your top picks in the comments section below.