The brand new HTC 10 flagship is undoubtedly an impressive device and while HTC has brought some major upgrades, one of the major changes is the new display. Upping the ante from the last year's One M9, the HTC 10 features a 5.2-inch QHD (2560 x 1440p) display, which is protected by the latest Corning Gorilla Glass 3. If the reviews are any indication, the display on the device is gorgeous and thus, it's important that you keep it well protected.
While Corning Gorilla Glass 4 on the HTC 10 is supposed to be highly scratch resistant, who wants to risk it? So, if you have ordered a brand new HTC 10, we'd recommend using a screen protector for the device. Well, you don't have to go around hunting for the best HTC 10 screen protectors because we are listing down the best of the lot. So, without wasting any more of your time, here are the best HTC 10 screen protectors you can buy:
1. Skinomi Matte Full Coverage Screen Protector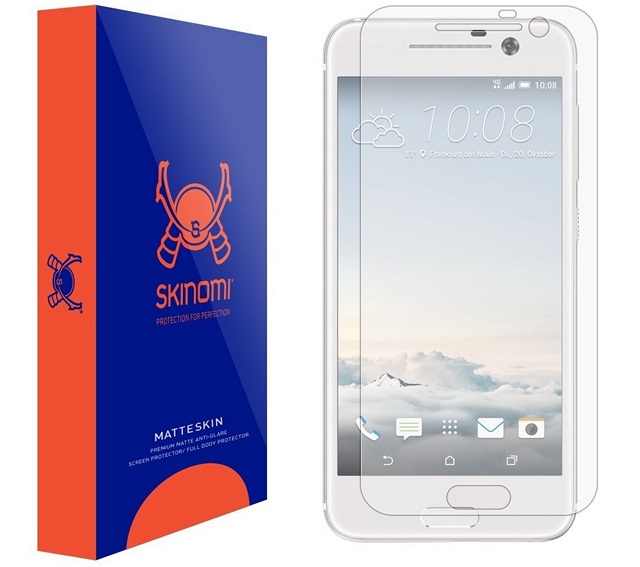 The Skinomi matte screen protector for the HTC 10 is custom designed to make sure that the maximum area on the front is covered. The screen protector features a smooth, satin finish to make sure it's anti-glare. It's also resistant to scratches, fingerprint smudges or dirt, which should ensure that your HTC 10's display looks clean all the time. Moreover, the protector comes with a liquid solution to make sure installation is error-proof. Also, there's lifetime replacement warranty from Skinomi to lure all you HTC 10 users.
Where to buy: Amazon.com
Price: $9.95
2. Incipio High Clarity Screen Protector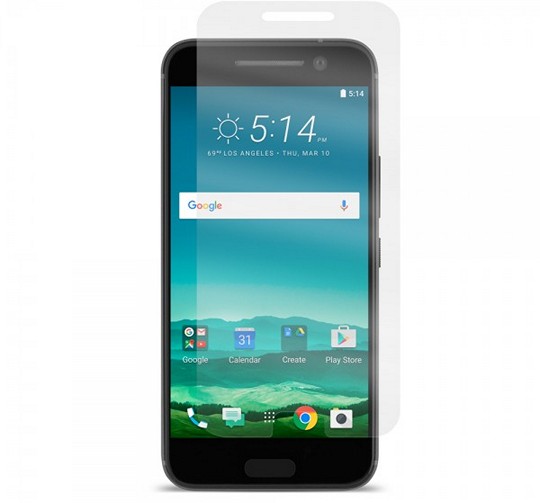 Screen protectors tend to bog down a display but not the Incipio Plex high clarity screen protector, as it brings great protection along with superb clarity. Along with clarity, the protector brings edge to edge coverage, flawless touch screen response and resistance to scratches. The Incipio case also includes a microfiber cloth to clean the screen from time to time along with an applicator card to make sure there aren't any air bubbles while installation.
Where to buy: Incipio.com
Price: $29.99
3. JOTO Full Screen Tempered Screen Protector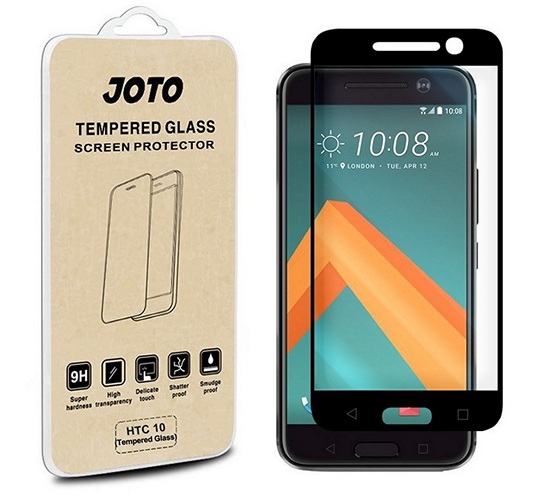 Most flagship smartphones these days feature a front entirely made of a single glass slab and the HTC 10 is no different. Thus, it's important that a screen protector protects the front fully and not just the display. Well, that's where JOTO's full screen tempered screen protector excels. The screen protector features precision cutouts for the home button, camera and speaker, while covering everything else on the front. Other specs of the screen protector include tempered glass of 9H hardness surface, ultra thin design, HD transparency, scratch resistance, anti-oil and anti-fingerprint.
Where to buy: Amazon.com
Price: $8.99
4. Mr Shield Anti Spy Screen Protector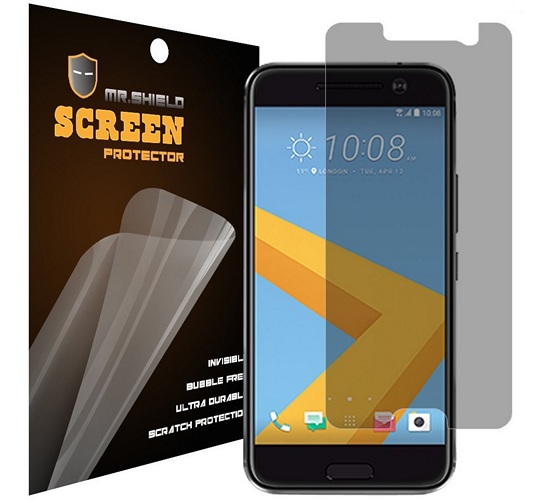 Hate it when people sitting beside you pry on your device's display? Well, we hate that too but thanks to the cool anti spy screen protector, you can make sure nobody sees anything except you. The screen protector from Mr Shield is designed such that anybody at an angle of 30 degrees will not be able to see contents of the screen. Maximum brightness is recommended to get the best effect. The package of the scratch-resistant screen protector includes not one but two anti spy protectors along with instructions, scratching card, cleaning cloth, dust collector and removing tapes.
Where to buy: Amazon.com
Price: $7.95
5. IQ Shield HTC 10 Full Body Screen Protector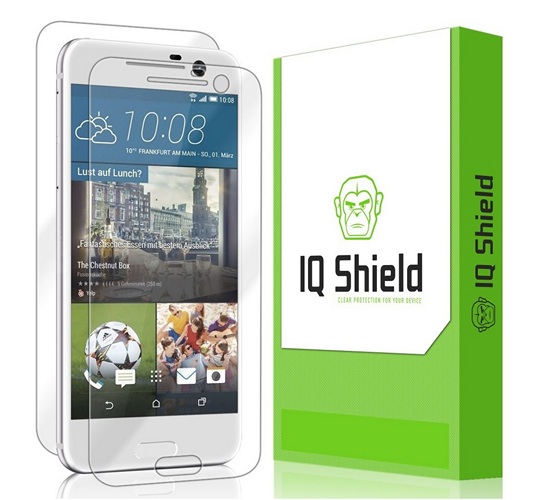 If you'd like to protect both the front and the back of the HTC 10 from scratches, the IQ Shield screen protector should be the right choice. The screen protector brings films for both the front, as well as the back of the metal clad device. The screen protector features self-healing abilities, non-yellowing, glass like transparency along with high response sensitivity. The "Frustration-Free" IQ Shield kit brings the screen protectors, installation tray, lint-free cloth, instructions and a squeegee. Also, IQ Shield offers lifetime guarantees on their screen protectors, so you have nothing to worry about.
Where to buy: Amazon.com
Price: $12.95
6. iLLumiShield HTC 10 Ultra Clear Screen Protector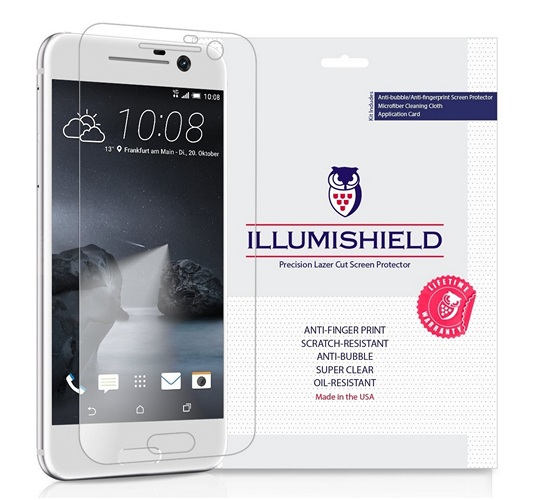 The ILLumiShield ultra clear screen protector for the HTC 10 aims at keeping the display super clear, as well as protecting it. The screen protector made up of high quality PET film offers a "true touch" feel for a great tactile experience when using the touchscreen. Moreover, it is anti-fingerprint, scratch resistant, anti-bubble and oil resistant, so say good bye to those dirty smudges on the display. The package is pretty alluring too, as there are 3 screen protectors, squeegee, microfiber cleaning cloth and installation guide. Plus, you get lifetime warranty, sweet deal, right?
Where to buy: Amazon.com
Price: $7.85
7. Olixar HTC 10 Invisible Screen Protector
The "Invisible" tagline does give out the protector's prime feature but if you haven't got it yet, the Olixar screen protector is supposed to be so clear and smooth, you wouldn't even notice there's a screen protector. The protector is anti-scratch, anti-fingerprint and as we mentioned, crystal clear. It's also custom cut to cover the front of the device fully and the package brings 2 screen protectors along with application card and screen cleaning cloth. Also, there's 2 years of warranty!
Where to buy: Mobilefun.co.uk
Price: $10
8. OMotion HTC 10 Tempered Glass Screen Protector
The OMotion tempered glass screen protector is as sturdy as it gets for your HTC 10 display. The protector features 2.5D glass with 9H hardness but it's also very thin at 0.26 mm. Suffice to say, the screen protector will save the display from scratches, high-impact drops and bumps. It is also oleophobic and hydrophobic, which means it's resistant to water and oil. Moreover, it maintains a high transparency, which makes sure you can easily view the HTC 10's lovely display. The package includes 2 screen protectors, so you can be assured of your HTC 10's safety for a long long time once you buy this.
Where to buy: Amazon.com
Price: $7.99
SEE ALSO: 10 Best HTC 10 Protective Cases and Covers
Protect your HTC 10's gorgeous display with these screen protectors
Well, that's it, these are indeed the best HTC 10 screen protectors at the moment and since it's a fairly new device, we can expect more cool screen protectors to be launched in the coming times. We'll make sure to keep updating this post with more cool HTC 10 screen protectors, so if you have an HTC 10, be sure to visit this page back in the future for more. Till then, sound off in the comments section below about your favorite HTC 10 case.