Undoubtedly, the highlight of the iPhone 12 Series is the beefed-up cameras. Features like Apple ProRAW, depth-sensing imaging technology called LiDAR, and the much-improved Night Mode are the hot deal-makers that most mobile photographers and vloggers would love to have at their disposal. Especially when shooting action-filled pro-grades shots, it pays to be in complete control to ward off last-minute shakes and unexpected fumbling that can destroy the entire scene. And for this exact reason, I have lined up the 8 best gimbals for iPhone 12, 12 mini, 12 Pro, and 12 Pro Max to let you amp up your shooting game like a pro.
Best Gimbals for iPhone 12, 12 mini, 12 Pro, and 12 Pro Max (2021)
Apart from offering the desired control, these gimbal stabilizers also come with plenty of shooting modes like dolly zoom, sport mode, hyperlapse, story mode, and more. . Better still, they are equipped with anti-shake stabilization system to let you capture clear shots during during sporting activities, such as running, cycling, skateboarding, and climbing.
Being pretty lightweight and portable, they ensure your on-the-go shooting remains smooth-sailing. That all being, let's explore the roundup of the top gimbal stabilizers for iPhone 12 and 12 Pro, shall we?
1. Hohem iSteady – Top-Grade 3-Axis Gimbal Stabilizer
For more than one reason, Hohem iSteady is a top-notch gimbal for iPhone 12 series. The gimbal features a lightweight design and comes with a pretty responsive trigger button to let you get into action right away. Moreover, the clip securely holds your smartphone in the desired orientations (both horizontal and vertical) so you can shoot videos freely. With the grippy handle, you can hold the gimbal comfortably while shooting action-filled videos.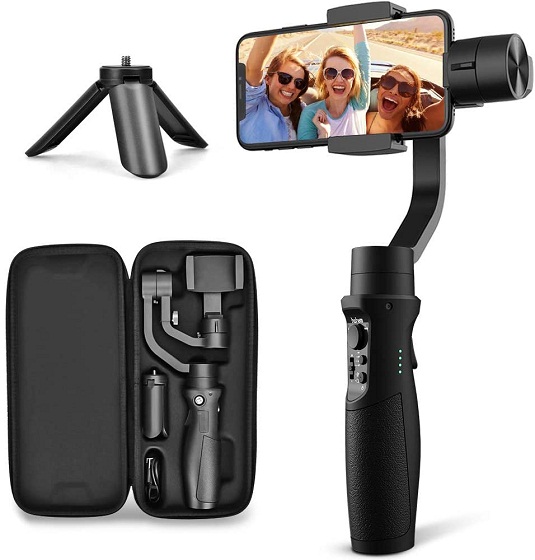 Hohem iSteady gimbal works in connection with the companion app called iSteady Mobile+. Notably, it features sport mode to let you shoot action scenes with better control. Other highlights of this gimbal include features like tracking motionlapse, hyper-lapse, and tracklapse that can play a vital role in letting shoot videos like a pro.
Furthermore, iSteady boasts 4 panning modes including the super handy 3D inception mode that enables you to capture vertically rotating videos. Equipped with a solid 4000mAh battery, the gimbal delivers up to 12 hours of battery life which should be good enough even for a long movie shooting. That's not all, it also doubles up as a useful power bank to let you power up your phone so that your shooting will never come to an abrupt halt.
Buy from amazon: $89
2. DJI OM 4 – Magnetic Phone Clamp Seals the Deal
If you don't want to settle with anything less than the high-end gimbal for your iPhone 12, DJI OM 4 is for you. The 3-axis smartphone gimbal stabilizer sports a modern-looking design. And with the much-improved grip, you can hold the gimbal securely. 
Notably, DJI OM 4 comes with a magnetic phone clamp that makes sure installation and removal of the smartphone remain easy-going. Plus, there is also a magnetic ring holder that enables you to shoot videos with the needed convenience. 
What's more, OM 4 has a hitchcock effect," aka an exciting zoom shot that lets you shoot cinematic videos. Probably the best part of this gimbal is the fast and responsive gesture control which you can use to capture a variety of shots hands-free. Featuring ActiveTrack 3.0 technology, it enables you to follow subjects with more precision. Overall, OM 4 is one of the best gimbals for iPhone 12 and 12 Pro in the market.
Buy from Amazon: $149
3. Hohem iSteady X – Smart AI Face-Tracking Mode Does the Trick 
Just in case you find Hohem iSteady a bit on the higher end of the pricing for your budget, Hohem iSteady X could be a better alternative. iSteaddy X offers almost all features that its big brother provides and is currently priced at $64 which puts it in the affordable category. The gimbal features a strong clip that lets you install and remove the smartphone with ease.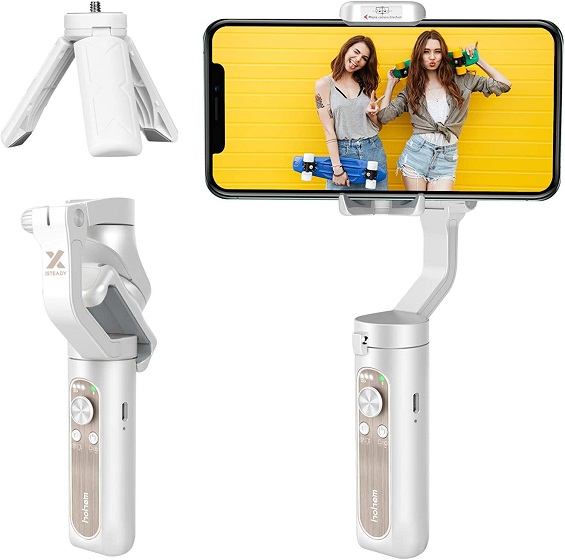 What's more, it also makes the process of switching orientations like vertical and horizontal a painless task. And with the tactile buttons along with a neat zoom slider, you can control your action without any hassle. Notably, the gimbal stabilizer can realize your video recording and automatically zoom in/out so that you won't need to touch the phone screen.  
That's not all, iSteady X has also got a good set of cinematic templates like dolly zoom, inception, and time-lapse to let you shoot Hollywood style videos with little effort. Plus, there are four working modes along with the smart AI face-tracking mode which you can fine-tune using the companion app.
With a decent battery capable of delivering up to 8 hours of battery life, iSteady X has got you fully covered as a super handy gimbal stabilizer for your iPhone 12, 12 mini, 12 Pro or 12 Pro Max.
Buy from Amazon: $64
4. Zhiyun Smooth 4 – Pro-Grade Gimbal with Integrated Control Panel 
Zhiyun is well-known for producing top-grade gimbals for smartphones. And looking at Smooth 4, I must say that it has got all the attributes of a pro-grade gimbal stabilizer for iPhone 12 Series. 
Smooth 4 has a lightweight and durable construction. Featuring a strong phone clamp, it keeps your smartphone secure in place so that you can shoot videos at will without having to worry about the safety of your device. Plus, there is an integrated control panel that lets you control shooting modes with the desired convenience. 
Smooth 4 works in sync with the official app called ZY play. However, if you want to get the most out of it, you can use the Filmic Pro app as the worthy substitute for the official app. Besides, the gimbal comes with time-lapse and object tracking features to let in order that you can capture shots with precision. As it supports two-way charging, chances are pretty high that your long shooting spree will remain smooth sailing. 
Buy from amazon: $99
5. DJI Osmo Mobile 3 – Impressive Foldable Design for On-The-Go Shooting
For the folks who are on the lookout for a premium iPhone 12 gimbal from DJI at a relatively affordable price, DJI Osmo Mobile 3 could be a worthy substitute. What makes it a top bet is the impressive foldable design coupled with the 3-axis stabilizing feature that ensures the smartphone remains steady to prevent unwanted camera movements.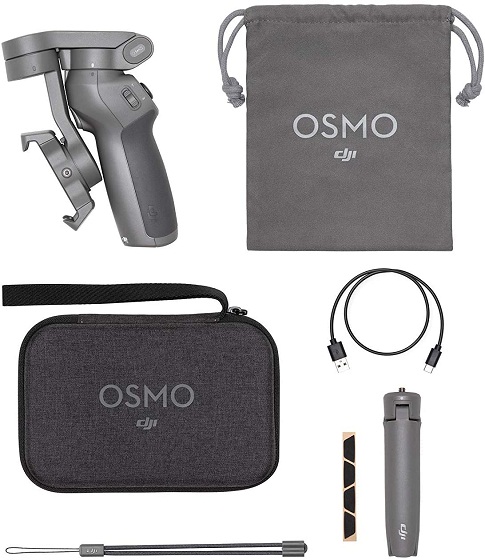 Furthermore, Osmo Mobile 3 has got a variety of shooting features including, sport mode, timelapse, hyerlapse, slow motion, dolly zoom, story mode, panoramas and more. Thus, you have more flexibility to shoot high-quality videos. Besides, you also have a smooth gesture control to snap shots with the needed control.
Additionally, Osmo Mobile 3 comes with a protective case to let you safeguard your gimbal against impact also carry it comfortably. That's not all, the company also provides water damage coverage (one-time only). Taking everything into account, Osmo Mobile 3 deserves to be rated as one of the finest gimbals for iPhones.
Buy from amazon: $119
6. Aoni – Two-Way Clamp Design with Anti-Shake Stabilization System
Equipped with a trendy design and a set of exciting features for shooting cinematic videos, Aoni didn't take too long to catch my eyeball. The gimbal has a neat form-factor with a more emphasis on portability. Thus, you can comfortably carry it during outdoor shooting.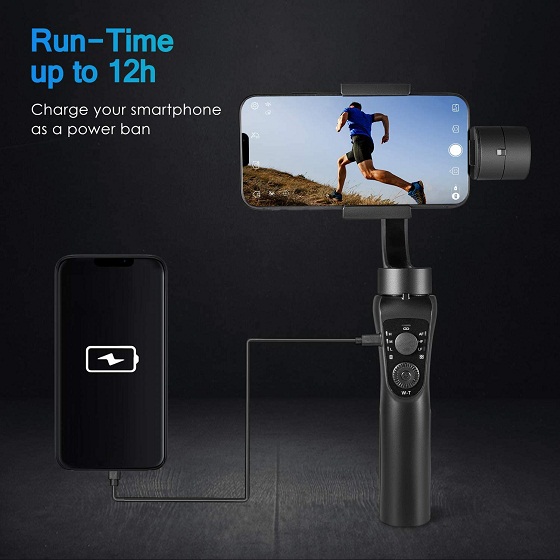 With the 3-axis anti-shake stabilization system put in place, your iPhone not only remains steady but also secure in the grip of the clamp. So, you won't have to worry about the unexpected shaking or the accidental fall off while shooting action-packed videos during skateboarding, cycling or climbing.
What's more, Aoni features two-way clamp design that allows you to hold your smartphone both horizontally and vertically. Apart from boasting face tracking, 3D inception, it has also got a handful of beauty filters to enhance the appearance.
Another notable feature of this gimbal is the dial wheel that offers quick access to camera settings. And with a powerful battery on offer, it also provides you the freedom to shoot for long hours (up to 12 hours of battery life). Long story short, Aoni is a great accessory for your iPhone 12 Series.
Buy from Amazon: $86.99
7. iWalk – Detachable Remote Control for Comfortable Shooting
As someone who appreciates the products that can punch way above their weight, I have found iWalk to be a flagship killer. Yeah, you read that right! The gimbal has checked off all the essential boxes while still keeping the price tag under $50.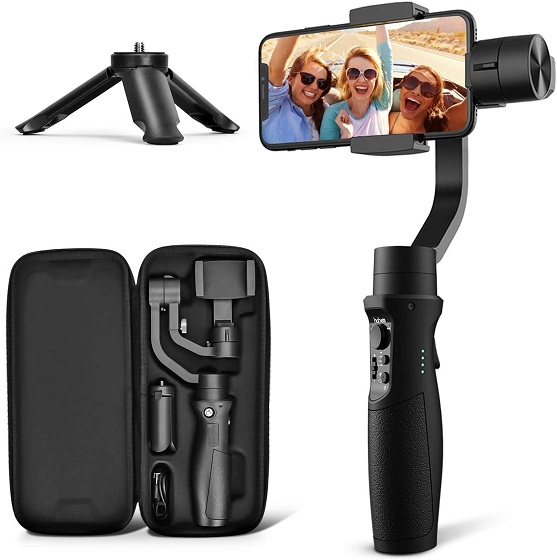 For starters, iWalk has got a good-looking design with the refined aluminum alloy construction. Besides, there is a strong phone clamp made of ABS and rubber material, which keeps your device secure. With the auto balance feature, it also prevents device shaking and the unwanted image blur. Moreover, iWalk comes with a detachable remote control that lets you record videos with ease.
Buy from Amazon: $49.99
8. ARTOFUL – Triples Up As a Gimbal, Selfie Stick, and Phone Stand
Here comes one of the cheapest iPhone 12 and 12 Pro gimbals! If you are hunting for a low-priced yet decent gimbal for your smartphone, give serious consideration to this offering from ARTOFUL.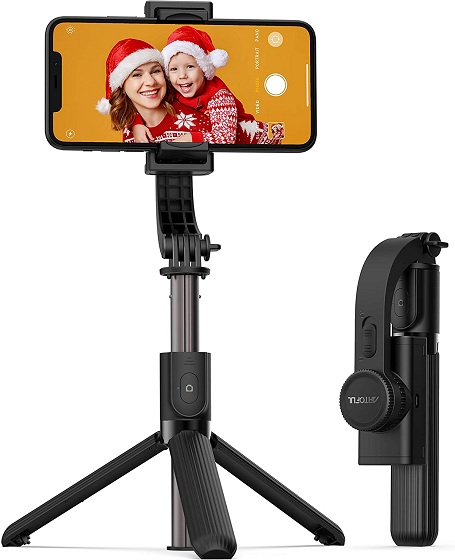 What I have found appreciable in ARTOFUL is the 3-in-1 design. To be more precise, it not only works as a handy stabilizer but also as a useful selfie stick and phone stand. That means you can use it for not just recording videos and snapping elegant selfies but also watching your favorite flicks.
Design-wise, ARTOFUL looks fine with a durable phone clamp that supports both vertical and horizontal orientations. And with the built-in remote, it allows you to record videos and capture photos with the needed control.
Buy from Amazon: $36.99
Top Gimbals for iPhone 12, 12 mini, 12 Pro, and 12 Pro Max
So, that ends my roundup of the best gimbals for iPhone 12 Series. Hopefully, you have found these gimbal stabilizers up to the mark for your video shooting. Boasting plenty of shooting modes, they are fully equipped to let you shoot videos that even pros would envy. And with the foldable design, they are geared up for on-the-move shooting experience.
You may also like to read: 
By the way, which one of these gimbals is going to accompany you during your action-packed shooting spree? It would great to have your feedback in the comments section below.