If you've used the internet for any length of time, chances are, you have downloaded and installed apps on your Windows PC that you've later regretted. Many of those programs have either behaved in ways that you didn't expect them to, and trying to uninstall them has either proved futile, or resulted in limited success. This is exactly when you need specialized uninstallers that can clean your computer of any trace of those unwanted programs, so that your productivity doesn't suffer because of persistent popup ads and other annoyance. That being the case, let's take a look at the 10 best free software uninstallers on Windows that you can try to get rid of unwanted programs on your PC.
Best Free Program Uninstallers for Windows (2020)
Note: I have tried these Windows uninstaller software on my Windows 10 PC, but most of the uninstall software should work on older Windows versions like Windows 8.1, 8, 7, and even XP. 
1. Iobit Uninstaller
One of the most popular free software uninstallers for Windows PCs, Iobit Uninstaller is actually the one I use on my PCs, which is why it gets pride of place at number 1 on our list. It is, by far, the most uncomplicated, efficient and user-friendly uninstaller I've come across on the Windows platform, in spite of being relatively lightweight. In can not only uninstall programs, but also clean up the the redundant registry entries, files and folders that are often left behind by uninstalled programs. The process includes two separate steps. First up, it uses the unwanted application's built-in uninstaller to uninstall the program, after which, its 'Powerful Scan' option checks the Windows registry and hard drives for leftovers not taken care of by the built-in uninstaller, and presents you with an option to manually select each element for deletion. The whole process is seamless and, from my personal experience at least, works pretty well for the most part.
The software offers batch uninstall, and can also remove toolbars, plugins, and even browser add-ons and extensions, making it one of the most feature-rich free uninstallers you can use. Another cool feature is its ability to uninstall Windows Store Apps, so if there are any of those that you downloaded from the Windows Store but isn't being used anymore, Iobit will help you get rid of it. I used it to uninstall Candy Crush Soda that somebody installed on my hand-me-down office computer, and it worked pretty well from what I could see. Even with all these features, Iobit Uninstaller is completely free and it doesn't even have a paid version, so you won't be badgered by frequent popups asking you to 'upgrade'.
Download: (Free)
2. GeekUninstaller
GeekUninstaller comes with a clean, minimalist UI and, offers quite a few important features like real-time installation monitoring, startup programs management and batch uninstall. However, all of those aforementioned features are only reserved for the paid version that starts at $24.95. However, it does offer the 'force uninstall' option in the free version, making it easier to get rid of rogue, hard-to-uninstall software. It did manage to uninstall a few unwanted programs on my company-issued Dell Vostro, including a particularly stubborn trial version of Trend Micro Internet Security that had far outlived its utility.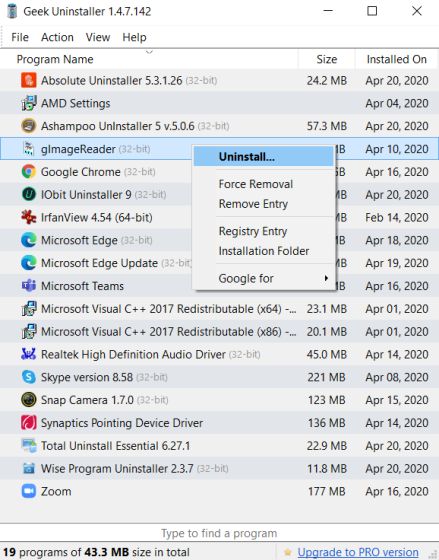 One of the neat features about GeekUninstaller Free is that it has a portable version that comes either as a ZIP file or a 7z file, both weighing in between 2MB and 2.7MB. Like some of the other software on the list, you can uninstall not just desktop apps, but also Universal Windows Apps, but strangely enough, doesn't offer to create a restore point before beginning the uninstallation, unlike most of the other apps on our list.
Download: (Free, Paid version costs $24.95)
3. Wise Program Uninstaller
Wise Program Uninstaller is a freeware application that comes with quite a few neat tricks up its sleeve. First off, it supports 'force uninstall', which helps you remove stubborn programs that are hell-bent on not leaving your computer without a fight. Wise Uninstaller also supports batch uninstall and, integrates into the Windows Explorer right-click context menu to give you a one-click uninstall option. The software can also uninstall Universal Windows Apps, including some that are pre-installed by Microsoft. I personally removed Skype and Microsoft Messaging from my office computer, and it all worked as expected.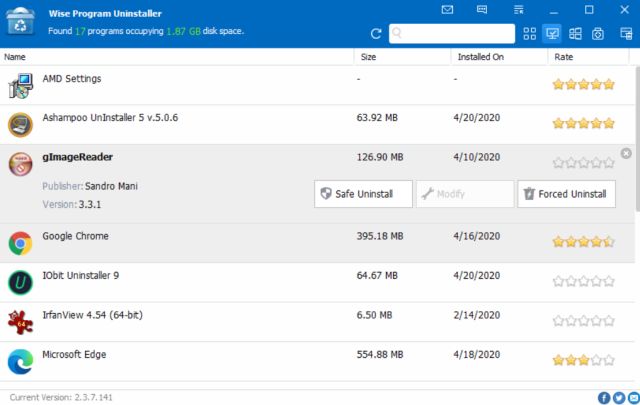 Another novel feature of Wise Uninstaller is its crowdsourced approach to categorizing software based on the ratings and reviews sent in by its users, so you can see other people's ratings and reviews, as well as write your own. Although this process of marking software as safe or unsafe based on crowdsourced ratings isn't likely to be foolproof, it can still give you a bit of an idea from time to time.
Download: (Free)
4. Ashampoo Uninstaller
Ashampoo Uninstaller comes with a long list of features, but it doesn't have a free version. However, as new versions of the software are released in the market, the company actually makes its older software available to the public for free. The free version comes without any feature restrictions, but you will be nagged to upgrade to the latest (paid) version. However, if you can live through that, you will basically get paid software for free. That being the case, now that Ashampoo Uninstaller 6 is the official premium version of the software, you can actually get Ashampoo Uninstaller 5 for free from the link below.
The software isn't as feature-rich as Iobit or Revo, and even lacks the batch-uninstall feature, which means you'll have to install each program separately in case you want to get rid of more than just the one program at a time. On the plus side, the program also come with a few additional tools, like a defrag utility, a drive cleaner and a registry cleaner, all of which works as advertised for the most part. Ashampoo Uninstaller also integrates with Windows Explorer, giving you the ability to just right-click on a program icon and pick 'Uninstall with Ashampoo Uninstaller' to get the job done.
Download: Ashampoo Uninstaller (Free, Paid version costs $21)

5. Revo Uninstaller
Revo Uninstaller is one of the oldest and best-known names in the category, and comes with a lot of features that very few of its competitors can match. One of the best features of the program is its ability to monitor software installs in real-time, so that it could reverse all the changes made by the program that's being uninstalled. Revo Uninstaller also lets you uninstall programs via the command line, so if you're looking to have complete control over your PC and is knowledgeable enough to be able operate your machine via the command line, Revo Uninstaller might just be the right option for you. Having said that, many of the best features of Revo Uninstaller are only available in the paid version, including batch uninstall, extended scanning and full registry backup, all of which can be found on Iobit Uninstaller for free. Which is why the program is so far down our list in spite of being one of more popular and well-known software uninstallers in the market.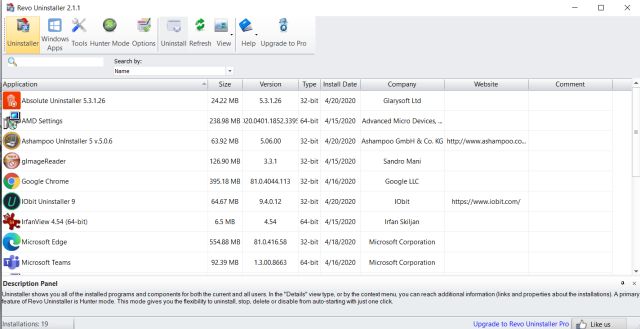 When it's time to actually uninstall a program, you get a choice between 'Standard Mode' and 'Hunter Mode'. With the former, you get a list of all the installed programs from which you can pick the one(s) to get rid of, while the later gives you the ability to either drag and drop program shortcuts onto a pre-designated area within the Revo Uninstaller window or drag and drop a sniper crosshair from within the Revo GUI to a program's shortcut to uninstall it from your PC. While the free version is severely handicapped in terms of features, the paid version is feature-packed, and comes with a list-price of $39.25, although, you can currently get it for just $19.62.
Download: (Free, Paid version costs $19.62)
6. Absolute Uninstaller
Absolute Uninstaller comes from Glarysoft, the makers of popular programs like, Glary Utilities and Glary Undelete. It provides you with many of the same options as the other programs on the list, but unlike Revo and Ashampoo, this free program also offers you the option to uninstall programs en masse, thanks to the 'Batch Undelete' option. Absolute Uninstaller is an out-and-out freeware with no premium version, so the 'Upgrade to Pro' entry you see at the right bottom corner actually refers to Glary Utilities Pro, which is Glarysoft's flagship program that is currently available at a discounted price of $19.97.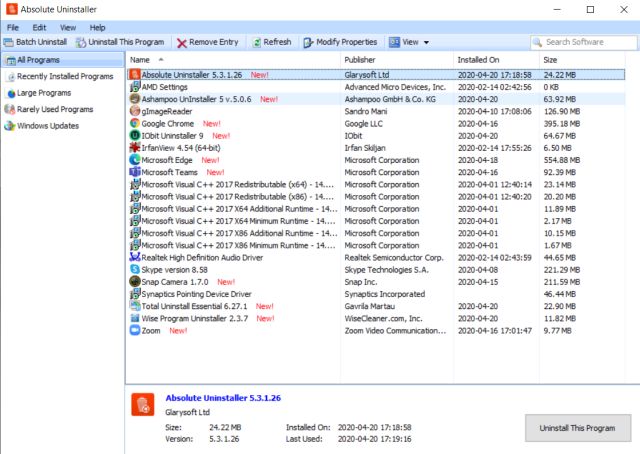 Another interesting feature this program has is the 'AutoFix Invalid Entry' option that can scan all installed programs to find any reference to a program that you don't actually have on your computer, but shows up as an installed program anyhow. Which can happen if you've uninstalled a program, but the entry somehow remained in the list of installed programs. Absolute Uninstaller also has a 'Modify Properties' feature that allows users to modify the uninstall command line string.
Download: (Free)
7. CCleaner
The penultimate program on our list is not just an uninstaller, but a venerable Swiss Army Knife of software that has remained the most beloved and recommended Windows system utility for well over a decade now. CCleaner (formerly Crap Cleaner) is a relatively lightweight download that doesn't put much strain on your system, but comes with a number of features, like, registry cleaner, startup manager, drive wiper and more. It was originally just a system cleaner that got rid of junk and temporary files on your PC, but has now morphed into a full-fledged PC utility suit that's generally believed to be the safest, lightest and least invasive multi-purpose utility suit available in the market today, and what's even better is that it's all free for personal use.
While the uninstall option within CCleaner isn't chock-a-block with features, it is still quite a capable uninstaller in its own right, and even supports the removal of Universal Windows Apps. It also has a separate section for browser plugins, add-ons and extensions for IE, Firefox and Chrome respectively, so you can remove all the pesky, additional software on your browsers from one, integrated control panel, rather than having to go deep into the settings of each browser separately to remove them.
Download: (Free, Paid version costs $24.99)
8. Total Uninstall
Total Uninstall is yet another uninstaller software for Windows PCs that is completely free and feature-rich. Unlike most uninstallers, Total Uninstall analyzes the programs by itself and removes them using its dedicated uninstaller. The software does not use the native Windows uninstaller (Add or remove program) or the standard uninstaller that comes with the program. As we know, through the native method, programs leave cached files, temporary folders, and logs on the hard drive. However, with Total uninstall, you can delete all these files and folders from your hard drive along with the software in just one click.
Apart from that, Total Uninstall has something called Monitored Programs which takes a backup of your Registry values just before the installation of a program. Now when you uninstall the program, Total Uninstall restores the same Registry values as earlier. This way, both installation and uninstallation on your Windows PC will always be super-clean. Besides that, Total Uninstall comes with a unique feature where you can back up an application along with its user data and move the application to another computer without uninstalling the program. You can create a back up of the program with Total Uninstall and then restore it on the destination computer the same way. In this way, you will not lose your files and configurations associated with the program.
Download: (Free, Paid version costs $21)
9. O&O AppBuster
O&O AppBuster is among the best uninstaller software for Windows 10 which is entirely free and it's also one of my favorite Windows tools. When you set up Windows 10, in the background, Microsoft installs many additional programs like Microsoft News, Films and TV, 3D Viewer, Microsoft Solitaire Collection and numerous other things. I rarely use any of these programs and many of them needlessly run in the background eating up RAM, CPU and other crucial resources. If you want to uninstall these unwanted apps then you won't find them in Control Panel. Instead, you will find them under Windows Settings, of which only some apps can be uninstalled.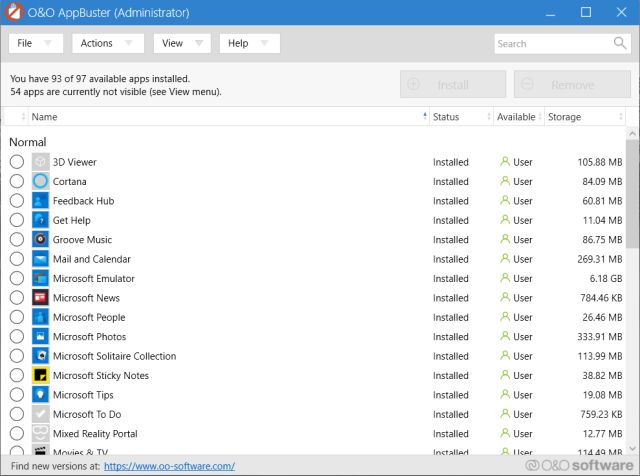 Further, some apps do not show up on the list and remain hidden. In that scenario, O&O AppBuster can be of huge help. It analyzes and finds out all those Microsoft installed apps including the hidden ones and offers you to remove them right away. And if you mistakenly remove an important program or add-on like HEIF Image extension then there is nothing to worry about. O&O AppBuster allows you to restore removed apps in just one click. So to put it straight, if you want to uninstall all kinds of bloatware that comes preloaded with Windows 10 then you should be looking at O&O AppBuster.
Download: (Free)
10. The Built-in Windows Uninstaller
Now that we've taken a look at a whole bunch of third-party uninstallers, let's not forget that Windows has always had a built-in program uninstaller for as long as I can remember. It does the job when it comes to regular programs, but the reason most people still look for third-party alternatives, is because it is clunky, unintuitive and even inefficient. Sure, it gets the job done, but because it only runs a program's built-in uninstaller without cleaning up afterwards, more often than not, it leaves behind a truckload of unwanted files, folders, settings and registry entries that may eventually clog up your PC.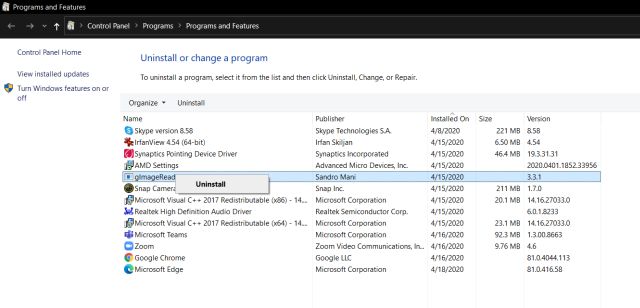 Another thing about the native Windows uninstaller is that it is mostly unable to get rid of adware, scareware and other malicious programs, because those software often don't have a built-in uninstaller for obvious reasons. This is exactly where third-party uninstallers come in handy, especially, if you're either an enthusiast who likes to try out new software for fun, or like some of us, a professional tech writer who needs to check out a multitude of different software, apps and services almost on a daily basis.
BONUS: Force Uninstall Programs from Windows PC
In the above list, we have mentioned the top 10 free uninstaller software for Windows computers. But what if these tools are unable to remove programs? It's not that common, but it happens when the program is conflicting with the system or it's being used by the operating system for some unknown reasons. In such cases, even the most advanced uninstaller won't be of any help. So to force uninstall such programs, you need to boot into the Safe mode and from there, you can remove the software comfortably. Here are the steps to follow.
1. Open the Power menu and press and hold the "Shift" key. Now, click on "Restart"  and it would boot to the Advanced startup page.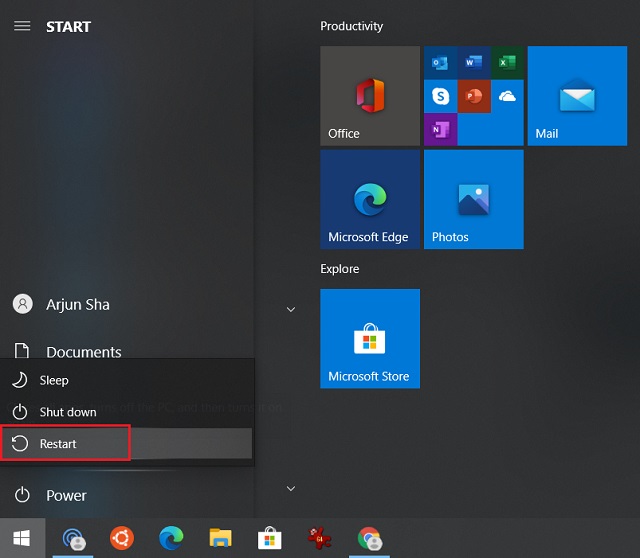 2. Here, navigate to Troubleshoot -> Advanced Options -> Startup Settings -> Restart. Press "4" to boot into the Safe mode.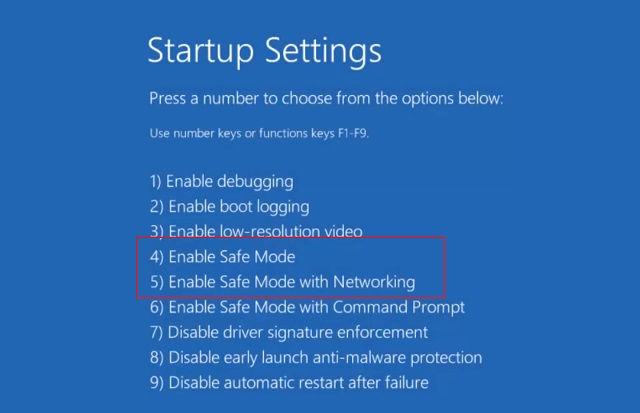 3. Now, you can use any uninstaller software from the above list and proceed to remove programs. This time, you won't face any obstruction. After you are done, just restart your computer and you will be back to the normal mode.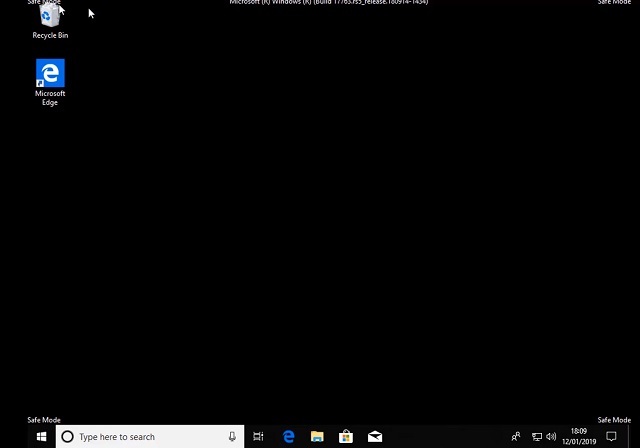 The Best Free Uninstallers on Windows
Most of the programs listed above come with fairly similar features, and while all of then will absolutely get the job done done more often than not, a few might prove to be more proficient than others if you're looking for only free options. The paid version of Revo is, by far, the most feature-rich among the lot, but if you're looking at just the free options, Iobit Uninstaller is head and shoulders above the rest in terms of features and efficacy.
So, do you have an annoying software you want to remove from your PC? Or something that you installed a long time ago but haven't used in ages? Go ahead and give one of the aforementioned programs a try and let us know how it all went by leaving your thoughts in the comment section below.
---
Load More