The virtual world is as enlightening as place as it is dangerous, so it's imperative that we proactively protect ourselves from all the dangers that lurk on the world wide web. With cyber-crime on the rise, netizens worried about their online security need to install the best security software available, so as to avoid becoming helpless victims of cyber-crime. While most people install some form of anti-virus software on their PCs, very few realize that firewalls are also an essential part of online security. No matter which platform you're on, you'd do well to ensure that you've got a working firewall on your device for your own safety and privacy.
In the following article, we'll take a look at some of the best free firewall software you can install on your Windows PCs right now, but before that, let's just take a look at what firewalls really are and why we need to take them more seriously than we generally do.
What is a Firewall and Why do we Need One?
A firewall is a network security system that monitors the incoming and outgoing traffic to and from device(s) connected to a network (typically, the internet), and serves as an intrusion and extrusion detection mechanism to prevent attacks. Such technology can come either in the form of a software package that can be installed on personal computation devices, or as Hardware-based firewalls that typically run on dedicated systems to protect entire networks from hackers. While the latter are often more proficient in blocking intrusion attempts, they are also much more expensive and infinitely more complicated than software firewalls that are often available for free. For the purpose of this article, we'll restrict ourselves to knowing about the best free software firewalls that you can install on your Windows computers:
1. Best Free Basic Firewall – ZoneAlarm
ZoneAlarm is one of the oldest and best-known firewall programs on Windows, and comes in two different avatars – a free version that offers most of the basic features you'd expect from a modern firewall and a paid version that offers more bells and whistles. The free version comes with the ability to hide open ports and also identify and isolate suspicious traffic. Latest versions of the software can also connect with DefenseNet to get real-time security updates about new threats. All in all, it is one of the most comprehensive and customizable 3rd-party firewall programs you can install on your PC.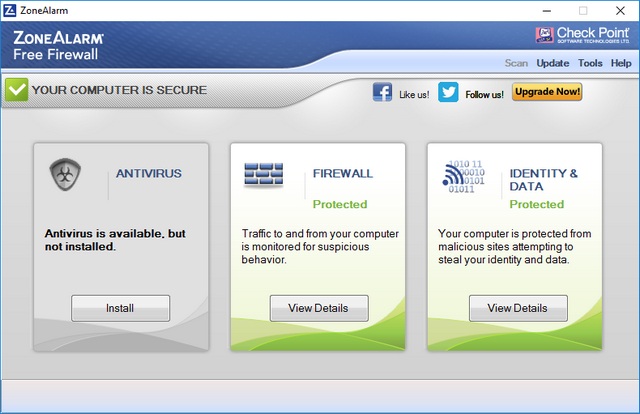 However, as with most good things in life, ZoneAlarm is also not without its issues. First off, the company has been slowly stripping away some of the best features of the program from the free version, which doesn't come with HIPS (Host Intrusion Prevention system) protection anymore. The program has also traditionally had occasional conflicts with some 3rd-party antivirus programs, but works fine with Windows Defender.
Download (Free, Premium plans start from $24.99)

2. Best Free Firewall with HIPS Protection – Comodo
ZoneAlarm is really good at what it does, and has been so for decades now. However, if you want a full-featured firewall complete with HIPS protection for free, Comodo Firewall is the option you need to consider. The software comes with 'Defense+' active monitoring, which is Comodo-speak for HIPS protection. Comodo also allows users a great degree of control over which programs can and cannot access the internet, and comes with a "memory firewall" feature that seeks to protect against buffer overflow attacks. The program also offers sandbox protection, an ad-blocker as well as custom DNS servers.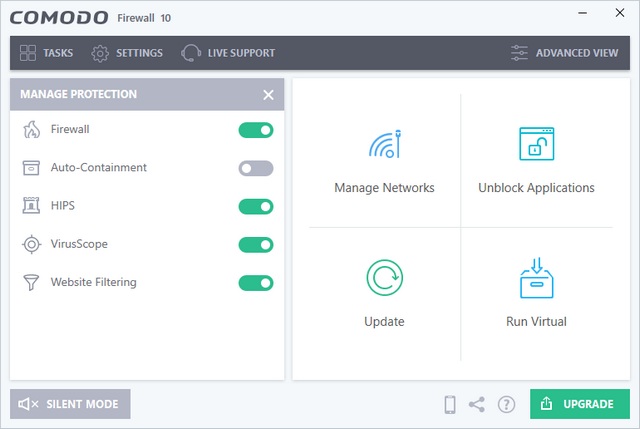 Comodo Firewall is, quite possibly, the best, most full-featured free firewall you can use today on your PC, but just make sure to choose the 'manual install' option rather than the default installation, so as to prevent installing all the extra software that comes with the program.
Download (Free, Premium plans start from $39.99)

3. Best Free Firewall for File Sharers – PeerBlock
PeerBlock is a firewall program that works by blocking traffic to and from pre-designated IP addresses. The program blocks both outgoing and incoming connections, but users have the ultimate say in which IP ranges are blocked and which ones are not. You can use many of the free publicly available lists from I-Blocklist, or even create your own IP blacklist that can then be used to block traffic.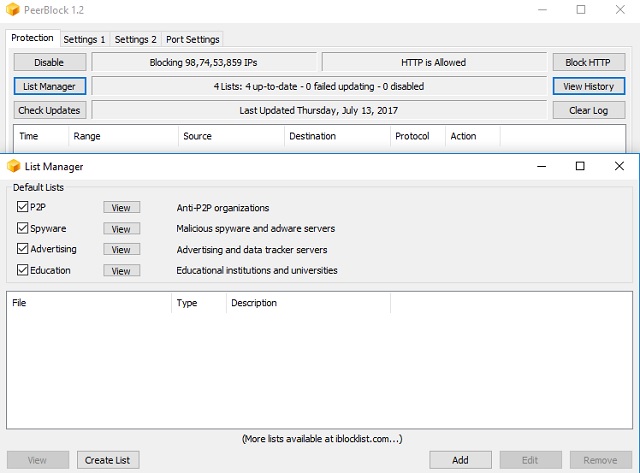 Upon installation, you'll be prompted to configure the software, so that it can download the various lists that contain the IP addresses of known adware vendors, spyware peddlers, government agencies, or anti-p2p organizations. Once you pick your categories, the lists will be downloaded, and those IP addresses will be added to your blacklist and updated automatically at regular intervals without any further action on your part.
Although the program itself isn't actively maintained anymore, the latest version is stable, compatible with Windows 10, and able to update the filter lists periodically. However, given the nature of sensitivity surrounding peer-to-peer protocols, you're still better off subscribing to VPN services if you're a heavy torrent downloader.
Download (Free)
4. Best Lightweight Firewall – Tinywall
TinyWall's USP is that it is, by far, the least resource-hungry program on the list, taking up just over 1MB of your disk space upon installation. The catch, however, is that it is not so much a standalone firewall as a software that's designed to work simultaneously with the built-in Windows Firewall to control some of its features. Unlike some of the other software mentioned on this list, TinyWall doesn't use annoying popups that can often disturb your workflow.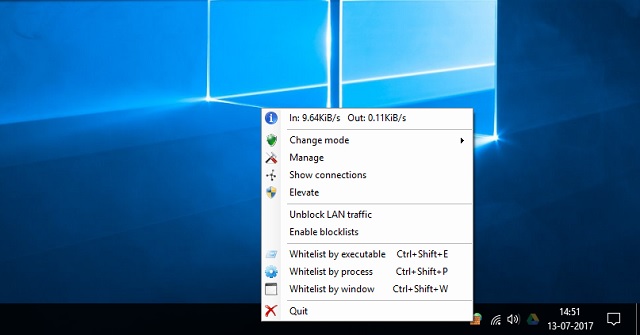 There's really not a lot wrong with TinyWall but for the fact that there's no real dialog-box to speak of. As can be seen in the image above, all the settings and configurations are accessed from the popup menu, which may take a bit of getting used-to, although nothing that should be a deal-breaker for anybody per se.
Download (Free)
5. New Kid On The Block – GlassWire
While the other firewalls on the list are known names that have been around for well over a decade, GlassWire only entered the fray just a few years ago. It really is a networking monitoring tool for the most part, but one that allows you to also manually block any inbound or outbound traffic that you find suspicious. While it is not really a full-fledged security solution by any means, it can still be helpful to see which applications or services are dialing home without your permission, and how often.
GlassWire takes note of the network activity on the client computer, and creates easy-to-decipher graphs that are categorized by traffic type, application and geo-location. While it's a great little tool to monitor your connections for a more granular control, it isn't really a full-featured firewall and, actually relies on the Windows Firewall to do all the blocking.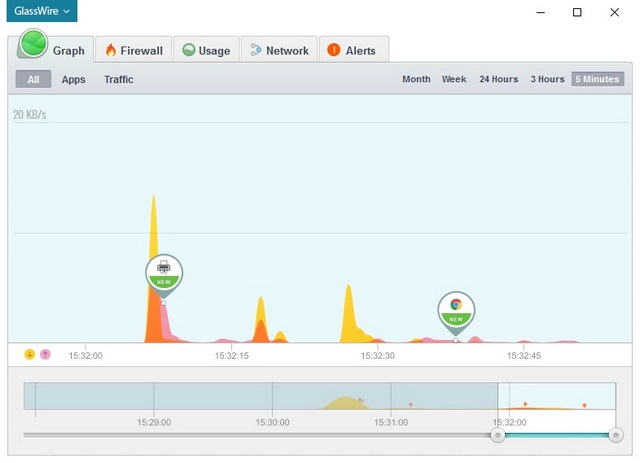 GlassWire, obviously, has a free tier, otherwise it wouldn't be on our 'Best Free Firewalls' list, but it also has three different paid options (Basic, Pro & Elite) that comes with a number of bells and whistles. Even if you don't opt for the paid versions, the free edition is definitely worth checking out, if only for one of the best pictographic representation of network traffic we've ever come across.
Download (Free, Premium plans start from $49)
6. The Solution Within – Windows Firewall
Many of you may not realize this, but your Windows installation already comes with a built-in firewall from Microsoft. While the Windows Firewall was the butt of all jokes in the days of Windows XP, the software has matured significantly over the past decade, and is now one the most efficient and least invasive firewalls available on Windows-based systems. On the plus side, the software is said to have passed all stealth and open-port inbound tests, and doesn't annoy users with a bunch of popup alerts unlike many other 'full-featured' firewalls.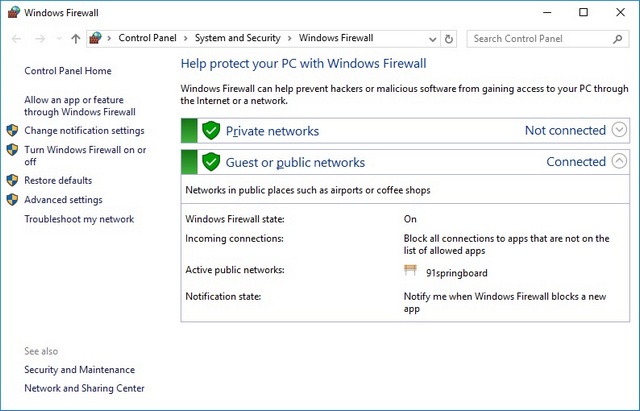 On the flip-side, its outbound protection has often been said to be suspect, but unless you have a PC full of malware making all sorts of unauthorized connections eating away at your bandwidth and potentially putting your device at the risk, Windows Firewall is all you'll ever need.
SEE ALSO: 9 Best Free Antivirus Software
Best Free Firewall Software for Windows PCs
Firewalls are an essential part of your computer's security, and if used correctly in conjunction with anti-malware software, should be able to protect your device in a lot of potentially-dangerous situations. Having said that, the best protection you're ever going to have in the virtual world is your own common sense.
Either way, now that we've presented you with our list of the best free firewall software for Windows PCs, its up to you to try some of them out if you're not entire happy with the default Windows Firewall. Or do you already use something that you like a lot and believe should have been included in the list above? Do leave your thoughts in the comment section below because we love hearing from you.