While sitting out in the gym or running in the garden, it's better to keep distractions away so you can fully concentrate on your workout. And I guess most of you would like to go with this strict rule. But what if you don't want to miss urgent calls or important messages from your loved ones. Well, in that case, you should use a soft and flexible armband to not only securely carry your smartphone but also keep a tab on the important messages/calls. And that's the reason why we have picked out the best armbands for iPhone 12 and 12 Pro to let you go your all out without being disconnected from your loved ones.
Best Armbands for iPhone 12 and 12 Pro
With a smartwatch like Apple Watch sitting right on your wrist, it becomes quite straightforward to keep an eye on calls and messages. As not everyone uses a smartwatch, an armband comes into play as a sort of affordable extension, allowing you to hold your device securely while also having comfortable access to the touchscreen for receiving calls or responding to urgent messages.
That's not all, most armbands also offer you the flexibility to keep your credit cards, cash, earphones, and even keys. Thus, you can concentrate on amping up running or going all out in your gym. That all being said, let's dive right in to explore the lineup of the top armbands for iPhone 12 and 12 Pro.
1. RevereSport
Featuring a sporty design, RevereSport is a top-notch running armband (up to 17″). Made of soft TPU and lycra material, it's quite lightweight and breathable. So, you can comfortably wear the armband for hours.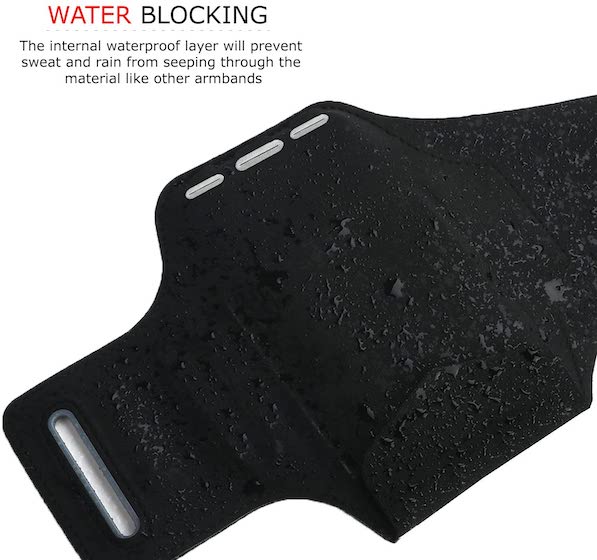 Beyond convenience, the armband has a waterproof coating to prevent water from sneaking into your device. More importantly, it also has extra pockets to let you carry your keys, cash, and even credit cards.
With the reflector strip, it ensures you have the needed visibility to run in the night or dimly-lit environments. Considering the essential features, RevereSport seems to be a reasonably good buy at $17. Overall, it's one of the best accessories for iPhone 12 and 12 Pro.
Buy from Amazon: $16.99
2. Trianium ArmTrek
If you are looking for a reasonably good armband at an affordable price point, you should check out Trianium ArmTrek. Made of soft neoprene material, the armband is quite stretchable, allowing the muscle to breathe easily.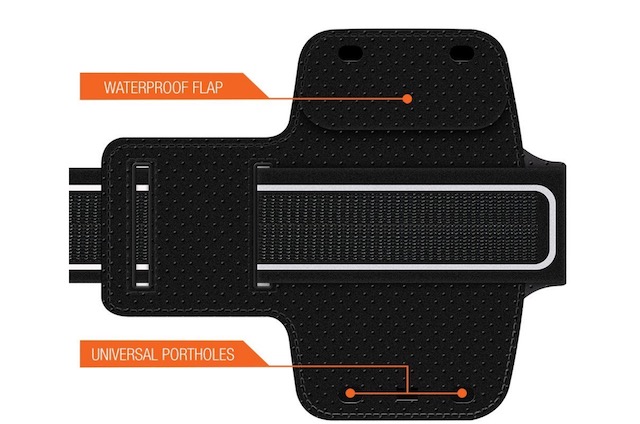 Thanks to the water-resistant design, the armband also safeguards your iPhone 12/12 against water. Moreover, it features a multi-slot adjustable velcro to fit not only small but also large arm sizes (up to 14′).
With touch compatibility, the armband allows you to use your iPhone comfortably. Thus, you will be able to answer calls or respond to messages without any pain. Additionally, it also has extra pockets to let you carry keys and cards.
Buy from Amazon: $9.99
3. LOVPHONE
Yet another affordable armband that has caught my attention is from LOVPHONE. Thanks to the neoprene material, the armband (up to 15″) is incredibly soft and flexible. So, you will feel comfortable while wearing it during exercise. Being water-resistant, it also shields your smartphone against water damage.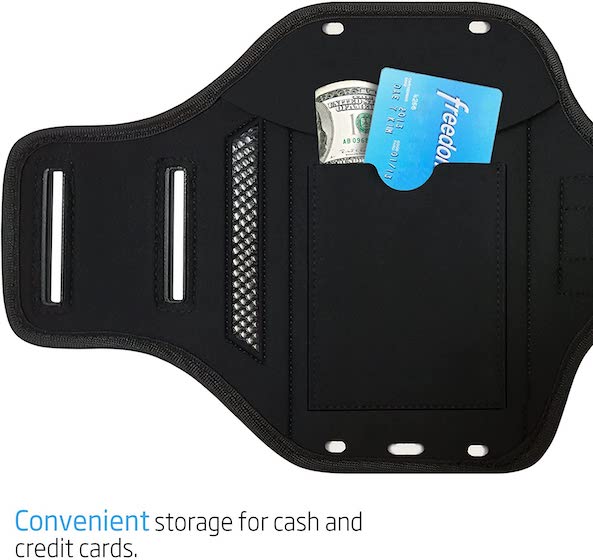 The velcro strap is fully adjustable, ensuring your iPhone will remain steady. With the presence of the PVC screen protector, the touchscreen remains safeguarded against scratches and also accidental drops.
What's more, LOVPHONE also features a reflective strip so that your running won't be hampered by dark environments. Besides, there are also pockets wherein you will be able to keep your cards and keys securely.
Buy from Amazon: $9.99
4. Bone
Showcasing an open-design, Bone armband doesn't take too long to catch your attention. So, just in case you aren't a fan of traditional armbands, this one could easily win you over.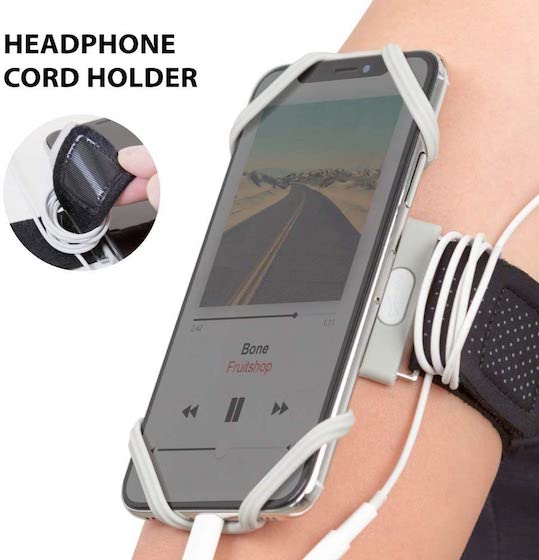 With the open design, it ensures you have full access to your smartphone, allowing you to use your iPhone comfortably. Besides, the silicone bands are pretty soft and fit smartphones up to a 6.5″ screen.
Due to the ventilated design, it improves heat dissipation thereby keeping your smartphone cool. At $25, Bone armband might seem comparatively expensive but given the unique design, you can't go wrong with it. Taking everything into account, it can safely claim to be one of the top armbands for iPhone 12 and 12 Pro.
Buy from Amazon: $25
5. JEMACHE
For more than one reason, JEMACHE is a complete armband. The highlight of this armband is the stretchable design that allows it to flex and bend without warping. And with the fully adjustable strap, it fits both the large and small arm sizes. The presence of an extra strap prevents the armband from falling off.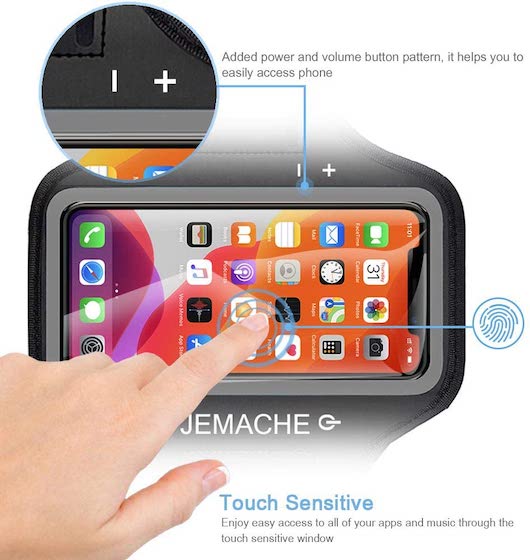 For additional protection from scratches, JEMACHE features a durable screen guard that only shields the touchscreen against impact but also offers full touch functionality.
Furthermore, it also has built-in pockets where you can keep your keys, credit cards, and earphones. Times when you are on the move these pockets can come in handy. At $10, it's also one of the cheapest armbands for iPhone 12 and 12 Pro.
Buy from Amazon: $9.99
6. Tune Belt AB90
Crafted with neoprene fabric, Tune Belt AB90 seems to be a great choice for those who put comfort at the top. While the soft material enhances the comfort level, the adjustable strap allows it to fit most arm sizes.
Another notable feature of this sports armband is the secure cushioning that prevents the iPhone from bouncing. Thus, you won't be distracted while running or during rigorous workouts.
Do note that the company offers a free extender if needed. So, if the armband seems a bit small for your arm, you can get the extender without having to pay any extra money.
Buy from Amazon: $19.99
7. Mpow
Mpow is well-known for producing quality accessories at a comparatively cheap price. And this offering from the accessory maker seems to be in line with the reputation.
The armband (up to 18.5″ arm sizes) is crafted with nylon, neoprene, and TPU material. Being quite soft and flexible, it allows the arm to breathe comfortably. As for the TPU screen protector, it's fully equipped to guard the screen against scratches and also accidental impact.
That's not all, Mpow also features a reflective strip to prevent dark environments from obstructing your jogging. And with the extra pockets, you also have the flexibility to keep your cards and keys safely.
Buy from Amazon: $9.99
8. Guzack
It's the sophisticated design that has forced me to include Guzack in this roundup. Made of silicone and TPU material, the armband is designed to enhance comfort while also ensuring the iPhone remains steady. Thanks to the lycra fabric material, it's skin-friendly.
Notably, Guzack armband also features a closure cap to resist water or sweat from sneaking into the iPhone. As for the protective screen, it's made of TPU and offers true touch sensitivity. Thus, you can continue to use your smartphone without any pain.
Probably the biggest highlight of Guzack is the universal compatibility. Apart from supporting the 6.1″ screen size, it's also compatible with the smartphones having a 6.9″ screen size.
Buy from Amazon: $11.99
Top Armbands for iPhone 12 and 12 Pro Lined Up for You
There you go! So, these are the best armbands that you can use to carry your iPhone 12 securely during exercise or jogging. Made of soft material, they offer the needed convenience while wearing. Aside from keeping the device steady, they also shield the device against water or sweat.
By the way, which one of the armbands is going to pair with your iPhone 12? Is it the one that has multiple pockets for carrying cash, keys, and even credit cards or the one that has an open design? It would be great to know your favorite pick in the comments section below.