"Apple Card" is unique in many aspects. And, one of the most impressive things about the laser‑etched titanium card is the elegant design that seems to ramp up the style quotient. Courtesy a multi-layer coating process, the credit card sports a pretty adorable white finish. But before you begin to admire the elegance of the credit card, let me warn you upfront that it's extremely vulnerable and you must ensure that your precious card stays away from hard surfaces or materials to safeguard the titanium coating. The tech giant says that some fabrics such as leather and denim might cause permanent discoloration. Now, most of us carry leather wallets or wear jeans, both of which are bad for your Apple Card. That's why we have curated this list of the best Apple Card holders and wallets that you can buy to protect your Apple Card.
Best Apple Card Card Holders and Wallets
Fortunately, there is no dearth of credit card holders in the market. But not all of them can offer the needed safeguard to your titanium Apple Card. Therefore, we have meticulously chosen only the ones that have been made of very soft material and would shield the credit card against scratches. That all being said, let's explore the roundup of the best wallets and card holders for Apple Card!
1. Partstock
Showcasing a minimalist design, Partstock can be a good-looking pick both for your elegant style and titanium Apple Card. Despite having such a sleek profile, it's good enough to hold more than 20 business cards. Made of pretty soft PU leather and stainless steel, it's got enough durability to last long. So, this Apple Card wallet is just not about fashionable design.
Due mainly to the soft interior, your precious Card gets the much-needed comfort and also stays protected from scratches. Being so slim, this cardholder can effortlessly slip into even in a tiny pocket. And at $7, Partstock is also one of the cheapest Apple Card holders in the market.
Buy from Amazon: $6.99
2. Easyoulife
For the folks who have to carry tons of cards, the "Easyoulife" credit card holder seems to be a pretty good pick. It sports a pretty compact look and features 26 card slots. The exterior is made of genuine leather that can go nicely with your professional look. And with the zipper, it can securely keep your titanium Apple Card inside.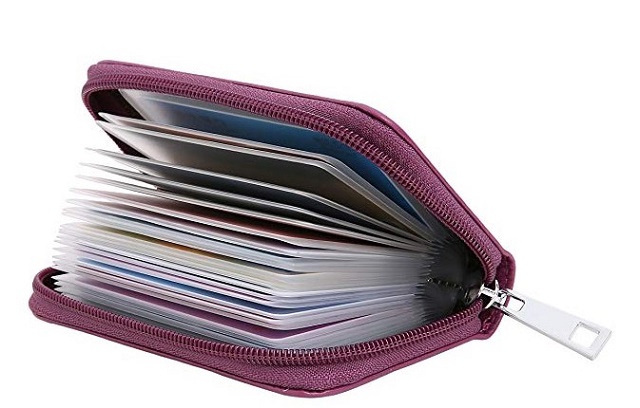 The PVC card slot not only keeps your Card secure but also protects the titanium from being damaged. Thanks to the RFID blocking technology, it is also fully capable to safeguard the sensitive information of your Apple Card. Overall, it's a reasonably good Apple Card wallet.
Buy from Amazon: $9.99
3. DEEZOMO
If you prefer a classy design, DEEZOMO card holder would be worth checking out. It's made of high-quality PU leather and can let you hold more than 26 cards; which is a lot more than you may need (normally). On the durability front, it is up to the mark thanks to the rugged construction.
As for the card slots, they can perfectly house your Apple Card and also shield it from scuffs. With the soft and grippy exterior, the card holder also offers a bit more grip ensuring you feel comfortable to hold it in your hands. As for price, this Apple Card wallet is competitive which makes it a fairly good option for those who appreciate the refined look and feel.
Buy from Amazon: $6.99
4. FurArt
FurArt's offering has a sleek profile that can surely bolster your fashion quotient. Being minimalist, it can seamlessly find a safe spot even in a tiny pocket. Made of soft and durable material, it's designed to be a long-lasting companion of your Card.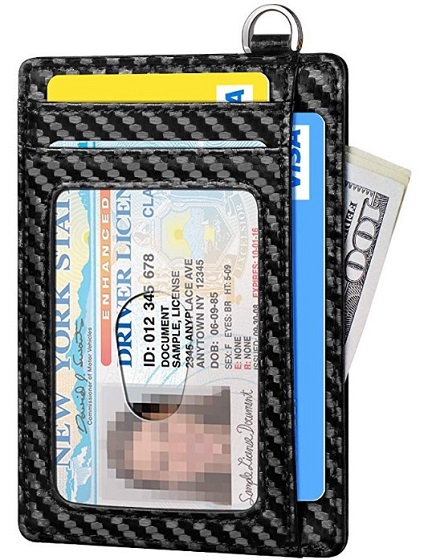 It comes with six card slots, one money pocket, and one ID slot. The soft interior can keep your Apple Card securely and also defend the titanium coating from being destroyed. It features a finger groove that allows you to take out the card with ease. There is also a removable D-shackle which can be worn with a lanyard. Price-wise, it's a touch higher than many of its counterparts but if you prefer neat design and high-quality material, it would be worth consideration.
Buy from Amazon: $9.99
5. woogwin
woogwin has introduced an eye-catching card holder case that can pair beautifully with your Apple Card. The cardholder is carved out of top-grade horse leather and features minimal stitching that gives it a luxurious appearance. But before you begin to worry about the multi-layer coating of your card, let me tell you that soft inner fabric can ideally take care of it. So, you shouldn't bother about discoloration or scratches.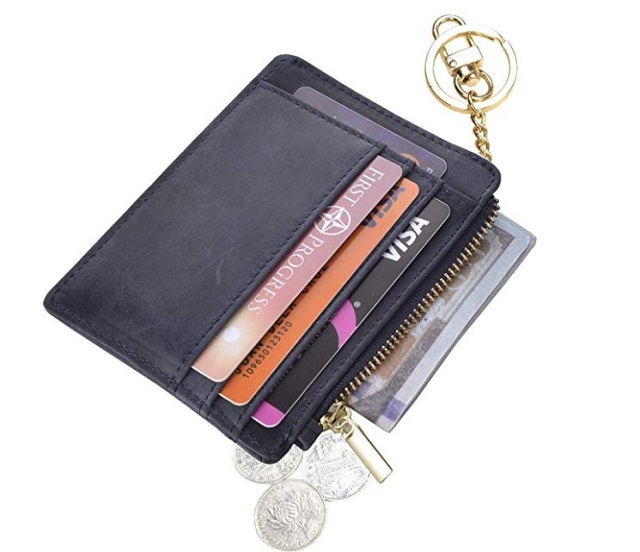 Beyond protection, woogwin Apple Card holder comes with six slots and one ID window. Plus, there is also a zipper pocket wherein you can keep some cash. Due mainly to the RFID blocking technology, the info of your card will remain secure. On top of all, you can choose it in more than 15 vibrant colors.
Buy from Amazon: $7.64
6. YOMFUN
Simply put, YOMFUN card holder case is pretty nice as it seems to have ticked off most of the essential boxes. There are three qualities that have caught my eyes in this Apple Cardholder. First and foremost, it's crafted with soft PU leather and features a sophisticated design that makes for an adorable fashion statement.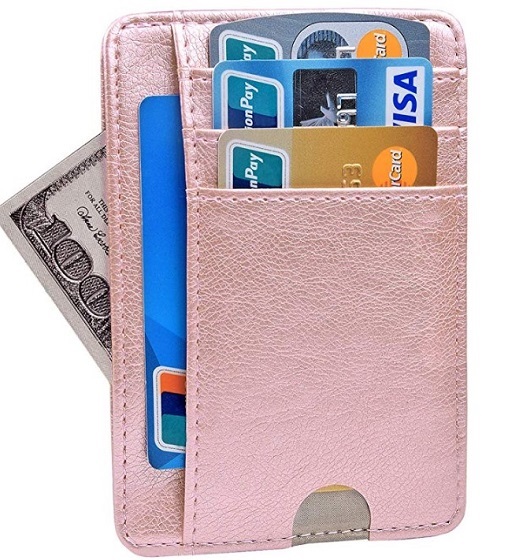 The second, it comes with seven slots that can come in handy during your travel. With the presence of a finger groove, you won't have any problem in taking out your cards. And third, it also features RFID blocking tech so that the sensitive info remains safeguarded.
Buy from Amazon: $6.89
7. Karlling
As someone who prefers a professional-looking design, Karlling's Apple Card holder case has appealed to my taste right away. The top-grade leather coupled with visible stitching gives it a luxurious look and feel. And with 20 slots, it's designed to safely carry tons of cards.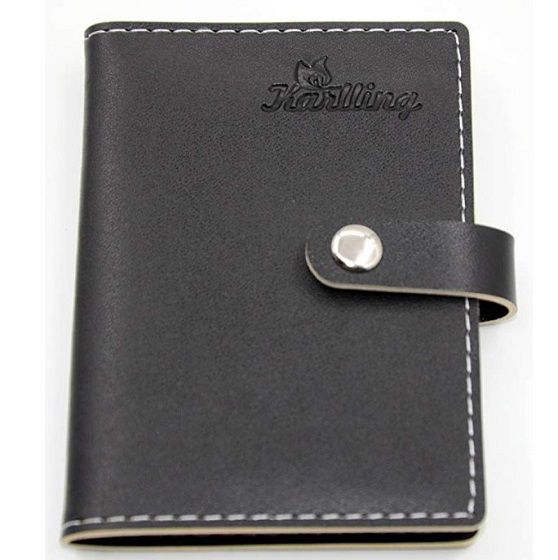 Thanks to the secure flap, you can perfectly close the card holder. The lightweight and slim design makes sure it's able to easily go in/out of a pocket. Besides, the soft-textured exterior also provides the desired grip so that the cardholder stays in hand. In a nutshell, Karlling can make an impressive match with your pro taste without costing an arm and a leg!
Buy from Amazon: $6.59
8. Cyanb
Both in terms of beautiful design and adorable quality, Cyanb's card holder case seems to live up to the expectation. Thanks to the use of PU leather, it has got a sophisticated appearance. And with a tiny form-factor, it's more portable than most of its counterparts available in the market.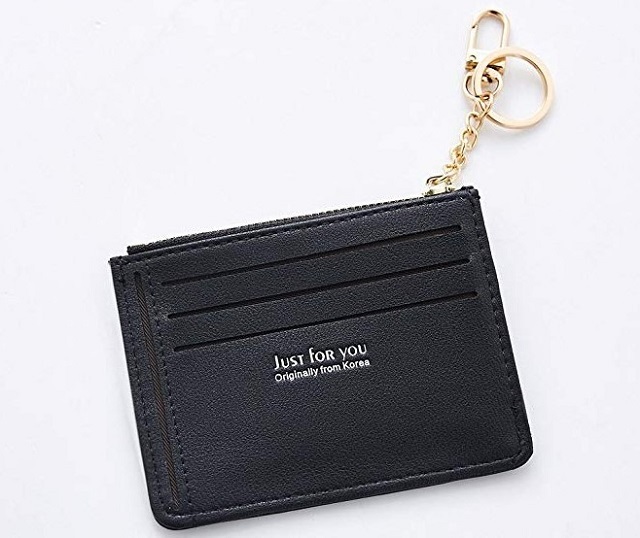 Despite having a small form-factor, it can comfortably house six cards. There is also a zipper compartment for storing cash. Besides, it comes with handy keychain and key-ring to get instant attention from women. What's more, this nice-looking Apple Card holder comes in more than 20 attractive colors to choose from.
Buy from Amazon: $8.99
9. Boshiho
"Boshiho" has come with up a top-notch credit card organizer. And if you often find yourself dealing with a plethora of cards, look no further than this one. With the genuine leather exterior, it has got a bit more resistance to withstand wear and tear. There are 90 slots to let you hold a lot of credit cards and business cards in one secure place. As for colors, the company doesn't disappoint you either thanks to eight attractive options like blue, hot pink, orange and more.
Buy from Amazon: $13.99
10. K Y KANGYUN
Last but not least, the "K Y KANGYUN" card holder deserves a mention in this coveted lineup. Unlike many other counterparts, it has put more emphasis on simplicity. The company has used high-grade leather to give it a formal look. With the inclusion of 20 PVC card slots, you get enough freedom to carry so many cards. For enhanced security and ease of use, it comes with a zipper. If you prefer vibrant colors, you would be glad to have seven hue options at the disposal.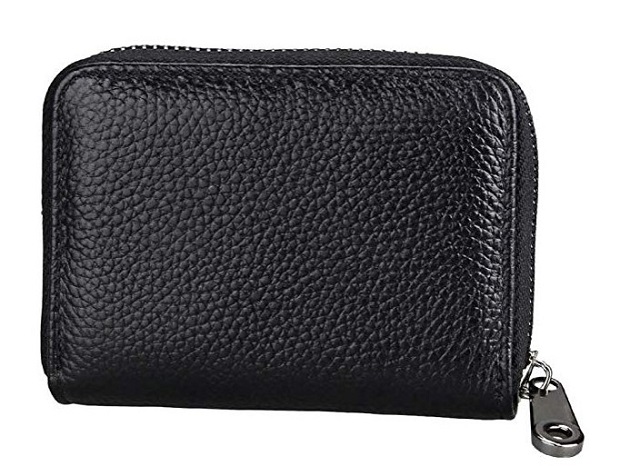 Buy from Amazon: $9.95
Bonus: Apple Card Dbrand Skin
If you don't want to buy an extra wallet or card holder for your brand new Apple Card then you have only one option and that is to skin it. Dbrand makes the best skins for multitude of products. I have used Dbrand skins to give flavor and provide scratch protection to my phones for the past few years and I can vouch for their quality. Well, they just released their skins for Apple Card and it will protect that excellent titanium finish. Just slap a skin on the back and front of the card and you are good to go. My only concern with the skin was that whether it will interfere with card swiping or not. Thankfully, I have not heard of any such complaints till now. So, if you want to carry the Apple Card in your original wallet, click on the link below and buy a skin from Dbrand.
Buy from Dbrand: $9.80 (top and bottom)
SEE ALSO: 10 Best iPad Mini 5 (2019) Screen Protectors You Can Buy
Choose the Best Apple Card Wallets and Card Holders
Now that you have taken a look at a variety of Apple Card holders and wallets, pick out the one that looks pretty much in line with your demand. Knowing how delicate or fragile the credit card is, it pays to be on the safer side of the stream right from the word go – rather than repent later. What's your take on this credit card? Do you feel disappointed that Apple didn't make it strong enough? Shoot your thoughts in the comments below.