Android is a mature platform now and Android devices aren't limited to just being communication devices these days. With the immense computational power and the vast number of apps available for the platform, many people use their Android smartphones as a tool for calculation, measurement and to monitor a multitude of things. That's not all, there are various apps and tools for Android, like say a password manager or an automation app that can make your daily life a whole lot easier. So, if you are in a mood to make your days productive with your Android smartphone and you are looking for the best Android utility apps to do that, we have you covered. I have put together a list of 10 best Android utility apps that you should definitely use:
1. Smart Tools
The be-all and end-all application for daily usage tools. Smart Tools app provides over 40 smart DIY metering tools that can be very useful, like a ruler, bubble level, car speed monitor, sound meter, vibro meter, metal detector, bar code/QR code scanner and that's just the surface of it. All the scales can be calibrated and it supports both metric and imperial unit formats along with several languages. The app is free, but comes with ads. To get a version without ads, you can go to the developer's website and make a payment there to download an ad-free version. It's important to note that some of the tools will not work if your device doesn't have supporting sensors.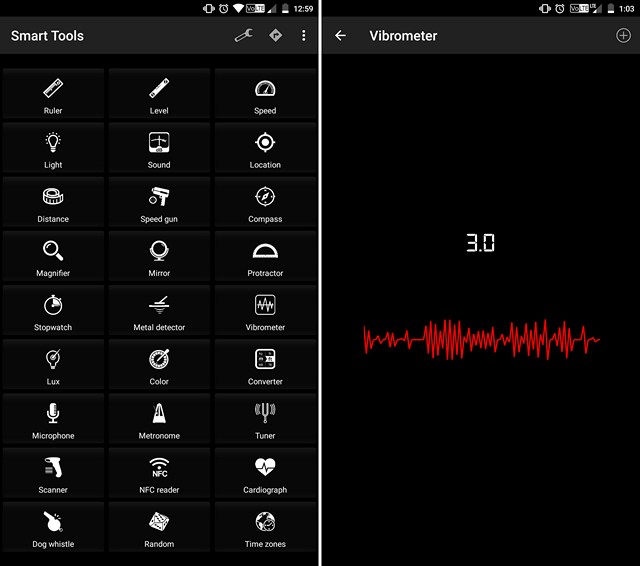 Install: (Free, $1.99 for ad-free PRO version)
2. All-In-One Unit Calculator
All-In-One Calculator is a solution for your daily calculation needs. Along with calculations, the app also works as a great unit converter. It is a free, lightweight and clean app that can get you through the day without having to worry about the complicated formulae and ever changing currency rates. It features over 50 calculators for unit conversions. It supports calculations for Algebra, Geometry, Unit Conversion, Finance, Health, Engineering and Elapsed time. Since most of the units are constant and are pre-configured in the app itself, internet is not required, except for currency conversion.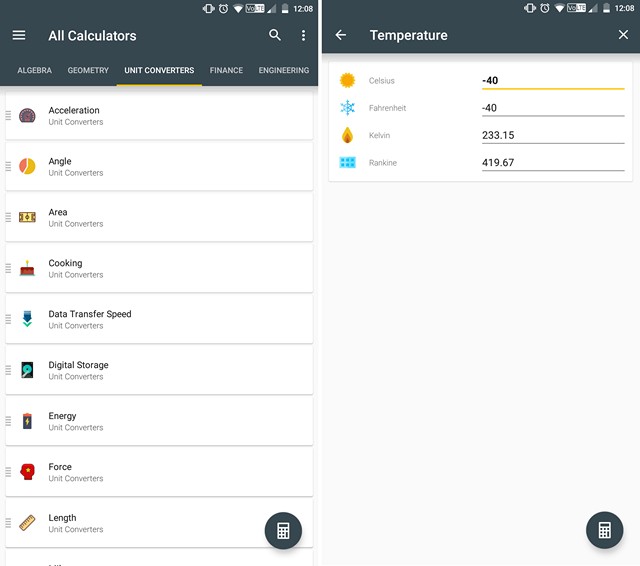 It's a great tool for scholars, teachers and students. The app is free to download but comes with ads and to remove them, you can make an in-app purchase. The conversion units are endless and when you need to calculate something, I'm pretty sure that you would find it here.
Install: (Free, with in-app purchase of $2.31 to remove ads)
3. LastPass Password Manager
If you consider yourself lousy in managing your account passwords, then you should get a decent password manager app. With constant attacks at online accounts, you can never be too sure in terms of your account security.The Lastpass Password Manager app saves passwords of your multiple accounts, and also generates new passwords for you, so you always stay updated on security. It auto-fills the login ID and passwords on the respective websites for you. The app requires a master password or fingerprint to launch, so that only you can access the saved info. Once you open the app, you can add or update your accounts and you can even add notes to store personal information like bank account details, WiFi passwords, etc.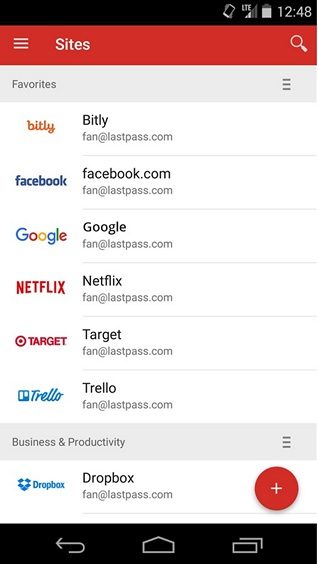 LastPass is available to download for PCs and iOS as well, so you whenever you sign in, your passwords and notes are synced across every device. It  uses bank-level AES 256-bit encryption for all of the passwords, which means, no one can hack into the app and steal any of your info. The app is free to install and offers a yearly premium subscription for 1GB encrypted file storage, desktop fingerprint authentication and priority support. There are other alternatives to LastPast Password manager and you can check them out here.
Install: (Free with $12 Yearly subsscriptin)
4. IP Tools Network Utilities
A must have app for IT specialists, network administrators and enthusiasts. You can adjust and analyze any network you connect to. You can directly open your router's login page from this, in case you need to edit some settings. This app works on Linux mode and can fetch IP, SSID, broadcast address, gateway, network mask and more. You can run traceroute and ping commands to any destination to check if any network is alive or not. Thanks to these features, you can use the app to analyse and optimize a network with ease. IP Tools is free to download, but features ads. To remove the ads and support the developer, you can make an in-app purchase. If you a geek or enthusiast, you should give it a try and try out the features it offers.
Install: (Free, with in-app purchase of $2.99 to remove ads)
5. All-In-One ToolBox
As the name suggests, All-In-One Toolbox is a one stop solution to manage you storage, performance, battery, and privacy. With many apps generating temporary cache that gets accumulated in memory, this app can save you from low storage woes. You can use it as junk cleaner, history eraser, speed booster, app manager, file manager, privacy guarder and more. The toolbox features a sensor box that shows the various sensors in your device while also letting you use them. The app features a compass to, well, show the direction, a QR & barcode scanner for quickly scanning the info you need and more.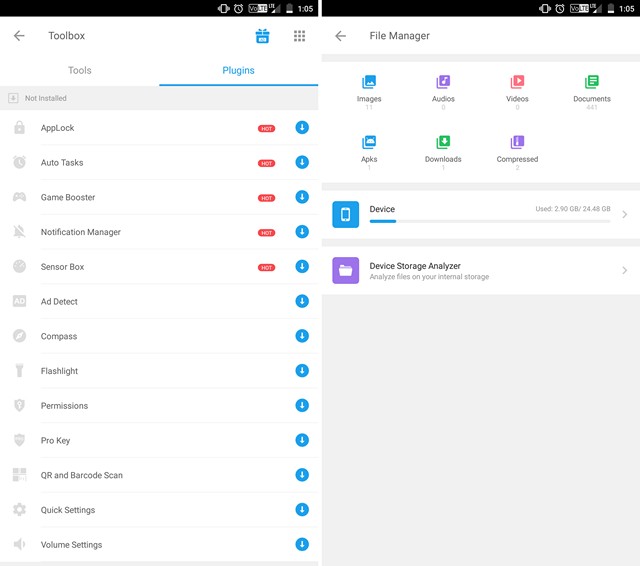 It also features a robust file manager that can sort your files based on categories (gallery, music, videos and files). It is free to download and use and has no limitations at all. The app supports plugins like "App Lock" to lock apps with passwords, "Game Booster" to release memory before you launch any game and more to enhance the functionality and performance of your device.
Install: (Free)
6. TunnelBear VPN
With so many websites and apps being region locked, having a VPN app that can encrypt your data and spoof location is a must, and TunnelBear is a perfect app that can create a VPN for you with ease. The app lets you access geo-locked content and browse on a public network while securing your incoming and outgoing data. You can change your location from a given list of 19 countries, including US, UK, Australia etc. TunnelBear offers 500 MB of free data every month, but if you use a lot of bandwidth, you can get a subscription for $9.99 per month or for $49.99 per year, which brings unlimited bandwidth. You can also get more free data by sharing TunnelBear on Twitter and other social networks.
Also, with the free plan, you can only sign in on one device, but with any paid plan, you can have your account signed in on 5 devices. In case you want to get more familiar with VPN, check out the pros and cons of VPN.
Install: (Free, with in-app purchase for paid plans)
7. HiPER Scientific Calculator
Even with the various features that Android brings, a full-fledged scientific calculator is not among one of them. HiPER Scientific Calculator app is an alternative for that. It offers log values, trigonometry, complex root functions and much more. It's a rapidly growing popular app which can be very useful for engineers and students.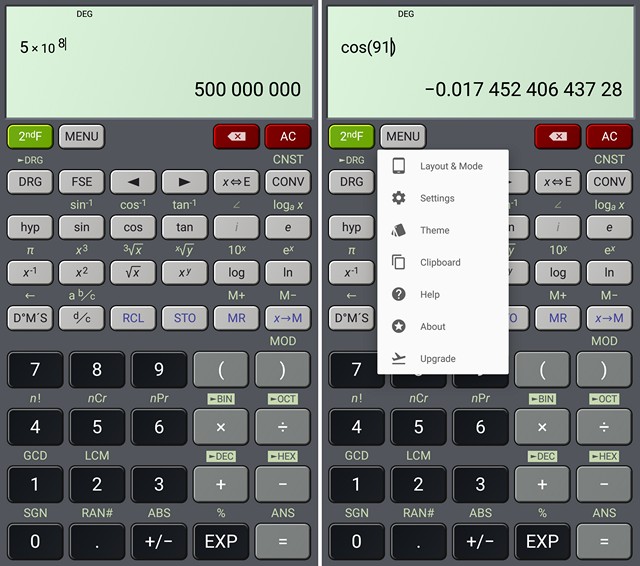 It provides a familiar calculator-like interface with 15 digits of significand. If you think 15 digits are not going to cut it for you, you can choose to go with the Pro version, which supports up to 100 digits, which might be an overkill (for some of us). Along with the functions that are provided by a traditional scientific calculator, you can change the themes and copy the values to clipboard. To unlock features like complex numbers and polar coordinates, you can buy the Pro version. If you don't plan on solving complex equations, and just need a simple calculator app, you can check out our list of the 10 best calculator apps for Android.
Install: (Free, $2.99 Pro version)
8. Google Translate
The one and only app for all your language woes. Useful when you are travelling abroad or when you find yourself restricted by the language barrier. You can translate over 100 languages by typing or use camera to translate instantly in 30 languages. Offline languages can also be downloaded if you plan on visiting somewhere where internet is going to be a bit of an issue. And since it is powered by Google's neural networks, you can expect a near human level accuracy. There isn't a better app than this in what it does.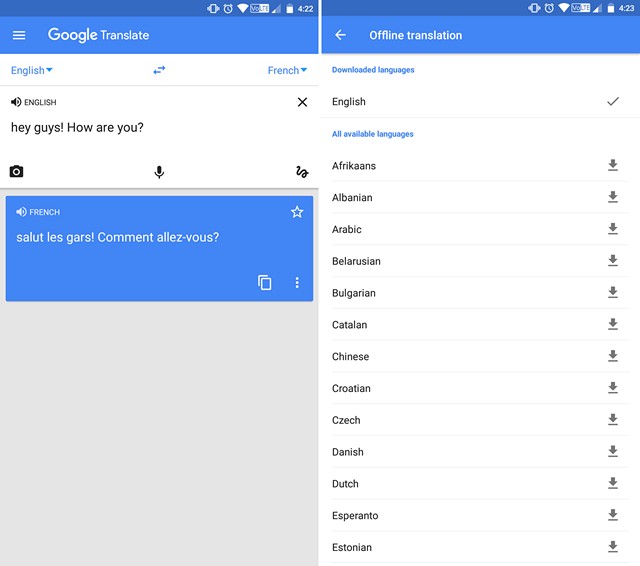 Install: (Free)
9. ColorNote
A really simple and awesome app for making notes. You can save notes, memos, e-mail, messages and to-do lists in ColorNote. What I really like about this app is the auto save feature; you can begin writing and leave anytime, the note would still be there. You can change the color of notes and arrange them based on it. All the notes can be saved on cloud and you can access them on any device. You can even password protect notes if you have some sensitive information. That's not all, the app even lets you add sticky notes as widgets. Other features of the app include the ability to search for notes, backup notes, and more.
I have been using ColorNote for a couple of years now and I like it for its simplicity. It is a free and really lightweight app that you should check out. Having said that, there are some other great note taking apps and you can check out our detailed article on the same.
Install: (Free)
10. IFTTT
IFTTT stands for If This Then That, which kind of explains what it does. It is a very powerful tool that lets you automate tasks and add connections between different apps & services. For instance, you can configure the app to upload the photo to your cloud storage after you share it on Instagram or Facebook. There are a lot of apps that come with IFTTT integration and you can automate a number of things with it. The app uses "Applets" to trigger tasks and you can find lots of applets to use from the official IFTTT website. In fact, even the app features a number of applets that you can use. The app is available for free and comes with no in-app purchases. To sum things up, if you do a lot of repetitive tasks and wish to make the job easier, then check it out.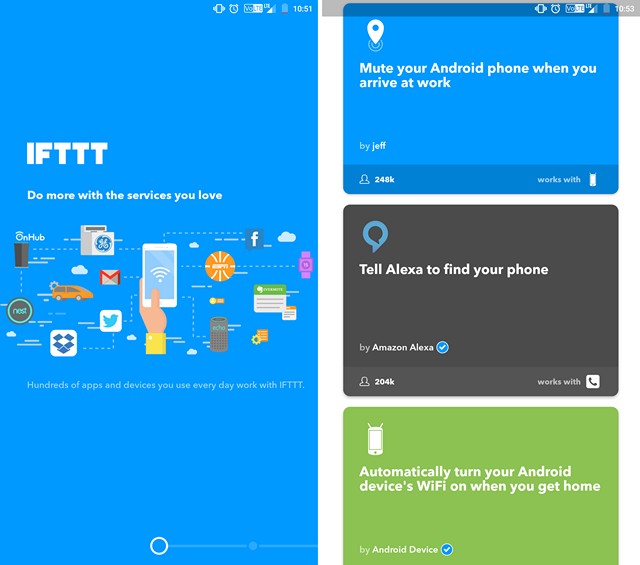 For those of you who need something more powerful can go with Tasker, which essentially does the same thing with scripts and codes. You can check out our detailed article on how to automate tasks using Tasker if you are interested.
Install: (Free)
SEE ALSO : 10 Best Educational Apps for Android
Simplify Your Life With The Best Android Utility Apps
So guys, these are some of the best utility apps that can simplify your day to day tasks. I really like All-In-One Calculator, ColorNote and TunnelBear, and I use them a lot to convert units, take notes and access geo-locked content on the go. However, the other apps on the list too are the best at what they do. So, try them out and let me know your favorite utility app for Android. Do you think I missed a great app? Do let me know in the comments section below.
---
Load More