AirPods Pro not only warrants a whopping $249 price tag but also a mindboggling repair cost – $89 for each earphone (out-of-warranty). Add to that the $89 servicing cost for the wireless charging case and your wallet might already begin to feel light – if not empty. Jokes aside, when you are dealing with premium wireless earbuds like Apple's all-new offerings, it's wise to go for additional protection. This way, even if your AirPods meet with an accidental fall, they will remain safe and scratch-free. To save your precious time and also help you find a suitable cover, we have rounded up some of the best AirPods Pro cases and skins available in 2020.
Best AirPods Pro Cases and Skins to Buy (2020)
Don't want to go for full-on protection? No problem. Different people have different tastes. Keeping in mind the requirement of minimalists, we have also included some top-notch skins for AirPods Pro. Despite being incredibly thin, these wraps are quite scratch-resistant. Therefore, they can raise the style quotient without exposing the AirPods to random scuffs. That all being said, let's find out which one of these cases and skins look primed for your new AirPods!
1. Twelve South AirSnap Pro
If a premium AirPods Pro leather case is what you are looking for, don't miss out on Twelve South AirSnap Pro. Courtesy the top-of-the-line craftsmanship, the leather case appeals to the eyes with little effort. Featuring a strong snap closure, it keeps your earbuds securely inside. Times when you are on the move, you can use the s-clip to attach the earphones to your backpack or bag for comfortable carrying. And yes, AirSnap Pro also doesn't interfere with wireless charging. Considering these notable features, it deserves to be rated as one of the best AirPods Pro cases in the market right now.
Buy from Amazon: $31.66
2. elago
Going by the looks, elago AirPods Pro case looks elegant. Carved out of pretty soft silicone material, the case wraps around the AirPods like a super comfy glove. But just in case you think that it could be too delicate to endure bumps, let me tell you that it features three layers of protection. So, you can count on it to keep your pricey investment safe from shock and scuffs. What's more, elago slim AirPods Pro case supports wireless charging and comes in multiple color variants to choose from.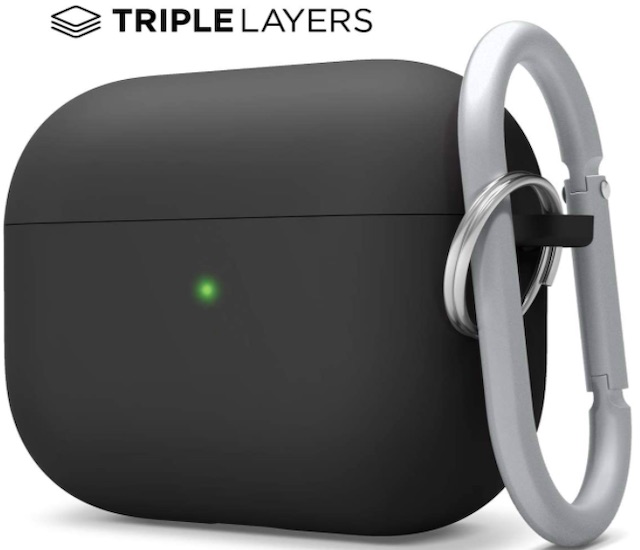 Buy from Amazon: $8.99-$12.99
3. ESR Protective Cover
Even before Apple could reveal AirPods Pro, ESR announced a range of eye-catching AirPods Pro cases. And if you want to protect your all-new wireless earbuds from scratches and even random bumps, be sure to take a close look at this protective cover. It has a lightweight and compact design that offers 360-degree defense to the AirPods case. Plus, the silicone material not only endows it a bit more cushion but also offers improved gripping. The keychain design helps you carry your earphones securely. What's more, this durable AirPods Pro cover also works with wireless charging and comes in multiple attractive color variants including black, red, yellow, light pink and more.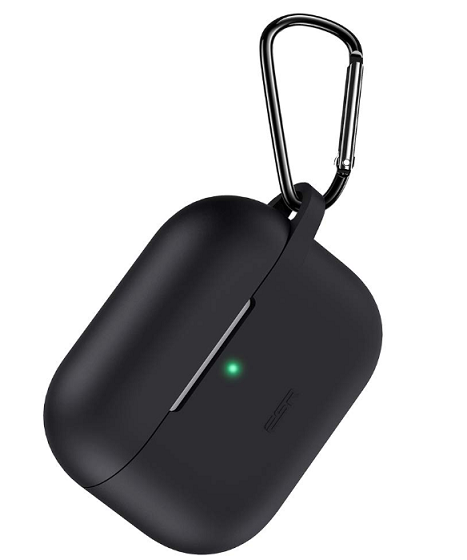 Buy from Amazon: $7.99
4. Caseology Vault
What makes Caseology Vault worth giving serious consideration is the drop-proof design. So, if you are after a case that can offer a 360° shield to your pricey earphones, I would recommend you try it out. Despite having a shock-resistant form-factor, Vault doesn't make the AirPods Pro look bulky. Plus, it also features a non-slip grip so that your earbuds can stay comfortably in your palm. And with the inclusion of a carabiner keychain as well as wireless charging, it can safely stake the claim of being a top-notch protective case for Apple's premium true wireless earphones.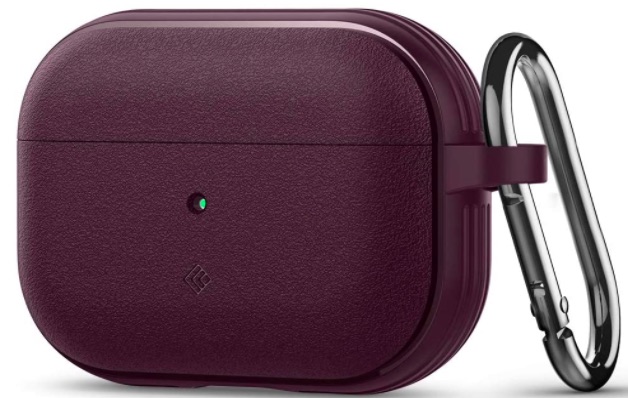 Buy from Amazon: $12.99-$15.99
5. Clear Carrying Case from ESR
It indeed feels nice to flaunt something that rules vox pop, doesn't it? So, if you want to shield your AirPods Pro without covering the design, look no further than this clear case. Made of high-quality PC and TPU materials, it has a snug-fit profile with non-slip texture. Being fully dust-resistant, the cover has got the quality to keep the translucent design intact. The built-in keychain along with a useful carabiner allows you to carry the AirPods with the needed convenience. As for hue options, ESR clear case isn't behind either thanks to the three adorable options: clear, black, and green.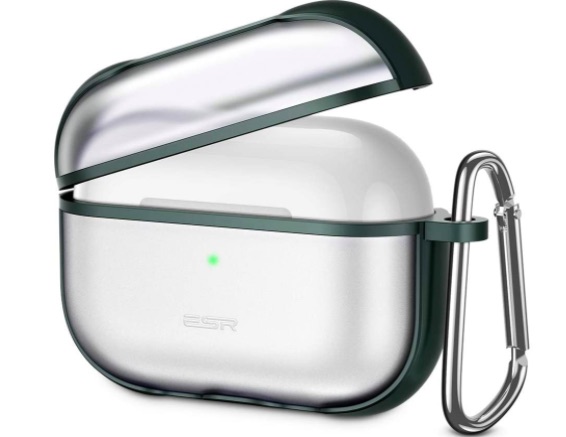 Buy from Amazon: $12.99
6. ICARER
Exhibiting a top-grade genuine leather casing, ICARER seems well-timed for the folks who love to have high-quality leather accessories. The handcrafted cowhide leather construction gives it a classy look. And with the metal hook on offer, it makes carrying the AirPods Pro both comfortable and secure. Another appreciable quality that has called for my attention is its ability to endure shock and also safeguard the earbuds against scratches. Just like most of its rivals, ICARER also gets along nicely with Qi chargers, which make it a complete pair for the earphones.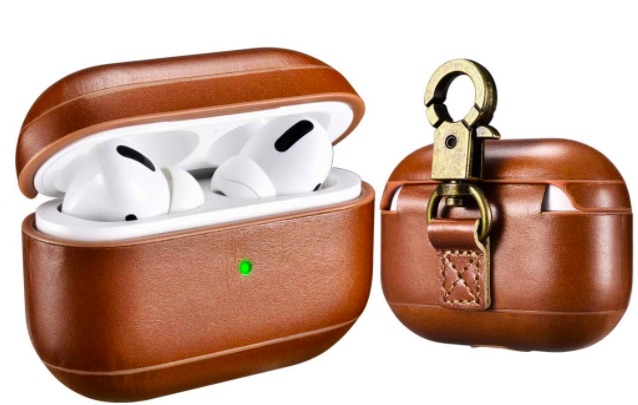 Buy from Amazon: $19.94-$19.99
7. V-MORO
It's the vintage retro design that has compelled me to pick out V-MORO. The high-grade cowhide leather coupled with the neat craftsmanship makes it a fine bet for a professional outing. Additionally, the inclusion of a rugged PC bumper strengthens the casing so that it can survive even nasty shock with ease. When you want to keep your earbuds perfectly in place during hiking or traveling, the detachable carabiner can come in super handy. Available in classy black, vintage and dark brown, V-MORO is a pro suit for your true wireless earphones.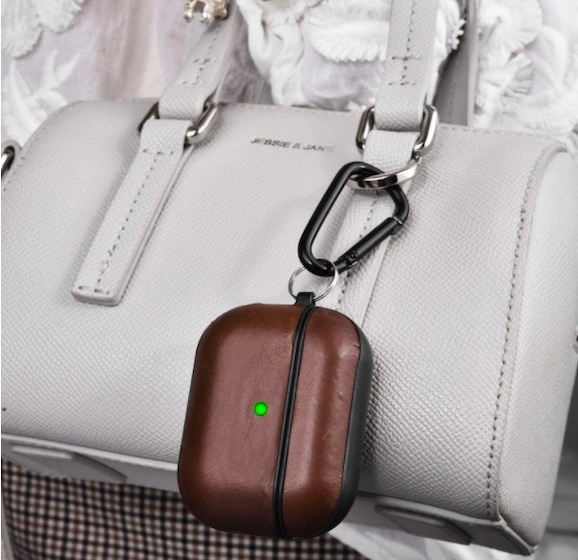 Buy from Amazon: $15.99
8. Ztotop
Featuring a scratch-resistant construction, Ztotop promises to be a notable pick for your AirPods. Thanks to the silicone rubber casing, the cover protects your AirPods without adding unnecessary bulk. The soft-touch finish not only offers much better hold but also keeps fingerprints and dust away. Using the carabiner, you can securely carry your earbuds. As for wireless charging compatibility, Ztotop ensures the earphones charge securely without needing to take off the cover. At $6, it's also among the reasonably good yet cheapest AirPods Pro cases in the market right now.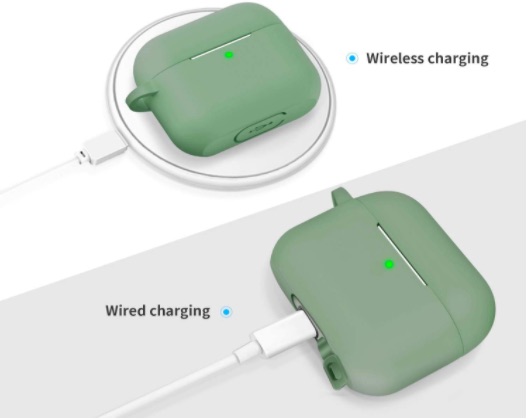 Buy from Amazon: $5.99
9. Operatek
For those looking for a nice silicone AirPods Pro case at a comparatively low price (under $4), Operatek appears to be a great choice. The slim casing coupled with the precise cutouts fits around the AirPods perfectly. And with the handy keychain design, it also helps you keep your earphones secure, especially when you are on the go. Even in terms of protection, Operatek has looked quite good to me. So, you can trust it to ward off scuffs and even withstand minor shock.
Buy from Amazon: $3.99
10. Best AirPods Pro Skins and Wraps from dbrand
Looking at the wide range of dbrand skins and wraps for AirPods Pro, all I can say is that they are worth giving serious consideration, especially if you aren't a big fan of cases. The company's offerings from the wireless earbuds seem to be in line with those for iPhone 11, 11 Pro, and 11 Pro Max. If the textured profile of the dragon skin doesn't catch your eyeballs, the silky touch of the titanium may be good enough to win you over. Not to underestimate the range of true color variants would be great picks for giving a vibrant look and feel to your earphones.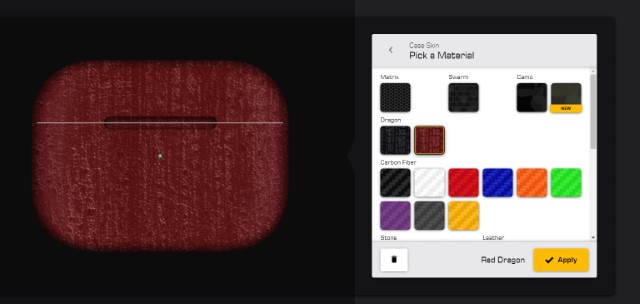 The use of 3M vinyl has strengthened the structure while also ensuring the skin works perfectly with wireless charging. Better still, unlike cheap skins and wraps, dbrand Signature Skins for AirPods Pro don't leave any residue behind when removed. At $12.95, the wraps are a little pricey. But the quality that they boast makes them a great choice.
Buy from Dbrand: $12.95
Bonus: MoKo
Though not a premium AirPods Pro case, MoKo deserves a look for multiple reasons. For starters, the case has got a sophisticated look and feel that can gel along with your fashion quotient. The PU leather casing coupled with the smooth microfiber interior makes it strong enough to resist scuffs and also fight out the minor shock. With the metal button put in place, you can easily open and close the earbuds. Keeping in mind these specs, the sub $9 price tag seems quite reasonable.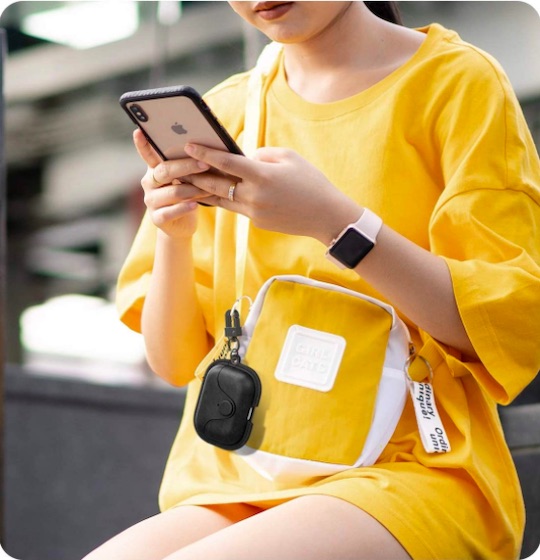 Buy from Amazon: $8.45
Choose Best Cases, Skins, and Wraps for AirPods Pro
AirPods Pro have sold like hot cakes and received good reviews all across the board. Just in case you would like to find out the difference between AirPods and AirPods Pro, make sure to check the detailed guide. Besides, check out the best AirPods Pro alternatives that can not only compete with Apple's earphones but also topple them on many fronts. By the way, which case or skin is going to pair with your AirPods? We would love to know your picks.