Even though Spider-Man 2 is mostly a linear story game, it comes with a lot of freedom to choose your own abilities and make your own adventure. Besides skills you can choose in the game, there are abilities for both Peter and Miles that, when chosen correctly, can change the outcome of any fight. Today, we will focus on the abilities of Miles Morales, the swiftest Spider-Man out of the duo.
Miles has a varied mix of abilities that you can choose from. However, to make it easier for you, we have highlighted the best abilities for Miles in Spider-Man 2. So, without further delay, let's go sifting through them.
1. Chain Lightning
We saw Chain Lightning in Miles' arsenal back in the gameplay trailers. And I am happy to report it is every bit as good as it looked back then. Miles, in his maturity, has also turned deadlier in this skill and can now target multiple enemies at once. True to its name, the chain lightning hits an enemy with a lightning bolt that chains two or more enemies.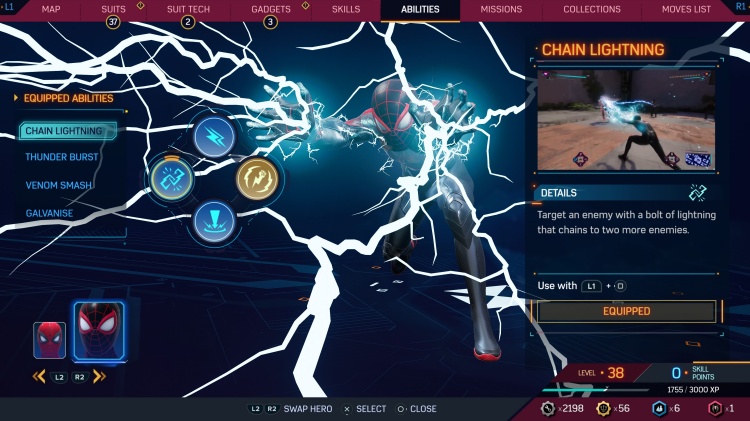 While this ability doesn't knock them out immediately, it throws them back and causes great damage. You can always follow it up with a quick web sling and perform a finisher if needed. Nonetheless, the chain lightning ability for Miles Morales in Spider-Man 2 is one you should get.
2. Thunder Burst
The Thunder Burst is an ability in the game that you get towards the end. Nonetheless, it's definitely one of the abilities for Miles in Spider-Man 2. This ability is focused on controlling enemies that are out of your reach. This could be either because you're far away or just low and health and retreating.
However, the Thunder Burst instantly lets Miles teleport to distant targets and land with a burst of Venom that knocks them down. Furthermore, if the enemies are low enough on health, you can actually fully knock them out with this cool skill. Thunder Burst takes a moderate amount of time to recharge so that it can be used repeatedly.
3. Reverse Flux
If Thunder Burst was about going to your targets, the Reverse Flux takes it in a polar opposite direction, hence, the name Reverse. In his mass effecting ability, Miles releases a burst of Evolved Venom energy pulse that pulls enemies in towards him.
There is a small area of impact under which every enemy will be pulled in. Once pulled in, the Flux sends enemies flying back quickly. The Flux is a mix of stun and impact damage. Miles gets this skill towards the second half of the game, but it is definitely worth waiting for and one you should get as soon you get the chance.
4. Galvanise
Probably the last ability Miles gets in Spider-Man 2 before the game ends, Galvanise is a great way to get away from scores of enemies and take the fight to the air. This handy ability launches an enemy into the air while shocking them with deadly lightning strikes. However, what makes it better is that the strike easily arcs to other enemies and shocks them, too.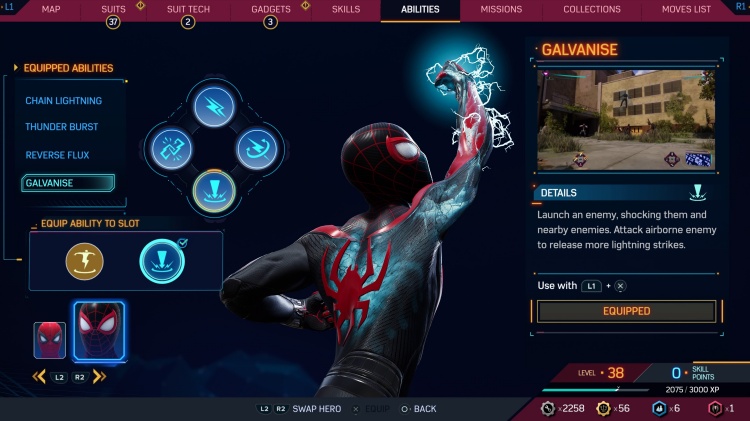 The Galvanise ability keeps the enemy suspended for quite some time, during which you can zip to them and keep attacking them while shocked. Come to think of it, it makes sense that we would get this ability toward the end because of how difficult the game gets. So make sure you don't forget about this ability.
5. Venom Punch
While you might think the Venom Punch is an old trick at this point, you would be surprised at how effective it can be at wiping out lone enemies. For those unaware, the Venom Punch is a 'devastating bioelectric punch.' This punch applies Venom Stun to the primary target and enemies behind them. However, as you would expect from a punch, it also sends them flying, which causes some serious damage.
While the punch itself isn't an ability for crowd control, it surprisingly works well for that too. You can even upgrade it with added skills to affect even more enemies and cause more damage. So, for the times you've had enough, get this ability for Miles in Spider-Man 2.
6. Venom Smash
We end the list with a smash, except it uses Venom for its power. This famous and much-loved ability of Miles carries over to Spider-Man 2 and is now more powerful than ever. As veterans will know, the Venom Smash lets Miles smash down to the ground with the Venom Punch.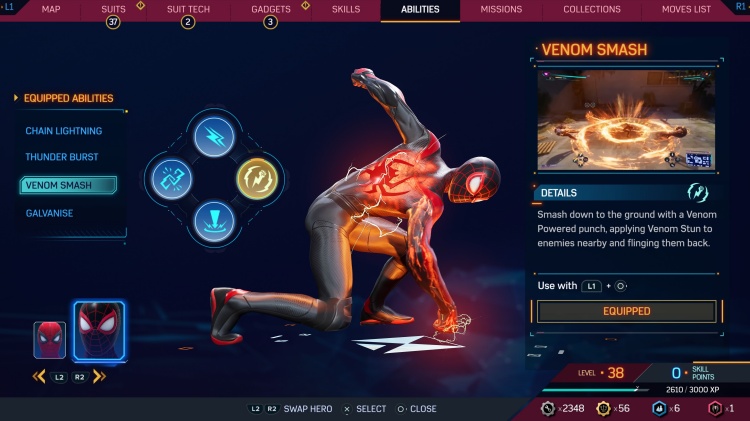 This creates sheer force impact on the ground and sends enemies flying back. However, before they go flying, it also applies a stun effect. As you can tell, the Venom Smash applies multiple effects in a few seconds, making it one of the best abilities for Miles. We have also listed the best abilities for Peter Parker in Spider-Man 2, so do check it out!
We hope you have lots of playing with the best of your abilities for Miles Morales in Spider-Man 2. Remember that you might have to wait a while for some of them to unlock, but the wait is worth it. If you are just starting out, then keep an eye out for some handy guides we will be releasing to help you with the various activities. Until then, see what we had to say in our Spider-Man 2 review. Which Miles ability is your favorite? Drop your thoughts in the comments below!
---
Load More