You could be an aspiring YouTuber wanting to upload your first video, or a budding singer who wants to make his/her amateur recordings better, or even a casual user looking to tweak the quality of that little known but amazing song you downloaded from one of the many legal music downloading websites, a capable audio editor application is an absolute must. And when it comes to audio editor programs, Audacity's popularity trumps others by quite a bit.
However, recently, Audacity made changes to its privacy policy including a statement that says the company will collect "data necessary for law enforcement, litigation and authorities' requests (if any)". This is a major blow to people who trusted and loved using the free and open-source software. If you are also unimpressed by Audacity's new privacy policy, then this list of the best Audacity alternatives is exactly what you need.
Best Audacity Alternatives You Should Use in 2021

There are a lot of Audacity alternatives that you can use if the privacy policy of Audacity is causing you to worry about using it. We are mentioning 12 of our top picks for apps like Audacity in this list. As always, you can use the table of contents below to jump to any particular app you want to learn more about.
1. WavePad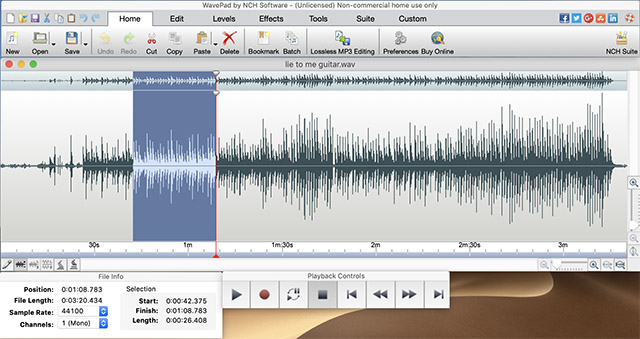 Simple yet feature loaded, WavePad is one of the best Audacity alternatives you can find. Apart from standard audio editing functions (e.g. auto-trim), it includes a diverse collection of audio effects such as normalize, reverb, and echo. There's also native support for VST plug-ins, for easy access to additional processing tools and effects. WavePad lets you bookmark audio sections/regions for easy editing of long audio files, and supports nearly all popular audio formats.
WavePad also brings features such as speech synthesis (text to speech), and a voice changer, which can come in handy if you're working on something that needs you to use multiple types of voices. Plus, if you liked using Audacity purely for its spectral analysis features, you'll be glad to know that WavePad comes with the ability to perform spectral analysis as well, so you'll not miss out on making those fine edits where needed. Apart from that, if you're a video editor, you can edit the audio in your videos directly with WavePad without first having to separate the audio from the video using a dedicated video editing tool.
Platform Availability: Windows and macOS 
Pricing: Paid versions start from $60 (Available for $34.9 on discount till July 15), Free version available
2. Ocenaudio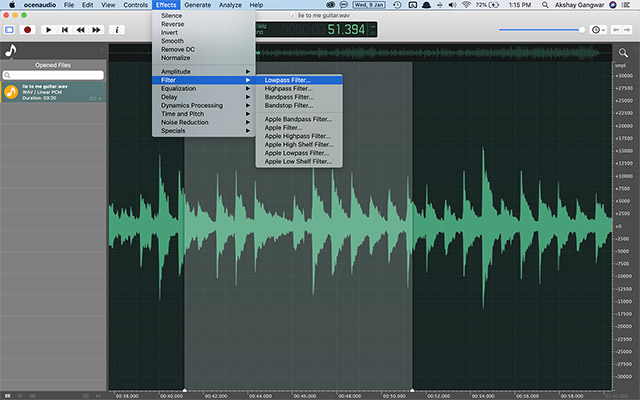 Loaded with all the features you'd expect from a capable Audacity alternative, Ocenaudio is a solid cross-platform audio editor software. Its most important feature is the real-time preview of audio effects, which makes fine-tuned audio processing possible. In addition, the multi-selection tool lets you select multiple parts of an audio file and edit/apply effects to them. Ocenaudio even has an advanced memory management system that makes it easy to edit large sized files for longer durations, without causing them to get corrupted. You also get spectrum analysis, support for VST plug-ins, and more.
Platform Availability: Windows and macOS
Pricing: Free
3. Wavosaur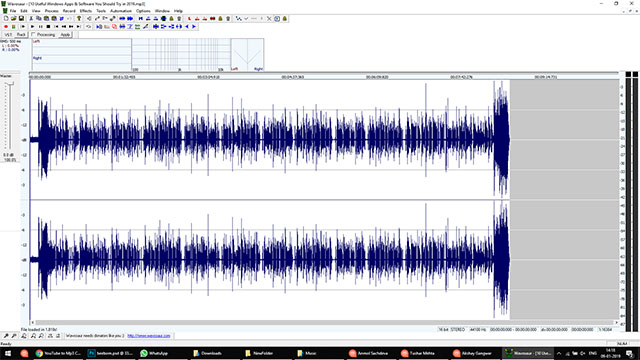 At under 1 MB in size, Wavosaur is probably the lightest audio editor out there. But despite being minuscule, it packs in quite a punch. Wavosaur's multi-document interface lets you edit more than one files in one session, and all standard editing functions (e.g. trim, insert silence) are available. Its batch processing mode makes it easy to apply VST effects to an entire folder of audio files, and you can also record audio from your PC's sound-card input. Wavosaur can even export files as text for using them in software programs like MATLAB and Excel. In addition, it can be triggered by external MIDI controllers, and features ASIO support as well.
Platform Availability: Windows 
Pricing: Free
4. Sound Forge Audio Studio
Coming from Sony, one of the pioneers in the field of audio, Sound Forge Audio Studio is an extremely powerful audio editor program. It supports audio capture with resolutions as high as up to 24-bit/192 kHz, and its studio quality signal and effect processing tools (with over 30 built-in processors) let you bring out the best in your audio recordings. Sound Forge Audio Studio fully supports VST plug-ins, and can process files larger than 4 GB in size. Other useful features include vinyl recording and restoration, automatic file mixing and conversion, and of course, real-time non-destructive editing.
Platform Availability: Windows 
Pricing: $59.95, Free trial available
5. AudioDope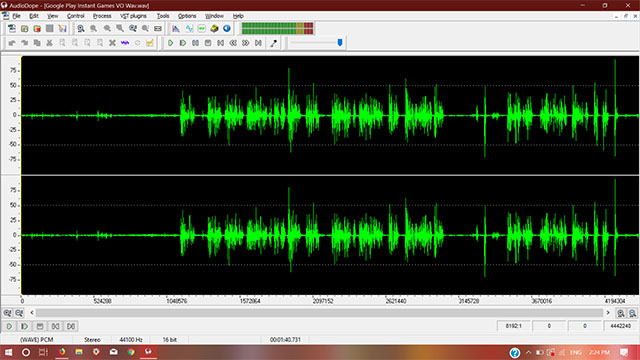 It might not be the most feature-loaded of the bunch, but as a lightweight Audacity alternative, AudioDope works extremely well. It lets you edit all or some parts of audio files, and further modify them separately with the many audio effects available. AudioDope includes almost all regular audio processing effects (flanger, phaser, chorus etc.), and processes (e.g. DC offset correction, normalization, and Sound 3D). It also has a collection of built-in tools such as frequency analyzer, and tone generator. AudioDope supports VST plug-ins, and can create ringtones from audio files as well.
Platform Availability: Windows
Pricing: Free
6. Avid Pro Tools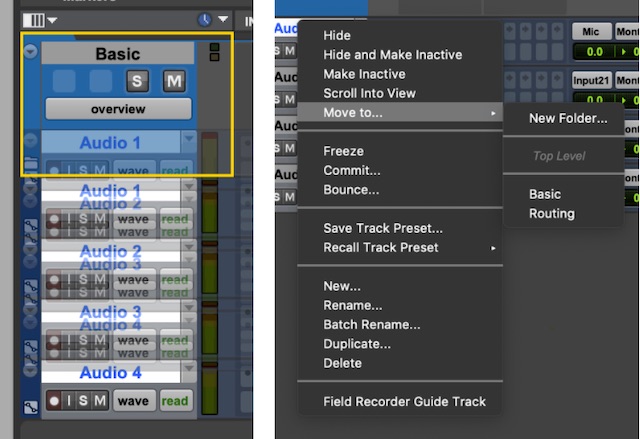 Whether you are a newbie or a pro with years of expertise, Avid Pro Tools can prove to be a huge asset to you. It's the same company that makes one of the best video editing software. What makes it a better alternative to Audacity is a wide range of pro tools that let you edit audio with precision. The audio editor allows you to organize tracks into collapsible folders so that you can take control of large sessions. With the help of drag-and-drop gestures, you can arrange, consolidate, and route tracks. Moreover, it also lets you group folders in folders and even color-code them to make navigation easier.
Features like virtual instruments, top-notch stompboxes, professionally-designed compressors as well as EQs and robust reverbs ensure you have the needed flexibility to edit audio. Even in terms of plugins, Pro Tools can give a strong competition to Audacity thanks largely to a complete plugin bundle. Using a variety of productivity-centric plugins, you can customize the software in line with your workflow.
As for collaboration, Pro Tools is up to the task, allowing you to seamlessly work with your colleagues or friends on a project. Do note that, it comes in three variants: First, Standard Variant, and Ultimate. While the First version is free, the other two variants are paid.
Supported Platforms: macOS and Windows 
Pricing: Free, the standard version is available for a $29.99 1-year subscription, paid monthly and $79.99 1-year subscription, paid monthly.
7. Ableton Live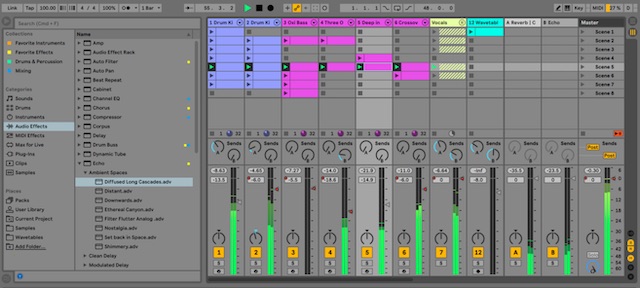 For the audio editors who are looking for a powerful yet highly intuitive substitute for Audacity, Ableton Live could be the right answer. Designed for live use, the software features a clean and snappier user-interface that is a bit easier to get a hang of. As it's fully customizable, you can fine-tune the whole UI to keep everything in sync with your workflow. That aside, it also has a solid library of instruments, sounds, loops, and kits to let you create unique music. Not just that, Live boasts over 50 effects so that you can process audio and MIDI with aplomb.
One of my favorite features of Live is the quick mapping that makes it convenient to use the software with keyboards and controllers. Times when I want to edit music with better control, the mapping feature comes in really handy. Another front where Ableton Live can pose a serious challenge before Audacity is collaboration. The audio editor allows a team to work together or edit a project in tandem. Keeping in mind these notable features, it's an able replacement for Audacity.
Supported Platforms: macOS and Windows 
Pricing: 90-day free trial, starting price $99 
Audacity Alternatives: Digital Audio Workstation Software
If you're involved (or planning to go) in digital music production, and your audio editing needs involve stuff like mixing, processing etc., of audio from musical instruments and MIDI controllers, then you probably need more powerful Audacity Alternatives. These are generally called Digital Audio Workstation (DAW) software.
8. Adobe Audition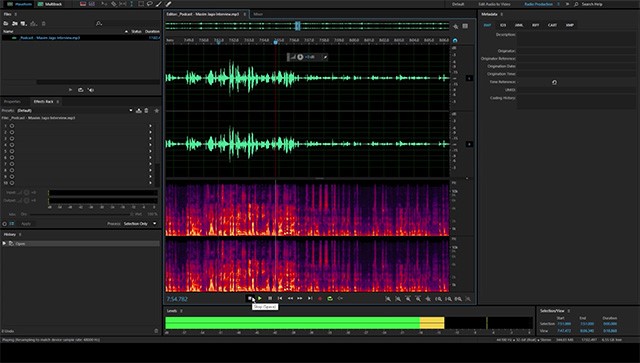 Adobe Audition is one of the most complete audio editing software on the market. From simple audio editing to full-on music production, Adobe Audition can handle everything that you can throw at it. If you are ready to pay its price, Adobe Audition will turn out to be an awesome Audacity alternative for you. I love Audition because of its comparatively easy to understand user interface when compared to other pro level software on this list. When it comes to features, Audition brings features such as multi-track editing, auto ducking which uses Adobe's AI to lower the volume of background tracks to improve vocals, clip editing, and more. There are also a bunch of plugins available for Adobe Audition which bring even more pro features. Audition can also handle any audio file that you can throw at it as it supports most of the audio formats out there like MP3, WAV, AC-3, AIF, AIFF, AIFC, AAC, HE-AAC, CAF, FLAC, PCM, OGG, WMA and more.
Supported Platforms: Windows, macOS
Pricing: Free trial, $20/month
9. FL Studio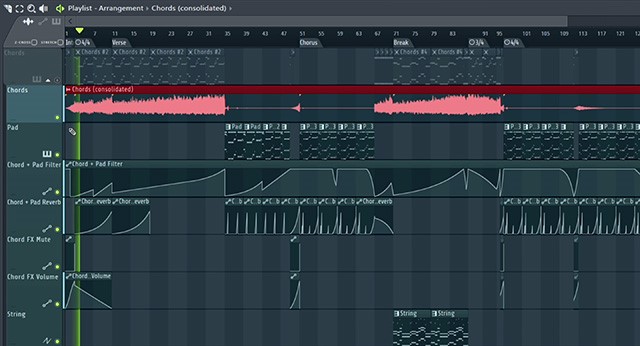 FL Studio is one of the best pro DAW software on the market, especially for EDM music creators. If you are an EDM music creator and have outgrown Audacity, this is the software that you should download and use. Used by artists like Martin Garrix, Porter Robinson, and others, FL Studio is definitely a top-notch software for audio editing files. The software has been around for more than 20 years which in itself is a testament to its prowess.
Talking about the features, FL Studio supports all the features that you can expect from a pro DAW software. Apart from the normal features such as multi-track editing, time-stretching, audio effects, and more, the software also brings "Step Mode" which allows users to create patterns and sequencing in seconds, "Note Mode" which can be used to add melodies and harmony, "Drum Mode" which brings MPC-style 16 or 32 pad layouts, and more. If this doesn't seem good enough to you, you should check out some of the best FL Studio alternatives.
Supported Platforms: Windows, macOS
Pricing: Free trial, License starts at $99
10. Logic Pro X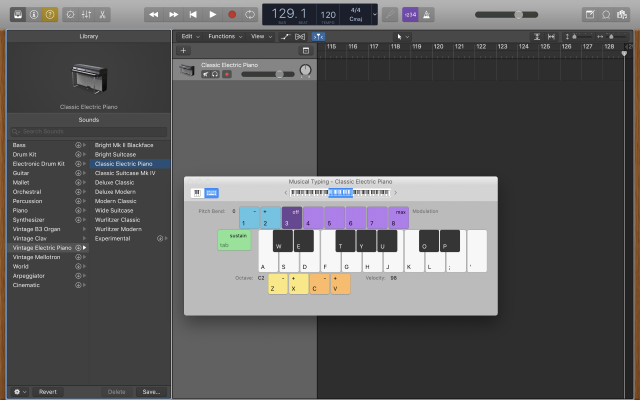 One of the benefits of using a Mac is the exclusive app support that you cannot find on other platforms, Logic Pro X, which is one of the best audio editing software on the market, being one of them. Logic Pro is one of the oldest audio editing and production software on the market and it has aged just like a fine wine. You get access to all the cool audio editing features such as multi-track editing, audio plugins for advanced reverb, Vintage EQs, and more, smart tempo which automatically matches the timing of tracks, audio loops, flex time and pitch, multi-touch mixing, and much more. It also has one of the best user interfaces of all the apps on this list. Finally, since this is made by Apple, it works flawlessly on any macOS device that you own. If you are a Mac user who is looking for an Audacity alternative, this is probably the best option for you.
Supported Platforms: macOS
Pricing: $199.99
11. Ardour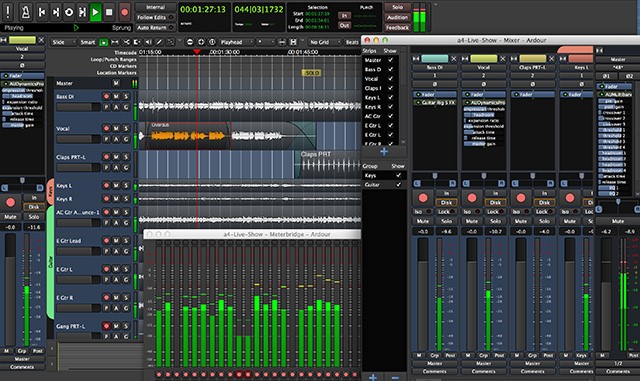 Ardour is one of the few DAW software that works not only on Mac and Windows but also on Linux which gives a big advantage over some of the other software on this list. If you are someone who is using Linux or has to switch between different platforms, this is one of the best Audacity alternatives. One of the big features of Ardour is its simple audio recording interface. Just plug in a microphone to your system, open the app, press record and you are set. Not only you will be able to see your recording wave but also monitor and adjust the input gains so you have a clean and clear recording. Ardour also brings a versatile editing user interface allowing you to use editing tools such as cut, trim, transpose, quantize, swing, and more. You will also be able to mix tracks using familiar tools such as mute, solo, fader, automate, EQ, dynamics, insert, send, and pre-fader, among others. Since the app is also almost free, it makes it one of the best Audacity alternatives.
Supported Platforms: Windows, macOS, and Linux
Pricing: Free, Pay $1 to receive future updates
12. Steinberg Cubase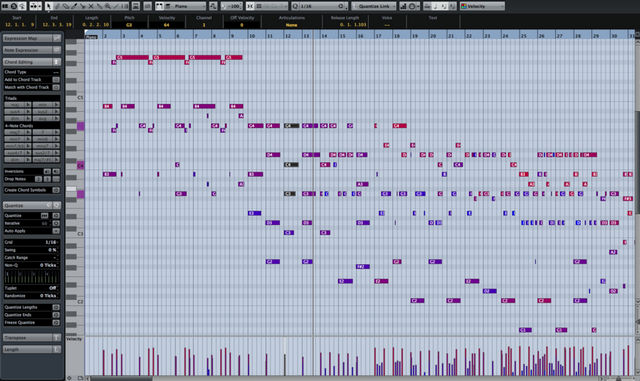 Owned by none other than the Yamaha Corporation, Steinberg Cubase comes with a truckload of impressive features. It includes a variety of MIDI editors (e.g. Key, Score, Drum, and List), that let you create chords, score layouts, beats etc. in no time. Not only that, its award winning audio engine delivers 32-bit/192 kHz resolution audio, with true surround capability. Then there's the unique Control Room recording and monitoring environment, which lets you create and manage up to four unique studio mixes. Editing features include tempo detection, audio quantization, and easy drum replacement.
Platform Availability: Windows and macOS 
Pricing: Cubase Pro 10 ($559.99), Artist 10 ($309.99), and Elements 10 ($99.99)
Honorable Mentions
MUSE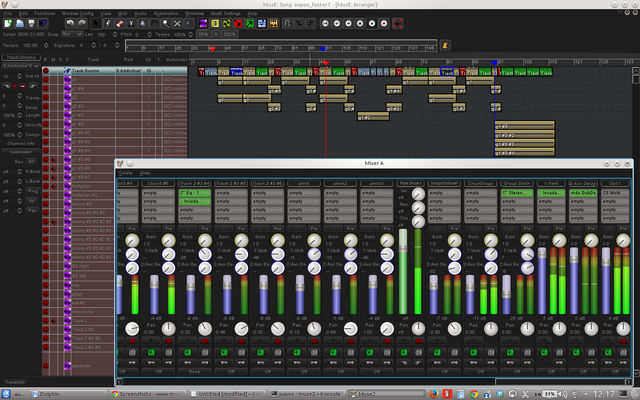 If you're looking for a DAW that's specifically designed to work on Linux based systems, MUSE is the perfect one for you. It's free and open-source (keeping in line with the basic philosophy of Linux) and brings features like real time recording and playback, support for multiple inputs and outputs in both mono and stereo. Plus, if you use MIDI instruments, MUSE will let you edit and create Piano rolls, scores, and even add drums to your music. Along with that, the software supports drag and drop operations for importing and arranging plugins, MIDI files, audio files, and more.
Acoustica Mixcraft 9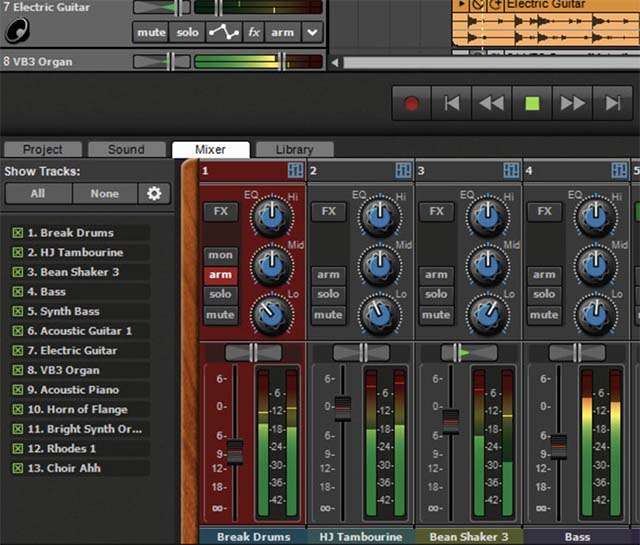 Acoustic Mixcraft is also a DAW software that's worth checking out. The latest version of the software comes with a brand new sound engine that's lightning fast, and features things like advanced MIDI routing, native sidechaining, track grouping, support for VST plugins, and more. Plus, there are over 7,500 royalty free loops that you can use in your projects. Acoustica Mixcraft 8 features a ton of other features that make it worth looking into. The software isn't free (paid versions start from $49) but there's a free trial available.
Check out Acoustica Mixcraft 9
Cakewalk Sonar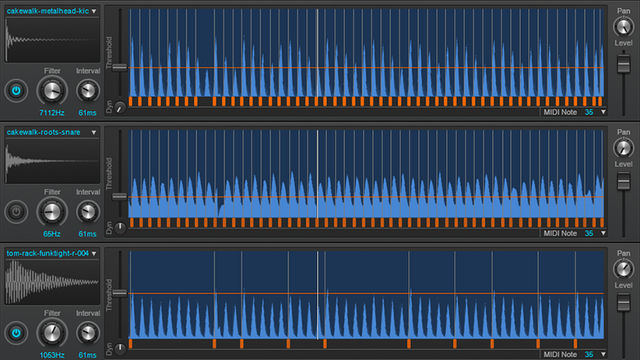 Yet another DAW that you can check out, Cakewalk Sonar brings some pretty impressive features to the table. The software focuses most on getting you started with editing your music as soon as you launch it, with things like track templates, step sequencers, and more right in front of you. There are also a bunch of virtual instruments available in Sonar that you can use to add harmony to your project. However, the most exciting feature in Sonar is the fact that you can hum, whistle, or even sing a melody into Sonar and use its built-in audio-to-MIDI feature to convert it into instrument parts. Sonar is a paid software with prices starting at $99, but there's a free trial available so you can check it out before buying.
Reaper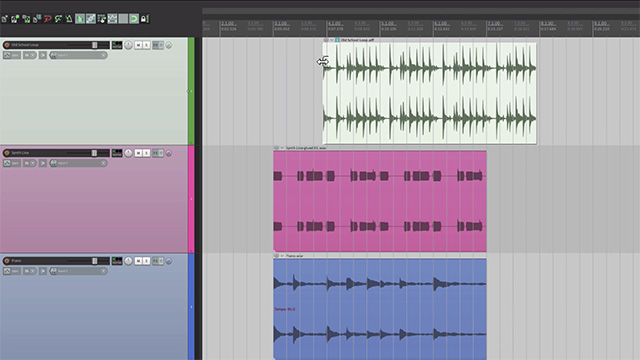 Lastly, you can also check out Reaper, which features multi-track audio editing, processing, and more. Plus, it supports a wide range of hardware and plugins, and also comes baked with some pretty neat features such as the ability to record and edit musical notations with support for key signatures, multiple clefs, and more. What's more, Reaper also supports scripting, so you can use Lua or Python to create new macros or add functionality to Reaper based on your specific needs. If you're interested in Reaper, there's a free trial you can check out, and paid versions start at $60.
For powerful sound editing, Audacity isn't the only choice!
Advanced post-processing of audio is almost always essential, especially when it comes to professional usage scenarios such as music production and video making. And even though Audacity works great for audio editing, the new privacy policy changes are quite troublesome. Fortunately, there are numerous basic to advanced alternatives (as seen above) that can be used in its place. So which one(s) are you going to go with? Sound off in the comments below.