You could be an aspiring YouTuber wanting to upload your first video, or a budding singer who wants to make his/her amateur recordings better, or even a casual user looking to tweak the quality (e.g. loudness, bit-rate) of that little known but amazing song you downloaded legally off the Internet, a capable audio editor application is an absolute must. And when it comes to audio editor programs, Audacity's popularity trumps others by quite a bit.
Free and open-source, Audacity has a plethora of advanced editing/post-processing options. You can use it to trim or join audio tracks, remove noise and other artifacts, perform spectrum analysis, and a lot more. And then there's the huge variety of plug-ins available for it. But as good as Audacity is, there are users who want to try out something different.
If that includes you, then this listing of the best Audacity alternatives is exactly what you need. So without further delay, here they go!
Best Audacity Alternatives
1. WavePad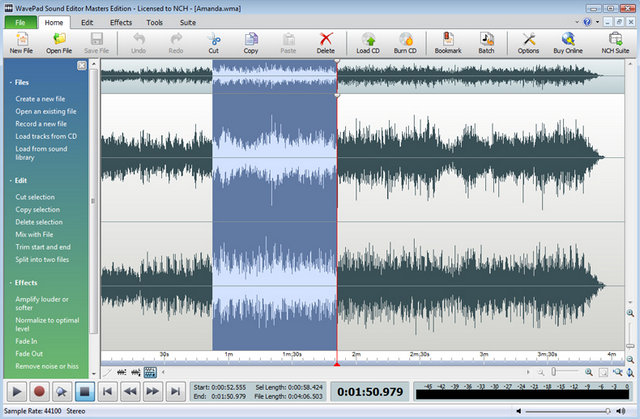 Simple yet feature loaded, WavePad is one of the best Audacity alternatives you can find. Apart from standard audio editing functions (e.g. auto-trim), it includes a diverse collection of audio effects such as normalize, reverb, and echo. There's also native support for VST plug-ins, for easy access to additional processing tools and effects. WavePad lets you bookmark audio sections/regions for easy editing of long audio files, and supports nearly all popular audio formats.
Platform Availability: Windows 10, 8, 7, Vista, and XP; Mac OS X 10.4 and later
Pricing: Paid versions start from $60, Free version available
2. Ocenaudio
Loaded with all the features you'd expect from a capable Audacity alternative, Ocenaudio is a solid cross-platform audio editor software. Its most important feature is the real-time preview of audio effects, which makes fine-tuned audio processing possible. In addition, the multi-selection tool lets you select multiple parts of an audio file and edit/apply effects to them. Ocenaudio even has an advanced memory management system that makes it easy to edit large sized files for longer durations, without causing them to get corrupted. You also get spectrum analysis, support for VST plug-ins, and more.
Platform Availability: Windows 10, 8, 7, Vista, and XP; Mac OS X 10.8 and later; Linux
Pricing: Free
3. Wavosaur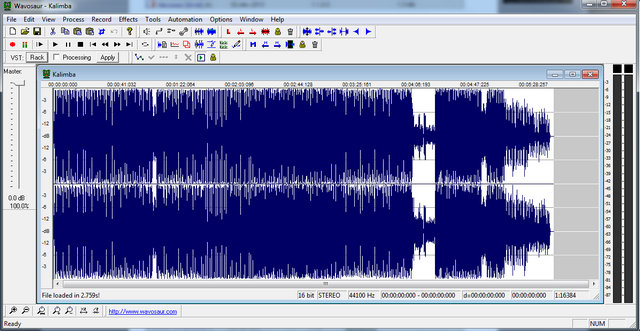 At under 1 MB in size, Wavosaur is probably the lightest audio editor out there. But despite being minuscule, it packs in quite a punch. Wavosaur's multi-document interface lets you edit more than one files in one session, and all standard editing functions (e.g. trim, insert silence) are available. Its batch processing mode makes it easy to apply VST effects to an entire folder of audio files, and you can also record audio from your PC's sound-card input. Wavosaur can even export files as text for using them in software programs like MATLAB and Excel. In addition, it can be triggered by external MIDI controllers, and features ASIO support as well.
Platform Availability: Windows 10, 8, 7, Vista, and XP
Pricing: Free
4. Sound Forge Audio Studio
Coming from Sony, one of the pioneers in the field of audio, Sound Forge Audio Studio is an extremely powerful audio editor program. It supports audio capture with resolutions as high as up to 24-bit/192 kHz, and its studio quality signal and effect processing tools (with over 30 built-in processors) let you bring out the best in your audio recordings. Sound Forge Audio Studio fully supports VST plug-ins, and can process files larger than 4 GB in size. Other useful features include vinyl recording and restoration, automatic file mixing and conversion, and of course, real-time non-destructive editing.
Platform Availability: Windows 10, 8, 7, Vista, and XP
Pricing: $59.95, Free trial available
5. AudioDope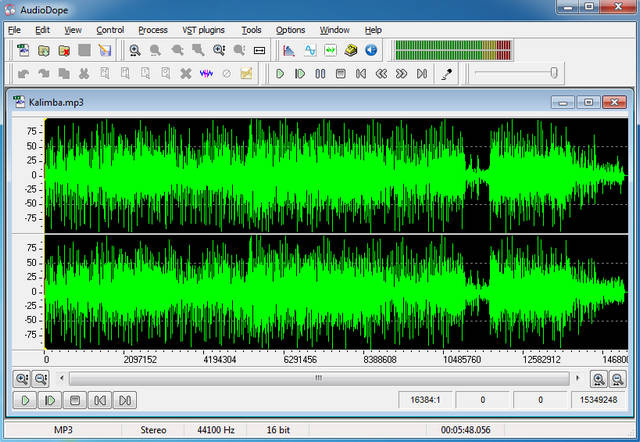 It might not be the most feature-loaded of the bunch, but as a lightweight Audacity alternative, AudioDope works extremely well. It lets you edit all or some parts of audio files, and further modify them separately with the many audio effects available. AudioDope includes almost all regular audio processing effects (flanger, phaser, chorus etc.), and processes (e.g. DC offset correction, normalization, and Sound 3D). It also has a collection of built-in tools such as frequency analyzer, and tone generator. AudioDope supports VST plug-ins, and can create ringtones from audio files as well.
Platform Availability: Windows 10, 8, 7, Vista, and XP
Pricing: Free
Audacity Alternatives: Digital Audio Workstation Software
If you're involved (or planning to go) in digital music production, and your audio editing needs involve stuff like mixing, processing etc., of audio from musical instruments and MIDI controllers, then you probably need more powerful Audacity Alternatives. These are generally called Digital Audio Workstation (DAW) software.
6. Steinberg Cubase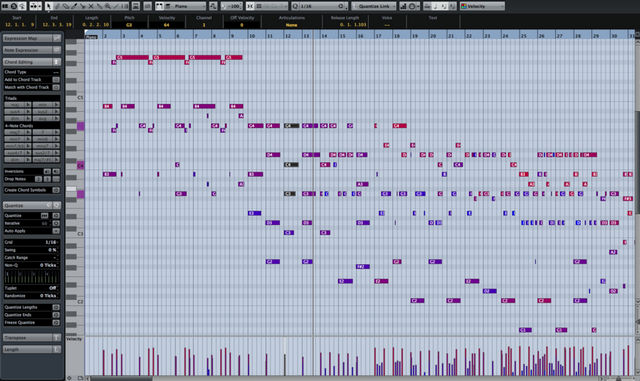 Owned by none other than the Yamaha Corporation, Steinberg Cubase comes with a truckload of impressive features. It includes a variety of MIDI editors (e.g. Key, Score, Drum, and List), that let you create chords, score layouts, beats etc. in no time. Not only that, its award winning audio engine delivers 32-bit/192 kHz resolution audio, with true surround capability. Then there's the unique Control Room recording and monitoring environment, which lets you create and manage up to four unique studio mixes. Editing features include tempo detection, audio quantization, and easy drum replacement.
Platform Availability: Windows 10, 8, and 7; Mac OS X 10.10 and later
Pricing: Paid versions start from €49.99, Free trial available
7. Cakewalk SONAR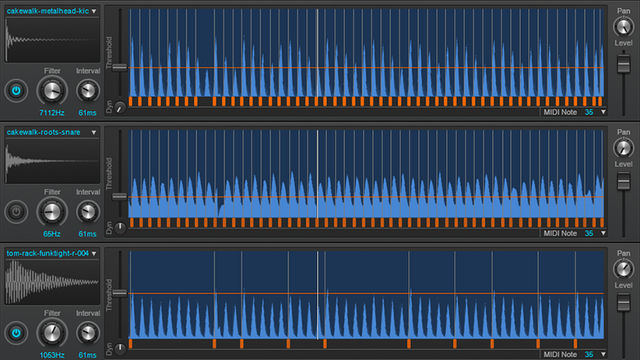 From composition to recording, and from mixing/mastering to sharing, there's absolutely nothing that Cakewalk SONAR can't handle. Features like track templates, and step sequencers let you create music easily, and the innovative Melodyne audio-to-MIDI function converts your sung melodies to instrument parts. The software's 64-bit engine mix engine lets you record audio with enhanced precision, and full support for Direct Stream Digital (DSD) 1-bit audio format means you can archive masters in high resolution. Other features include dynamic control bar, and the ability to directly export songs to YouTube.
Platform Availability: Windows 10, 8, and 7; Mac OS X 10.10 and later
Pricing: Paid versions start from $49, Free trial available
8. Reaper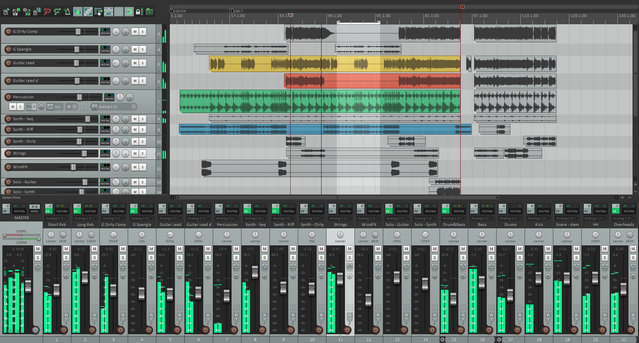 Having full multi-track audio and MIDI recording, editing, and mixing/mastering functions, Reaper is an insanely loaded alternative to Audacity. It supports a huge variety of third party audio/MIDI plug-ins (e.g. VST3), with features like real-time pitch shifting and non-destructive FX rendering. From ASIO to Core Audio to WASAPI, Reaper supports a wide range of audio systems. What's most unique about Reaper is that it is extremely extensible, and can even run and debug scripts. It's also pretty lightweight, at least for a DAW software.
Platform Availability: Windows 10, 8, 7, and XP; Mac OS X 10.5 and later
Pricing: Paid versions start from $60, Free trial available
9. Muse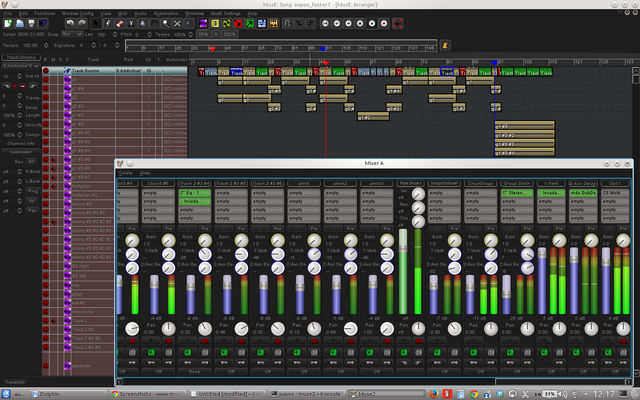 If you want an advanced MIDI sequencing application specifically for Linux, then the open-source Muse just might be what you need. It comes with real-time time recording/playback and import/export functionality, and includes modules like Piano Roll, Drum Editor etc. for advanced MIDI editing. In addition to supporting standardized plug-ins (e.g. DSSI, VST), Muse also supports internal synth plug-ins, and external synth for both hardware and software. The same goes for audio sequencing, and everything from plug-in presets to Aux outputs can be arranged by drag and drop operations.
Platform Availability: Linux
Pricing: Free
10. Acoustica Mixcraft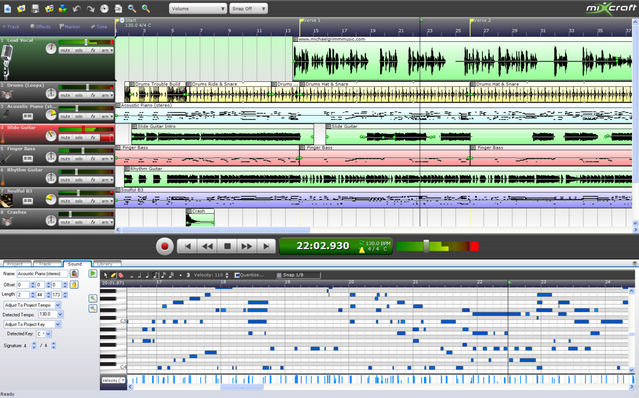 Having more features than you can find in one go, Acoustica Mixcraft is perfectly suited for professional grade music production and mixing. It comes with a ton of virtual instruments, including emulations of classical synthesizers, and is packed with over $1100 worth of plug-ins. The latest version lets you use both 32-bit and 64-bit instruments and effects simultaneously, and the improved time-stretching and pitch-shifting algorithms make for realistic sound. Oh, and you also get over 7,500 royalty free loops, sound effects, and samples for building tracks in no time. Other than that, advanced MIDI editing/scoring and mixing/mastering features are there too.
Platform Availability: Windows 10, 8, 7, Vista, and XP
Pricing: Paid versions start from $89.95, Free trial available
SEE ALSO: 10 Best Audio Recording Software
For powerful sound editing, Audacity isn't the only choice!
Advanced post-processing of audio is almost always essential, especially when it comes to professional usage scenarios such as music production and video making. And even though Audacity works great for audio editing, there are numerous basic to advanced alternatives (as seen above) that can be used in its place. So which one(s) are you going to go with? Sound off in the comments below.