When it comes to gaming laptops, there are a ton of options to choose from. There are brands, including Razer, MSI, Asus, Acer, and more. Then there's the sheer variety of laptops that count themselves as gaming laptops; laptops with an MX150 sometimes count themselves as gaming laptops in a budget. The pricing is a vast are itself, and while a lot of companies offer gaming laptops in the budget to mid-range prices, the choices become lesser and lesser as you approach the higher-end of the spectrum.
The Acer Predator Trition 700 is in that higher-end of the spectrum. At Rs. 2,99,999, this laptop is by no means a mid-ranger. It's clearly, unarguably, in the premium segment of gaming laptops, and if you're wondering how it performs, well this is our review of the Acer Predator Triton 700.
Acer Predator Triton 700 Specifications
The Triton 700 comes in a number of different models, each with its own set of specifications. The one we have here is the Predator Triton 700 PT715-51 783D (talk about long names), and comes with the following specs:
| | |
| --- | --- |
| Dimensions | 39.3 x 26.6 x 1.8 cm |
| Processor | 7th-gen Core i7-7700HQ @2.8GHz |
| Memory | 16GB DDR4 |
| Storage | 1TB SSD |
| Display | 15.6-inch FullHD, 120Hz |
| Graphics | Nvidia GeForce GTX 1080 with 8GB GDDR5X |
| I/O | 1x USB 2.0, 3x USB3.0, 1x USB 3.1 Type-C Port (Gen 2), HDMI, RJ-45 Ethernet, DisplayPort, Headphone and Mic Ports |
| Networking | Killer Gigabit Ethernet, WiFi 802.11 b/g/n/ac, Bluetooth 4.2 |
| Battery | 3 cell, 4,670mAh |
| Operating System | Windows 10 Home 64-bit |
| Price | Rs. 2,99,999 |
Design and Build Quality
In terms of design, the Acer Predator Triton 700 is one classy-looking laptop — something I can't say about a lot of gaming laptops because they're usually built to look menacing and beastly. The Triton 700 takes a different tack in this regard, with it's sleek, stealthy black body without any accents. The laptop gives off a very minimal vibe, except for the obvious "Predator" logo on the lid with a blue outer-glow (which I'm not a fan of), and as thin as this is, it could be a laptop for regular use as well, but it's not (more on that later).
Once I opened the lid, however, Acer makes it pretty clear that this here is a gaming laptop and it's outer looks are just for that… "looks." From the inside, the Triton 700 looks, for the lack of a better word, sexy. There's still that matte-black finish all over the chassis, and there's a glass pane above the keyboard that gives a sneak peak into one of the Triton 700's two cooling fans (which has RGB lighting, by the way), some heatpipes and a little bit of the physical board underneath. The glass itself has a black tint to it making the underlying circuitry look that much cooler. However, the glass pane isn't there just for the looks, it serves a purpose. A weird, 'this-is-simply-difficult-to-use' purpose, but a purpose nonetheless — it houses the trackpad. Yeah, the Triton 700 features a trackpad that's positioned above the keyboard.
A weird, 'this-is-simply-difficult-to-use' purpose, but a purpose nonetheless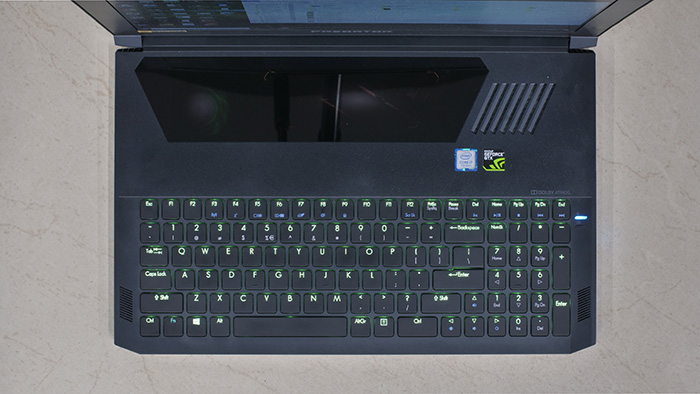 For all it's sleek looks, the Triton is a very well built laptop, and one that doesn't feel like it'll break if you slam the lid shut (believe me, there are laptops that feel flimsy as all hell), but that's something you'd expect from a laptop that's priced as much as the Triton 700. The laptop features its power button on the right side, which is actually pretty intuitive if you think about it, but a lifetime of using laptops with power-buttons somewhere in (or around) the keyboard meant that I had to get used to this particular placement.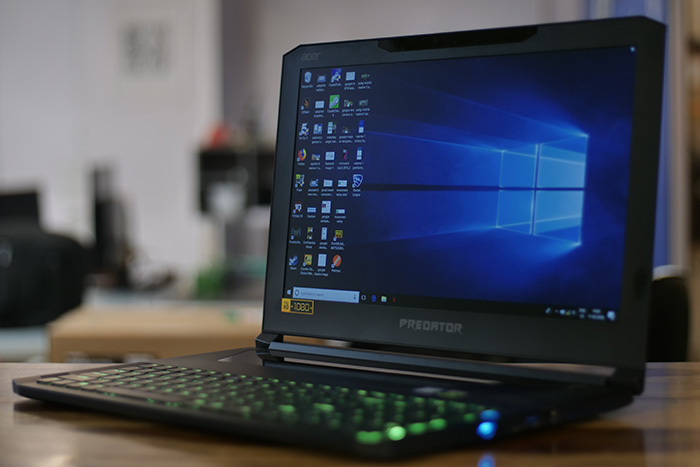 One thing I personally liked was that I could open the lid with a single hand, instead of having to hold the base of the laptop with one hand and opening it with another. This is something I've gotten used to over my years of using a Mac, and something that most Windows laptops, for some strange reason, can't be counted on for. I've only ever seen the Dell 7000-series gaming laptop that my colleague Pranob uses as his daily, and this Triton 700 do that.
For some reason, Acer decided against implementing Windows Hello hardware in the laptop, which means you can't log in with your fingerprint or facial recognition. That may not be a big deal to a lot of people, but again, for Rs. 2,99,999, you kind of expect the best of everything.
Overall, the design and build quality of the Triton 700 is excellent all around, and gives off a very stealthy, yet beastly feel to the laptop. I love it.
I/O Ports and Connectivity
As far as I/O and connectivity goes, the Predator Triton 700 has an abundance of ports for whatever you may need to do. The laptop includes three full size USB 3.0 ports, one USB 2.0 port, a thunderbolt 3/USB 3.1 Type-C port, an HDMI out, and a DisplayPort as well. Coming from a 2017 MacBook Pro, these many ports were something of a shocker to me, but they're not too many, to be completely objective about it.
Coming from a 2017 MacBook Pro, these many ports were something of a shocker to me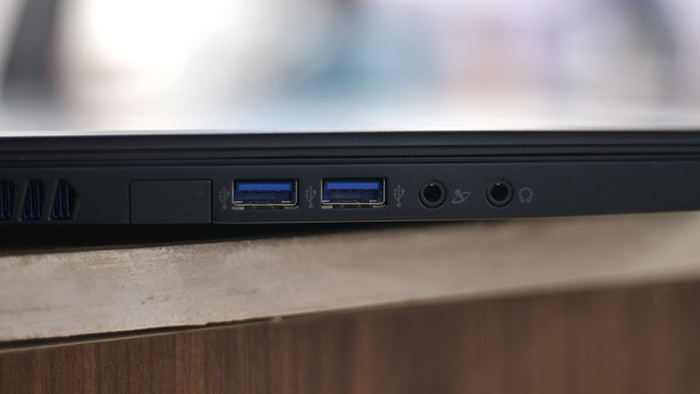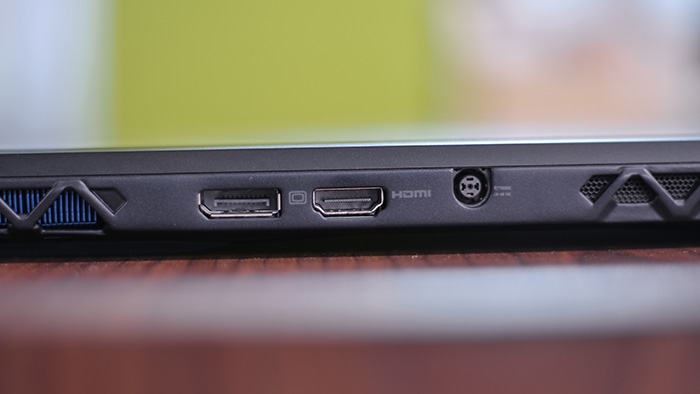 For internet connectivity, the Triton 700 features a standard RJ-45 port that supports Gigabit networking thanks to the Killer Wireless AC 1535 network-card, along with support for Wi-Fi ac standard and Bluetooth 4.2. Also, since this is a gaming laptop, it not only features a headphone jack, but also a dedicated microphone-in port.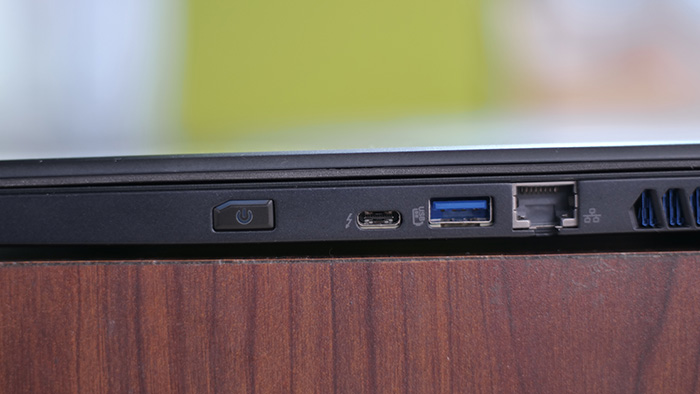 Display
The Acer Predator Triton 700 comes with a 15.6-inch FullHD IPS LCD display with a 120Hz refresh rate. Obviously, at this price one might expect either a higher quality display, or a refresh rate of 144Hz maybe. While I can't speak to Acer's decision to go with a 120Hz panel, the 1080p display is obvious because higher refresh rates aren't possible with something like a 4K display, so that's out of the question. A lot of gaming laptops these days are opting to go with higher refresh rates instead of higher resolutions, including the MSI GE73 Raider that we recently reviewed.
Quality-wise, the display on this Triton 700 laptop is stunning. It can get pretty bright, it's definitely sharp, and colors on the display look really good. Plus, the viewing angles on this display are pretty nice too. Oh, and the display has support for Nvidia G-Sync, which means less tearing, reduced input lag and display stutter.
Audio
The speakers on the Triton 700 are amazing. The laptop has speaker grilles on both sides of the keyboard which amounts to a set up that can get quite loud if you need it to be. The grilles are covered with cloth, which is fine, except in a country like India, you'll not be able to clean the dirt that accumulates inside the grille for fear of tearing out the cloth. Anyway, I didn't notice any issues with the sound even on max volume, and the outputs are great all around. The bass is good, and all around levels that the speakers produce are pretty great.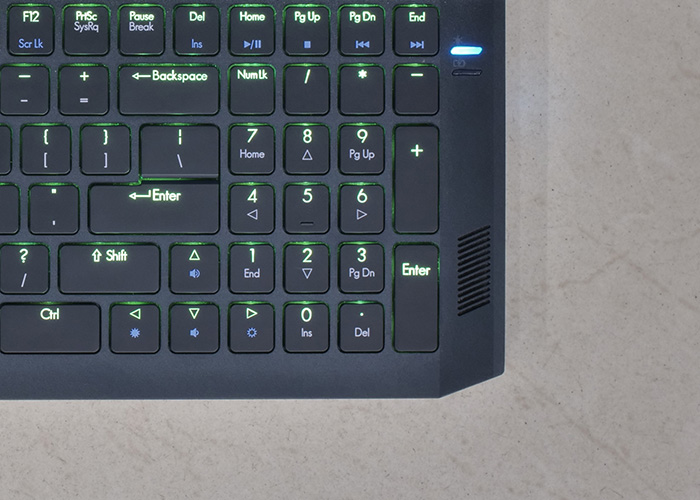 That said, you'll not be able to use the speakers while gaming for sure. The fans on the Triton 700 can get really really loud. So loud, in fact, that sounds from games like CS: GO, and PUBG are all but inaudible over the din of the fans. For all other purposes of media consumption, including watching movies and YouTube videos, the Triton 700's speakers are loud enough and then some.
Keyboard
The Predator Triton 700 comes with a full-sized RGB mechanical keyboard — something that was expected considering the price of the laptop. The keyboard comes with a ton of lighting effects that can be customized using the bundled Predator Sense software, and you can even change the backlight color for each individual key if you want. There are some presets including highlighted WASD keys that will be popular among gamers, and you can obviously create your own.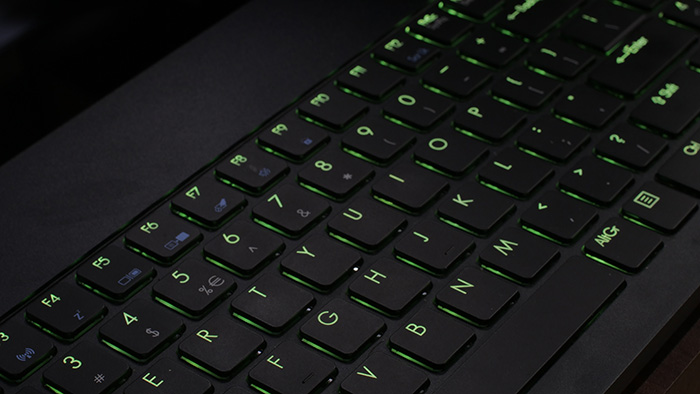 One thing that I would've liked to see is the ability to adjust the keyboard back-light brightness, but sadly, the Triton 700 doesn't let you do that. You can only turn the back-lighting on/off.
The keyboard itself, though, is pretty damn good. I mean, it's a mechanical keyboard, so it's tactile and has a decent travel which makes it great for long sessions of using the laptop.Plus it has full-sized arrow keys which is definitely a plus.
Typing with this keyboard is fun, but it did take me some time to get used to the travel since I'm accustomed to the butterfly switches on the MacBook Pro. I would've loved the keyboard even more if there was a palm-rest on the laptop, but the design of the keyboard, and the placement of the trackpad makes it impossible to include a palm rest without making the laptop impossibly huge. That said, the laptop is quite sleek, and after a while I found that I was used to typing on it without a palm rest as well, so it's mostly a matter of time.
In my usage of the laptop as my daily driver for over a week now, I noticed one minor annoyance with the keyboard. If the laptop lid is kept closed for a long time, the keyboard backlight sometimes fails to come back on once the laptop is unlocked and being used. It takes an additional minute or so to enable the backlight on the keyboard. This only happens rarely, and it could just be an issue with the unit we received. It's not a big deal, but for a laptop of this price and caliber, I expect everything to be perfect.
Trackpad
The trackpad on the Acer Predator Triton 700 is probably the only thing in the entire laptop that I'm not a fan of. I mean, sure, it looks uber-awesome in the way it's a see through pane of glass and shows off the cooling fan underneath it along with some heat pipes. It's almost an incredibly well designed trackpad, except when you consider usability.
It's almost an incredibly well designed trackpad, except when you consider usability.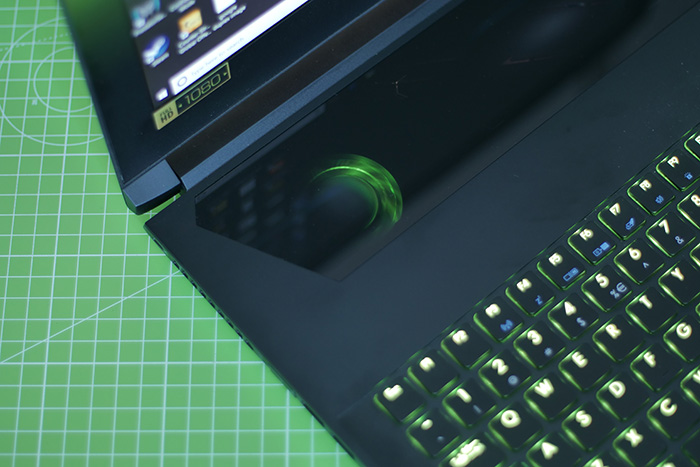 From the perspective of actually using the trackpad, the one on the Triton is absolutely unusable. I mean, just imagine using a trackpad that's above your keyboard. Not just that, the heat pipes passing underneath the trackpad make it incredibly hot to touch when doing anything other than casual browsing or word-processing.
However, I do get why Acer decided that it wouldn't be a big deal. The company used the trackpad to highlight the internals of the laptop, and show off the cooling fan with RGB lighting, all because they know gamers won't be using the trackpad anyway. Most serious gamers (and that's who this laptop is aimed at) will always use a dedicated gaming mouse instead of relying on the trackpad.
Also, the entire glass pane on the top isn't a trackpad. There's a decent sized chunk of the pane that's the trackpad, and it's demarcated in very slightly visible angular lines on the corners.
Other than the fact that it's completely unusable, the trackpad on the Triton 700 is pretty nice.
Performance
Talking about the performance of the Triton 700, let me put it this way — the laptop features a 7th-gen Core i7 clocked at 2.8GHz, 16GB of DDR4 RAM, a 1 TB SSD, and an Nvidia GeForce GTX 1080 with the Max-Q design all stuffed in that chassis. Obviously, the performance on this thing is mind blowing.
Gaming Performance
I tested out the performance with a few games that I personally like to play, and the Triton 700 handled them like a boss (I mean, duh).
I started out with a game that's decidedly a cake-walk for this laptop — CS:GO. I know this is well below what you'd play on a laptop like this, but I just tested out every game I play. With CS: GO, the Triton 700 got an average frame-rate of 169 FPS reaching as high as 209 FPS with all the settings turned to max. That was very much expected.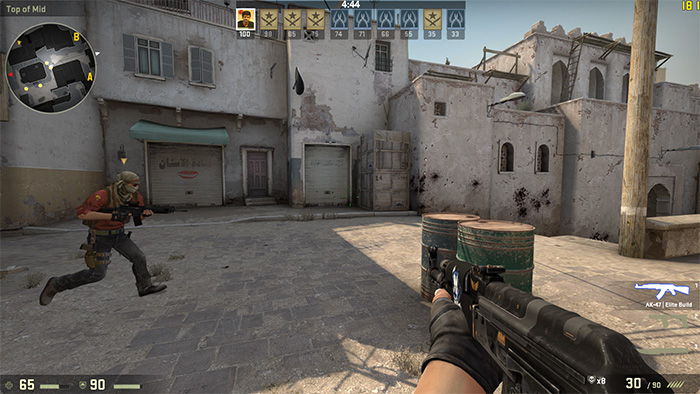 I loaded up Rocket League next, and the laptop handled it like a champ too. With all settings turned up to max, and resolution set to Full HD, Rocket League ran at an average of 228 FPS, going up to 250 FPS (at which point I assume it got limited due to the in-game FPS limit).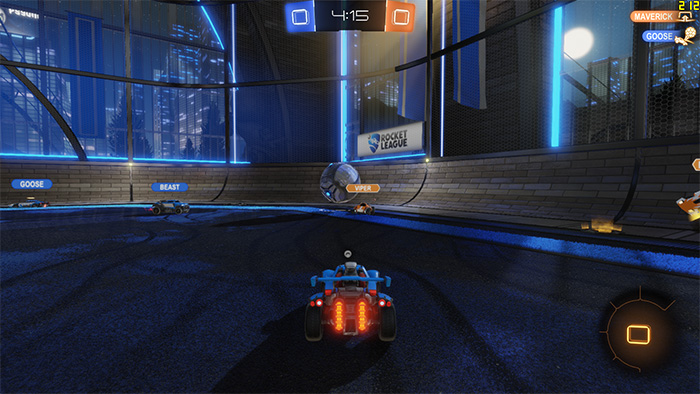 I also tried out PUBG on the Triton 700, and that infamously unoptimized game, on max settings churned out an average of around 60 FPS, going as high as 120 FPS. I'm gonna call that an awesome performance, especially considering that this laptop has a GTX 1080 built on the Max-Q design.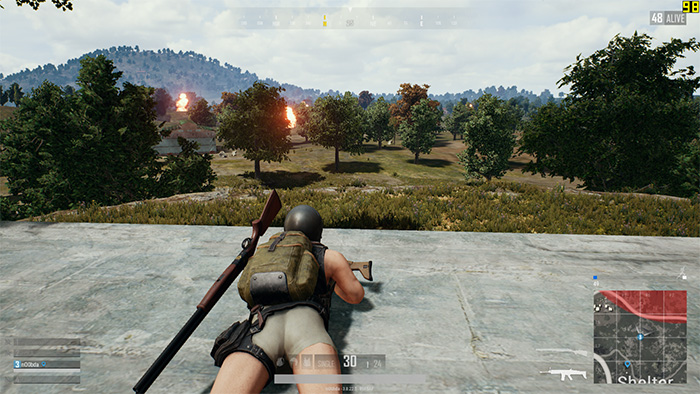 Lastly, I played Far Cry 5 on the laptop (and almost got carried away with it, by the way) and on Ultra settings with Full HD resolution, the game got an average frame rate of 55 FPs and a max frame rate of 59 FPS. However, when tested with the in-game benchmarking tool, it showed up an average frame rate of around 60 FPS, and a max rate of 80+ FPS.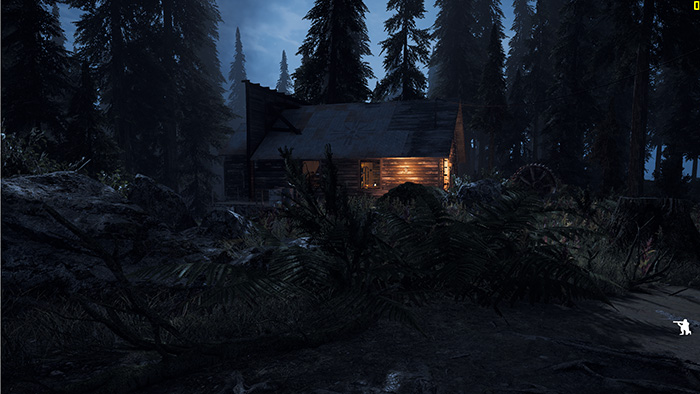 Synthetic Benchmarks
In synthetic benchmarks as well, the Triton 700 is like hot knife through butter. The laptop scores a whopping 14061 in Fire Strike on 3DMark, 3891 in PCMark 10, and gets upwards of 94 FPS on Cinebench OpenGL test. For a laptop this sleek, with a Max-Q design, these numbers are really great, and the laptop doesn't leave a lot to be desired in terms of raw power.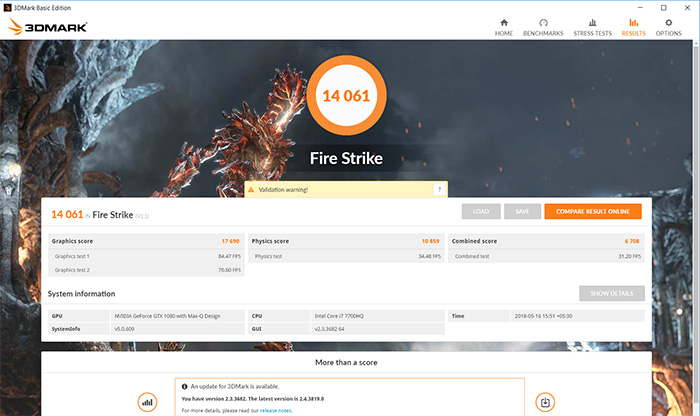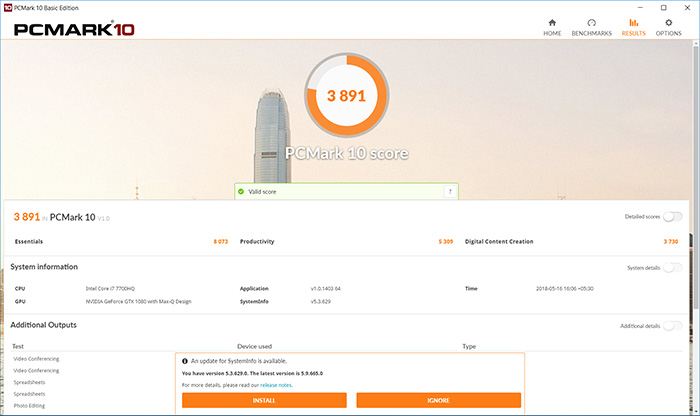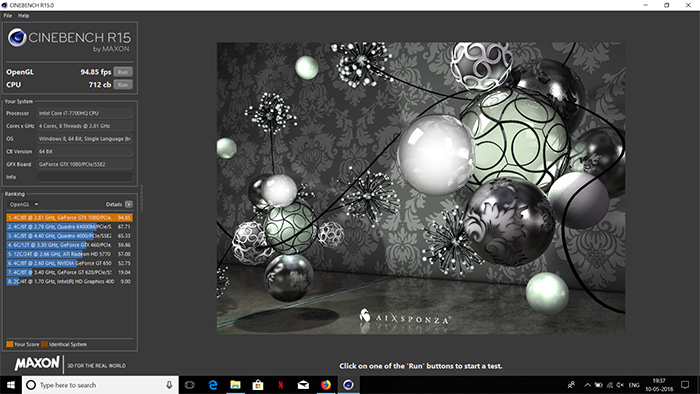 Thermal Performance
The Predator Triton 700 features a dual fan system and uses two Aeroblade 3D fans designed especially to maximize air flow inside the thin chassis of the laptop. One of these two fans is visible through the glass trackpad area above the keyboard, and features RGB lighting as well.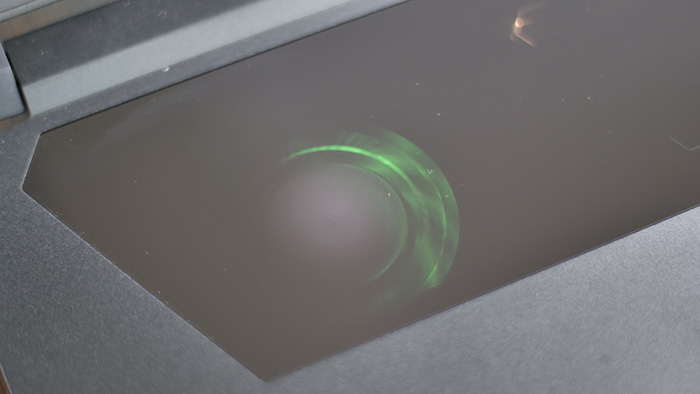 The laptop comes with 5 heat pipes to ensure a cool running performance and since the heat pipes fall directly under the trackpad, it becomes quite hot. I checked the temperatures with an IR thermometer, and the trackpad gets over 50 degrees Celsius within 30 minutes of playing a game like PUBG. However, this is a tradeoff that allows for the keyboard to remain extremely cool during gaming, and since you'll be using a mouse anyway, this is actually a tradeoff worth making.
Other than that, I didn't notice any thermal throttling on the laptop even with intensive gaming sessions. While the CPU temperatures, according to the Predator Sense software, went as high as 89 degrees, and the GPU temperatures went up to 83 degrees, the laptop kept performing perfectly well.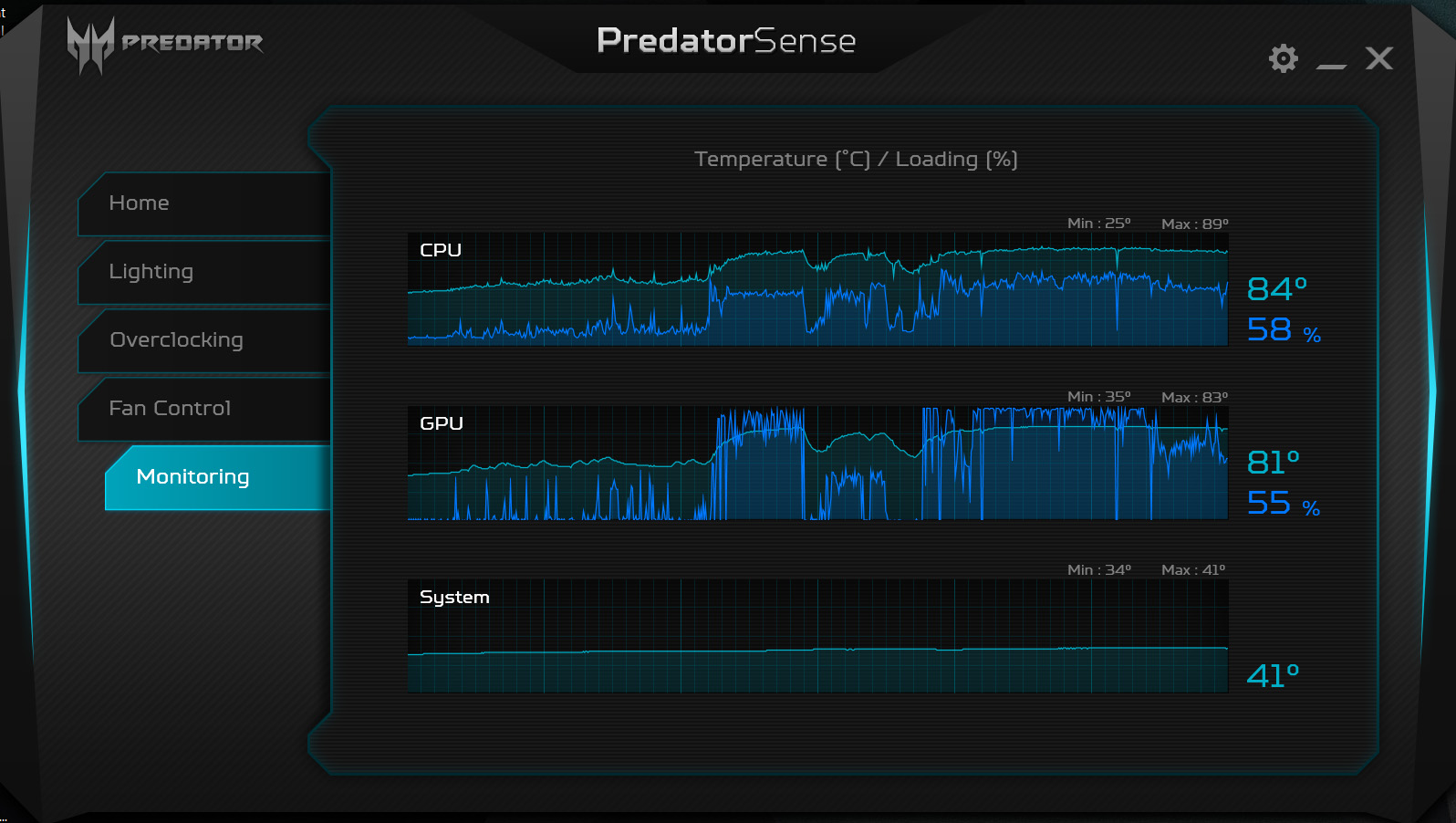 I was also really impressed by the cooling. Within a few minutes of shutting down a game, the laptop drops back to normal temperature. I must say, the Aeroblade 3D fans that Acer has used in the Triton 700 are definitely amazing.
Battery Life
The only one place where I felt the Triton 700 let me down is the battery life. Since this is a sleek laptop, especially by gaming laptop standards, I expected a smaller-than-usual battery on this. However, the 3-cell 4,670 mAh battery that powers the Triton 700 is exceedingly tiny for the amount of power this laptop needs.
In its default settings, with 'best battery life' selected in the battery settings, the Triton 700 barely lasted around 1.5 hours doing nothing but browsing on Firefox with around 5-6 tabs open on average. None of the tabs were even playing audio or video, they were mostly text/image content. That shocked me because 1.5 hours of battery life on web-browsing with 'best battery life' selected is a terrible performance.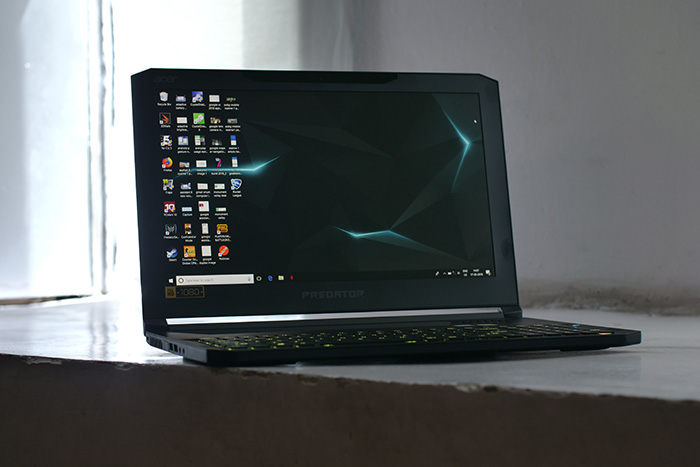 I also gathered up a lot of courage and tested out the laptop's battery performance in 'best performance' mode and it lasted around an hour with the same workload of browsing on Firefox with 5-6 tabs open on average.
The battery life shouldn't be a problem for gamers, because they'll most probably keep the laptop connected to an outlet while gaming for better performance. However, the sleek form-factor of the Triton 700 made me think that maybe this could be a daily driver for me. Needless to say, the battery life makes it very clear that this laptop (regardless of its form factor) is not meant for every day use, and is specifically aimed at gamers.
The battery life makes it very clear that this laptop (regardless of its form factor) is not meant for every day use
Pros and Cons
Pros:
Excellent build quality
sleek form factor
amazing performance
RGB mechanical keyboard with individually customisable keys
Cons:
Awkwardly positioned track pad
No Windows Hello support
SEE ALSO: MSI GE73 Raider 8RF Review: Gaming Without Compromises!
Acer Predator Triton 700: A Beast Inside a Slim Profile
All things considered, the Acer Predator Triton 700 is an absolute beast when it comes to gaming performance, speaker quality, design, and build. The laptop screams 'gaming' from the inside, and yet from the outside, it's a very discreet, minimal, and stealthy looking thing that most people won't, at first sight, recognize as a gaming machine.
With the 7th-gen Core i7 processor, 16GB of RAM, a 1TB SSD, and the Nvidia GTX 1080 GPU (Max-Q design), the Predator Triton 700 offers top-tier performance inside a sleek design. In my opinion, I'm glad Acer went with the GTX 1080 based on the Max-Q design since it trades off very little in terms of performance for a huge gain in terms of design and over-all portability.
So yes, if you're looking for a top-tier gaming laptop, the Predator Triton 700 is something you should definitely check out. It doesn't bring the flashy lights all over the place look that most gaming laptops do, but it brings a lot to the table in terms of performance.
Buy the Acer Predator Triton 700 from Amazon (Rs. 2,99,999)
---
Load More