With all the gaming laptops that I have reviewed, a couple of themes have always stood out to me, and anyone who has read any of the other gaming laptop reviews that I've written would know, that I admire Asus for building gaming laptops that don't look like giant, unwieldy behemoths that I can't keep on my desk without attracting too much attention. However, when the Asus ROG Strix Scar III G531GV arrived at our offices, I found myself at a loss for how to really describe this laptop. It's not as spaceship-like as gaming laptops like the Alienware Area 51m, and it's not as understated as, say, the Zephyrus M that I reviewed a while back. Anyway, I've been using this laptop as my daily driver for almost a week now, and if you're wondering whether the ROG Strix Scar III is worth the Rs. 1,54,990 price tag, here's my review of the laptop.
Asus ROG Strix Scar III G531GV: Specs
Before we jump into the review, let's do what we always do and take a look at the hardware this laptop brings to the table:
Display
15.6-inch FullHD;
144Hz;
3ms
Processor
Intel Core i7-9750H;
2.6GHz, up to 4.5GHz;
6 Cores/12 Threads
RAM
16GB DDR4 2666MHz
GPU
Nvidia RTX 2060;
6GB GDDR6 VRAM
Storage
1TB NVMe SSD
I/O and Ports
1 x Type C USB 3.2 (GEN2) support DP function;
3 x Type A USB 3.2 (GEN1);
1 x HDMI 2.0b;
1 x 3.5mm Audio Jack/ 1 x Audio Jack Mic-in (Combo Jack);
1 x RJ45 LAN Jack
Connectivity
Intel® 802.11ac (2x2) Gigabit Wi-Fi;
Bluetooth 5.0
With that out of the way, let's take a look at the ROG Strix Scar III.
Design and Build
Like I said earlier, the moment I looked at this laptop, I was confused about how to describe it. The Asus ROG Strix Scar III lands somewhere in the middle of understated designs and extremely spaceship-like designs. However, as I continued using the laptop, I realized that that's not a bad thing at all. If anything, it makes the laptop stand out a bit, without standing out so much that it looks out of place; not just in an office space, but at home, in a coffee shop, or wherever else you might find yourself using the laptop.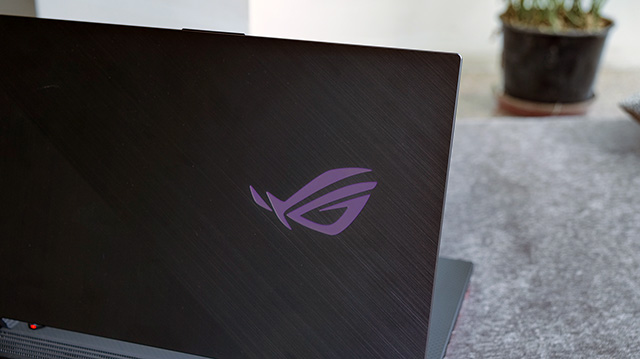 Design wise, Asus has done what it does so well, and nailed the design on the Strix Scar III. I don't really have any complaints here. The lid features the typical Asus brushed-metal finish, along with the big, glowing ROG logo, which, by the way, isn't just red here, it's actually RGB.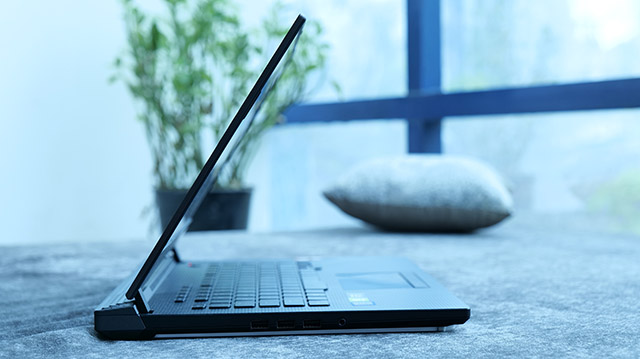 Inside, the laptop comes with the gorgeous FullHD display with minimal bezels on all sides, except for the bottom bezel. However, while I've stopped calling out laptop makers for big bottom bezels on gaming laptops, I want to give a shoutout to Asus for making this bottom bezel look cool. It's not just your regular-looking bezel. Instead, Asus has cut it out at the right two-thirds and that little design choice gives the front of the laptop a lot more character and I dig it.
The keyboard also features RGB lighting, and a bunch of keys on the top for quick and easy access to important functions, which is something I've started appreciating as I use this laptop more every day. The sides of the keyboard have a nice, carbon-fiber-like design pattern which looks cool, sure, but also prevents oily or sweaty palms from leaving prints all over the palm-rest.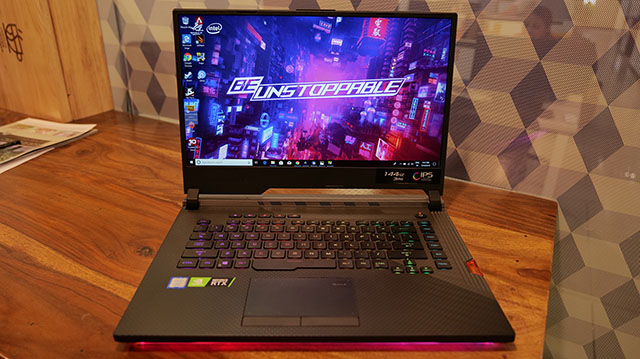 On the sides you'll find the ports, with a very weird port on the right, and a bunch of ports, including the charging input, and the USB-C port on the back.
Of course, since this is a gaming laptop, there's RGB in places. The keyboard, like I said, has RGB lighting. So does the ROG logo on the lid. However, with the Strix Scar III G531GV, Asus has added RGB lighting strips on the base of the laptop, and while these aren't really visible when you're actually using the laptop, the light glows out from the edges of the laptop and looks incredible at night, or in darker areas.
The laptop also feels really sturdy to the touch (and to the flex), and I always gives off a feeling of being a premium device, as it should.
Display
The ROG Strix Scar III G531GV comes with a big, gorgeous looking 15.6-inch Full HD display. That in itself is pretty good, with sharp text rendering, pretty solid brightness, and great color accuracy. However, Asus didn't stop there. Since this is a gaming laptop, the display also offers gaming-oriented features.
This here is a 144Hz display, which means that you get reduced motion blur, and just an overall smoother experience with Windows animations, scrolling, and everything else. The response time is also a pretty solid 3ms, which isn't something a regular user would care much about, but as a gamer, that obviously matters to you.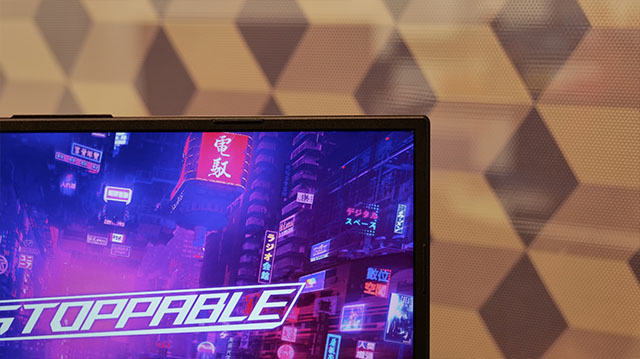 However, even though this is a gaming laptop, it's great for regular workloads as well, and the display reflects the same. It's a really good display, with good colors, great brightness, and nice viewing angles. Everyday tasks on this display are a treat, whether it's writing articles or reading them, or watching movies and TV shows on Netflix (which, by the way, is more affordable now, so yay!)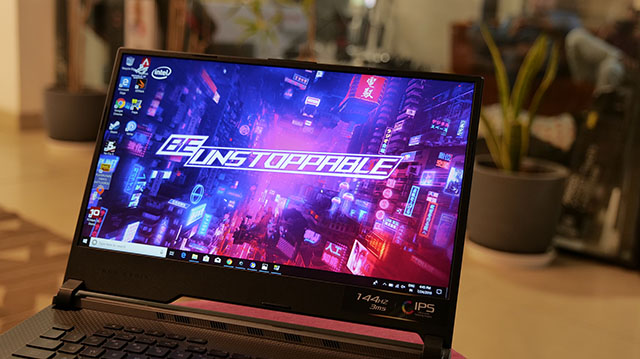 So yeah, the display on this laptop is great, and I really don't have anything to complain about here. Unlike the Zephyrus M GU502GU that I reviewed earlier, this display gets pretty bright so sunlight visibility shouldn't be a problem.
Performance
Now let's talk about one of the most important aspects of a gaming laptop – performance. The Strix Scar III doesn't shy away on performance at all. The laptop comes packing an Intel Core i7-9750H processor clocked at a base frequency of 2.6GHz, and a max frequency of 4.50GHz which is great. There's 16GB DDR4 2666MHz RAM on board, along with a 1TB NVMe SSD for fast storage, and the Nvidia GeForce RTX 2060 GPU with 6GB of GDDR6 VRAM.
That's plenty of power, and it shows in both real world usage and benchmarks. I started off my testing with some benchmarks on the laptop, and things look fine here. In 3DMark Time Spy, the Strix Scar III scores 5,160 points, while in PCMark 10, the laptop scores 4,191 points. I also ran Cinebench R20's CPU test on the laptop and got a score of 2377 points there, which is good enough.
In real world usage too, the laptop doesn't disappoint. I did quite a lot of office-related work on this laptop, with over 15-20 tabs in Chrome open at all times with an instance of Photoshop in the background for editing images, and the laptop handled it all perfectly. However, with specs like that, I wasn't really expecting the laptop to have trouble with some Chrome tabs and Photoshop. I was really excited to check the gaming performance on this thing, and it didn't disappoint.
In Far Cry 5, which is quickly becoming one of my favorite games to test gaming laptops with thanks to its built in benchmark, I tested the laptop in both High and Ultra graphics settings. With graphics set to High (which is the default that Far Cry picked out), I got an average frame rate of 88FPS, going as high as 102FPS. Switching the graphics settings to Ultra got an average frame rate of 83FPS, going as high as 99FPS and as low as 70FPS.
That's pretty impressive for Far Cry 5, and personally, I played the game in Ultra instead of High, because I think an average frame rate of 83FPS is pretty solid for a game like Far Cry 5 in Ultra settings.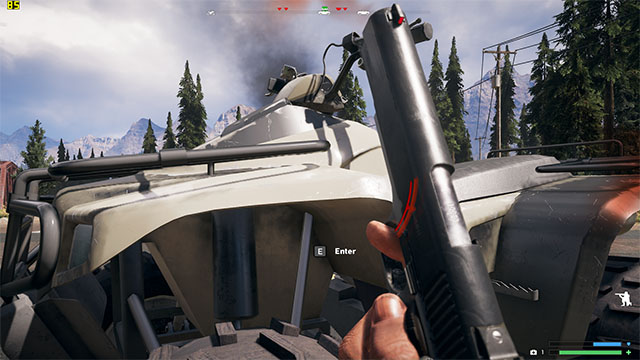 I also tried playing Apex Legends and PUBG, and both those games also work great on this laptop, not that I was surprised. In Apex Legends, the laptop easily pushed anywhere from 75-90FPS in-game, with the lower FPS values coming in during intense gunfights, and explosions. I honestly suck at the game, but it's not the laptop's fault. In PUBG, the laptop easily got around 130FPS in High settings. Changing that to Ultra resulted in a major drop in frame rates, but I was still getting well over 90FPS, which is just awesome.
Overall, the performance here is amazing, and pretty solid for a laptop in this price bracket. I honestly don't think the ROG Strix Scar III leaves a lot to be desired in terms of performance; but then again, that's true for almost everything this laptop does, and it does quite a bit.
Keystone
Normally I would follow the performance section with the keyboard and trackpad, but the ROG Strix Scar III G531GV comes with what Asus calls a "Keystone." This is pretty impressive. This amber colored NFC key basically unlocks the Shadow Drive inside the laptop. Sounds interesting? It really is.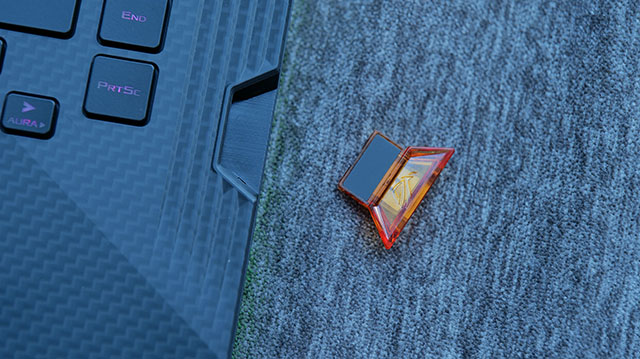 When you first plug in the Keystone in the laptop, it automatically launches the Armory Crate application, where you can pair the Keystone to your PC, and set it to unlock the Shadow Drive. This is an extra 800GB of storage built in to your system that you can keep locked and hidden until you plug in your Keystone.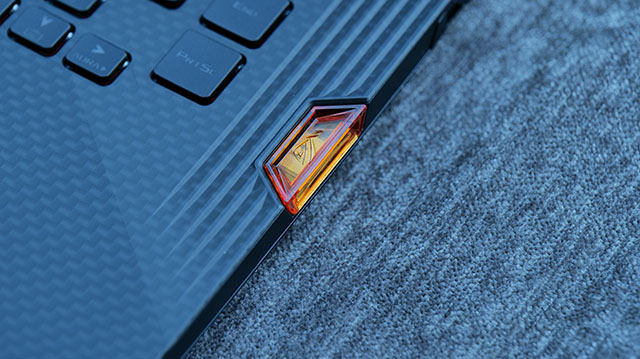 One of the best use cases that I could come up with for this would be to use this laptop as a work/play device, with the Shadow Drive holding all my games, so while I'm at work, there's nothing to distract me from working, but when I'm at home I can just plug in the Keystone and transform the ROG Strix Scar III into a machine loaded with my favorite games.
Keyboard and Trackpad
Anyway, coming back to the regular flow of a laptop review, let's talk about the keyboard and trackpad. There's not really a lot to talk about here, but there are a few things I want to point out.
First, the keyboard feels ridiculously great to type on. I have used a bunch of Asus laptops in the past, and while those keyboards were great, this one just feels extremely responsive, easy to type on, and doesn't cause fatigue – all of which are positives that I would want on every laptop ever. The keycaps are very slightly curved which adds to the comfort and ease of typing on the ROG Strix Scar III.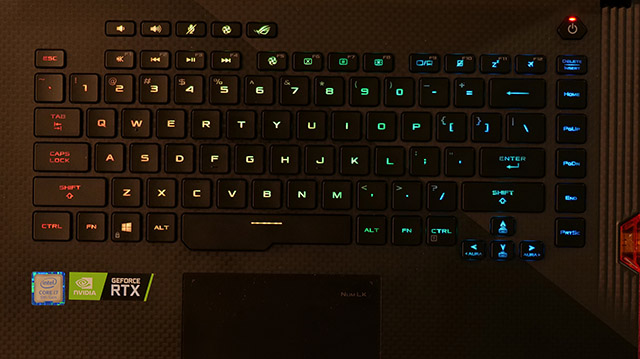 It's also great for gaming, thanks to the properly spaced arrow keys here, instead of the stupid compact arrow key layout you'll find on a lot of laptops these days. Asus clearly doesn't care about making the keyboard fit into a perfect rectangle on its gaming laptops, and that's fine by me. I'd rather have a keyboard I enjoy using than something that looks symmetrical but is absolutely poor in terms of usability.
I've spent a lot of hours typing on this keyboard; heck I'm typing this review on the ROG Strix Scar III and not only is it not tiring to type on this, it's downright fun. I love using this keyboard.
The trackpad too is pretty great. In typical Asus fashion, it's not among the biggest trackpads I've used on Windows laptops, but it's not small either. It's pretty well-sized, and it's a precision touchpad so you get access to gestures and better tracking, which is awesome.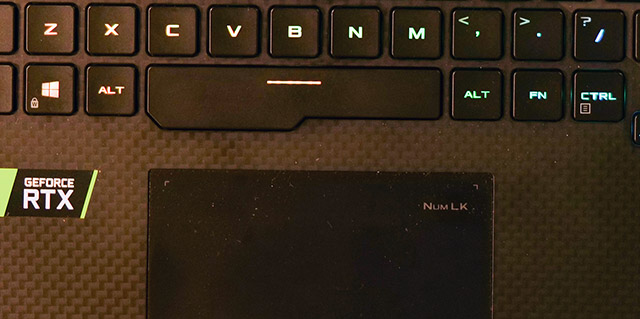 I do have one concern here – the palm rejection on this trackpad is average at best. It mistakes my palm for actual touchpad input very often, which can quickly get annoying when gaming because it keeps screwing up the crosshair, but is also annoying while typing because the cursor sometimes moves away to a random position.
Oh also, if you looked at the picture above and wondered what the "Num LK" key is all about, well, simply long press on it, and watch what happens.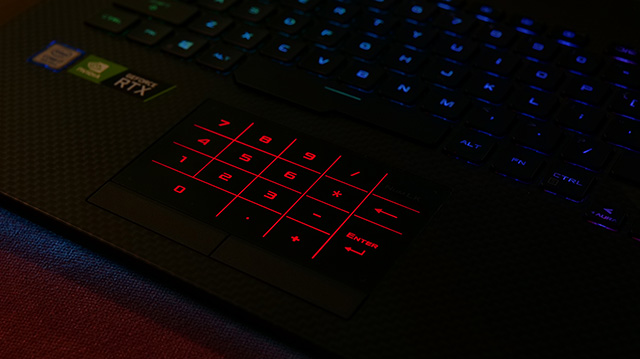 Yeah, there's a numpad built into the trackpad, similar to what we saw with the ROG Zephyrus S GX531GW, except the trackpad is placed in its proper position here.
So yeah, the ROG Strix Scar III G531GV is amazing when it comes to the keyboard and trackpad as well.
I/O and Ports
So far, the Asus ROG Strix Scar III G531GV has nailed almost everything, and there's really not a lot left to check. Coming to the ports and I/O options you get with the laptop, there's a decent amount here as well.
You get three USB 3.0 Type A ports, you get a USB-C port, an RJ-45 ethernet port, a headphone and mic combo jack, an HDMI port, and, of course, a charging port. Plus there's also the Keystone port.
That's definitely not a lot of ports as far as gaming laptops are concerned, but it's also definitely not a scarcity of options. 
Audio
When I used the Zephyrus M earlier this month, I was pretty unimpressed by the audio quality on the laptop. However, the ROG Strix Scar III didn't let me down in terms of audio – the laptop's side-firing stereo speakers get loud enough and don't crackle or distort.
I have watched a considerable amount of movies and TV shows on this laptop, and I never felt the need to connect an external speaker here, the audio was loud, clear, and balanced. That's pretty wonderful.
It's obviously nowhere near the quality you'd get with headphones, and it goes without saying that you'll need headphones for gaming, unless it's a really casual gaming session. However, for regular usage like watching movies and TV shows, or listening to the occasional song, these speakers are definitely more than enough.
Battery
As far as battery life is concerned, the ROG Strix Scar III G531GV doesn't really do anything great here. In my usage of the laptop, which is mostly Google Chrome and Photoshop, with the occasional YouTube video, or a TV show on Netflix or Prime Video, the laptop lasted around 2.5 to 3 hours on a charge – now that's fine, but it's not the best and it can quickly get annoying, having to charge the laptop every few hours especially if you're at work.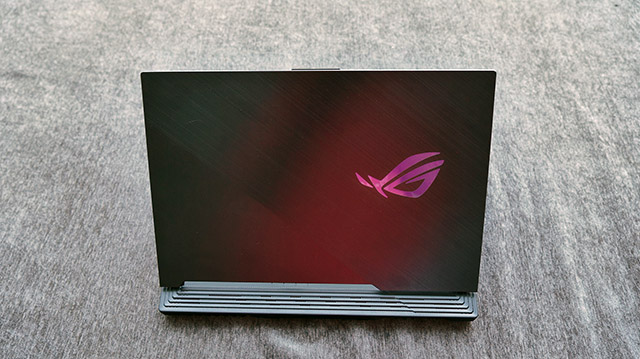 For gamers though, that's not too much of an issue, since you'll most likely have it plugged in while gaming for the best performance. However, if you're planning on using this laptop as your gaming beast at home, and workhorse at college or office, don't forget to bring the charger along.
Pros and Cons
Pros:
Great performance
Comfortable keyboard
Good design
Display is bright and sharp
Shadow Drive and Keystone are insanely cool
Cons:
Battery life is average at best
Palm rejection on touchpad is not good
Asus ROG Strix Scar III G531GV Review: Should You Buy It?
So, now that we've seen everything there is to see about this laptop, let's answer the most important question – should you buy the ROG Strix Scar III G531GV at its Rs. 1,54,990 price tag. To put it simply, yeah, by all means. This laptop offers a lot of amazing features in the price. Pair that with the great design, excellent performance, good audio quality, and a 144Hz/3ms Full HD display, and this is definitely a great laptop to go for.
However, if you want to save some cash, you can also check out the MSI GL63 9SEK which comes with a 9th-gen Core i7 processor, 16GB RAM, 1TB HDD and 256GB SSD, and RTX 2060 graphics for Rs. 1,47,389. However, you'll have to compromise on the storage, since the MSI laptop comes with a 1TB HDD, while the Asus ROG Strix Scar III comes with a 1TB SSD.
Buy the Asus ROG Strix Scar III G531GV from Amazon (Rs. 1,54,990)
---
Load More