You know what's awesome? Reviewing a gaming laptop like the ROG Zephyrus that I'm currently typing this review on, and about. You know what's not so awesome? Keyboards that make me question my typing skills. Still, as complicated and weird as the ROG Zephyrus GX531GW moniker is, the laptop itself is an amazing device to use. I've been using this as my daily driver for almost a week now, letting my personal MacBook Pro gather dust while I RGB-ed my way through the last week. So here's my review of the Asus ROG Zephyrus GX531GW gaming laptop that's priced at a whopping Rs. 2,87,990.
Asus ROG Zephyrus GX531GW: Specs
Before we dive into the nitty gritty of the ROG Zephyrus, let's take a quick look at the hardware this laptop is packing inside its sleek body:
CPU
8th-gen Intel Core i7-8750H @2.2GHz (Turbo Boost upto 3.9 GHz)
RAM
16GB DDR4 2666MHz
GPU
Nvidia RTX 2070 Max-Q
Storage
512GB M.2 NVMe SSD
Display
15.6-inch Full HD IPS-level Panel, 144Hz, 3ms Response Time
I/O
1 x USB3.1 Gen2 Type-C with DisplayPort™ 1.2 and Power Delivery

1x USB3.1 Gen 1 Type C
1x USB3.1 Gen2 Type A
2x USB 2.0 Type A
1x HDMI 2.0b
1x 3.5mm headphone and microphone combo jack
1x Kensington lock
Connectivity
Intel® 802.11ac (2x2) Gigabit Wi-Fi;
Bluetooth 5.0
Price
Rs. 2,87,990
With the specs out of our way, let's dive right in.
Design and Build
The ROG Zephyrus is the flagship thin-and-light gaming laptop from Asus, and it lives up to everything that Asus mentions on its product page, including the fact that it is incredibly thin and light. As far as gaming laptops are concerned, the Zephyrus GX531GW is definitely one of the thinnest (if not the thinnest) laptops I've used and it looks absolutely stunning.
The all-black color with hints of copper thrown in around the edges makes the already classy and gorgeous looking design of this laptop even better. The lid has a matte black and brushed metal black finish to it, divided diagonally with the backlit ROG logo taking up a huge chunk of space giving the laptop a stealthy, but mean look – one that goes with the entire aesthetic of the laptop. It's a slim machine that fits right in wherever you take it, but when you push it to the limits, it's an absolute beast.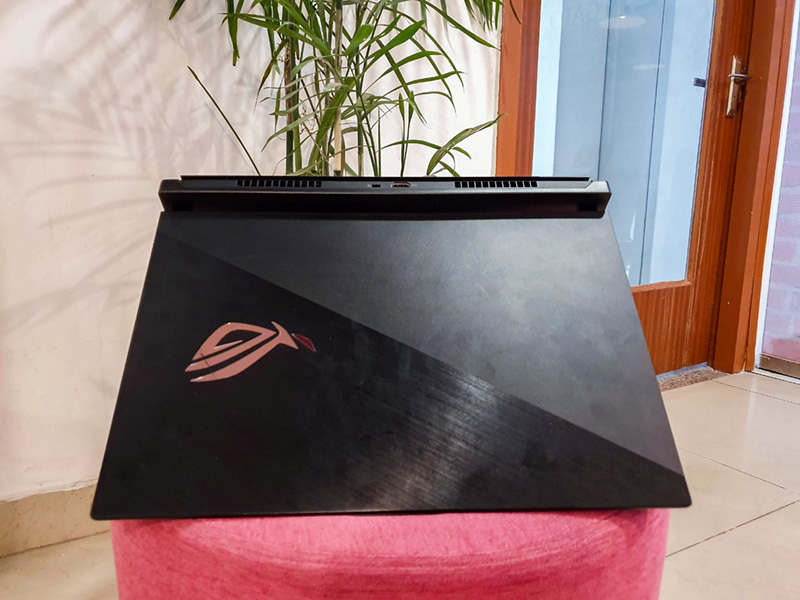 It's a slim machine that fits right in wherever you take it, but when you push it to the limits, it's an absolute beast.
Open the lid and you're greeted by the magnificent bezel-less display that Asus has packed inside the laptop. It's a big and beautiful 15.6-inch IPS-level panel, with thin bezels around it, and a massive bezel on the bottom – something that's pretty much standard on gaming laptops for what I can only assume is a place to hold the display controller, and also something that doubles up as a place where Asus has engraved 'ROG Zephyrus' in that oh-so-cool font that I absolutely love.
Depending on where you're looking when you first open the lid, you might see the keyboard before the display, and that too, is a treat to look at, even if it's not really a treat to use (more on that later). Asus has shifted the keyboard to the very bottom of the laptop, with the trackpad on the right hand side, and it doubles up as a numpad if you need it to (more on that later as well). I get this design, even if I'm not entirely convinced by it, since it means you can game for hours without having to endure a hot keyboard. Still, I wish there was a palm-rest here because typing on this keyboard becomes very difficult very quickly (more on that later too; basically there's a lot to talk about in the keyboard segment of this review).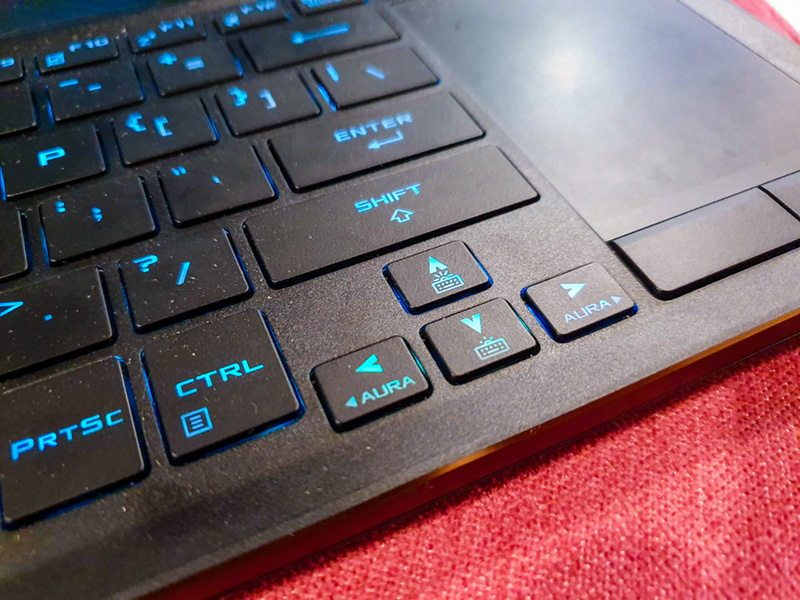 Anyway, once you get your eyes off of the unusual placement of the keyboard and the trackpad, you'll spot the power button on the top-right, along with the power, disk, and battery indicator lights dead center.
On all three sides of the laptop, you'll find a splattering of ports and cooling vents, but what's really the trademark of the Zephyrus laptop range, as far as design is concerned, is the backplate that lifts up when you open the lid. This is meant to offer more efficient cooling, and I'd be lying if I said it didn't look cool, because it does. Plus there's RGB here as well.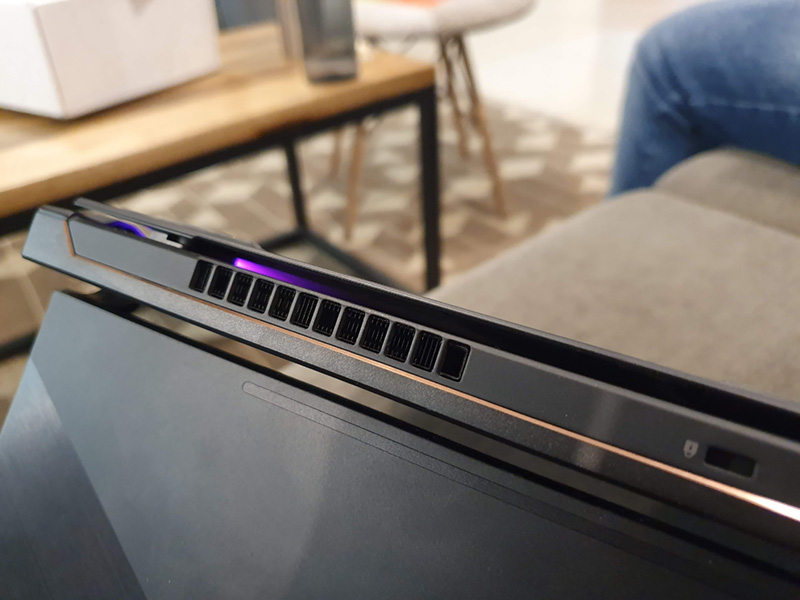 Overall though, I can't really complain about the design here, the Zephyrus GX531GW's design is amazing, and other than the missing palm-rest, I didn't find anything to fuss about.
One of my personal concerns with this laptop, especially due to the lifting backplate design that Asus uses, was regarding the sturdiness. I'm not the most careful when it comes to using a laptop, and a moving backplate, especially one as thin as this one, was something I was really worried about breaking or bending, but it hasn't so far, and I've used this laptop every which way. I've used it on a desk, on my lap, on the bed, and the backplate held up just fine, so that's cool.
With that particular concern out of my mind, the rest of this laptop is built really well, and I'm pretty sure it can handle some level of careless handling for sure. Even for something as thin as this laptop, it does feel very strong and sturdy, so that's great.
Display
One can argue that the display is one of the most important parts of a laptop, whether it's a gaming laptop or not; after all, you'll be looking at the display for most of the time you're using your laptop, and the ROG Zephyrus has a display that doesn't leave much to be desired.
It's a 15.6-inch IPS-level panel with a 144Hz refresh rate, and 3ms response times – things that an everyday user might not care about, but if you're a gamer buying a laptop that's almost Rs. 3 lakhs, you obviously do.
There's a lot to like about this display. For starters, it just looks good, even when it's turned off, thanks to the minimal bezels that surround it. However, turn it on, and it's even better. The brightness levels are great, it can go very dim for when you're using it at night, and it can go considerably bright, for when you're using it during the day. It's definitely a pretty bright display, and that's when it has a matte coating on it.
If you read my review of the MSI GS65 Stealth 8SF, you'd remember me talking about how matte coatings on displays are great but they do seem to give the screen a dimmer than usual effect. Not with the ROG Zephyrus, though, this display brings you the best of both worlds. No glares, and a really bright screen that will not let you down.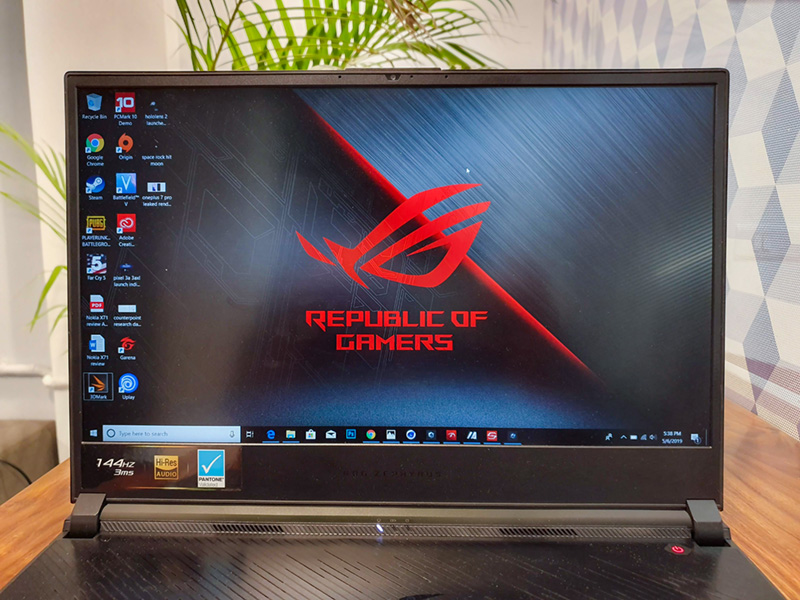 Colors on the display are pretty great too, and everything I did on this laptop looked wonderful. Whether it was playing Battlefield V, Far Cry 5, or PUBG, and even while just going through articles online, and writing them, not once did I feel the display wasn't doing justice to the content being displayed on it. I did notice, however, that if you're viewing dark content (like that third GoT episode), the viewing angles take a massive hit.
I did notice, however, that if you're viewing dark content (like that third GoT episode), the viewing angles take a massive hit.
Performance
Speaking of massive hits, one thing that this laptop does really well, and which is a massive hit on the laptop (in a positive sense of the phrase) is the performance. The ROG Zephyrus packs in an 8th-gen Intel Core i7 processor clocked at 2.2GHz with a Turbo Boost of up to 3.9GHz. That beast is paired with 16GB of 2666MHz DDR4 RAM, and the GeForce RTX 2070 Max-Q GPU taken from Nvidia's latest lineup of raytracing enabled graphic cards. Together, all of that translates into amazing performance, and thanks to the thermals on this laptop, this laptop can keep that performance going as long as you want.
Real World Performance
Other than using the ROG Zephyrus for my day to day work, which is not very intensive to be honest, I put it through some of my favorite games, which also happen to be pretty demanding. I played PUBG, Far Cry 5 on multiple graphics settings, and Battlefield V with RTX on and off on different graphics settings to see how it performs in all those scenarios, and from all of that, my conclusion would be that you don't really need to play any AAA title on this laptop on anything less than High to Ultra settings – and that, dear reader, is freaking amazing.
In PUBG on Ultra settings, the laptop consistently churns out frame rates in the 90 to 100+ range, which is simply amazing. Obviously, you could set the graphics to a lower setting and get better, probably more consistent frame rates, but I didn't really feel the need to do that, since it performs remarkably anyway, and looks gorgeous on the Zephyrus' display.
I also played Far Cry 5, on multiple settings, and used the in-game benchmark to get an idea of the overall performance of the laptop while rendering different types of scenes. The results were pretty much what you'd expect from a laptop with these specs. In Ultra settings, the Zephyrus GX531GW pushed an average frame rate of 81FPS, going as high as 94FPS and as low as 60FPS. Even at the lowest frame rates, 60FPS is completely a playable frame rate to have, and for a game as detailed as Far Cry 5, it's definitely impressive for a laptop this thin to run it this well.
At High graphics, the laptop maintains an average frame rate of 87FPS, going as high as 105FPS and as low as 72FPS; and when I switched graphics to low, it got an average frame rate of 99FPS, with a high of 122FPS and a low of 78FPS.
All those games aside, this laptop has an RTX GPU, so obviously I wanted to test out RTX enabled games on this, which brought me straight to Battlefield V, and this game absolutely pushed the laptop to its limits. Still, it didn't bring it down on its knees, which is great.
By default, Battlefield V's auto graphics settings were fine, but I enabled ray tracing on it, and the frame rates were varying like crazy between things like 106FPS in some scenes, and as low as 55 in others. While 55FPS isn't terrible, but if you're in the middle of a gunfight and all of a sudden your frame rate drops from 100+ to 55FPS, things tend to get a little wonky, and I don't like that.
So I set the graphics to High, and kept ray tracing on, which got me a consistent frame rate of 80FPS to 100FPS, with an average of around 90+ frames per second, which is awesome. So that's the setting I played the game in, and it's also the setting I'd recommend you to play it on. However, if random frame rate jumps aren't that big an issue to you, you can easily play this game on Ultra with ray tracing enabled on this laptop as well. It's all a matter of personal preference, really.
Synthetic Benchmarks
If you were reading the real world performance and screaming to yourself "but that's not a standardised test!" don't worry, I ran the usual benchmarks on the laptop as well. Here's what they were like.
In 3DMark Time Spy, the laptop got a score of 6,507 which is great, and in PCMark 10, the Zephyrus GX531GW scored 5,371 points. That's slightly higher than the MSI GS65 Stealth 8SF that I reviewed only a couple of weeks back, which is surprising since both these laptops have the same specs.
I also ran Geekbench, and Cinebench R20 on the laptop. In Geekbench, the Zephyrus scored 4,971 in the single-core test, and 21,410 in the multi-core test, which again, is higher than the scores from he MSI GS65 Stealth 8SF. What surprised me the most, though, is that in Cinebench R20, the Zephyrus scored 2,087cb in the CPU test, while the MSI GS65 Stealth scored 2,330cb — and both these laptops have the same 8th-gen Intel Core i7-8750H processor, clocked at 2.2GHz of base frequency. I'm not entirely sure why that happened.
Keyboard and Trackpad
Even though almost everything about this laptop is amazing and doesn't leave you wanting, the same does not hold true when you get to the keyboard and the trackpad that Asus has put on this laptop, especially when you compare this laptop to others in its price range.
Asus has opted to keep the keyboard on the lower half of the Zephyrus' base, and that makes sense in some ways, but it also poses a big issue, one that Asus somehow either didn't see coming, or just didn't care too much about. That issue, is the simple fact that typing on this keyboard is a big pain. Both literally and metaphorically. Since the keyboard is at the very bottom, there's no palm rest here, and that quickly becomes a problem when you're trying to use this laptop for long hours because you'll always have to keep the base of your hands up in the air, or touching the table in which case the angle is just bad. Call me nitpicky, but if I'm paying close to 3 lakhs for a laptop, I would rather have an experience worth that money, and while this laptop offers everything to justify that price, the keyboard, unfortunately, is where it falls flat.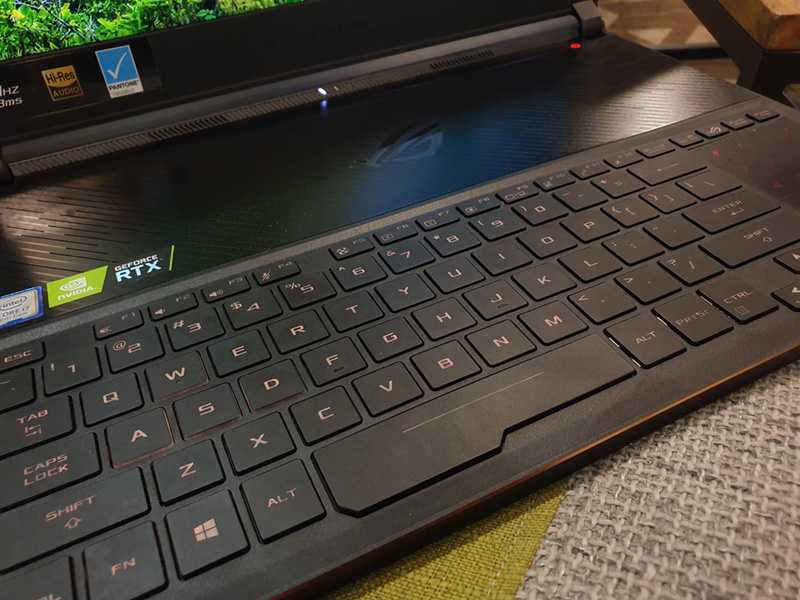 That's not all though, the keyboard itself is not nearly good enough. Typing on the Zephyrus is not a good experience, unless you're just using the keyboard to type out Twitter posts. For anything more than casual typing, this keyboard quickly becomes annoying. They keys have some travel to them, which is nice, but in my week of using this laptop, I've not yet been able to get a hang of typing on this as easily as I can type on many other laptops, including Asus' own Triton 700 that I reviewed quite a while back and that also had a keyboard on the very bottom of the base.
Sure, the placement of the keyboard makes sense when you consider gaming on this (which is the main purpose of the laptop) because this placement means even when the laptop gets hot, you won't have to burn your fingers off trying to use the WASD keys. However, this keyboard is not up to the mark. Even laptops priced decidedly lower than this one have better keyboards.
Anyway, enough ranting about the keyboard on the Zephyrus GX531GW. Let's move on to the trackpad, which is just as bad. Let me make it very clear, the trackpad on this laptop isn't something you'll use unless you have no other option left. You might be tempted to learn keyboard shortcuts for everything, or buy multiple mice for your home, your office, and everywhere else you use the laptop, but this trackpad isn't a good one.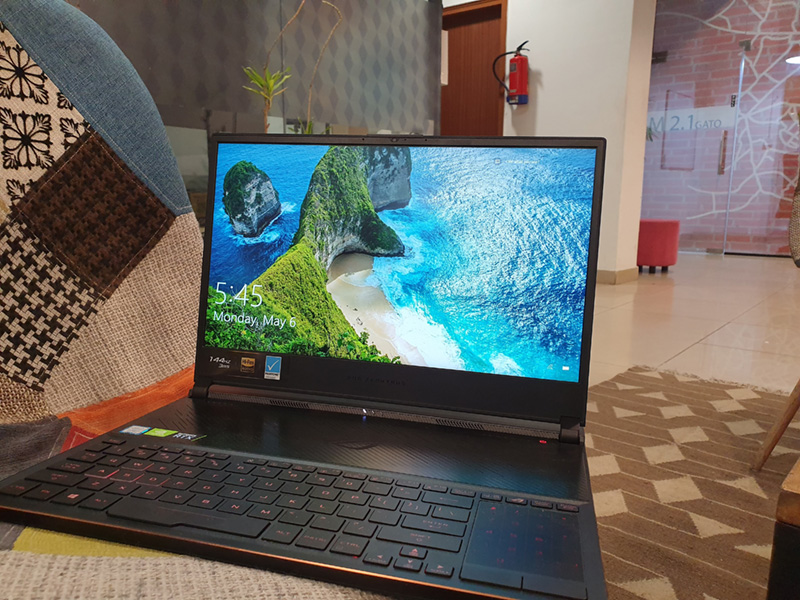 It's small, for starters, and that's annoying by itself. But it's also positioned to the side which makes getting used to this very difficult. It took me the better part of a week to train my muscle memory not to head to the center of the laptop trying to find the trackpad, and even then, using this trackpad is a mess.
Still, to Asus' credit, the company did figure out a nice way of putting a numpad inside a laptop where there's absolutely no space for a numpad. There's a button above the trackpad that converts it into a touch-numpad and that's pretty cool, even if it's not really something you'll probably use a lot.
Towards the end of my week with the laptop, I just decided to give up and use a mouse instead. The only consolation is this — since this is a gaming laptop, it's primarily aimed at gamers, and gamers will most likely have a mouse on hand at most times. I'm not sure if that's what Asus also had in mind when they decided a trackpad such as this one would cut it, but credit where credit is due, the company's implementation of the trackpad/numpad convertible is definitely pretty cool, and I do tend to play with it every now and then just for the heck of it.
RGB, Because Duh!
Gaming laptops aren't really gaming laptops unless there's RGB of some sort at least — and while some laptops go overboard with RGB, and some keep the RGB-ing to a minimum, the Zephyrus seems to be smack dab in the middle… maybe leaning a little towards going overboard, but not in a bad way at all.
There's a considerable amount of RGB lighting here, but it's very tastefully done. The keyboard obviously is RGB-backlit, but it's not a per-key RGB configuration. Instead, Asus has opted for a four-zone RGB backlight on the keyboard, and I'm completely fine with that. I've never really found per-key RGB to be very useful as such — it looks cool, sure, but that's about it.
Other than that, there's RGB on the backplate. Remember the backplate? The one that opens up when you open the lid? Yeah, there are two RGB lights on the side there, and they emit a soft glow that, well, can add to the ambience of your gaming set up, if used properly.
Obviously, all of this is customisable with the included ROG Armoury Crate software, which also lets you configure a lot of other things about the laptop (more on that later), but as far as RGB is concerned, you can simply head over to the Aura tab in the software, and choose between the various effects Asus has created, or create your own with the 'Customize' option in the same screen.
In other places, the lighting is pretty static and can't really be changed. The power button, for example, is always red. So are the indicator LEDs that show battery status, power, and more. Even the ROG logo on the lid is always red.
Clearly, Asus wants a red and black aesthetic for the laptop. That's further reiterated by the fact that even though you can change the colors of the keyboard backlight, when you change the trackpad to a numpad, it's always red. No matter what. It can be a little annoying, if you're someone who wants an all-green keyboard, or an all-any-solid-color-other-than-red keyboard, because anytime you turn on the numpad, the red will stand out like an eyesore.
Still, I love how Asus has handled RGB on this laptop, primarily because it's out there enough to look awesome and cool, but it's not screaming "RGB forever!" to the world — which, in my personal opinion, is the perfect amount of RGB.
Software
There's also a considerable amount of software pre-installed on the laptop; some of which is useful, and some… not so much. Let's take a look at the useful software and what it can do:
Armoury Crate
First up, the Armoury Crate, which is basically a control center for everything about your laptop. This includes, on the home screen, the CPU/GPU frequencies, the fan speeds, usage stats, fan-speeds, and more. This is also where you can set up profiles for your laptop ranging from Silent to Turbo, or you can opt for Windows to automatically set profiles according to its own smarts.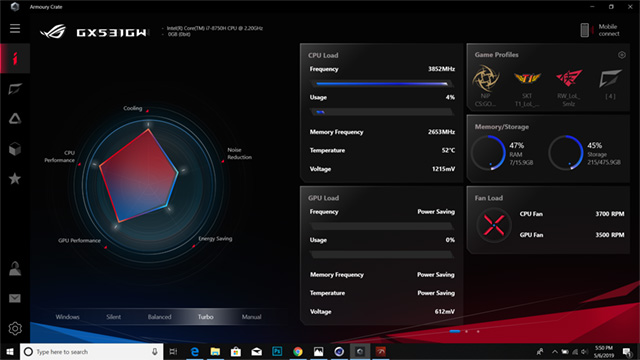 Then there's the System tab where you can see the processes that are running, along with how much CPU and memory (RAM, not storage) they're using. You can kill processes from this screen, and you can even select processes that you want the laptop to stop when you launch a game, to get more available memory and CPU power for your game.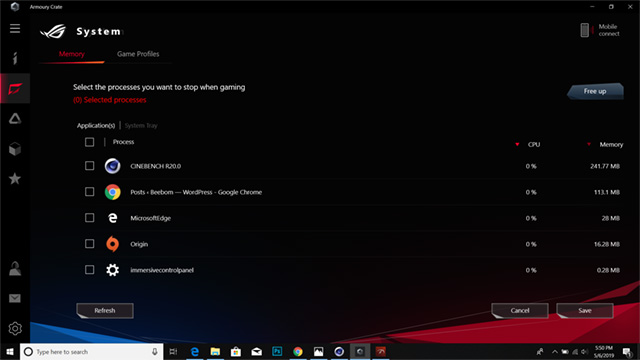 There's obviously the Aura Sync tab which, as I explained earlier, is where you control the laptop's RGB settings from, and choose from various lighting effects.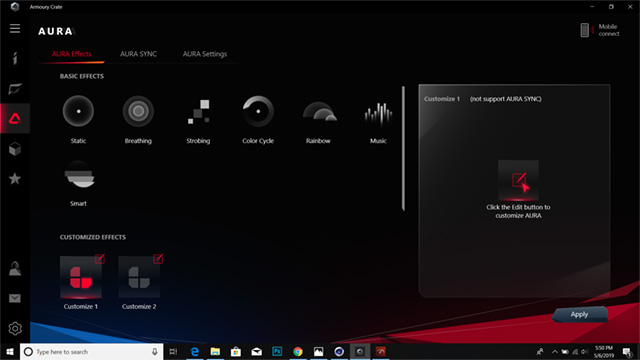 Then there's the Featured tab, which, in my opinion looks a lot like just advertisements on the laptop since it recommends software. You can get things like XSplit gamecaster, ROG GamePlus, and even things like MEmu emulator among many other things. As you might have guessed, I'm not a big fan of this particular thing because it honestly looks very much like Asus' hidden way of serving ads.
ROG Game Visual
Full disclosure: I didn't use this software at all, in all my testing, because I found that the display looked good enough by default (which is also the name of the setting the laptop came with out of the box). However, with Game Visual, you can set the screen color mode to suit the type of game you're playing. There are settings for FPS games, Racing games, RTS/RPG games. There are also color modes for other uses, like Cinema, Eyecare, and Vivid.
Plus, there's a handy Color Temperature bar on the bottom where you can adjust the white balance of the screen if you want to. I didn't feel the need to do this, but it's nice to know if someone does want to change the color temperature on the laptop, there's an easy way to do it out of the box.
Sonic Studio III
For all things sound related on the Zephyrus GX531GW, this is the software to go to. It not only lets you set the speaker volume on the laptop (I fail to understand why anyone would use an app to adjust the volume), but it also comes with profiles to set the speakers' equalization settings.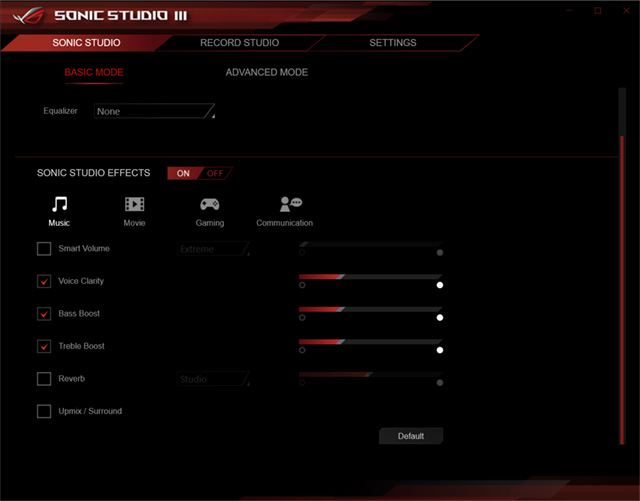 MyASUS
For everything related to system information and diagnostics, the MyASUS app is the place to go. It shows off the basic information right at launch, and from there, you can head over to diagnosing various common issues including BSoDs, slow or unresponsive system, and a lot more. There's also a dedicated tab to talk to the customer support if you need it.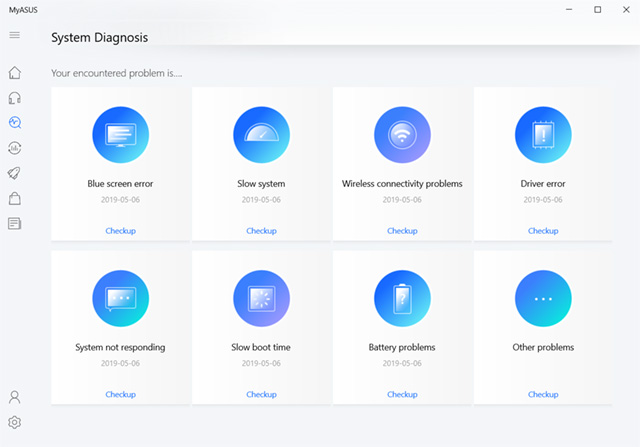 I/O and Ports
While most gaming laptops come with an overabundance of ports, the Asus ROG Zephyrus comes with ports that I'd say are 'just enough,' and it does miss out on one particular one. The laptop comes with one USB 3.1 Type-A port, two USB 2.0 Type-A ports, one USB 3.1 Gen2 Type-C port with Power Delivery, one USB 3.1 Gen1 Type-C port, an HDMI 2.0b port, and a headphone and microphone combo jack.
To be fair, in regular usage, you probably won't need more ports. However, the lack of an RJ-45 ethernet port might be a sore-point for anyone who likes playing Local LAN games. Also a sore point: why is there only 1 USB 3 port, and 2 USB 2 ports? USB 2 is incredibly outdated and slow, and while those ports are definitely decent for connecting a keyboard and mouse to your laptop, it's not something you expect from a laptop priced the way this one is.
One good thing about these ports is that there are two USB-C ports, with one of them supporting Power Delivery — I tried charging my Galaxy S10 with it, and it fast charges with this port, which is cool.
I'm sure these ports will be enough for most people, and if you're okay with buying a dongle for getting a Gigabit ethernet port, the USB-C ports should come in handy.
Speakers
The Asus ROG Zephyrus GX531GW comes with 2W x 2W speakers with SmartAMP technology, and they sound pretty good. They're not the best speakers I've heard on a gaming laptop, but they won't let you down at all. The speakers get pretty loud, audio remains clear even on max volumes, and even though the bass isn't that great, it still manages to sound very great.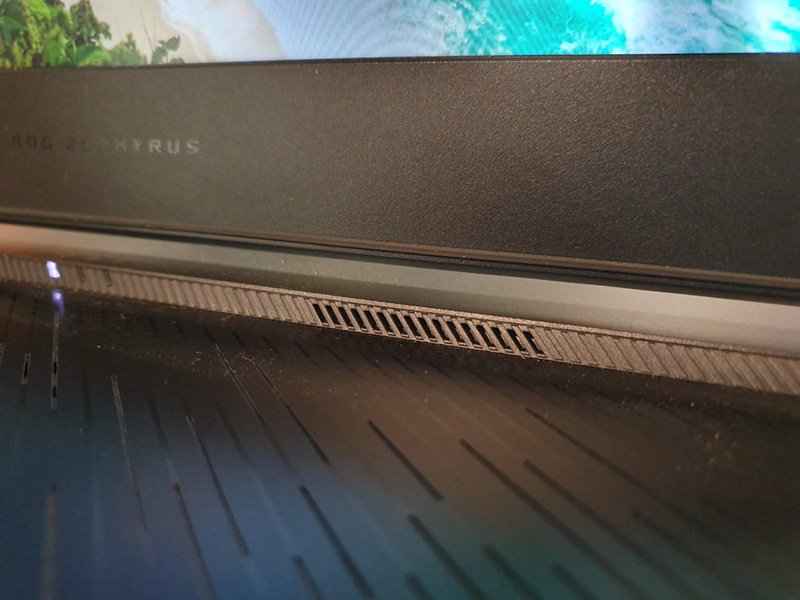 Moreover, the laptop comes with front-firing speakers, which is awesome, and they are hidden very well in the grill just below the display. If you're wondering what SmartAMP is, according to Asus it offers multiple benefits — first, it keeps the speakers within thermal and excursion limits, so you don't have to worry about the speakers getting blown out at loud volumes. Plus, the Hi-Res Audio rating means you get 2x more volume, and 3x more bass (according to Asus' claims). I'm not sure about the bass claim here, but the volume that these speakers can produce is definitely impressive.
Battery
When it comes to the battery, things take a bad turn again. The Zephyrus GX531GW comes with a 60Whr battery, which is a pretty small battery for a laptop packing in hardware like this. The Intel Core i7-8750H and the RTX 2070 themselves are a power hog and with 60Whr of battery, I wasn't expecting this thing to last very long.
While gaming, I obviously had the laptop connected to power, to avoid throttling, but in regular usage, with the brightness set to 50% and the power template set to Turbo, the laptop lasted around 2 hours and 30 minutes, and that's with my usage basically being Chrome, writing articles, and a couple of YouTube videos, along with Photoshop CC 2019 in the background.
That's not stellar battery life by any means, and if you're looking to use this laptop for everyday work, don't ever forget to carry that bulky 230W charger that comes with it.
Asus ROG Zephyrus GX531GW Review: Should You Buy It?
The ROG Zephyrus GX531GW is definitely a laptop that does almost everything perfectly. It has a great design, premium build, the RGB is on-point and not overkill, performance is top notch for a device of this form factor, and on par with most laptops in its price range. There are drawbacks though, the keyboard is sub-par, the battery life is on the low-end even by standards set by most gaming laptops, and the I/O selection is not as wide-ranging as on other gaming laptops in its price bracket.
If any of those drawbacks are deal-breakers for you, there are other options you can consider. There's obviously the MSI GS65 Stealth 8SF that I reviewed a while back, and then again, if you're okay with increasing your budget and you don't mind a beefy laptop, the Alienware Area 51m is an absolute monster that starts at Rs. 2,99,990. You can also check out the Asus ROG Strix Scar II, which comes with similar specs, for a considerably lower price tag of Rs. 2,09,990. Still, if you're looking for a thin and light gaming laptop that performs like a beast, the ROG Zephyrus GX531GW is one you should definitely check out.
Check out the ROG Zephyrus GX531GW (Rs. 2,87,990)
REVIEW OVERVIEW

SUMMARY

The Asus ROG Zephyrus S GX531GW is a thin and light gaming laptop that brings incredible performance packed inside a sleek and sturdy design. Its lift-up backplate design not only helps with thermals but also looks really cool. If you are in the market for a sleek gaming laptop that fits right in for work and play, the Zephyrus GX531GW is definitely one you should check out.