Gaming laptops have a reputation for being large, unwieldy machines that simply can't be lugged to and from work or school everyday; or at least they shouldn't. However, I really admire Asus for their ROG Zephyrus series of gaming laptops that bring high end gaming in machines that don't look out of place in a non-gaming setting. So when Asus sent over the Zephyrus M GU502GU (Rs. 1,49,990) to us, I was excited to see what Asus had accomplished with this Zephyrus laptop. I've been using this laptop for well over a week now, and this is my in-depth review of the Zephyrus M GU502GU gaming laptop.
Asus ROG Zephyrus M GU502GU Specifications
First off, let's get the on-paper specs out of the way. Here's what you'll find under the hood of the Zephyrus M GU502GU:
Processor
Intel Core i7-9750H
GPU
Nvidia GTX 1660Ti with 6GB GDDR6 VRAM
RAM
16GB 2666MHz
Storage
Up to 1TB SSD
Display
15.6-inch Full HD IPS level panel;
144Hz Refresh Rate;
3ms Response Time;
100% sRGB Pantone Validated
Keyboard
Backlit chiclet keyboard;
N-key rollover;
RGB lighting;
Aura Sync;
Hotkeys (Volume down, volume up, mute, Armoury Crate)
Audio
2 speakers with Smart AMP technology
Array Microphone
I/O Ports
1 x USB 3.2 Gen2 Type C DisplayPort™ 1.4 and Power Delivery
1 x USB 3.2 Gen2 Type A
2 x USB 3.2 Gen1 Type A
1 x HDMI 2.0b
1 x 3.5mm Audio Jack
1 x Audio Jack Mic-in
1 x RJ45
1 x Kensington Lock
Connectivity
Intel® 802.11ac (2x2) Gigabit Wi-Fi
Bluetooth 5.0
Weight
1.9kg
Now that the specs are out of the way, let's take a deeper look at the Zephyrus M GU502GU.
Design and Build
Like I mentioned earlier, I really admire the Zephyrus line up of laptops from Asus for bringing great gaming power in a sleek design, and the Zephyrus M GU502 is no different. It comes in a stunning looking chassis with a metal cover on the lid, a soft-touch material surrounding the keyboard and covering the palm-rest, and a great selection of ports rounding off the look of the laptop.
There's the ROG logo on the lid which lights up in red and looks kinda nice on the brushed metal finish. Inside, the display is surrounded by thin bezels, giving the laptop a modern look, with the exception of the giant bottom bezel which holds the subtly done "ROG Zephyrus" branding, and a large sticker showing off the credentials and specifications of the display, which I hate. I dislike stickers on laptops as a general rule, and this one looks ugly too; but I guess you could remove it if you wanted to.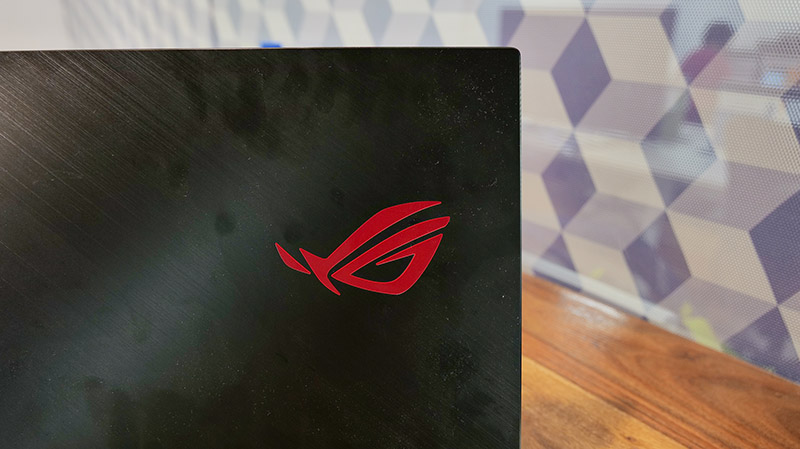 One issue here is that the Zephyrus M GU502 doesn't come with a webcam, and while that's not a deal breaker to me, since I never use the webcam, it might be a deal breaker to some of you out there.
Then there's the keyboard and the finishing around it. This area gives a very nice rubberized feeling that's just the perfect amount of grippy and satisfactorily soft to the touch to ensure I was comfortable using this laptop for hours and hours on end. Plus, I suppose this would also make it easier to keep my palms on the laptop during winters when my MacBook Pro gets so cold to the touch it's uncomfortable to type on.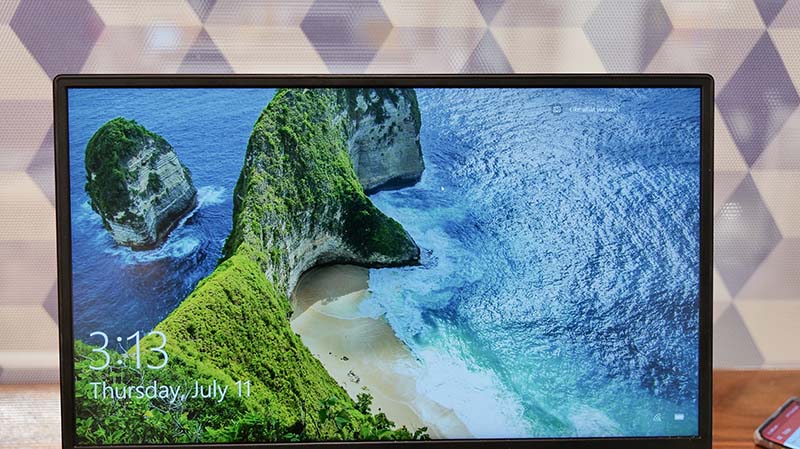 Overall though, the ROG Zephyrus M GU502GU is a well designed and well built laptop, and I have no real complaints with it so far. In fact, I really like the design and build of this laptop.
Display
The ROG Zephyrus M GU502 comes with a 15.6-inch FullHD IPS level panel with a 144Hz refresh rate and 3ms response time – both important numbers for gamers. Thanks to the high refresh rate, things look really smooth on the Zephyrus M. Even outside of games, the general animations, scrolling, everything just looks really smooth on this display and I've grown really fond of that. The 3ms response time might not matter to regular users as much, but for gamers this is a decently good response time to get.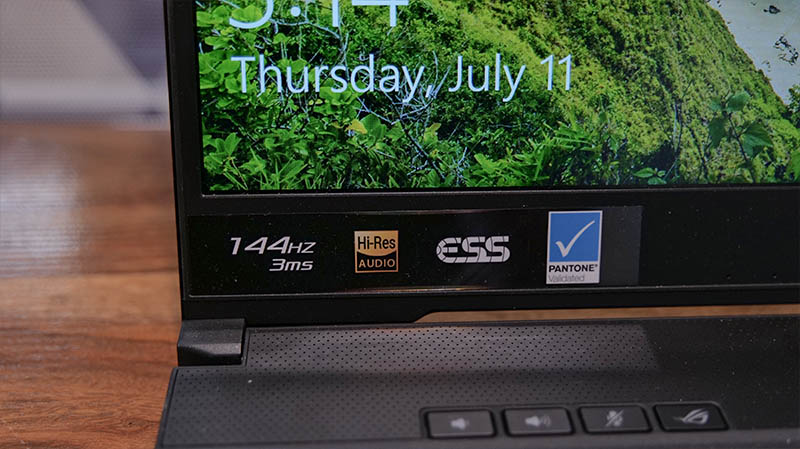 Other than those two things, the display is wonderful in almost every other aspect too. It's big and has a lot of screen real-estate to multi-task with ease. It's Pantone validated, which results in great color reproduction all across the board, so watching movies and TV shows, and playing games on this display is a wonderful experience.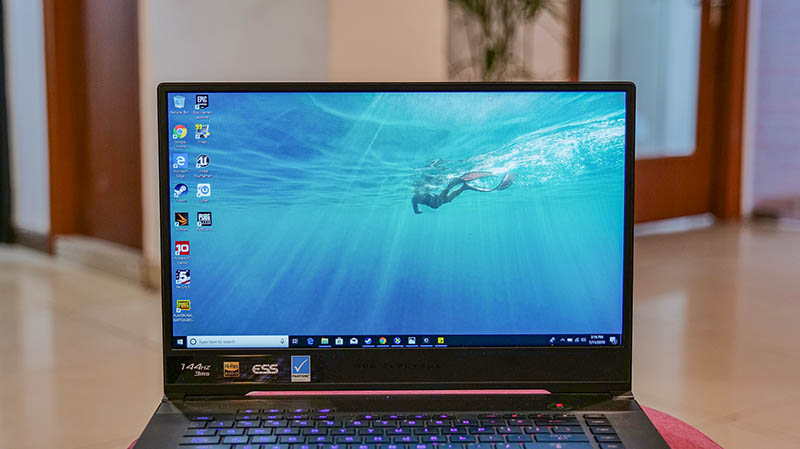 The one place where I do have a complaint with the display is brightness. The brightness levels for this display are very low, and to top it off it comes with a matte finish which, even though it helps avoid glare, makes the display look even less bright than it probably would with a glossy display. It's decent for indoor use, but outdoor use, especially in bright sunlight is definitely a problem.
Other than that one (and kind of major) issue with the display, the laptop does everything else wonderfully, including, performance.
Performance
The Zephyrus M GU502GU comes with impressive specs – there's a 9th-gen Core i7 processor, 16GB RAM, a 512GB SSD, and Nvidia GTX1660 Ti GPU. All of that results in amazing performance.
Regular tasks are obviously nothing to this laptop. You can multi-task all you want, open a load of tabs on Chrome (I had almost 20-30 open all the time), and even run an instance of Photoshop at the same time, and this laptop won't break a sweat. It's really great.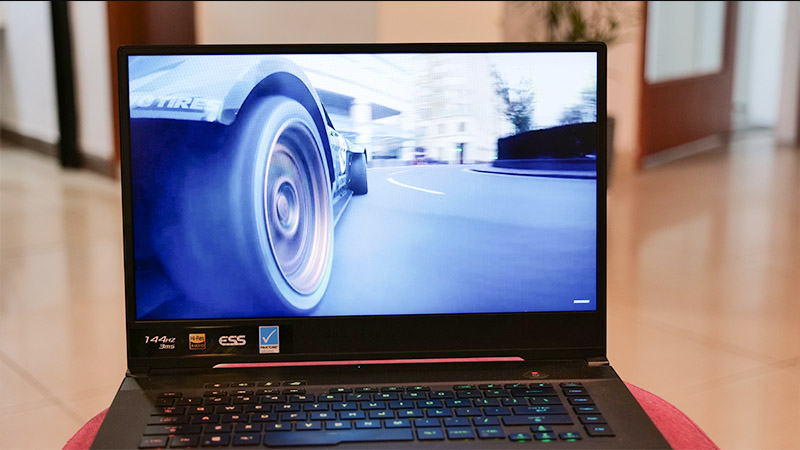 However, that's expected from a laptop that costs as much as this one does, but this is a gaming laptop, so the more important metric for judging its performance is how well it handles gaming.
Well, I played a bunch of games on the Zephyrus M GU502GU including Unreal Tournament, Far Cry 5, and obviously, PUBG, and the laptop handles all of these games really well.
In PUBG, at High settings, the Zephyrus M got a frame rate of 85 to 100FPS easily, that would go higher if you played around with the graphics settings a bit, but a frame rate of 85FPS+ is good enough for me, and I didn't feel the need to push it further, especially at the cost of graphical quality.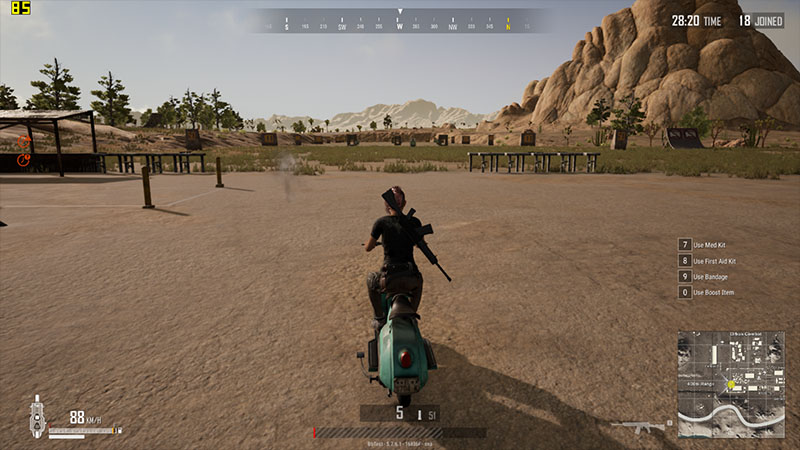 Even Far Cry 5 performed very well on this laptop. In Ultra graphics settings, the laptop pushed an average frame rate of 66FPS, going as high as 79 and as low as 53FPS.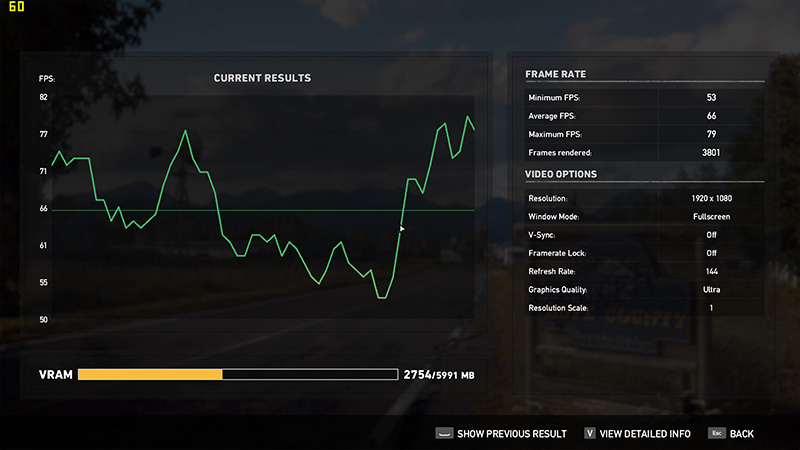 Switching graphics to High resulted in a very slight improvement in performance, with the average frame rate settling at 69FPS, and getting a maximum of 80FPS.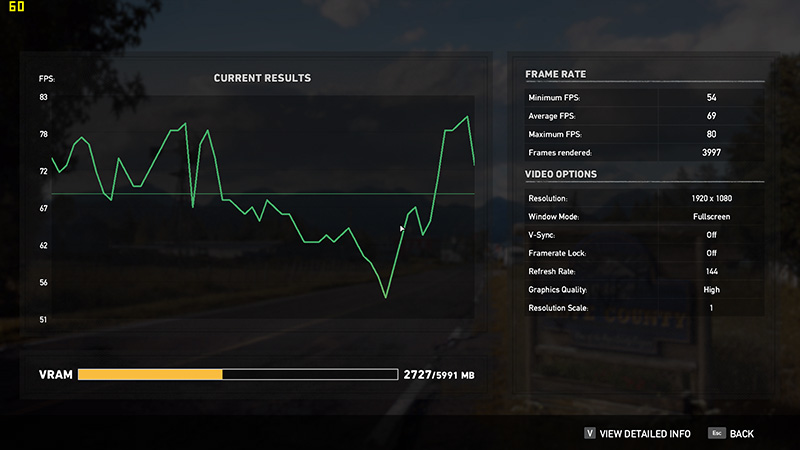 I even tried switching the graphics to Normal just for the heck of it, and that got an average frame rate of 73FPS, going as high as 85FPS and as low as 57FPS.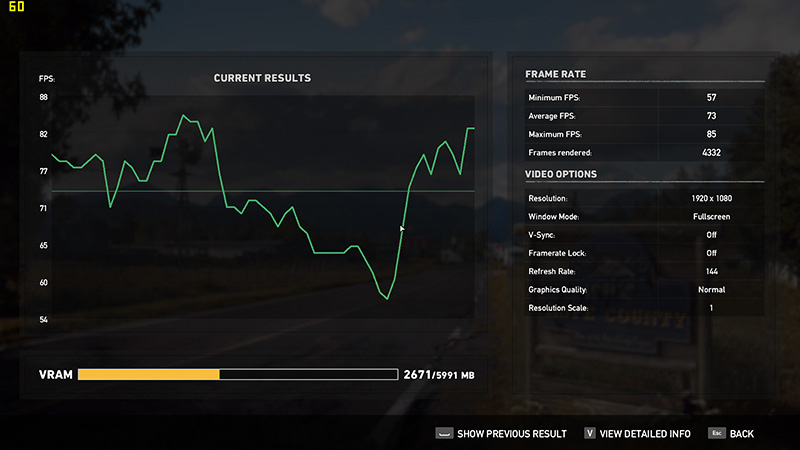 Clearly, the laptop can handle Far Cry 5 on Ultra settings with ease. I even played Far Cry 5 for a bit on Ultra settings and it ran wonderfully, which is great.
Unreal Tournament, well, I installed the alpha version of Unreal Tournament from the Epic Store because I wanted to try it out, and the Zephyrus M was pushing around 75 to 80FPS on the game at all times which is great. Also, the game itself is great too.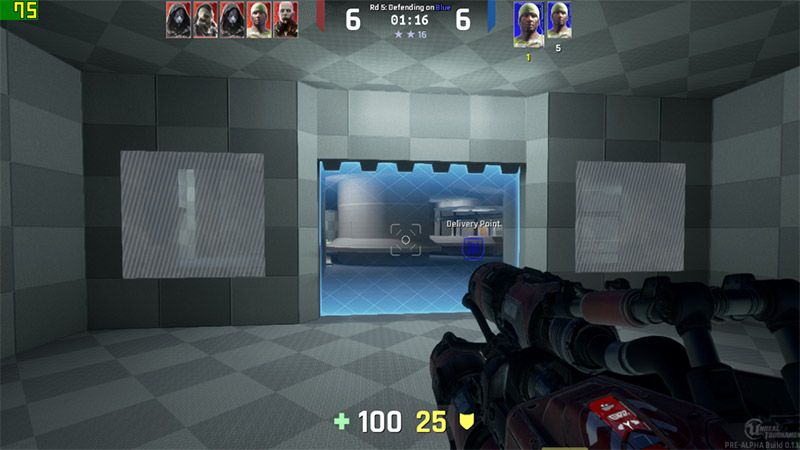 If the gaming performance of this laptop wasn't enough for you, or if you're just looking for results from a standardized test, well, you'll be glad to know I ran benchmarks too.
In 3DMark TimeSpy, the laptop scored 5,426 points which is pretty impressive, and in PCMark 10, the Zephyrus M GU502GU got a score of 4,772 points.
Overall, Zephyrus M's performance is top notch and it won't let you down whether you're gaming, or taking it to work and doing regular office work. It's just an all around wonderful performer and I'm very impressed by it.
Keyboard and Trackpad
Speaking of things I'm impressed by, let's talk about the keyboard and trackpad here. The Zephyrus M comes with a keyboard that I can only describe as "very Asus" and I mean that in a good way. Most Asus laptops have good keyboards, and this one is no different. It's not a mechanical keyboard, but it has ample travel without being too bouncy, the keycaps are flat instead of curved, but they're still easy to hit accurately and they're made of high quality plastic instead of the cheap feeling ones that a lot of other brands use.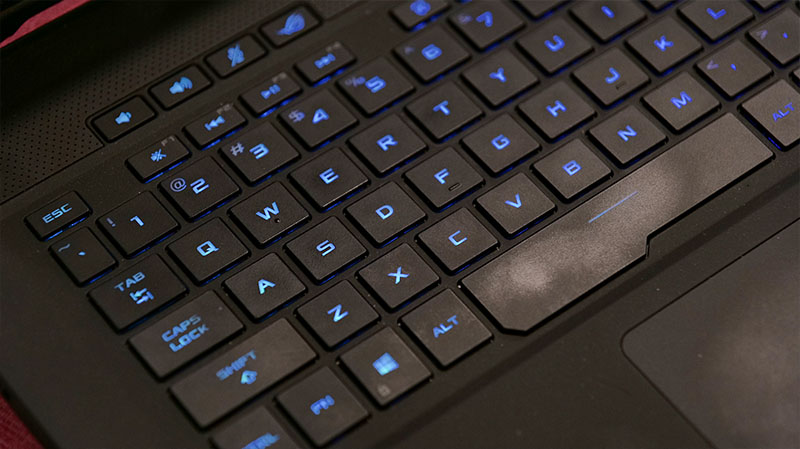 The layout is also really good, and I especially love the full arrow-key layout instead of the compact layout that makes it very difficult to use the arrow keys without actually looking at them in the middle of a game. Plus, there are also four dedicated keys above the keyboard for increasing and decreasing the volume, turning the mic off, and for launching Asus ROG Armoury Crate software at the press of a button.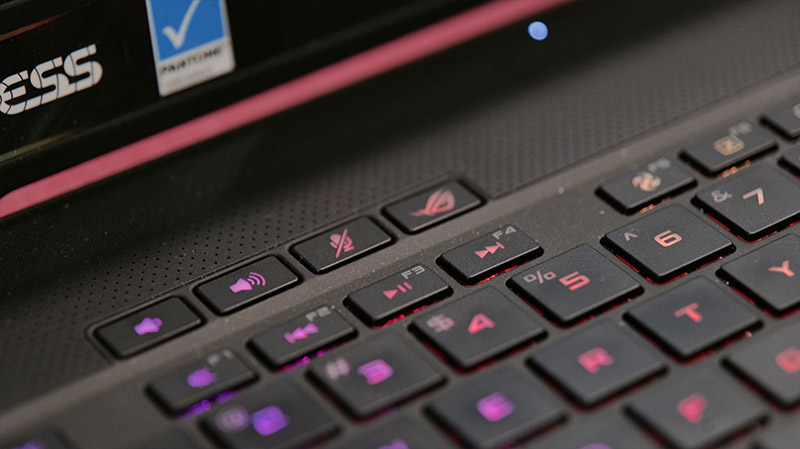 One additional thing I really liked about the keyboard is you can lock the Windows key to not open the start menu. This is really handy because I hit the Windows key a lot by accident while gaming and on most laptops it opens up the Start menu and I end up dying in my game, and that's very annoying. On this (and probably other Asus laptops) I can simply press Fn + Windows to disable that functionality and I'm really happy that this feature exists.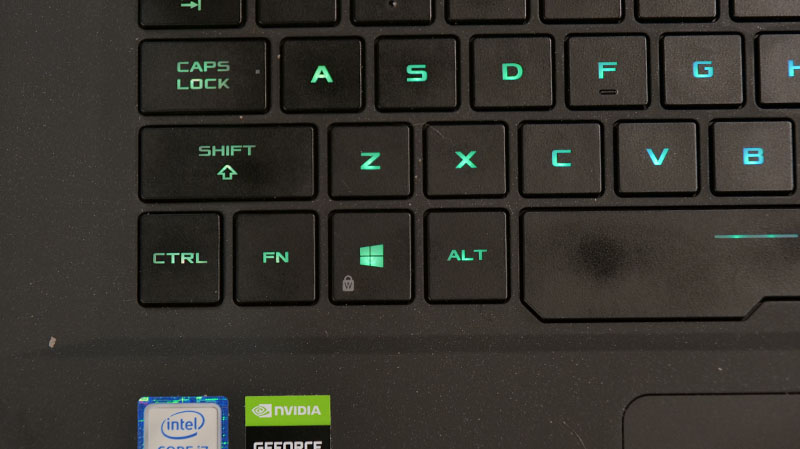 Anyway, moving on, there's the trackpad, and this is amazing as well. The Zephyrus M comes with a decently sized trackpad which is not too big, but it's not small either. Plus, it supports Microsoft Precision drivers which just makes using it a lot better and brings support for intuitive gestures which is also pretty cool.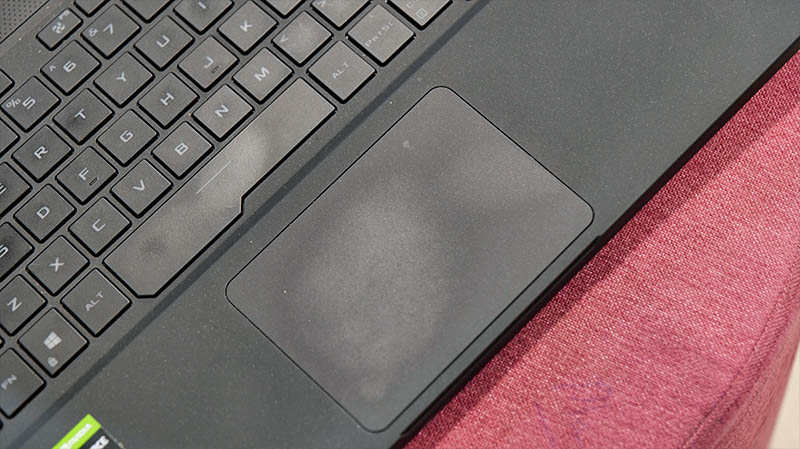 I/O and Ports
The ROG Zephyrus M also comes with a decent selection of ports and I/O that should suffice for all your needs. The laptop comes with 1 x USB 3.2 Gen2 Type C DisplayPort™ 1.4 and Power Delivery, 1 x USB 3.2 Gen2 Type A, 2 x USB 3.2 Gen1 Type A, 1 x HDMI 2.0b, 1 x 3.5mm Audio Jack, 1 x Audio Jack Mic-in, and an RJ-45 ethernet port.
In my usage of this laptop I didn't feel short on ports or connectivity options and I don't think you will either. Plus, the USB-C port is definitely awesome to have, and with Power Delivery, it can fast charge USB-PD compatible devices, which is also cool.
Audio
If there's one thing about this laptop that I found underwhelming, it's the audio. The laptop comes with bottom firing speakers, which is probably why the sound is underwhelming, muffled, and honestly, not loud enough at all. I tried watching movies on this laptop, and it just doesn't cut it.
As a gamer, I'm sure you'll most probably be using headphones while you game, so you probably won't have to deal with this too often, but if you think you can watch movies on this laptop without a Bluetooth speaker, or a wired external speaker, you're in for a shock.
At the very least, I would've expected Asus to put the speakers slightly towards the sides, like they did with the TUF Gaming FX505DT, but alas, the Zephyrus M GU502GU is absolutely let down by its speakers.
Battery
Lastly, there's the battery. The Zephyrus M GU502GU comes with a 76Wh battery that Asus claims lasts up to 6 hours on a charge, but the only time I noticed that happening was when I put a bunch of games on download and left the laptop to do its work while I played games on my PS4. Other than that, the laptop doesn't last anywhere close to 6 hours on a charge. I was consistently getting around 3 hours of battery life from this laptop.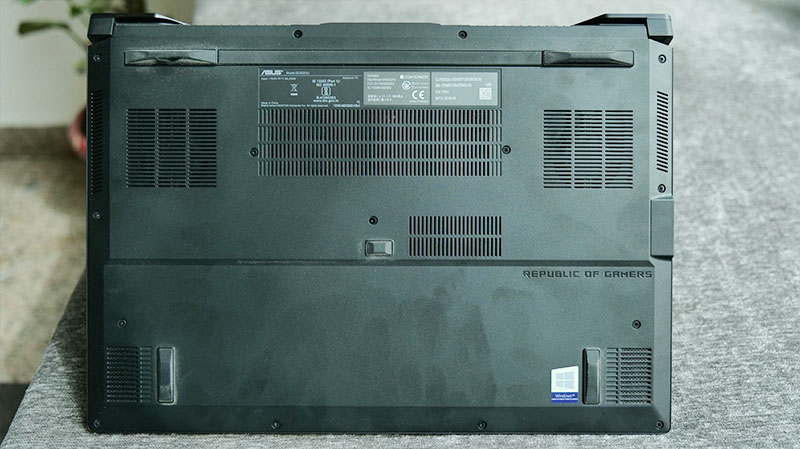 However, if you're a gamer, you'll most likely keep the laptop plugged in while gaming so the battery life shouldn't be an issue. However, if you're like me and you're planning on using the laptop at work or in college, you'll need to keep the charger handy.
Pros and Cons
So the Zephyrus M GU502GU is a pretty decent laptop, but it doesn't get it all right. Let's take a quick look at the good and the bad about this laptop.
Pros:
Excellent design
Amazing performance
Good keyboard and trackpad
Cons:
Battery life is sub-par at best
Speaker quality is not good
Asus ROG Zephyrus M GU502GU: Should You Buy It?
The ROG Zephyrus M GU502GU is a a pretty good laptop. It brings great performance packed inside a stylish chassis, a good keyboard and trackpad, along with a decently wide selection of ports and I/O options. However, at Rs. 1,49,990, the Zephyrus M is competing against the MSI GL63 9SEK gaming laptop (Rs. 1,47,500) which brings the same 9th-gen Core i7 processor, 16GB RAM, a 1TB HDD + 256GB SSD, and 6GB RTX2060 graphics. The only place where the MSI GL63 9SEK lags behind is the weight – it's 300 grams heavier.
The thing is, if you're looking for a gaming laptop for playing high-end games on, the MSI GL63 9SEK is a much better deal. However, if you're looking for a laptop that can handle gaming and fit in at your office, maybe go with the Zephyrus M GU502GU.
Check out the Zephyrus M GU502GU (Rs. 1,49,990)
REVIEW OVERVIEW

SUMMARY

The Zephyrus M GU502GU is a gaming laptop aimed at people looking for the perfect mix of performance, portability, and style. However, at Rs. 1,49,990 the laptop is forced to compete against offerings from MSI that bring far better specs. If you're looking for a laptop that fits in at work and for play, the Zephyrus M GU502GU is great, however, if you'd rather have the best performance in the price, this isn't the one.