As the Coronavirus pandemic has by now taught is, work from home is not that bad. In fact, other than the relentless Zoom calls, it's quite liberating. However, if you're the kind of person who likes to use a designated home office space for your work from home needs, chances are you want a big-screen display and a space-saving solution for it, and a laptop just doesn't cut it. That's exactly why Asus has launched its new line-up of AiO devices in India. We have the Asus AiO V241 here with us and I've used it a bit as my regular work PC. Here are my first impressions.
Design and Build
First things first, Asus has paid a lot of attention to the design and build quality of this machine. Not only is it one of the cleanest looking setups I have seen, it's also built well. Looking at the V241 dead-on, it appears as if it's just one big slab of screen with the accent-affording metal grille on the bottom which also houses the webcam and microphones.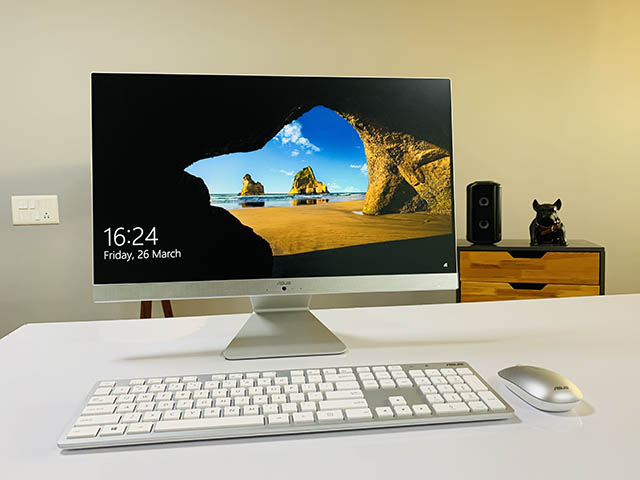 That webcam placement is not my favorite, on laptops and AiOs alike, but it's the price company's have decided on making us pay for thinner bezels. Not that I'm really complaining because I barely use the webcam, if ever. However, if you're someone that keeps their webcam on during video meetings, this is not a flattering angle to have a camera in.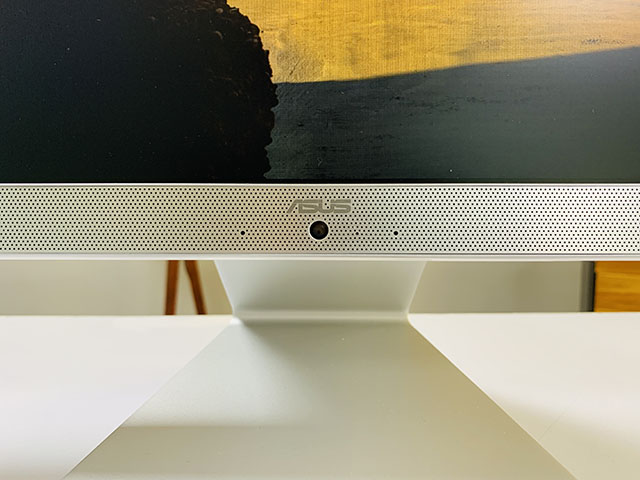 Other than that, the design and build doesn't leave much to be desired. The stand is flawless and allows the display to be angled smoothly with just a single hand – another thing I appreciate. All the ports are on the back, like what you'll find on an iMac, for example.
We have the White-Silver color of the AiO here with us, but it's also available in a Black-Gold color combination if you want something more substantial looking on your desk.
Display
Having a big screen is one of the primary reasons you might be looking to get an AiO instead of a laptop for your work, and the Asus V241 comes with a pretty large 23.8-inch LED-backlit panel with a 1920×1080 resolution. I'm not entirely sold on the Full HD resolution for a screen this size, especially if you work with text often. Personally, with text, the resolution coupled with the screen size means that the pixel density isn't as high as I would like, but that might also be because I'm used to the MacBook Pro's retina display.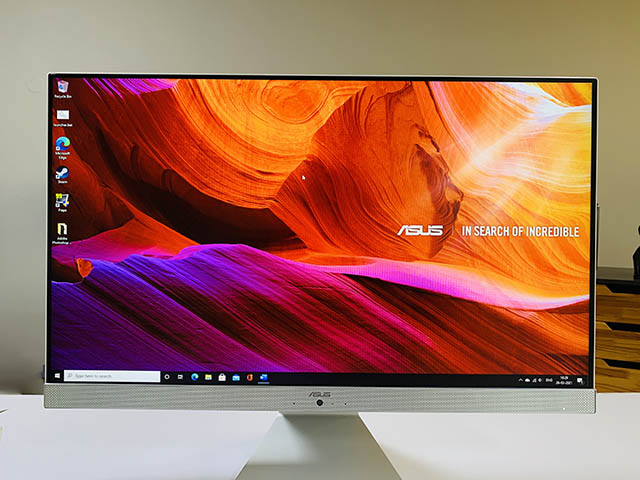 That very particular trouble aside, this display is great for everything I have used it for. It comes with thin bezels all around which look even thinner relative to the size of the display. Plus, the display covers 100% of the sRGB color gamut. That, along with Asus Splendid and Tru2Life Video technology makes for excellent colors on this screen.
Asus also claims 178° viewing angles on the display. In my use so far, that seems accurate. However, there is some drop in brightness when you go off-center from the screen. I have watched a few episodes of The Office on this screen, along with some YouTube videos, and the colors do look pretty good.
Overall, the display on the Asus AiO V241 looks pretty good in my limited time with this machine so far.
Performance
The Asus V241 comes with an 11th-gen Intel Core i5 processor, paired with up to 16GB RAM as well as a 1TB 7200RPM HDD + up to 512GB PCIe SSD. The variant we have with us comes with 8GB RAM and a 256GB SSD. Also, there's no dedicated GPU on this AiO, you only get the Intel Iris Xe GPU which should be up to handling most graphical tasks, but this isn't a machine built for gaming.
In my use so far, which hasn't been long by any means, I have found the V241 to be plenty fast and snappy in usual everyday tasks. I have been writing on this machine for a while along with music or videos playing in the background. Plus, a little bit of Photoshop here and there, and there has been no issue with speed or lag anywhere.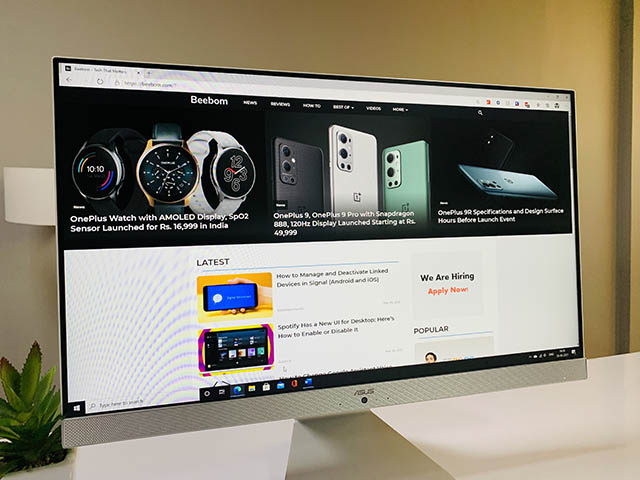 Basically, the Asus V241 is meant to be a computer that you can keep at your home for regular work, watching videos, or listening to music; and it is great at doing all of those things.
Speakers
The Asus AiO V241 comes with 3W stereo speakers and they are surprisingly good. I wasn't expecting much from these speakers, but they are just real good. They get loud, the sound doesn't distort even at max volumes and there's a healthy amount of bass output as well. That can be attributed to the large sound chambers Asus has built for the speakers on the V241.
Moreover, the AiO comes with DTS Audio Processing that you can use to customize the audio output of the speakers just the way you want. All in all, the speakers on the Asus AiO V241 are impressive and can serve you well for watching movies, as well as for work related video calls.
Keyboard and Mouse
Along with the giant 23.8-inch Full HD screen that packs in all the CPU, RAM and storage components on its back, Asus also sends a wireless keyboard and mouse with the V241. Now, the keyboard here is a full-size keyboard complete with a numpad, but it's not too good.
Sure, it has a 2.5mm travel and the keys are spaced put pretty well, but there are a couple of issues here as well. For one, these keys are quite small, which makes it less than comfortable for me to use this keyboard for longer typing sessions. Moreover, the keyboard is not tactile at all, and is rather mushy feeling. Plus, the keys wobble a lot, which is both uncomfortable, and doesn't inspire confidence in the quality of the keyboard either.
The mouse is fine and does its job well enough. I have no major qualms with it. However, I do feel like Asus should have made these accessories rechargeable instead of being powered by AA and AAA cells. The keyboard uses 2xAAA batteries, while the mouse uses a single AA cell to run.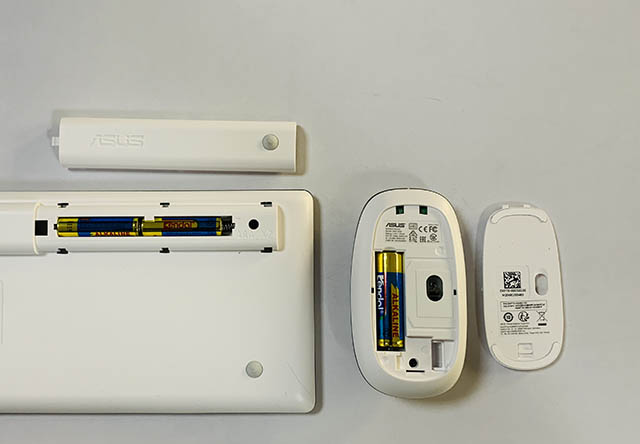 Fortunately, Asus does supply the batteries in the box, which I am thankful for. However, I was honestly expecting a USB-C or even micro-USB charging system here. I'm not completely sure how long the keyboard and the mouse will last on these batteries, but I'm definitely not looking forward to replacing them once the keyboard dies.
Ports and Connectivity
If there's one thing that the Asus V241 AiO has that I appreciate a lot, it's the port selection. On the back of the machine you get a power input, obviously, and along with that you get 4x USB 3.2 Type A ports, an HDMI out port, and an HDMI in port as well as an RJ-45 ethernet port. On the bottom, you will find a mic/headphone combo jack as well as another USB 2.0 port.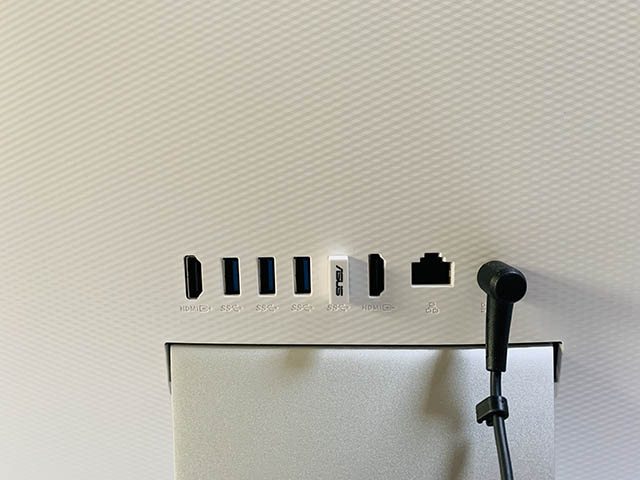 Now, that HDMI in port is exciting. On the bottom of the V241, there's a 'Mode' button which you can press and switch between the PC mode and monitor mode. So you can connect your Xbox or PlayStation, or a smart TV stick like the Fire TV Stick, or anything basically, and use the 23.8-inch screen as a monitor when you want to. That's quite impressive, and it lets me play games on the PS5 at work without having to use a separate monitor or going to the gaming area within the office. So thanks, Asus.
On the wireless connectivity front, the V241 comes with Bluetooth 5.1 as well as WiFi 5 (802.11ac) on board for your WiFi and Bluetooth accessories requirements.
Asus AiO V241: What's It Like?
Look, this isn't a review by any means, and I haven't spent nearly enough time using the Asus AiO V241 to outrightly tell you whether or not this is worth your money. However, based on the time I have spent using this machine, I can tell you this: the Asus AiO V241 is a pretty solid device for your home office, or even as your work computer. It offers a big display with nice colors and brightness, impressive speakers, and a really pretty design. It's not a high-end gaming PC, but it's not meant to be, and it seems to fit right into the slot that Asus is hoping for – people with work from home requirements, or a simple home PC for your everyday tasks.
The Asus AiO V241 is priced starting at Rs. 61,990, and will be available soon.
---
Load More