Assassin's Creed is back again after two long years which seemed like forever, and this time around, we've been taken into the ancient world of Egypt. Explore the pyramids, oases and historical forts as Bayek of Siwa is on a quest for vengeance in the tenth-installment of this hugely popular franchise. As an Assassin of the Egyptian Brotherhood active during the reign of the last pharaoh of Egypt, Cleopatra VII, you'll be hunting down the corrupt leaders in this action-adventure video game developed by Ubisoft Montreal. Now, this is the same team who previously worked on Assassin's Creed IV: Black Flag which was well-received by critics and players alike.
So far, all of the Assassin's Creed games have been released annually except for this one, where the development team had an extra year to figure out what's going wrong with the franchise and rethink their strategy. It looks like the long break has finally paid off, as the team has managed to do a great job in building the game right from scratch. Ubisoft might have put forth one of the finest installments in a long time at least from my 30 hours of game time, which was much needed as the franchise was going downhill due to its repetitive nature. Well, if you're keen on paying 60 dollars for this game, let's take a look at the in-depth review of Assassin's Creed Origins:
Gameplay
We'd like to start our detailed review on Assassin's Creed Origins with gameplay. I'm pretty sure most of you know the fact that Ubisoft is more inclined towards developing open-world games, which can be seen from games like Tom Clancy's Ghost Recon Wildlands, Watch Dogs 2, Assassin's Creed Syndicate, Far Cry 4 and much more. Assassin's Creed Origins follow a similar setting as you'll be able to wander through the vast world of ancient Egypt. When most people think of a game set in ancient Middle East, what comes first to the mind is certainly the Pyramids, but Ubisoft's attention to detail in creating a massive open world having a variety of environments with distinct architecture is a major highlight of this title.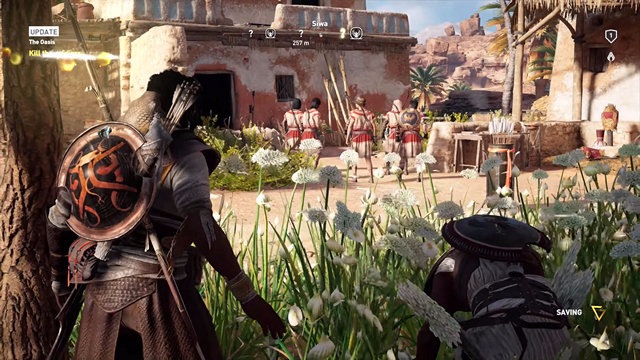 There are 24 main story quests and over 60 side quests in Assassin's Creed Origins. I personally took nearly 30 hours to complete the entire game though, but neither did I rush the entire game, nor did I try to complete all the side quests. Instead, I took on a casual approach. Sure, you'll be able to complete the story a few hours faster if you keep rushing the missions in the lowest difficulty, but the side quests are still good enough to keep you engaged throughout the game. Missions aside, you can still freely explore all the areas that the game has to offer, and you most likely won't be tired of it.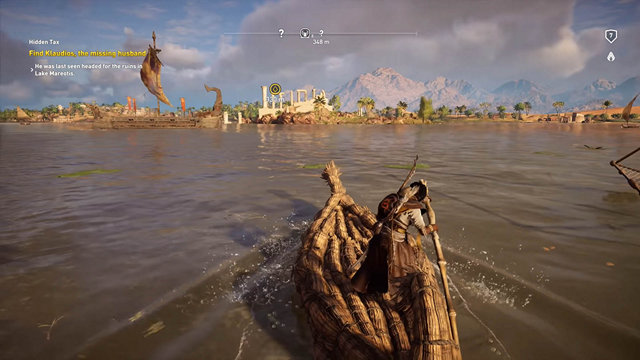 Assassin's Creed Origins takes inspiration of some of its previous games as well. Remember the breathtaking naval combat in Black Flag? Well, Origins offers just that in case you were missing it. Apart from this, the Gladiator Arena fighting and being able to collect clues in order to solve mysteries are some things which I absolutely enjoyed. If you enjoyed infiltrating forts in previous Assassin's Creed games, you will certainly not be disappointed with this one. You can play this game the way you want to, by following a stealth-based or combat-based approach. All in all, a strong mission design is what makes this game better than any other installment in the series so far.
Now, let's talk about movement in the game, which feels faster compared to previous titles, regardless of whether you're running or riding a row boat. Sometimes, you feel like Bayek is moving really fast as if he's almost weight-less, but Ubisoft probably did this to compensate for the huge world design. Having said that, stealth elements are quite similar to the previous installments, especially in the way how enemies are alerted. Plus, you still get to hide in the bushes and take down enemies with your sleeping and poison darts. Overall, player control is pretty smooth as Bayek moves exactly where you need him to, almost all the time, so we've got no complaints here. Oh, and did we mention that the Eagle Vision is totally different from previous Assassin's Creed games? No, you'll no longer be able to see through walls at the press of a button. Instead, you'll be using an actual Eagle called Senu that flies above the buildings to spot the location of enemies for you.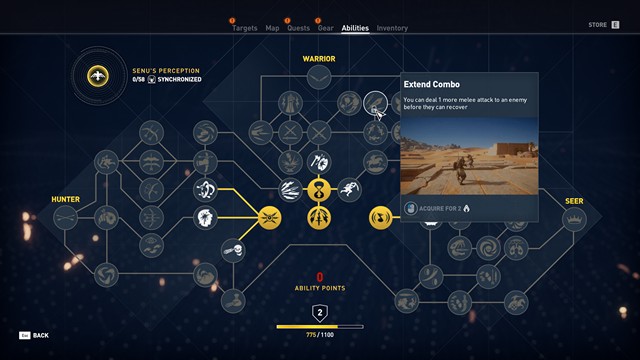 Combat mechanics has also received some significant changes which takes a bit of time to get used to. It feels faster and more engaging, as you now get to parry, block and dodge your enemy's attacks. Above all this, Bayek also has some special finishing moves which feels so satisfying to watch. When you're engaging multiple enemies in a combat, you also have the option to lock on to one of them and take them out one by one, something which you might either love or absolutely hate. Ability upgrades on the other hand, is split into three different categories, namely Hunter, Warrior and Seer. However, you're not locked down to just one. As long as you're able to complete all the quests in the game, you'll be able to unlock every single ability using skill points earned in the game. If you want to use brute force, you might find some of the abilities in the hunter category pretty useful. On the other hand, the hunter class is for those who enjoys archery. Lastly, Seer abilities involve the usage of various tools and equipment to your advantage, like smokescreen, sleeping dart, etc.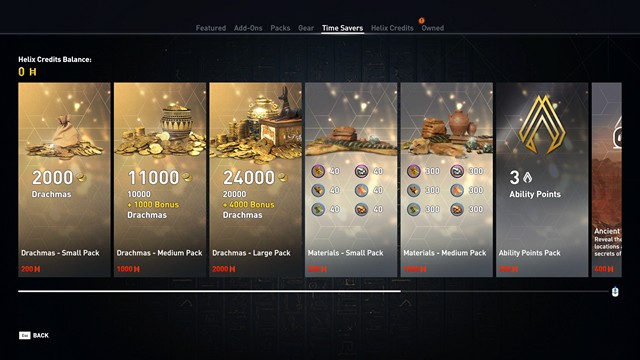 Speaking about the looting system, Assassin's Creed Origins features microtransactions, where you'll be able to buy in-game currency, ability points, reveal maps and purchase materials required for crafting using Helix credits. These credits can only be purchased using real money, essentially making this a "pay-to-win" game if you don't want to bother completing side quests and hunting down animals to actually earn them. Personally, I don't like microtransactions in games, and I'm pretty sure many of you don't either, as it ruins the overall experience. However, if you don't wish to spend actual cash on Helix credits, there's a lot of grinding necessary to get all the stuff you need while progressing through the game.
Visual Fidelity
The department where Assassin's Creed Origins manages to shine is graphical fidelity. The game is powered by Ubisoft Montreal's AnvilNext 2.0 Engine, and there's no doubt regarding the fact that this is the best looking Assassin's Creed game to date. You can expect breathtaking foliage, impressive draw distances, vibrant colors and whole slew of effects going on in the background for all the eye candy that you'll need. Regardless of whether you're playing this game on a PC, Xbox One X or a PS4, the game looks absolutely beautiful in my opinion. Visually, the game looks roughly similar to Ubisoft's recent open-world games like Watch Dogs 2 and Ghost Recon Wildlands, at least in terms of 3D models. The game's world design is what impressed me the most, and I personally feel like the developers have done an exceptional job in seamlessly connecting the areas, despite its humongous size. Each of the cities offer variety, not only in terms of infrastructure and environment, but also based on race-relations, culture and even how the guards look.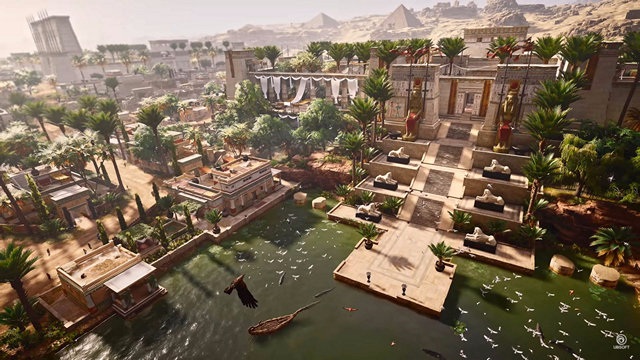 Audio Fidelity
Sound quality is as much important as graphical fidelity in a video game, and Assassin's Creed Origins has nailed that as well. I was quite blown away by the incredibly wide channel separation that helped quite a lot while engaging enemies and even animals. While you're exploring, you'll also be able to hear animals far off in the wild trying to attack the villagers, thanks to the impressive soundscape that keeps you gripped to the edge of your seat. The sound quality is great enough to let you accurately guess the position of an enemies and also determine whether they're behind you or not without having to turn around. When it comes to voice, the characters' accents are close enough to reality this time around, even though it's not 100 per cent accurate. The background music on the other hand is pleasing with a variety of subtle tunes on offer, at least as long as it keeps playing, but I've been in multiple situations where I barely heard anything, unless a guard detected my movement or some hyenas caught me in the wild.
Performance
This might probably be the most interesting part especially if you're a PC gamer, but let's talk about the console versions first. Ubisoft has deployed dynamic resolution scaling across all the console platforms, even on the new super-powerful Xbox One X. The original PS4 runs the game at a resolution of 1080p most of the time, with slight dips in resolution during graphically intense scenes. The original Xbox One on the other hand follows a more aggressive scaling, and although it mostly runs at 900p, we've noticed dips to 792p and 864p pixel counts. As far as the frame rates are concerned, both these consoles maintain a stable 30 fps frame rate during a majority of the gameplay, with dips to low 20s during intense combat or while exploring through populated areas.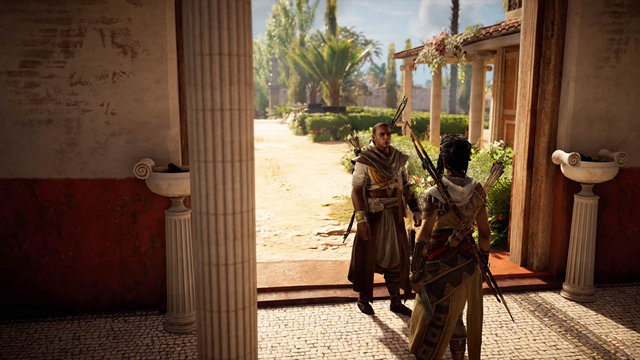 Moving on to the 4K-capable consoles, Ubisoft has managed to achieve 4K/30 fps on not only the Xbox One X but also on the less powerful PS4 Pro, which is impressive to say the least. However, the game is not really running at Native 4K resolution. Instead, this has been made possible due to dynamic resolution scaling, just like the standard Xbox One and PS4, so expect dips in resolution during visually demanding scenes. Depending on the rendering load, the PS4 Pro will be running the game at a resolution ranging between 1350p and 1584p. This works in tandem with checkerboard rendering to achieve the 4K target. Since the Xbox One X is noticeably more powerful than the PS4 Pro, you can expect the console to run the game at a higher resolution while maintaining a stable 30 fps frame rate. We'll be able to actually test that once the Xbox One X reaches our office next month.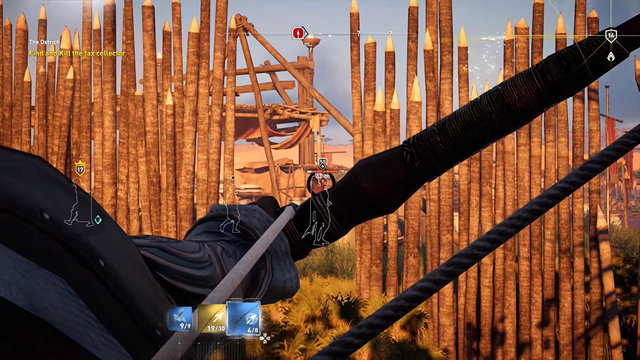 No matter what console you may own, Assassin's Creed Origins is best experienced on a high-end gaming PC. As long as you're having an NVIDIA GeForce GTX 1070 GPU along with a decent processor like the Intel Core i7-8700K and 16 GB of RAM, you'll have no trouble playing the game at 1080p/60 fps with maxed out graphics settings. I've tested the game on my Alienware 15 R3 laptop powered by the GTX 1070, i7-7700 HQ and 16 GB of RAM. While it was able to easily maintain the 60 fps frame rate at most times, it did drop down to 50 and sometimes even 45 during graphically intense scenes. Sure, you'll able to achieve similar frame rate on the GTX 1060 as well, but you'll need to turn down the visuals from "Ultra" to "High". On the other hand, if you're keen on playing the game on a 4K monitor, you'll definitely need a gaming rig that's powered by the GeForce GTX 1080 Ti.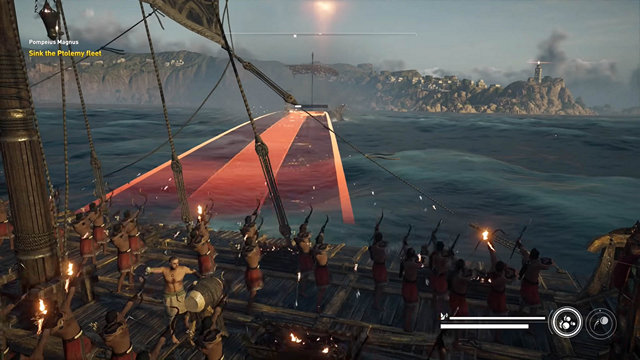 All in all, I'm glad that Ubisoft have put some effort into optimizing the game this time around, but there's still plenty of room for further improvements. I've ended up in multiple situations where my character got stuck in between obstacles and audio getting completely muted in addition to other bugs that you might have already experienced in previous Assassin's Creed games. Well, considering just released, we expect these issues to be resolved in future software patches.
Pricing and Availability
Assassin's Creed Origins is currently available for purchase digitally on Steam, Uplay, Amazon and several other online stores. Physical discs can also be picked up from retail stores like Best Buy or GameStop. The game, just like most recent AAA titles comes in multiple editions, namely Standard, Deluxe and Gold editions. The Standard edition, which just includes the base game carry a $59.99 price tag. The $69.99 Deluxe edition on the other hand comes with the Ambush at Sea mission and the Desert Cobra pack which includes 1 outfit, 2 legendary weapons, 1 legendary shield and 1 mount. Additionally, 3 ability points are also provided which can be used for upgrades in the game. Lastly, the Gold Edition costing $99.99 includes the perks of Deluxe Edition and also comes with the Season Pass, making you eligible for all the future DLCs that Ubisoft has planned to roll out for this game. If you've accidentally purchased the Standard Edition, you'll still be able to purchase the Season Pass and Deluxe Pack separately for $39.99 and $9.99 respectively.
System Requirements
The hardware requirements might pretty much be the deciding factor if you're still confused about purchasing the game. This section is intended for PC users, so console users can skip this one. Well, let's take a look at the minimum as well as the recommended system requirements suggested by the development team, in order to play Assassin's Creed Origins on your PC:
| | Minimum System Requirements | Recommended System Requirements |
| --- | --- | --- |
| Operating System | Windows 7 SP1, Windows 8.1, Windows 10 (64-bit versions only) | Windows 7 SP1, Windows 8.1, Windows 10 (64-bit versions only) |
| Processor | Intel Core i5-2400s @ 2.5 GHz or AMD FX-6350 @ 3.9 GHz or equivalent | Intel Core i7- 3770 @ 3.5 GHz or AMD FX-8350 @ 4.0 GHz |
| Memory | 6 GB | 8 GB |
| Graphics Card | NVIDIA GeForce GTX660 or AMD R9 270 (2048 MB VRAM with Shader Model 5.0 or better) | NVIDIA GeForce GTX760 or AMD R9 280X (3GB VRAM with Shader Model 5.0 or better) |
| DirectX | Version 11 | Version 11 |
| Resolution / Graphics Preset | 720p / Lowest | 1080p / High |
| Storage Space | 50 GB | 50 GB |
SEE ALSO: FIFA 18 Review: The Perfect Successor to FIFA 17
Assassin's Creed Origins: Should You Buy It?
Recent installments of the Assassin's Creed franchise have lost their charm due to the repetitive nature. However, once you play this game, you'll realize that Ubisoft has tried their best to bring back the glory that the franchise once had by rethinking their strategy. With a revamped combat system and a stellar world design that showcases variety in infrastructure, enemies, environment, and culture, Assassin's Creed Origins has a lot more to offer than just a new storyline. In my personal opinion, this might be the best installment the franchise has seen in a while after 2013's Black Flag, and the two-year long wait was certainly worth it. So, what do you think about Assassin's Creed Origins? Are you willing to shell out your hard-earned cash on this game? Do let us know, by dropping your valuable opinions in the comments section below.
Purchase Assassin's Creed Origins here.
REVIEW OVERVIEW

SUMMARY

After a series of repetitive installments and a two-year long break, Ubisoft's blockbuster Assassin's Creed franchise makes a comeback. With a revamped combat system and a stellar world design that showcases variety in infrastructure, enemies, environment, and culture, the new Assassin's Creed Origins has a lot more to offer than just a new storyline.