Apple's entry into the smartwatch foray was quite different from others, namely Android Wear, because unlike the early days of Android Wear, Apple's offering came in a number of customisations, all the way from the body of the watch to size to the band that it sported. It was so varying, in fact, that within one product, Apple was offering 18 different combinations including various sizes and watch bodies, and then differentiated through the band that your Apple Watch sported.
Despite all customisations, there were quite a few lacking areas. You didn't get any official leather band, for instance, which is quite a must for something like a watch. Then, there was no rugged version for the Apple Watch. Likewise, a number of alternate bands that you could swap out for a better fashion statement that Apple issued are, frankly, quite pricey. And finally, how can an Apple product be complete without a plethora of third-party unofficial accessories. That's exactly what happened here, and thus, the Apple Watch boasts a flourishing market of third-party bands and straps. How do you pick, then, the ones that stand atop others? Well, that's what we're here for, and we present to you our best picks of Apple Watch bands and straps.
For your ease, we will break these bands down by category/functionality. Also, all prices mentioned are accurate as of this writing, but are subject to change at their respective vendors without being reflected in this article. Finally, most of these bands are applicable to the Apple Watch Sport and Apple Watch edition, but not the gold version since it is in a completely different league.
Most Versatile Apple Watch Band
Click
The reason you cannot use any standard band with the Apple Watch is because it uses a proprietary connector that standard bands cannot fit onto. That is exactly what Click does, solving the problem at the base (pun intended). Click isn't a band itself; rather, it's an adapter that fits into the dedicated band attachment slot on the Apple Watch and allows you to use any standard 22mm band afterward with your Apple Watch. The adapter comes in aluminum and steel flavors (for the Apple Watch Sport and Watch editions), and is available for both the 38mm and 42mm versions. Click is on preorder as of this writing, and will start shipping end of November.
Price: $21.99 – $24.99
Availability: Click Official Website
Most customisable Apple Watch band
Casetify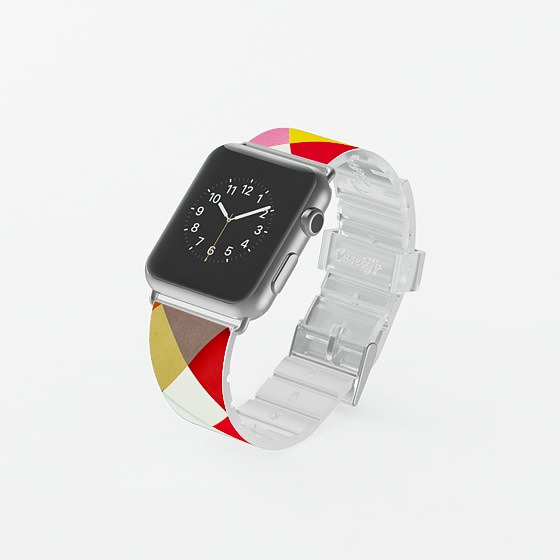 Casetify has made a name for itself for allowing users to design custom cases and covers for things like the Macbook, the iPad and the iPhone, and now they've added Apple Watch to their portfolio as well. There is a good collection of ready-made straps available on their website, and you can even use your own designs by uploading pictures. This is the most customizable option for Apple Watch bands because of the sheer number of options that it allows for design customization. Casetify even offers an iOS app that you can use to design your band and place an order.
Price: Starts at $50
Availability: Casetify Official Website
Most Functional Apple Watch Band
Reserve Strap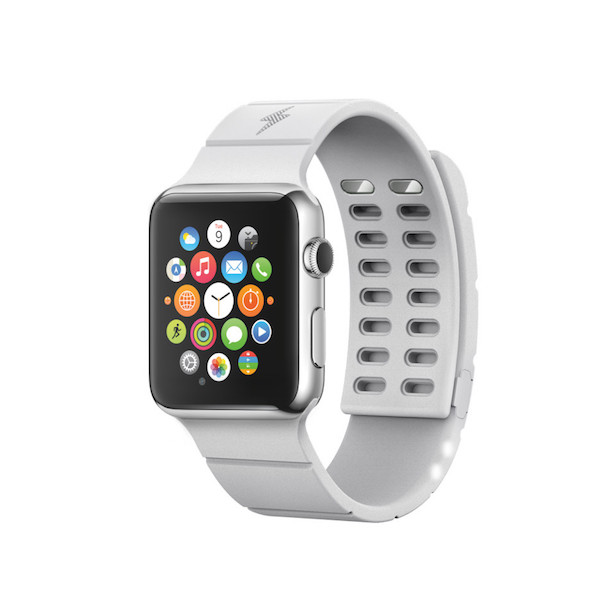 Reserve Strap is the only third-party Apple Watch band that adds functionality to your watch. The strap comes embedded with a battery of its own that will snugly fit to the back of the watch (the magnetic charging interface) and will add 30 hours of additional battery life, albeit for a hefty price tag. The band itself is made of thermoset elastomer silicone charges via a micro USB connector. Build quality is fine, but it does add some bulk to the otherwise-slim Apple Watch. Reserve Strap is also water resistant, so that you don't lose out on any features that the Watch has on offer. This band, too, is on preorder right now, and orders placed today will ship either late 2015 or early 2016. You can place your order for bands in infrared, white, grey or black colors.
Price: $249.99
Availability: Reserve Strap Official
Best Budget-Friendly Milanese Loops
Milanese loops are my personal favorites when it comes to Apple Watch bands, because they give the device a much more sophisticated look. The official Milanese Loop versions of the Apple Watch cost almost an arm and a leg, so these third-party budget options are a great way to get the same look and feeling without dishing out that much dough.
Levin Milanese Loop for Apple Watch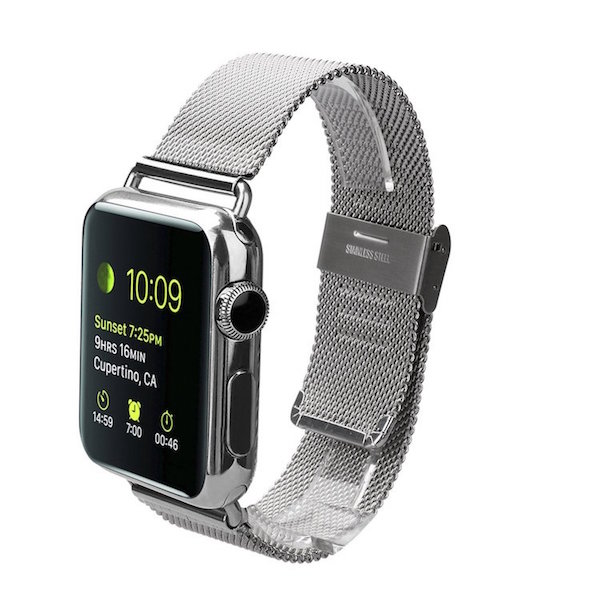 A good budget option that, although quite different from the official Milanese loop, is still a pretty solid offering. Available only in silver color (for both 42mm and 38mm versions of the Watch), this band comes with dedicated Apple Watch connectors for easy insertion/removal, has a dual-lock design for extra security and sturdiness, and has adjustable length for the band so that it can fit various wrist sizes. The only downside that I see is that you don't get the magnetic lock that makes the original Milanese loop so coveted.
Price: $22.99 on Amazon
Availability: Amazon
Aerb Milanese Loop for Apple Watch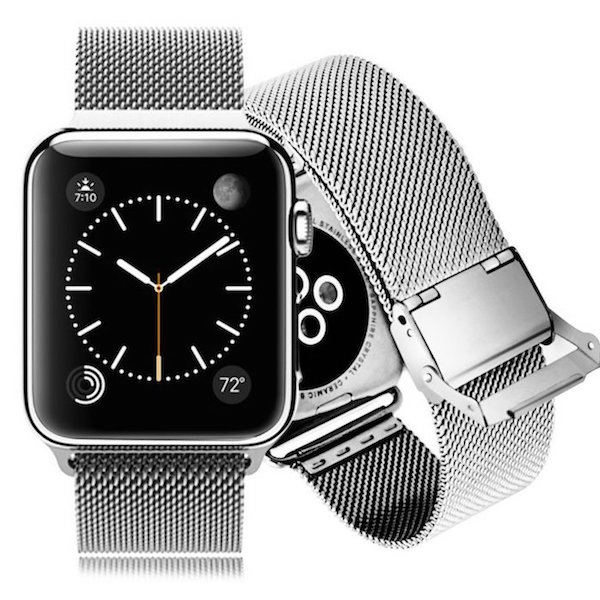 Another good budget offering, Aerb Milanese Loop offers a stainless steel mesh that attaches to the Apple Watch without leaving any extra space between the mesh and the connectors. This, too, is available for both sizes of the watch, and comes in a variety of colors as opposed to just silver. The connector on the Aerb loop is also a metallic clasp instead of magnetic lock, but it serves the purpose well.
Aerb also has a number of other offerings that you can check out at the Amazon link below.
Price: $18.99 on Amazon
Availability: Amazon
JETech Magnetic Milanese Loop for Apple Watch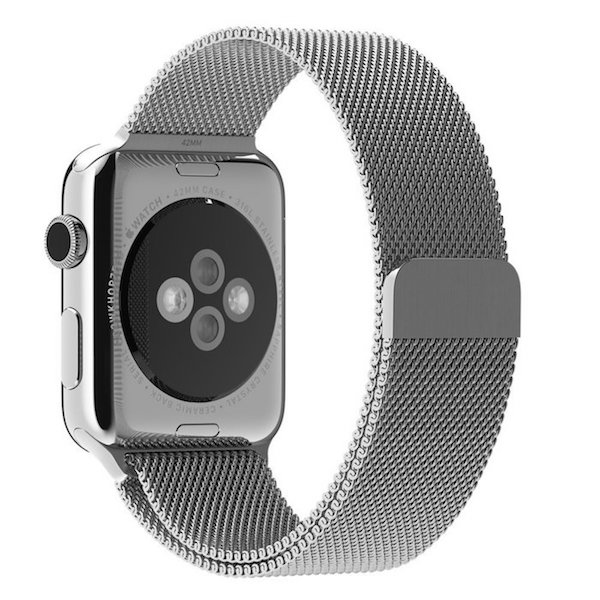 This is the only budget offering that comes with a magnetic lock, and consequently has a slightly higher price point than others. The JETech bracelet is also available for both 38mm and 42mm Apple Watches, and comes in Rose Gold and Silver varieties.
Like Aerb's offering, JETech also makes Apple Watch bands in other materials and colors, including leather and chain-link metal. Their variety is also available to select from at the Amazon link below.
Price: $39.98 on Amazon
Availability: Amazon
Best Nylon Band for Apple Watch
Monowear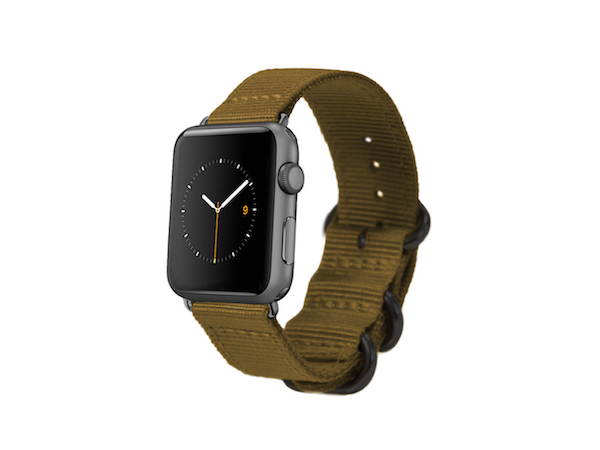 Monowear is a well-respected name when it comes to replacement bands for the Apple Watch. Their offerings come in leather, metal and, surprisingly, nylon. We say surprisingly because nylon isn't really a material of choice when it comes to making watch bands. However, their products are high quality and if nylon band is what you want, look no further than Monowear, as they offer the best quality for a reasonable price. Monowear nylon bands are also available for both sizes of the Apple Watch, and come in a variety of colors, including unique ones like olive, pink, red, grey and turquoise.
Price: $59.99
Availability: Monowear Design Official
Best Budget-Friendly Leather Bands
Who doesn't like leather bands for their watch? Here are our best picks for Apple Watch replacement bands in leather, all at an affordable price tag.
eLander Leather Band for Apple Watch
The eLander leather band is one of the highest rated third-party replacement bands in leather for Apple Watch on Amazon, and for good reason. Made from premium quality leather, this band offers great looks for the small price tag that it carries. It connects through easy-replacement connectors with the watch, has a metallic clasp for securing your watch, and comes in a variety of colors and even double-loop designs. One downside is that eLander leather band is available only for the 42mm version of the Apple Watch, with a 38mm variant apparently in the works.
Price: $24.99 on Amazon
Availability: Amazon
Aerb Genuine Leather Band for Apple Watch
The Aerb leather Apple Watch band, akin to its milanese loop sibling, is a great budget option if you're looking to personalize your watch. Connecting via dedicated Apple Watch connectors, this leather loop is the most affordable option out there that you can get for both the 38mm and 42mm versions of the watch. Aerb leather band comes in red and black colors, and has good overall build that holds strong even after extended use.
Price: $11.99 on Amazon
Availability: Amazon
Best Premium Bands for Apple Watch
The Apple Watch isn't just another gadget; it's a very personal gadget. Watches are generally also about making a fashion statement, and so, if money isn't an issue, these premium Apple Watch bands will allow you to make exactly that.
Lucrin Leather Band for Apple Watch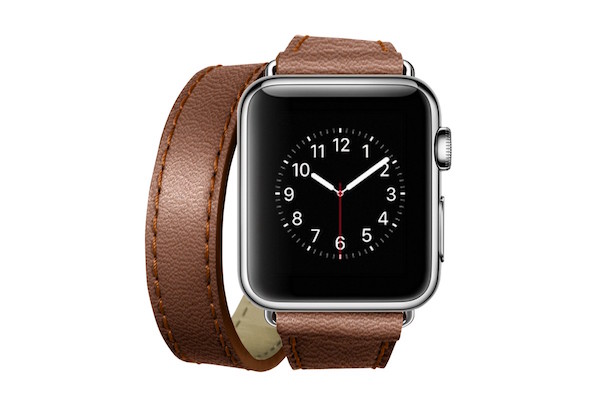 If it's a premium leather band that you're after, it really doesn't get any better than Lucrin. If they seem to be pricey, that's because they do justice to the money you dish out for them. First, the bands are available in a big variety, including double loop, classic and elegance versions, for both Watch sizes. Then, the bands themselves can be customised hugely, including the color of the leather, the thread that will be used (yup, they're that attentive to detail), the size that you want it in (not just the watch size, but also the length of the strap itself), the color of the connector, and then finally, any custom engraving that you want done on your watch band. Lucrin truly makes a fashion statement unlike any other premium band out there.
Price: Starts from $163
Availability: Lucrin Official
Clessant Luxury Leather Straps for Apple Watch
CLESSANT started off as an Indiegogo campaign and even as of this writing, their official website is under construction while business is conducted via their Indiegogo page. What sets Clessant apart is the variety of leather that you can choose from, all the way from standard calf leather to unique ones like lizard leather, buffalo, crocodile and alligator/stingray. Then, all leather varieties have a number of color options to pick from, including unique colors like brick, fuchsia and mustard. You can also customise the texture of the leather to your liking. Clessant started shipping in September and has been gaining appeal since with consumers.
Price: Starts from $110
Availability: Clessant on Indiegogo
MyCell Stainless Steel Link Bracelet for Apple Watch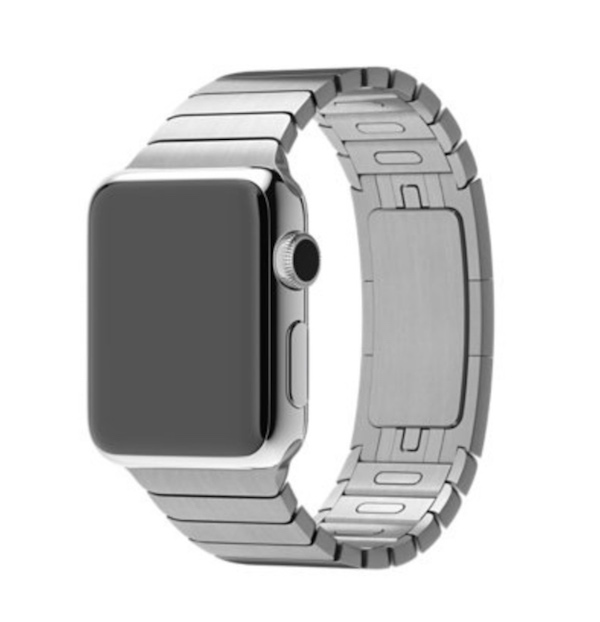 The MyCell Stainless Steel Link Bracelet is the perfect luxury companion for people who prefer steel over leather, or any other material for that matter. Link Bracelets have always been considered luxury watch bands, and this one really does justice to your coveted Apple Watch. With each link in the bracelet individually inspected to quality, complete with adjustable band sizes and no port blocking on the watch itself, the MyCell bracelet is a great choice if Apple's own offerings don't tickle your fancy. MyCell Link Bracelet is available only in silver color.
Price: $224.49
Availability: Smart Watch Shopping
Pad & Quill Leather Bands for Apple Watch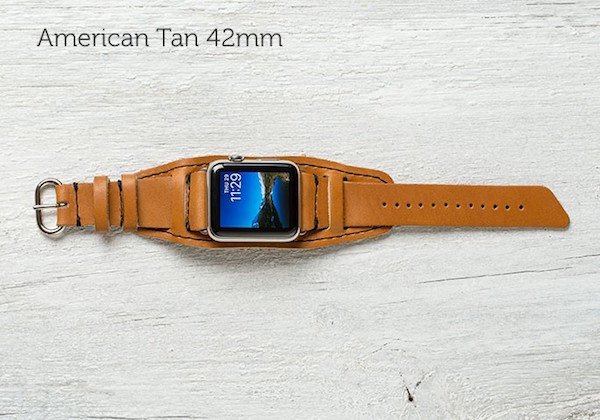 Pad & Quill is no stranger to making premium leather goods, and their Apple Watch bands are no exception. Exhibiting the height of finest craftsmanship, these leather bands are made proudly in the USA with leather from the best tanneries. Each strap is hand stitched to perfection and gets signed by the craftsman that worked on it. The bands themselves are available in American Tan, Chestnut and Galloper Black, with the watch lugs and clasp made out of refined nickel. This is the only leather band for Apple Watch that offers a 25-year warranty for the leather.
Price: Starts from $99.95
Availability: Pad & Quill Official
Apple Official Leather Loop for Apple Watch
When it comes to premium luxury Apple Watch bands, Apple's own leather loops cannot be not mentioned. Made from the finest Italian leather, these bands speak premium quality no matter how bad you are at judging leather. The Apple Leather Loop comes with a unique magnetic locking mechanism instead of a clasp, making it the only leather loop in our list that favours magnetic clasping over traditional metallic ones. Like other Apple bands, this loop also comes in S/M and M/L sizes, and has color options of Stone, Midnight Blue, Brown and Black.
Price: $149
Availability: Apple Store Official
Best Rugged/Outdoor Bands
The Apple Watch is inherently a fragile piece of technology, and despite the various kinds of strengthened glass that have been used by the fruit company, they're not unbreakable. Likewise, the Sport version's aluminium frame can easily get bumped and bruised if you're not really careful with it. So if you're the adventurous, outdoorsy type, what are your options? Thankfully, third-party bands and cases exist to help you mitigate that.
SUPCASE Apple Watch Case With Rubber Straps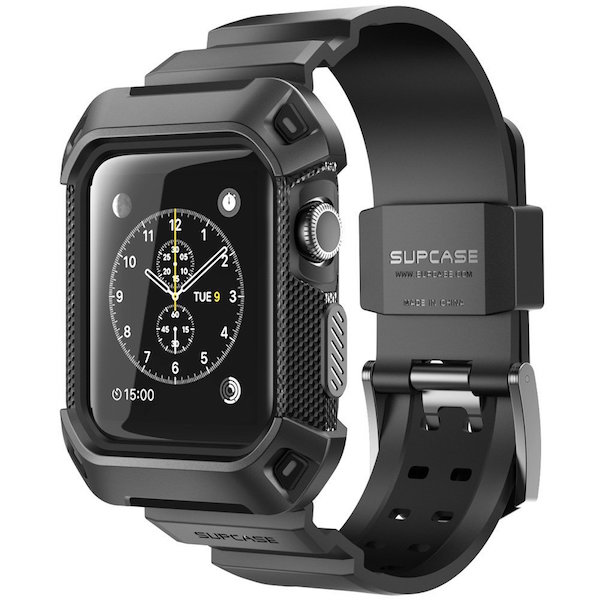 An excellent option that offers overall protection, Supcase doesn't give just a band, but also a case to protect your Apple Watch with. In fact, with this product, the focus is more on the case than the strap itself, since one cannot be used without the other. The case has perfectly precise cutouts for the watch's digital crown and the button, and has a comfortable snap-on installation design so you don't have to always wear it if you're not really outdoors. The strap is made of flexible TPU similar to what you'd find on traditional sports watches. Supcase Apple Watch case comes in black, blue, gold, red and white colors.
Price: $14.99 on Amazon
Availability: Amazon
Spigen Hybrid Polymer Rugged Band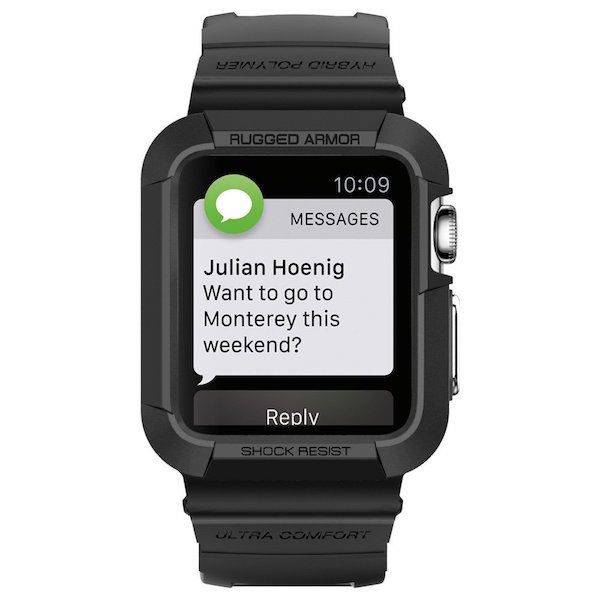 In contrast to the Supcase featured above, Spigen's offering is more about the band than the case, in that the case is optional (and needs to be purchased separately). This band, aptly called the rugged band, is made of hybrid polymer designed specially to withstand elements, and can hold well on its own despite it making more sense to use something like this with a case. The lugs on the Spigen band also snugly fit with Apple's proprietary connectors as well as with Spigen's own rugged armor case. This band is pricier than Supcase, but is definitely the much better looking option.
The band is available only in black via Amazon.
Price: $29.99 on Amazon
Availability: Amazon
SEE ALSO: 15 Best Games for Apple Watch
This concludes our top picks for Apple Watch straps. If you have a recommendation that you feel should have been included here, drop us a comment and let us know.