The end of the year 2017 saw many users reporting issues of their Samsung Galaxy Note 8 units getting bricked after battery drains completely. While Samsung did test the new batteries rigorously, this issue did pop up in the retail units and was later addressed by the company as well. Although the company is yet to release an official solution for it, an XDA user might have a workaround for you.
As reported by Lifehacker, recognized XDA developer dr.ketan has created tool for the Samsung Galaxy Note 8 that should keep your phone's battery from dropping too low. Called the Deep Discharge Protection Tool, the tool simply switches off the device when the battery level reaches 12% to prevent accidental deep discharge. The app will give the users a notification of battery low twice when it reaches 12%, and if you fail to connect your device to the charger, it will automatically turn off the device.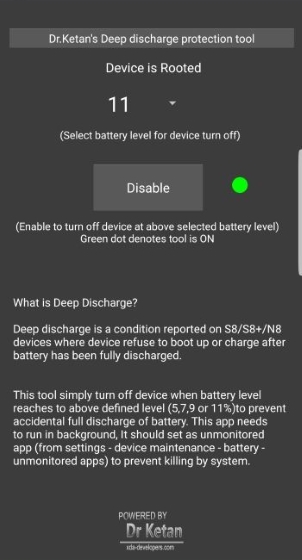 While the app is great, the ability to turn off the device automatically is only available to users with root access. For non-rooted users, the app will only be able to deliver notifications. If unresponded, the app will continue to give beeps that are louder and longer every 30 minutes for the next 3 hours. That being said, the developer has stated that he is looking into integrating better options for non-root users.
Since this app runs in the background, it has to be removed from the list of battery optimized apps for optimal use. Furthermore, the developer also requests users to not Greenify or hibernate the app using other apps as that might interfere with the working of the app.
Samsung is gearing up to release the Android 8.0 Oreo update for the Note 8 devices, and will probably bundle an official fix with it. Until then, the aforementioned tool remains your best bet against Samsung's battery woes. You can download the app from here.