Released this week for all eight of Google's Pixel smartphones, Android 10 comes with a number of new features and functionalities, many of which have already been discussed, debated and dissected in public. However, while digging through AOSP source code, XDA stumbled onto a couple of quaint new safety features that add warnings for contaminated and overheated USB ports.
The first feature is 'USB port contamination', which will disable the USB port on phones if it detects liquid or debris. The phone will then send a notification, urging the user to clean the port, which will automatically be re-enabled once the system detects no more dirt or debris. However, users will also be able to manually disable the feature to prevent false alarms.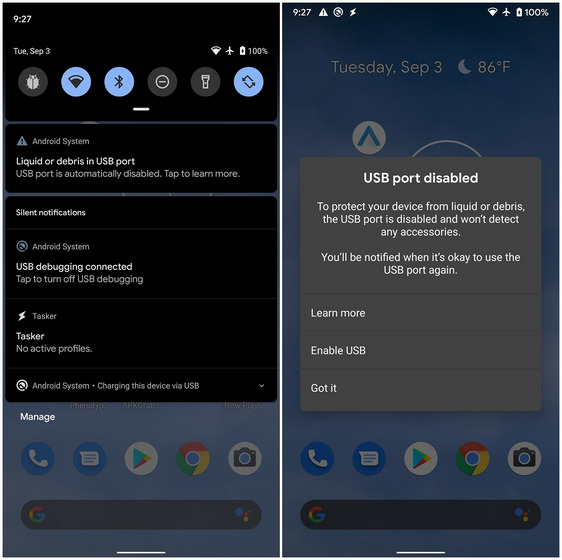 The second feature noted by the blog is 'overheating detection', which is a critical safety feature that will notify users to unplug their device from the power socket if it detects overheating of the USB port. According to the report, the feature will be automatically activated once the USB Type-C port reaches 60°C, and will ask the user to 'unplug (the) charger'. While 60°C will be considered as critical, 65°C will be considered an emergency.
Similar to the two features described above, Android 10 brings a whole lot of cool new functionalities that may not make the headline, but definitely improves the overall user experience. However, the biggest and most awaited feature being rolled out by the latest version of Android is a native system-wide dark mode, which has been much in demand from users over the past several years.