Amazon has announced that its Prime Day shopping extravaganza will start at noon on July 16, and will last a full 36 hours. The annual event will run simultaneously in 17 countries including India, and will give Prime members in the country access to hundreds of top international Prime Day deals for the first time. The company is believed to have around 1 crore (10 million) Prime members in India, and around 10 crore (100 million) globally.
Prime Day this year will feature over 200 exclusive product launches in India from a number of different brands, including OnePlus, Bosch, Intel, Nestle, Marks and Spencer, and more. According to the company's SVP and country manager, Amit Agarwal, "Prime members in India can enjoy over 200 exclusive product launches, and thousands of deals at the lowest prices of the year".
Buyers will be able to choose from over 40 million items this year compared to just 1.5 million during last year's event. Deals will be available on smartphones, televisions, laptops, kitchen appliances, clothing and accessories, as well as everyday essentials. The company will also hold flash sales every few hours during the event.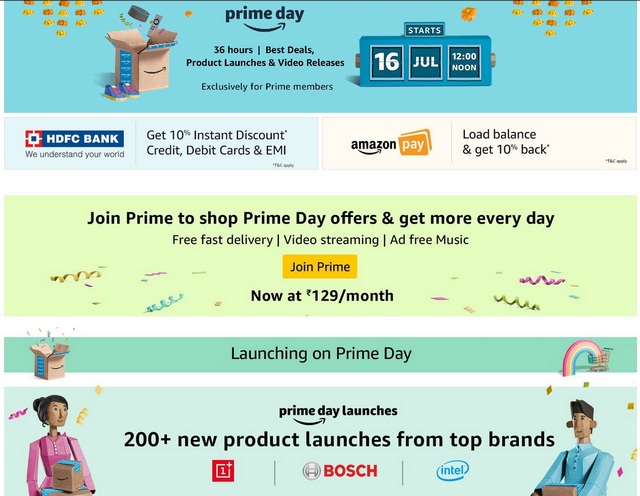 Amazon also says it will offer deals on an assortment of its own hardware devices, including the Echo family of smart speakers, Fire TV Stick, the all-new Kindle e-book reader, Kindle Oasis and Kindle Paperwhite. You can check out the full range of offers at this link.
One new addition this year is an ultra-fast two-hour delivery scheme Amazon says it will be testing during this Prime Day in a number of cities, including Bengaluru, Mumbai, New Delhi and Hyderabad. However, only those who order via the Prime Now app will be eligible for the offer.
Prime Now, in case you didn't already, started off as an express-grocery-delivery service for the company, but the program has since been expanded to include a number of other product categories, including electronics. Amazon is promising a 2-hour delivery for products like the Echo Dot via Prime Now during the upcoming Prime Day.
Amazon is also incorporating VR into the mix, and is opening 11 pop-up stores in select malls across five cities around the country, including Mumbai, Delhi NCR, Kolkata, Chennai and Bengaluru. As part of the process, customers will be able to experience new products in virtual reality before buying.