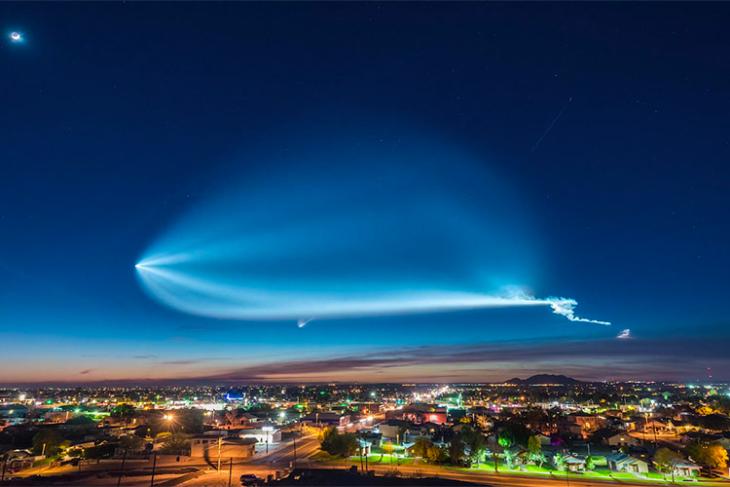 SpaceX recently launched its Falcon 9 rocket yet again, from the Vandenberg Air Force Base, sending 10 Iridium satellites into orbit. The rocket, on its way, left an astonishing trail of white gas, leaving many people, unaware of a scheduled rocket launch, thinking that it was a UFO.
Photographer Jesse Watson shot an amazing time-lapse of the rocket launch, and it looks absolutely incredible. Watson set up his shots using four different cameras at four different locations, with one camera shooting a telephoto video, and the other shooting time-lapse.
Even though Watson was a little off-target in the framing, he says that he was able to crop into the 6K time-lapse he shot, and salvage a good enough frame — which is what we're seeing in the video.
Watson shot over 2,400 images, and then distilled them down to 1,315 images for creating the final time-lapse video that he shared on Vimeo.
SpaceX has had an amazing year. The company, which is hoping to send humans to mars in the near future, launched a total of 18 rockets, delivering payloads like satellites, and supplies to the International Space Station.
The company also managed to show off that it has perfected the process of returning a launched booster rocket back to Earth (on land, and even on a drone ship at sea), in order for it to be restored and used again in the future. SpaceX has landed 14 booster rockets this year itself, and a total of 20 since December 2015.
The Falcon 9 that took off from Vandenberg Air Force Base wasn't intended to land, however — it's landing legs were taken off. SpaceX didn't offer a concrete explanation for not landing the Falcon 9 other than a spokesperson for the company saying that decisions to land rockets are taken "based on mission requirements and the needs of our manifest."