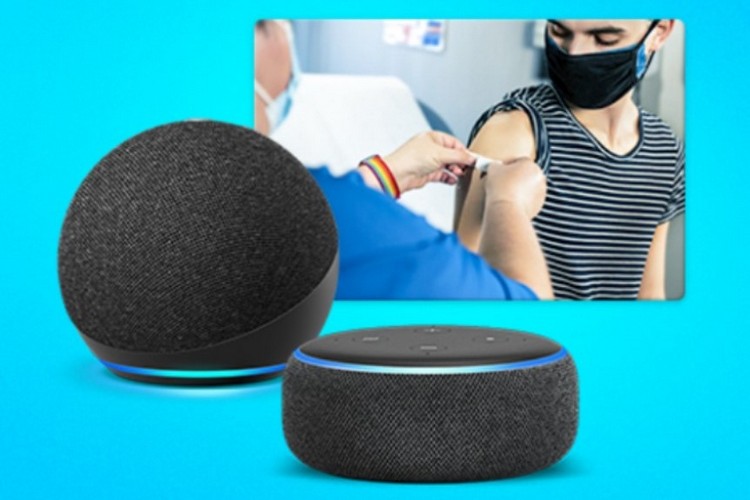 Following the spread of Coronavirus in early 2020, there has been a recurring issue of getting relevant COVID-19 information in India. As a result, we have seen various tech companies step up to introduce dedicated features to help users get useful pandemic and vaccination-related information. Now, Amazon has rolled out a significant update to its voice assistant Alexa, which enables it to find the nearest COVID-19 vaccination centers in India.
The update is currently rolling out to Alexa-based devices and aims to help users get relevant information about the nearest COVID-19 test/ vaccination centers. Although the voice assistant can already answer COVID-19 related questions, thanks to a previous update, the new update enables Alexa to find and pinpoint the nearest health care facilities where one can get COVID-19 vaccination.
So now, if you ask Alexa "where can I get COVID-19 test?" or "where can I get COVID-19 vaccine?", the assistant will provide you with the exact addresses of the nearest healthcare centers where you can get tested for COVID-19 or get COVID-19 vaccines. It will use your current location to spot the nearest vaccination centers.
Moreover, if you want to search for a vaccination center in another location or check the availability of vaccines in healthcare centers, you can use the Vaccine Info skill to do so. So, if you tell Alexa to "open Vaccine Info", it will ask for a 6-digit PIN code to find the necessary information for a particular location. Plus, Alexa could also set a reminder to check for the availability of vaccine if it is currently not available in the nearest center.
As per Amazon, Alexa will use resources from official platforms such as the CoWIN portal, the Ministry of Health and Family Welfare (MoHFW) website, and MapMyIndia to acquire the information. So, users can expect to get relevant and trusted information via the voice assistant. The update is currently rolling out to all Indian users owning an Alexa-based device and should be available automatically.
---