India's largest cellphone connectivity provider, Airtel has just announced the launch of a revamped version of its Airtel TV app. The new app which now features a redesigned, fluid, and user-friendly interface is available to download and use. As a launch offer, Airtel is also providing a free subscription to all its prepaid and postpaid customers until July 2018.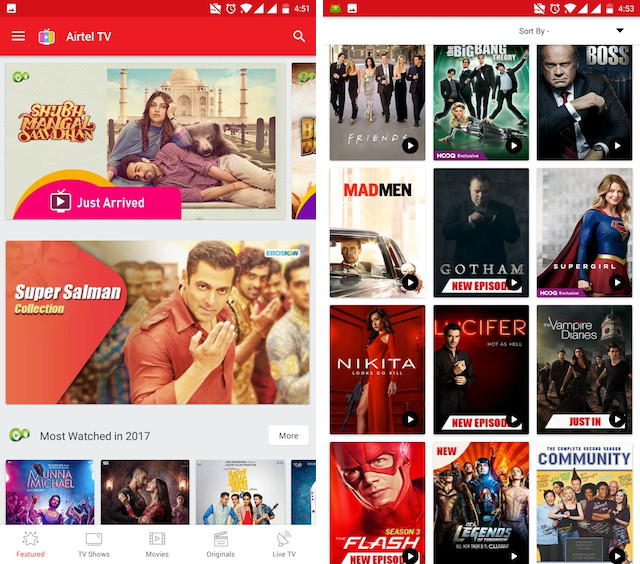 About the app's content, Airtel informed us that the app now has over 300 live TV channels, including 29 HD channels. There's also a catalog of over 6,000 movies (Bollywood, regional, and international) along with many popular TV shows (Indian and international). An Airtel customer only needs to download and install the app to enjoy the content for free until the free subscription expires in July 2018. At the launch event, Sameer Barta who is the CEO of Wynk (Airtel's music service) said,
"We are thrilled to introduce the latest version of Airtel TV with great content and an improved, intuitive User Interface. The improvements to the app are a result of constantly listening to our customers and taking their feedback to the design table. We believe that we have built an app for India's needs and backed it with a large and exciting content catalog to serve the fastest growing screen – the smartphone."
The new Airtel TV app also packs a ton of new features. Some of the best features coming with the Airtel Tv app are:
Live TV with Scroll Back feature
Time Shift feature for live TV
Smart search filters across languages, genres, rating, and content partners
Multi-device login with a single account for up to 5 devices
Continue watching feature
The app is currently available for both iOS and Android now offers content in 15 languages including English, Hindi, Punjabi, and Bengali to name a few. If you are an Airtel customer, now is the right time to download the app and enjoy all its content to your heart's desire without paying a dime.
---