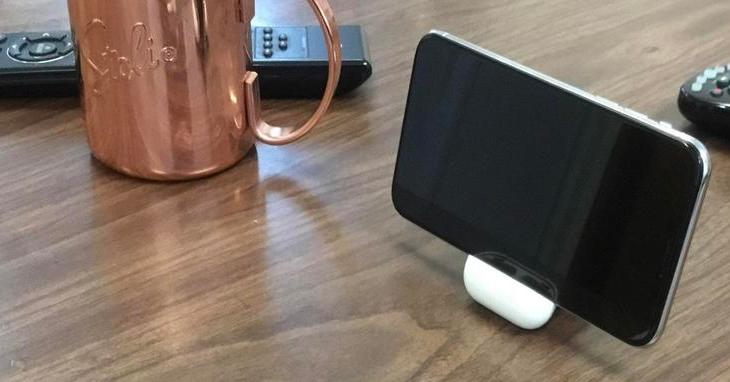 If you are like me and you watch a lot of movies and TV shows on your phone, I'm sure you must have felt tired after a few minutes of holding your phone in your hands. That's especially the case with the iPhone X, which is a bit hefty and also pretty slippery. Plus, we all know by now that a fallen iPhone X can cause a lot of despair. Well, the good news is, if you have AirPods, you are all set. Yes, a cool little hack has surfaced on Reddit, which shows that the AirPods case can be used as a perfect iPhone X stand.
As you can see in the photos below, the AirPods case can be opened up and used as a great iPhone X stand. While the hack shows the iPhone X on the stand, the trick should work with any iPhone, of course and for that matter, with Android smartphones as well.
If the photos don't convince you much, take a look at the short video below. You can see that the AirPods case fits in the iPhone perfectly. So, if you have the AirPods, you just don't need to buy a stand for your brand new iPhone X. You can just rest your iPhone between the AirPods case and watch movies, make video calls or even use it as a night stand with ease.
The AirPods case can be used as an iPhone stand 🤯 pic.twitter.com/cgtPbIUobH

— Omar Elfanek (@elfanek) November 15, 2017
While the AirPods case work well as an iPhone stand, it would have been awesome if it could wirelessly charge the iPhone X. Well, here's hoping Apple sees this hack and brings something of that sort.