Losing weight and keeping your body fit is a lifelong arduous quest. It's one thing that you need to yourself no matter how resourceful you are. That said, you can take help in your quest and today we are reviewing a piece of gadget which aims to do just that. The ActoFit Smart Scale is well, a smart scale, which aims to give you a detailed data about your body by measuring not one but fourteen different metrics. You can use this data to keep a tab on your health and see if you are improving or falling behind. However, does the ActoFit Smart Scale (₹5,999) deliver on its promises or does it fail? Stick around to find out as we review ActoFit Smart Scale for you:
What's In The Box
Before we start our review, let's start by checking what are the things that you get inside the box. The ActoFit Smart Scale comes in a normal cardboard box which doesn't house a lot of things. Here is everything that you get inside the box: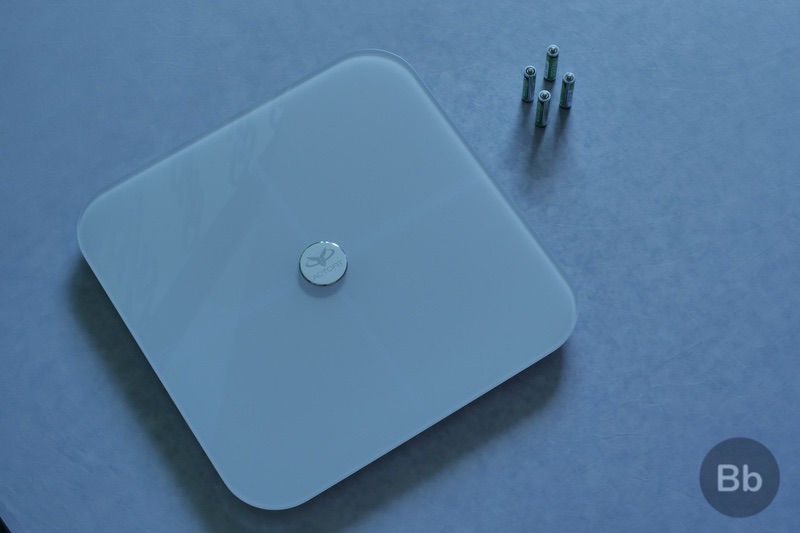 ActoFit Smart Scale
Four AAA batteries
ActoFit Smart Scale Specifications
While specification doesn't seem to matter when you are talking about a smart scale and not a smartphone, it is always good to know what exactly you are buying into. In the table below, you will find everything that you need to know:
| | |
| --- | --- |
| Name | ActoFit SmartScale |
| Accessibility | Auto On/Off |
| Dimensions | 310*310*25 mm |
| Measurement Range | 0.2-195 Kg |
| Accuracy | 50 grams (<100), 100 grams (100-195kg) |
| Number of Electrodes | 4x ITO |
| Material | Ultra transparent toughened glass |
| Display | LED |
| Power | 4xAAA batteries |
Design and Build quality
The ActoFit Smart Scale is a very well designed product and looks really nice. The company has used a combination of glass and plastic as its building materials, and I must say, the result is not too shabby. The top glass panel makes the smart scale feel premium while the plastic at the bottom makes it more durable. Holding it in my hands, I could not find any squeaky parts and the machine as a whole felt quite solid to me.
The company seems to have given a lot of attention to small details which is something I really like. The four feet at the corners come with a small rubber padding which stops it from slipping, and the battery enclosure uses a slide in-and-out mechanism which is far more secure and durable than the push-to-lock mechanism which we generally see in a product like this.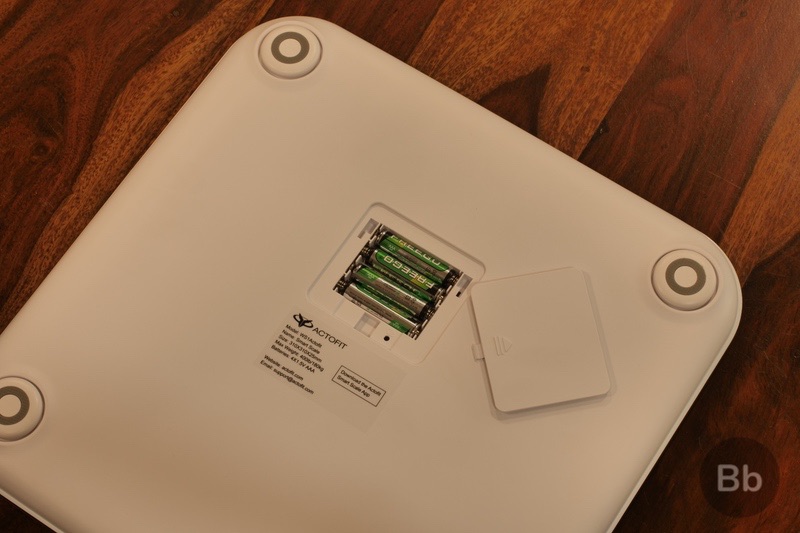 Setting Up the ActoFit Smart Scale
The ActoFit Smart Scale is pretty easy to set up. Just pop open the battery enclosure, insert the batteries and you are good to go. The ActoFit Smart Scale doesn't sport any discernible display so you might find it a little awkward to use it for the first time. The display is below the glass top and lights up only when showing the weight. To make sure that you are not standing on the display itself, you will have to stand while keeping the logo straight between your feet.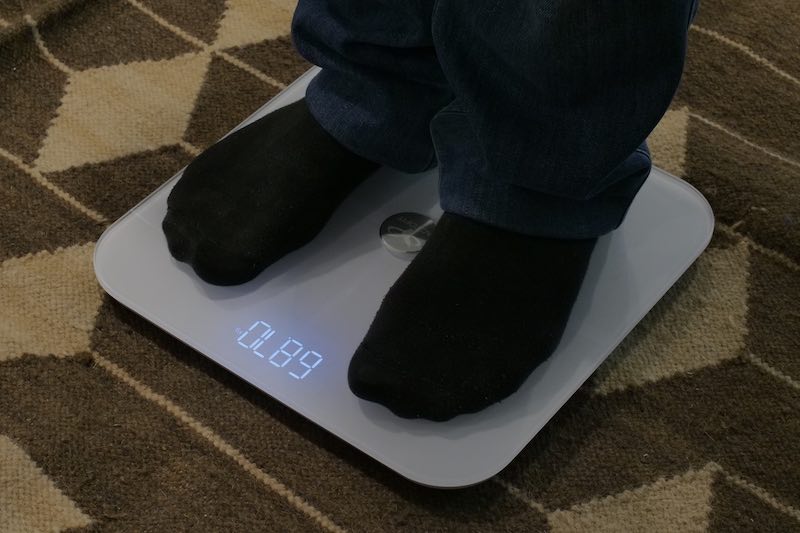 Once you have done this part right, you can go on to connect the scale to ActoFit's app which is available for both iOS and Android devices. The pairing process is pretty easy. You just launch the app, create an account, and then pair it with the scale using Bluetooth. You will need to stand on the scale to activate the Bluetooth, so do remember this while pairing the scale with your phone.
Measurement and Performance
As the title of this article suggests, the ActoFit Smart Scale measures more than just your weight. In fact, it measures a total of fourteen different metrics including BMI, BMR, body fat, body water, bone mass, fat-free weight, muscle mass, protein, skeletal muscle, subcutaneous fat, visceral fat, metabolic age, physique rating, and weight. How a weighing scale can measure so many things you ask? Well, the ActoFit Smart Scale is using the dual frequency BIA technology which helps it measure all the above metrics.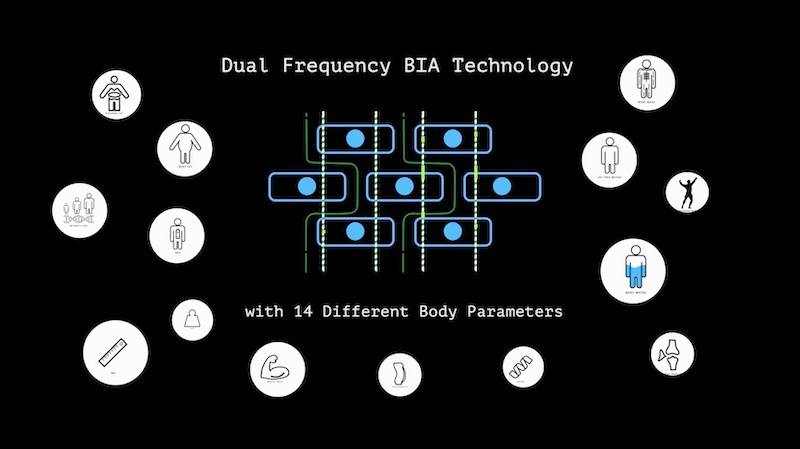 Not getting into too many technicalities, the sensor packed inside the ActoFit Smart Scale uses an electric current to measure the amount of fat and water in your body. Since the current travels at different speeds in water, fat, muscle, and so on, the ActoFit Smart Scale is able to calculate the above-mentioned metrics using that data. The data that it records is quite accurate and while you won't get as precise measurements as you can by using specialized instruments (for example, using skin fold calipers for measuring body fat), the data is accurate enough for general usage.
Tracking Data Using ActoFit Smart Scale App
Whether you are using ActoFit Smart Scale or a million dollar device, measuring all the above-mentioned body metrics once is not going to help you. In fact, you will need to measure them on a daily basis and only then you will be able to see the big picture. That's where ActoFit Smart Scale's app comes in. Once you have paired the scale with your phone, every time you take a measurement, it will be uploaded to its app where you can track all these metrics and see the pattern developing over time.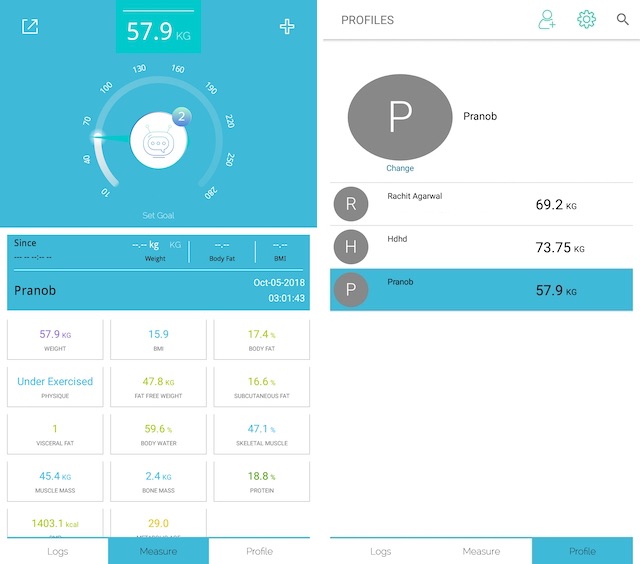 One of the best things about this app is that it allows you to create multiple profiles which means you can track body metrics for all the members of your family. You can keep track of sixteen people at the same time so no matter how big your family is, ActoFit Smart Scale has you covered. The app is very functional and it shows all the info at a glance. It does lack a little finishing when it comes to looks but overall, I didn't find any problem while using it.
ActoFit Smart Scale vs The Competition
ActoFit Smart Scale is not the only smart scale in the market so it's natural for people to compare it to other products before they invest in it. Well, if you are thinking of choosing between usual mechanical weighing scales and ActoFit Smart Scale, there's really no competition here. Even if you let go of all the smart features, a smart scale like ActoFit is more accurate and easy to use.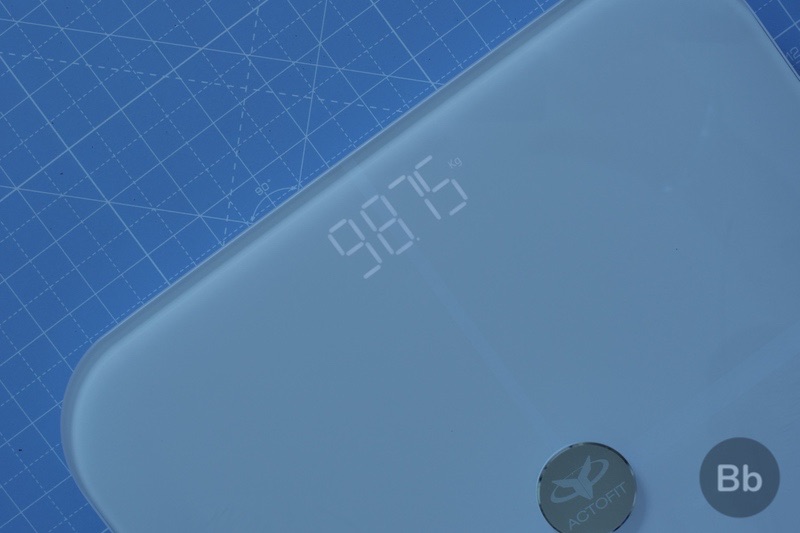 Talking about the real competition, the ActoFit Smart Scale faces the Mi Body scale (₹1,999). At one-third of its price, the Mi Body scale is offering nearly the same features as the ActoFit Smart Scale. The Mi Body scale can measure ten different body metrics and it also supports monitoring for multiple users. It is also using the same BIA technology as the ActoFit Smart Scale, however, the latter does bring dual-frequency BIA technology which is supposed to be more accurate.
That being said, the difference will hardly be noticeable and doesn't justify the price increase commanded by the ActoFit Smart Scale. Another benefit of using Mi Body scale is that you can use the Mi Band 3 (₹1,999) along with it which gives you even more fitness data including your step count, calories burnt, heart rate, and more. Since both these products sync through to the same Mi Fit app, you will have a better understanding of your body through these products while you will still save around 2000 rupees.
ActoFit Smart Scale Review: Great Product Held Back by Its Price
The ActoFit Smart Scale is a great product and one of the best smart scales that you can buy right now. It sports a great build quality, measures fourteen different types of body data and supports tracking for more than sixteen people at once. That said, it is facing tough competition from the Mi Body scale which is way more affordable. The bottom line is that while the ActoFit Smart Scale is a great smart scale, its pricing just does not make it a very value for money product.
Having said that, if you do plan to get the ActoFit smart scale for its dual-frequency BIA technology and all the features it packs, you won't be disappointed.
Pros:
Good design and build quality
Can measure up to 14 different body metrics
Support for up to 16 different profiles
Syncs instantly with your phone
Cons:
The app's UI could have been better
A little pricey when compared to competition
Buy From Amazon: ₹5,999
REVIEW OVERVIEW

Design and Build Quality

9

Features and Performance

9

SUMMARY

ActoFit SmartScale is a smart scale which can measure fourteen different types of body metrics and can support profiles for sixteen different people at a time. While a bit pricey when compared to its competition, it remains one of the best smart scales that you can buy right now.