The Chromebook market is an interesting market with budget ChromeOS laptops being targeted for students and the average web user. As such, Acer is one of the biggest manufacturers of Chromebooks around the globe. While both HP and Samsung have announced their Chromebooks ahead of CES 2018, Acer has brought out an upgraded version of their Chromebook 11.
The 2018 refresh of the Acer Chromebook comes with a lot of changes, bringing it up to the level of the current crop of Chromebooks. Available in an all-new blue model with a double weave look to it, the plastic build seems to look much more premium than the previous dark grey version.
Acer's major focus this time has been connectivity, and it is quite evident by the number of ports available on this device. The Chromebook comes with two USB-C ports, two USB-A 3.0 ports for extra attachments, and even a microSD card slot for expandable storage.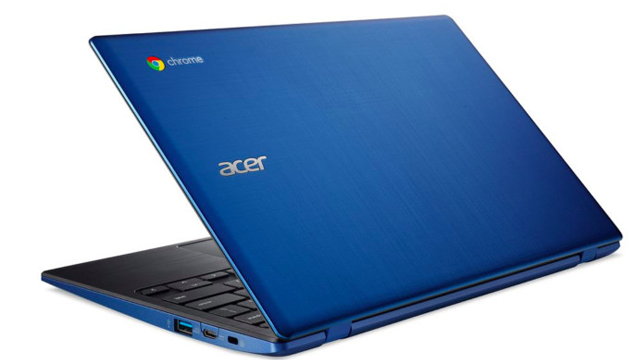 Unlike the Pixelbook, the Acer Chromebook 11 lacks the support for Google Assistant, which might be something that Google hasn't made available to other manufacturers just yet. That being said, full Android app support, another feature that debuted with the Pixelbook, is now available on the Chromebook 11. Perhaps Google Assistant also might make its way to other Chromebooks, including Acer's.
As for the performance, the Acer Chromebook 11 comes with a Celeron CPU coupled with 4 gigs of RAM. While the specs are decent enough for a budget Chromebook, graphics-intensive applications such as Asphalt 8 may not be well supported on this machine. Some first-hand analysis, as conducted by Android Police, does report slow down when several tabs are open simultaneously.
At $249, the Acer Chromebook 11 (2018) is an interesting choice for users that use ChromeOS as their daily driver. While the added connectivity options are certainly great, I personally would have loved if Acer would have shipped the Chromebook with a Snapdragon 845. Nonetheless, the Chromebook 11 is a great laptop and should hit the stores sometime between March and April. Tell us if you'll be upgrading or switching to Acer's newest Chromebook, in the comments down below.