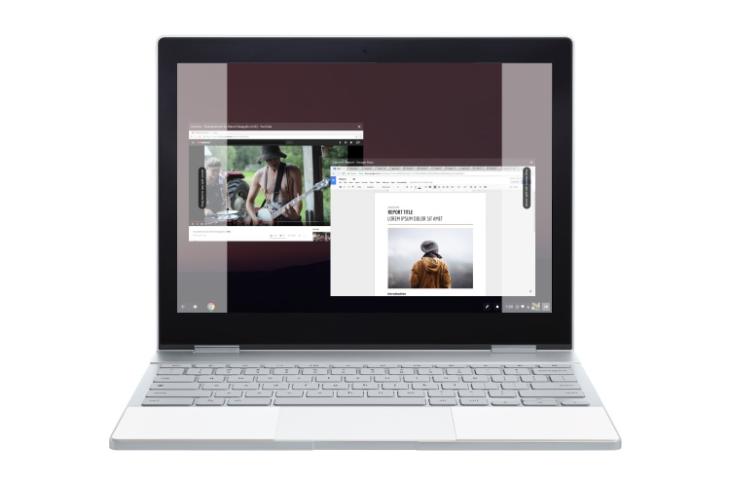 Pixelbook brings you an ultimate Chrome OS experience but the Google OS does have its fair share of problems. One such problem is the lack of split screen multitasking. Well, Google plans to fix this soon.
In a Google+ post, well-known Chrome evangelist François Beaufort has shared the oh-so delightful news that the split-screen multitasking feature has made its way to the Chrome OS Dev Channel (version 64). The best part being that you can easily try it out right away by tinkering with experimental Chrome flags. Do note that your Pixelbook needs to be on the dev channel to have the split-screen flag. You can check out our article on how you can switch to the developer channel on your Chromebook.
To get the multitasking feature on your Pixelbook, enable the flag named "Split view in Tablet mode" by navigating to chrome://flags/#enable-tablet-splitview. It is that simple and may require you to restart your system to take effect.
Once the feature has been activated, tap on the "Overview" icon at the bottom right corner to view all of the currently open windows on your Pixelbook. You'll now be able to drag the active windows to either side of the display to see a highlighted area, as shown below, and snap them in place to use two windows simultaneously.
Currently, Google has limited the scope of the multi-tasking feature to only Chrome. You'll not be able to snap two Android apps side-by-side on your Pixelbook at the moment. Also, the active apps that don't support split-screen would display a message saying they cannot be snapped. The same will be the case if you try to snap any one of them to either side.
While we've been anticipating the launch of this much-needed feature for a very long time, the addition of the same to the developer channel means Google is almost ready to push it out for all Chrome OS users. This is a welcome addition for Chrome OS users but currently, no timeline for an official release of the feature has been disclosed. Are you excited to see Google release the split-screen feature on Chrome OS at last? Let us know your opinion in the comments section below.