According to a recent study by bsa.org 57% of world's personal computer users run pirated software. Among these 57% users,
5% users always use Pirated Software
9% users mostly use Pirated Software
17% occasionally use Pirated Software and
26% say that they rarely use pirated software.
But, the matter of fact is that they all use pirated software, which is an illegal practice.
bsa.org surveyed approx 15,000 PC users across 33 countries to find out Global Piracy Statistics of 2011, Here's some noteworthy points,
1.  In 2011, The Global PC software piracy rate is 42%, when evaluated at commercial scale it comes out be $63.4 billion, Huge isn't it?
2.  PC software piracy is more prominent in developing countries.
3.  One more striking point is that software installed in computers of frequent pirates of developing countries is 4 times as that of frequent pirate of developed economy.
4.  What big organisations and business decision makers do is that, they buy software for one computer and than install it on all other computers, In this way, they account for more piracy than any other user do.
5.  Though US is having the least piracy rate i.e. 19% but the commercial value of its piracy is highest reaching up to $10 billion, This is because US is world's largest software market.
6.  Countries such as India, Australia, China, Hong Kong saw continuous decrease in piracy rate in last couple of years.
Here's a chart that shows Top 20 players in software piracy in 2011,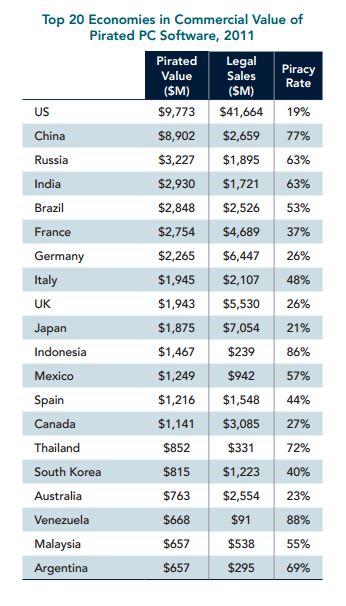 This report clearly reflects how serious is the issue of software piracy, Laws should me made and implemented by the Government to check piracy otherwise this will eat up the entire software market.