MX Player is one of the most well known, and widely used video players on Android devices. It comes packed with a plethora of great features, such as gestures to control the volume, brightness, and seek, along with support for almost every video codec out there, whether built-in, or as an add-on. However, MX Player has recently made changes to its privacy policy, and users are worried about potential data collection by the app. Also, MX Player has started showing rather intrusive ads (unless you buy the Pro version) in the app, which raises red flags everywhere. Which is why, you should probably shift to a new app, instead. So, if you're looking for a great Android video player app like MX Player on Android, here are 5 MX Player alternatives you can use:
1. VLC
VLC is one of the most popular names when it comes to video players, especially on laptops. However, they have a very well thought out Android app, as well. The VLC app for Android can easily play almost every video format that you throw at it, and it can even run H.265 encoded videos, with ease. The app also features gesture based controls, which is reminiscent of MX Player's user interaction model. You can swipe left/right on the screen to seek the video, swipe up/down on the left edge to adjust the screen brightness, and swipe up/down on the right edge to adjust the playback volume.
The app also supports a picture-in-picture mode, which MX Player lacks, and it works flawlessly. You can simply tap on the picture-in-picture mode button inside options, and your video will be resized to a small floating window that you can place anywhere you want.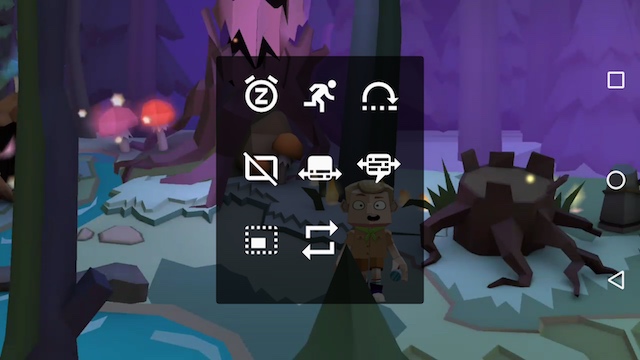 The VLC app follows the Material Design language, which results in a very good looking interface. You can tap on the hamburger icon to get to the app's preferences, or to stream video from a network. The preference page consists of options to enable, or disable hardware acceleration. VLC can also let you play videos in the background, so even if you navigate away from the app while a video is playing, you'll be able to hear the audio. This is definitely a handy feature, especially for people who have a lot of music videos stored on their device. Plus, the app does not include any ads and it's free.
Install: (Free)
2. KMPlayer
KMPlayer is an Android video player app that can easily replace MX Player as your go-to video player on your smartphone, or tablet. The app comes packed with every feature that MX Player boasts of, and pulls them off quite nicely. With KMPlayer, you can easily run almost every video file out there, including H.265 encoded MKV files. I tested the app out with a video I encoded with H.265, and exported into the MKV format, and KMPlayer plays it smoothly, without a hiccup. KMPlayer also supports Hardware Acceleration, which is one of the features of MX Player, as well. You can adjust the hardware acceleration settings from the app's settings page.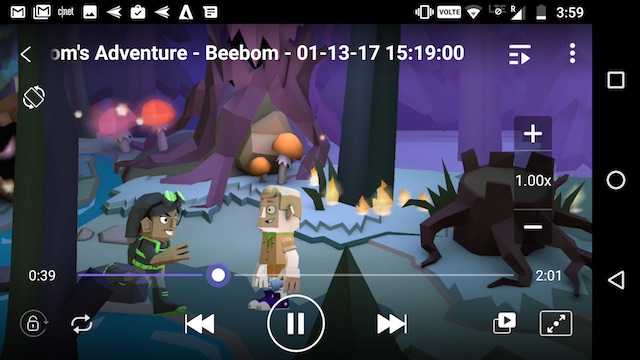 The app supports gestures, just like MX Player, so you can swipe left to right, or right to left, to seek the video. Making an upward/downward swipe on the left side of the screen adjusts the brightness, while doing the same on the right side of the screen adjusts the volume. However, the feature that I loved the most, is the picture-in-picture mode that the app brings. While playing a video, you can simply tap on the picture-in-picture button, and the video quickly switches to a small window, that you can drag and drop anywhere on the screen. This will definitely let you multitask with ease. Obviously, the gesture controls do not work while the video is in picture-in-picture mode, but you can easily control playback, and even switch back to full screen. KM Player is available for free but it includes ads, however, they aren't as intrusive as the ones in MX Player.
Install: (Free)
3. Archos Video Player
Archos Video Player is another app that you can consider using as an alternative to MX Player. Unlike MX Player, this app doesn't offer any method to interact with the video using gestures. However, the on screen controls are easy enough to understand, even if they're not as intuitive as the gesture based control scheme in MX Player, and some other apps. There is a volume control on the left side of then screen, but it can only be controlled by actually touching the volume slider, and sliding it up or down. This is in contrast to MX Player, where you could just swipe your finger on the screen to adjust the brightness and volume. The app does come with a Window mode, which you can use to play your videos in picture-in-picture mode, therefore allowing you to multitask with ease.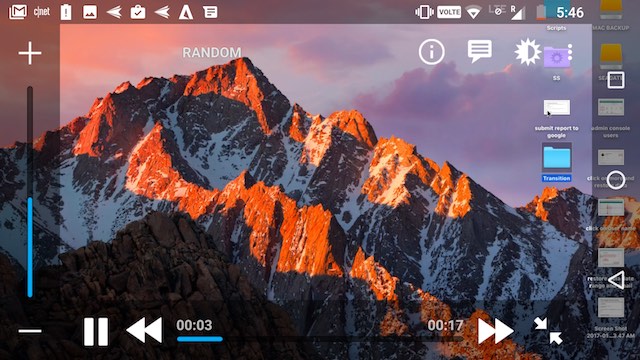 If you need advanced options in the app, you can simply head over to the hamburger menu, and navigate to Preferences. Here, you'll be able to enable software decoding, audio passthrough, make changes to the UI, and even get Archos to hide subtitles by default. There are a lot more settings that you can tweak inside the settings page in Archos, and you should definitely check them out. The app is available in a free version but some of the features are limited and it includes ads. However, you can make an in-app purchase to get the full version of the app.
Install: (Free, with $4.99 in-app purchase for full version)
4. BSPlayer
BSPlayer is also a good alternative to MX Player. Similar in functionality to MX Player, the BSPlayer app also includes a number of gestures to control playback. You can use all of the basic gestures such as swiping to seek the video, and increase volume etc. In addition to that, BSPlayer brings along a lot of cool gestures, such as the ability to control playback of the video by double tapping on the screen.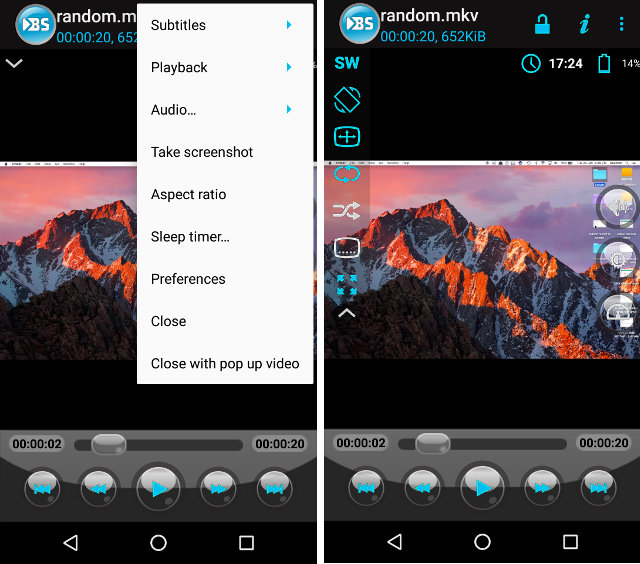 While the app's excellent copy of MX Player's use cases is commendable, it does bring something new to the table, as well. BSPlayer supports picture-in-picture mode, so you can easily launch a video, and watch it in a floating window. This will let you perform other tasks on your Android device without having to quit the video that you're watching. BSPlayer also supports hardware acceleration. There are a lot of preferences that you can adjust for the app, so make sure you choose the setting that works best for you. BSPlayer Free, as the name suggests, is a free app, but it does include ads.
Install: (Free)
5. Kodi
Kodi is an extremely powerful media center, and player that is available on almost every platform out there. However, it is this power, and complexity, which is why I've put this on the last position on this list. With Kodi, you can organize all of your media into a central library, you can share the library over a network with your remote devices, and you can directly play all your movies, videos, photos, and music directly from Kodi. Also, if you add plugins to Kodi, you can unlock a lot more potential. However, since we're looking for MX Player alternatives, we'll just look at the video playback capabilities of the app.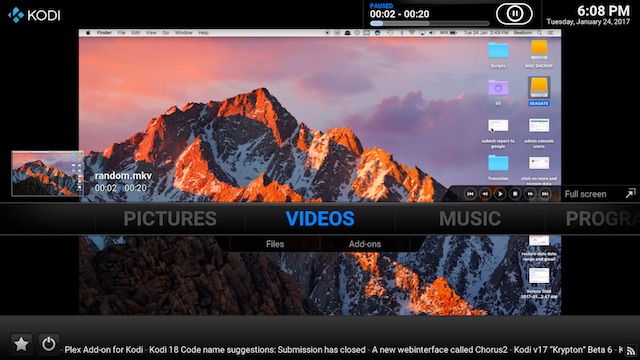 With Kodi, you can easily add the locations that you keep your videos in, to the Kodi movies library. One you've done this, subsequent files that you add to your Android smartphone will automatically show up in Kodi. You can play almost any video on Kodi (a feat that MX Player was also known for), and while there are no gesture controls in the app, there are a lot of other, powerful features that Kodi brings to the table. With Kodi, you can change the zoom, pixel ratio, and even enable post processing for the video you're watching. One of the coolest features, is adding bookmarks to videos. With this feature, you can easily mark points of interest in a video, by simply bookmarking them. While the current interface of Kodi might seem a bit outdated, the latest Krypton update will revamp things when it arrives. Plus, Kodi is open-source, so it's free!
Install: (Free)
Bonus: Use Awesome Pop-up Video for Picture-in-Picture Videos
If you want to keep using MX Player, but you just want an app that can let you watch your videos in picture-in-picture mode on your Android smartphone, you should definitely check out "Awesome Pop-up Video". With this app, you can easily watch any video in a small floating window on your Android smartphone. You can even watch YouTube videos directly from within the app, in a floating window. The app works very well, and there are various customization options for the floating window. Moreover, it even lets you play videos in full screen. The app is available in a free version but there's a Premium version, which lets you download videos and removes the ads.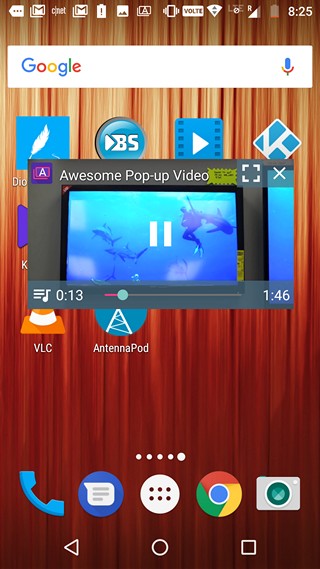 Install: (Free, with $1.99 in-app purchase for Premium version)
SEE ALSO: How to Fresh Start Kodi v17 Krypton to Remove Kodi Builds
Use These MX Player Alternative Apps on Android
With MX Player choosing to annoy users with intrusive, full screen ads, every now and then, and with drastic changes to their privacy policy, you should definitely use these MX Player alternative apps. You can go with any of these apps, as each one of them offers almost everything that MX Player offered, including gesture based controls, support for a large number of video formats, and more.
We would like to know your opinion on the changes made to MX Player, and how they'll impact the app's user base. Also, if you know of any other app that you think deserves to be on this list, do let us know about it in the comments section below.
---
Load More