Rome was not built in a day and neither was Einstein but both of them are today renowned for their beauty in different forms. I am not so sure about the physical beauty but I do know how to enhance the intellectual beauty. Here is a list of 13 amazing websites which will not only give your brain a lot of food to eat but will even make you relaxed and confident with day to day life.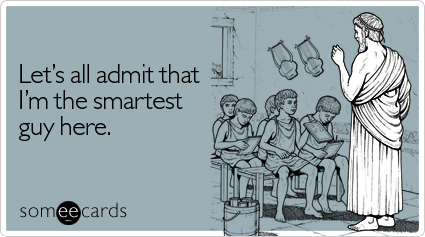 This little academy is a library of videos filled with knowledge ready to share. Find hundreds of thousands of little and to the point lectures that are not boring and filled with information worth knowing and sharing. The topics include history, medicine, daily science and even nuclear physics.
Let me turn you into a superhuman who has the power to feed the hungry population. Use your brains (and Google. I am clever.) to answer some of the very challenging questions and puzzles on this site. In return, for every correct answer some one in the world will get food.
This site is for the confused minds who want to learn something but are not sure of what they want to learn! This simple website displays a random video for you to view and learn something new every time you visit the website. The topics covered are endless and the quality of content as far as I viewed was very sweet.
This is a totally different type of a learning experience. What is so different about it? The graphical and the text interface meshed together to make learning a lot more interactive and fun. As a result you take away a lot more than you expect.
TED needs no description. In case you are not familiar with this name, you have been missing a lot of awesomeness. TED is the top most source for all latest technology updates. Their presentation style is so simple yet amazing that you will simply say 1 word – WOW.
SEE ALSO:  10 Most Viewed TED Talks of all Time
Smartness is not just books and science. Smartness is more than that and once you visit LifeHacker you will know what I am talking about. These guys teach you to hack your daily life and cheat with the daily chores to make your life a lot simpler.
One of the best source for college students, this website helps the colleges around the world to upload their lessons online. The best part – all the content is totally free. This means that you now have access to content and notes from your dream college right on your screen!
Cooking For Engineers
The current job scenario in various countries around the world force the young office goers to live alone away from their home. The biggest challenge that these people face is the one related to food. This website is aimed at solving this specific problem. Explore the world of tasty dishes that can be prepared by using a few ingredients and real quickly (so your lazy ass can relax).
Having a hard time finding a guy or a girl? Let the experts help you for FREE. This weekly blog has some sweet tips for people who are facing difficult times with their current relationship or are having a hard time building their next one! Even if you are a love guru yourself, I would recommend you to have atleast one look at this one.
What do you need after a hectic and frustrating day? A good way to relax and someone to make you smile 🙂
This website does this very thing only and they do it in a way that is guaranteed to make you smile. You do not want to miss this one!
One of the best but a limited resource, this website has some courses form MIT. Yes, you read that right – the MIT.
This is a new way to learn a foreign language. What you do is write an article in the language you are learning and it will be critiqued by native speakers. What do these critiques get in return? They get to learn your language and in this way both the parties benefit.
Quora
I personally love this website. It is a world full of curiosity and amazement. People from around the world ask questions they have on their mind and people who are knowledgeable answer those. The questions can range from rocket science to stupidity and surprisingly everyone gets their question answered.
SEE ALSO:  Quora: The Sport of Knowledge
All the above websites will surely make you wiser and even if they do not make you smarter, they will surely make you smile and give you some food for thought. Do you know of any other interesting website? Share them in the comments.