A new report from Sensor Tower has revealed that YouTube was the top-grossing mobile app in the Photo & Video category worldwide for Q2, 2019. According to the report, the app more than doubled its revenue over the same period last year, raking in close to $138 million in user spending in the quarter ended June, 2019. Around 70 percent of YouTube's revenue was from the United States, followed by 7 percent from Japan and 4 percent from Great Britain, said the report.
Interestingly, while YouTube features front and center as the top-grossing app on iOS, it is nowhere to be found on the top-ten list for the Play Store. Instead, a relatively little-known app called LiveAF (Live Artistic Freedom) takes pole position on Android, followed closely by Amazon's Twitch. TikTok and PicsArt are the only two apps that feature among the top-five on both platforms.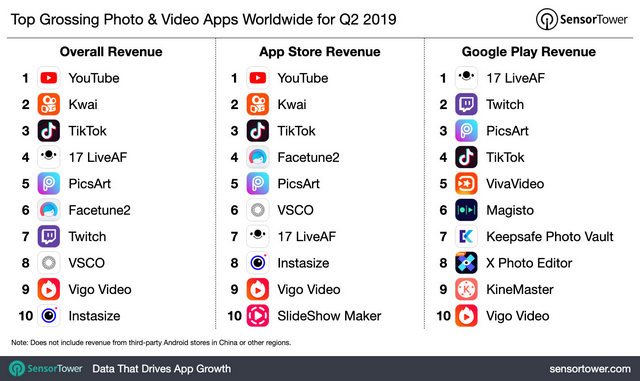 In the overall scheme of things, a Chinese social sharing app called Kwai was the second-highest earning app in the Photo & Video category worldwide with close to $78 million in gross revenue. TikTok, LiveAF and PicsArt rounded out the top five.
One of the main reasons why user-spending on YouTube varies so massively on iOS and Android is because YouTube TV is currently available only in the US – the only major market where iPhones continue to outsell Android smartphones. While YouTube Premium subscriptions also count toward these figures, the fact that most of those offerings are still geared towards US audiences means that the company has struggled to increase the number of its premium subscribers outside the country.