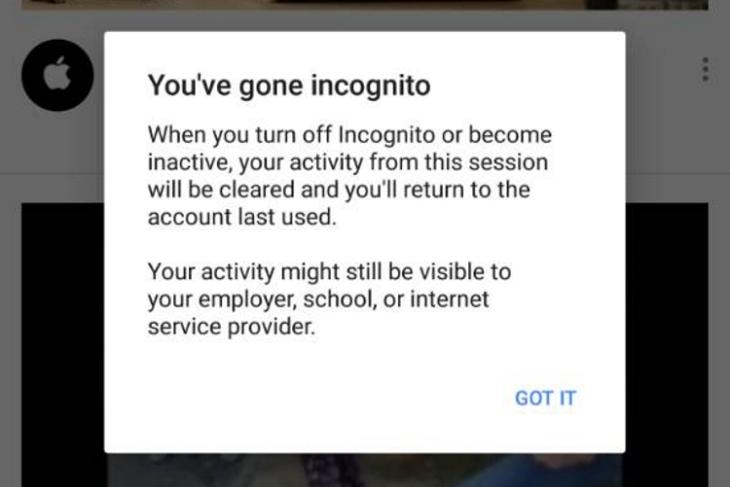 While Google has been pushing its development team hard with YouTube Music, the original YouTube app hasn't been forgotten. In fact, both YouTube and YouTube Music had touted an Incognito Mode that disables your watch and search history. While YouTube had started an A/B testing for the same back in May, it seems like the feature is finally rolling out to everyone.

Although there hasn't been any official announcement of the same, YouTube has now started the rollout of the Incognito Mode on its Android app. The "Sign out" button at the bottom of the Account page has now been replaced with an option to "Turn on incognito." It will replace your avatar with Google's hat and shades avatar icon, and you'll also see a persistent "You're incognito" bar at the bottom of the app.
As the name suggests, the incognito mode on the YouTube app is similar to that on the Google Chrome browser, which means the videos that you watch when you've gone incognito will not be saved and won't affect your suggestions whatsoever. However, this also means that you can access only the Home and Trending feeds when the Incognito mode is turned on. Tapping on other tabs like your Subscriptions, Inbox and Library will remind you that the content is hidden and you can't access them right now. It goes without saying that you won't be able to like any videos or subscribe to any channels either.
The Incognito mode will automatically turn off after a period of inactivity, or users can manually tap the avatar in the top-right corner to turn it off. Once you turn off the incognito mode, YouTube will automatically switch to the account last used.

Incognito mode for YouTube is live now and seems to be a server-side update. Nonetheless, if you haven't received it yet, make sure to update to the latest version of the app, that is, version 13.25.56, which is available on the Play Store for free.