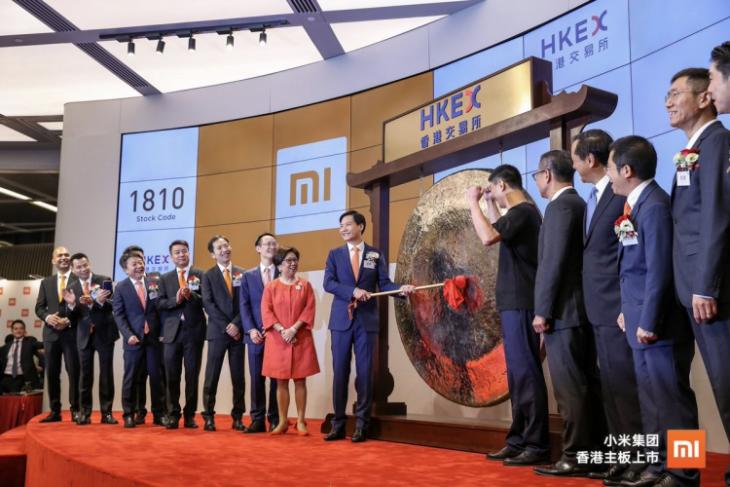 After much-anticipation, Xiaomi has today finally gone public and made its debut on the Hong Kong Stock Exchange (HKEX) at a listing price lower than its $HK17 offer price.
The company's shares opened for trade 2 percent lower than its IPO pricing at $HK16.60. The stock price plunged to around $HK16 in the first 20 minutes of the trade before bouncing back over the next few hours, but still trading below the lower-end offer price. This was in contrast to the overall sentiment of the Hang Seng Index, which was up 1.53% during the day.
Analysts and investors had high hopes from Xiaomi's public offering, viewing it as one of the biggest tech IPOs of the year. However, with the opening gong, the company was set on the path to have the worst first-day performance for a $1 billion-plus Hong Kong IPO since 2011. This listing values Xiaomi in the ballpark of $50 billion as compared to the phone maker's original $100 billion valuation intent.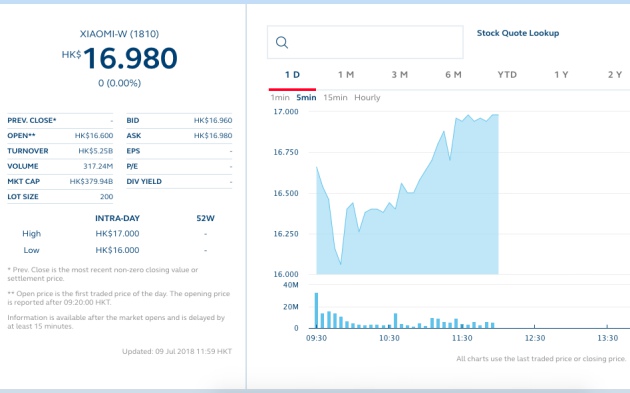 Xiaomi had raised around $4.7 billion in its IPO, offering a huge 2.18 billion shares in the HK$17 to HK$22/ share price range. The investor response, however, had been lukewarm and it is evident in the Hong Kong IPO listing. The investors don't seem to be confident about the phone maker's vision and its lofty valuation. However, Xiaomi co-founder and President Lei Jun told CNBC, "I think the short-term stock price is mostly dictated by market conditions. What we will be doing is to focus on the long-term growth of our business."
The amazing @Xiaomi team at the Hong Kong stock exchange! pic.twitter.com/Ee4HGAy348

— Manu Kumar Jain (@manukumarjain) July 9, 2018
Though Xiaomi may not have had an exceptional start on the Hong Kong Stock Exchange, the $50 million valuation has now made it the third-largest publicly-traded phone maker. This sets a precedent for upcoming Chinese IPO, such as that of Tencent Music, to better price their IPO and convince investors to buy their vision of the future.
History in making! 🎉

Xiaomi's IPO at Hong Kong stock exchange! Proud moment for all of us. #Xiaomi #IPO #Awesome pic.twitter.com/sGsCWm1pRM

— Manu Kumar Jain (@manukumarjain) July 9, 2018
Xiaomi is gunning to consolidate its position in China and India, its key markets, and is milling an entry into the US market next year, which will undoubtedly be its biggest project. The Chinese giant also plans to launch new 'Internet of Things' products to diversify its current lineup and grow its valuation.
The IPO, however, also gave the company's investors to cash in on its success over the past 8 years.