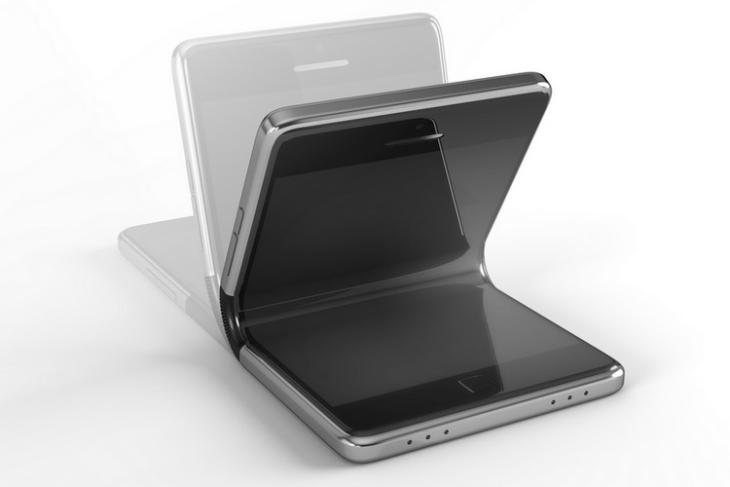 After bezel-less design, the divisive notch, pop-up cameras and under display sensors, it seems that foldable smartphones are going to be the new industry trend. According to a new report, Chinese companies are in talks with component suppliers to develop foldable smartphones, and the latest names to join the race are Xiaomi and Oppo. Huawei is ahead in the race among the big Chinese names in the foldable smartphone game, and is looking to beat Samsung to the punch.
Samsung has been working on a folding smartphone for years, and will likely release it next year, but China's Xiaomi and Oppo are trying their hardest to take home the title of launching the world's first foldable smartphone. Recently, a patent application filed by Xiaomi revealed that the company is working on flexible displays and foldable smartphones, which adds more credibility to the new report.
But Xiaomi is reportedly taking a different approach when it comes to designing a foldable smartphone. While Samsung's rumored Galaxy X and Huawei's foldable smartphone will have an in-folding design where the two displays are revealed when the hinge is opened, Xiaomi is experimenting with an out-folding design that involves smaller panels.
However, there is very little information available about Oppo's foldable smartphone, except that the company is in talks with component suppliers and is experimenting with the idea. Also, while Samsung and Huawei have reportedly signed deals to source foldable panels from Samsung Display and China's BOE, Xiaomi and Oppo will rely on Chinese manufacturers to secure the foldable panels.
Korea-based LG is also in contention to receive orders from Chinese smartphone makers to deliver foldable panels. However, it seems that the preoccupation with winning the title for launching the world's first foldable smartphone will also take a toll on the user experience and product quality.
As per reports, Xiaomi wants to one-up its competitors in China by launching a foldable smartphone before anyone else does, and in a bid to do so, the company is willing to make some compromises on the product quality.
However, it is not known when Xiaomi or Oppo's foldable smartphones will be announced, and neither is there any detail about their pricing. In addition to Xiaomi, Oppo, Samsung and Huawei, Apple is also reportedly working on a foldable iPhone which is expected to hit the market in 2020.