Virtual Reality is a booming industry, and some people have been very quick in getting their hands on one of these new VR headsets. Well, what's VR without great content to watch and enjoy? In comparison to regular videos, VR-ready videos are pretty scarce. This is exactly where 360-degree cameras kick in, as they let you shoot panoramic videos that can be best experienced using these headsets. However, it's not mandatory that you need a VR headset to watch these videos, as you can easily scroll around and still manage to enjoy watching it on a regular display.
So far, most of the 360-degree cameras have been expensive for many of us, but earlier this year, popular Chinese smartphone manufacturer Xiaomi had announced an affordable 360-degree camera for the masses that lets you shoot some high quality panoramic videos. It's called the Xiaomi MiJia Sphere 360 camera and it's nothing short of impressive to say the least, especially when you take it's $240 price tag into consideration. So if you're in the market looking for a 360-degree camera, you might be interested in reading our in-depth review of the Xiaomi MiJia Sphere 360 Camera and check out everything that it has to offer:
Xiaomi MiJia Sphere 360 Camera: Specifications
| | |
| --- | --- |
| Dimensions | 78 x 67.40 x 24.00 mm |
| Weight | 109 g |
| Chipset | Ambarella A12 |
| Image Sensor | Sony IMX 206 |
| Sensor size | 1/2.3 inch |
| Wide angle | 190-degree wide angle, with f/2.0 aperture |
| Image Resolution | 16 MP |
| Video Resolution | 2304 x 1152 (30/60 fps), 3456 x 1728 (30 fps) |
| Video Format | H.264 |
| Audio | Built-in microphone/speaker |
| Water Resistance | IP67 rated, Can be submerged in water up to 1 meter for up to 30 minutes |
| Connectivity | Wi-Fi 802.11 b/g/n 2.4 GHz with maximum distance of 50m, Bluetooth 4.0 |
| Battery | 1600 mAh / 3.8 V |
| Storage | MicroSD card up to 128 GB |
What's In The Box?
The new Xiaomi MiJia 360-degree camera comes neatly packed in a compact box that's probably the size of your palm, but that doesn't mean that Xiaomi hasn't included anything else apart from the camera. So, let's see what the package includes:
Xiaomi MiJia Sphere 360 Camera x 1
Tripod x 1
Water-resistant carrying pouch x 1
Micro-USB cable x 1
Design and Build Quality
Xiaomi's first ever 360-degree camera is one of the most thinnest and most compact we've ever seen. Well, it's small enough to fit an average-sized palm perfectly, so we've got no complaints regarding its dimensions. In fact, we absolutely love the rectangular shape of the MiJia. We're glad that Xiaomi took a minimalistic, yet modern approach while designing the MiJia 360, rather taking a weird shape like several other 360-degree cameras that are out there on the market.
The device packs two protruding lenses on either side, each of them with a super-wide 190-degree field of view that works in tandem to create an unhindered 360-degree footage by real-time stitching. Both these cameras boast an resolution of 16 Megapixels that lets you take some sharp panoramic photos. In terms of video, there are two resolutions and frame rates that you can choose from. You could choose to record at 2304 x 1152 resolution at 30 or 60 frames per second, but the higher 3456 x 1728 resolution is limited to 30 frames per second.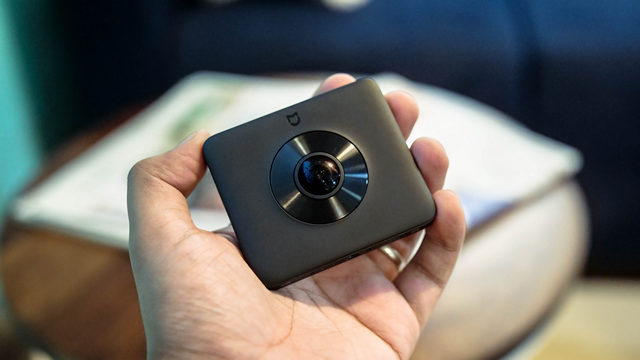 In terms of the overall build quality, we'd say it's both a hit and miss. Although the sides of this camera are made out of black aluminium, the rest of the camera is entirely made out of plastic, which makes the unit feel quite cheap in the hand. We think this is probably done to keep it light-weight. Well, if you're too concerned about the plasticky feel, you'll be pleased to know that it has a matte black design, which provides ample texture while you're holding the camera in your hand. Additionally, the buttons on the camera doesn't give a cheap mushy feel, so we've got no gripe here.
The camera is IP 67 certified, which essentially means that it's resistant to both dust and water. That's right, the MiJia 360-degree camera can be submerged in water up to 1 meter for up to 30 minutes, which is quite impressive to say the least. As a result, you can use it as an action camera and take some underwater shots. However, the device is not shockproof, so you should be extremely cautious while handling the device, as both the lenses are protruding on either side.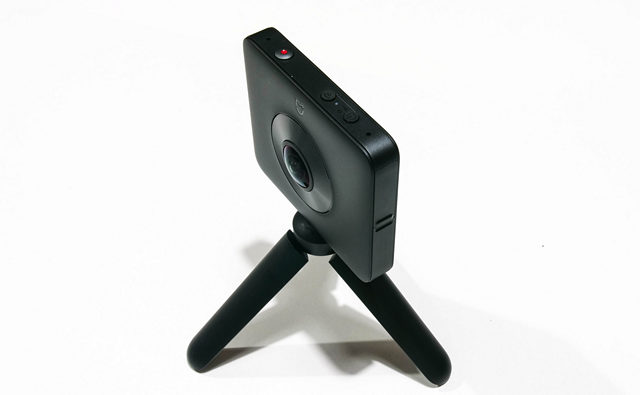 Camera Controls
At the top of the camera, there are three functional buttons, namely the power button, Wi-Fi toggle button and the Record button. There are LED indicators that clearly show if the camera is recording video or taking stills, in addition to the battery life. At the bottom, there's a hole to mount the included tripod for shooting some stable 360-degree videos without having to worry about shakes. There's a Micro-SD card slot and Micro-USB port on the side of the camera, for storage and charging purposes.
The camera can be turned on by long pressing on the power button. However, the same button is used to switch between image and video modes as well, and that's by short pressing the power button once it has been turned on. Additionally, by clicking the Wi-Fi button, the device creates a Wi-Fi network that can be used to connect your smartphone to the camera via the Sphere 360 app that's available for Android and iOS devices. Although it can be used without connecting to the app by simply clicking the Record button, your smartphone plays a major role in acting as the viewfinder, so that you can actually see what you're shooting and frame the shots perfectly.
App Controls
Although you can record footage and click videos by making use of the buttons on the camera, the companion app available for both iOS and Android devices take the experience to a whole new level. This app lets you connect your smartphone to the MiJia Sphere 360 camera by making use of the Wi-Fi network created by the camera. Once you've set everything up, your smartphone can be used as a viewfinder to actually see what you're recording in real-time. It also brings further customization options like adjusting the resolution, ISO, white balance, exposure compensation and more.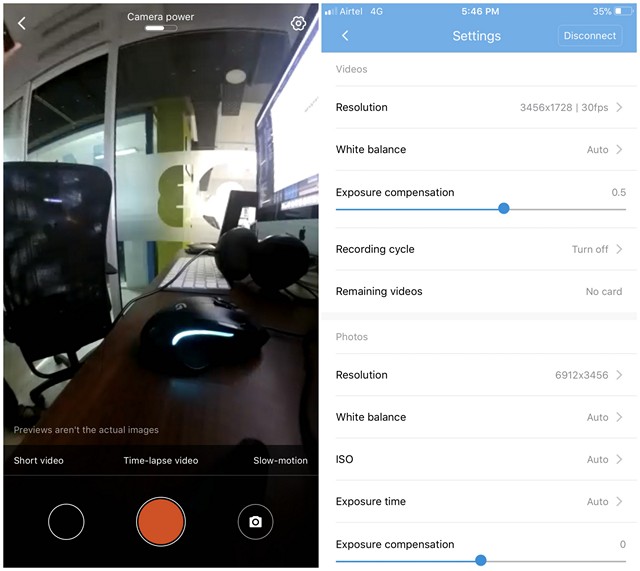 Overall, the app is pretty straightforward with all the necessary options and settings at the right places, which makes it easy to use. Apart from the live-feed section, there are two other sections as well, which includes featured 360-degree images from the global community as well as the gallery which displays the local pictures and videos stored on the camera. That being said, the app needs further polishing and there's a lot of room for improvements in the future, like a revamped design and making the app interface more intuitive to the end user.
Performance and Quality
The Xiaomi MiJia Sphere 360 camera is powered by the Ambarella A12 chip which essentially houses a powerful ARM Cortex A9 processor for recording 360-degree VR videos and encoding it in the H.264 video format. Starting with still photography, the MiJia Sphere 360 manages to do a great job in delivering high quality pictures, thanks to the high resolution 16 MP sensors that the device has to offer. You'll certainly be impressed with the camera's image quality, especially if you take its size into consideration. If interested, you can take a look at one of our sample photos on Flickr.
Now, let's talk about the video department, which is the primary reason why bought this 360-degree camera in the first place. When it comes to video quality, stabilization plays a major role and Xiaomi has managed to deliver on that regard. That's right, the camera managed to fair well in our stabilization test, and we're glad with the results. However, it's not perfect, as the video begins to drift after a while. Although this can be corrected during post-processing, this is just another unnecessary step to the workflow.
While shooting static scenes, there's a noticeable heatwave effect which when the Sphere 360's video is stabilized, which is kind of annoying. Well, this could've been fixed if there was an option to disable the stabilization on this camera, but unfortunately, there isn't one. In addition to this, there's another issue where the camera won't have stabilization if you start recording too soon after booting it up. Well, this is an unofficial, yet a nifty trick to disable stabilization on the camera, in order to avoid the heatwave effect.
Battery Life
The Xiaomi MiJia Sphere 360 camera packs a 1600 mAh battery that's good enough to provide juice for approximately 75 minutes while you're recording 360-degree videos at 3.5K resolution with Wi-Fi turned on. However, if you're not using Wi-Fi to connect it to your smartphone, you'll get slightly better battery life at 90 minutes. This is quite impressive considering the size of the camera as well as the battery capacity. That being said, the standby time of this camera is rated at 2 hours.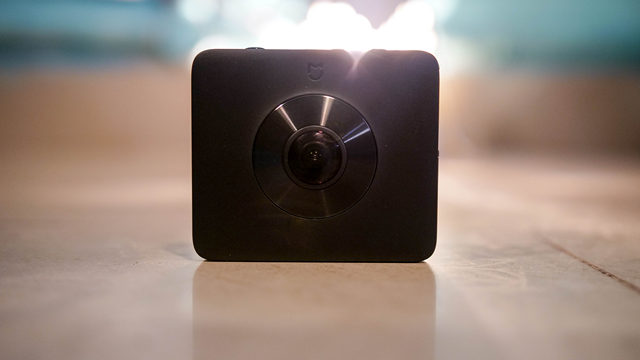 It's worth noting that the battery is non-removable. So, if you were planning to swap batteries on the go with the Mi Sphere 360, you'll certainly be disappointed. However, it has support for Quick Charge 2.0, so you'll be able to fill up the juice in your battery within a matter of minutes, so that should not really be a major concern if you have an external power bank.
Verdict: Is The Xiaomi MiJia Sphere 360 Worth The Money?
The answer completely depends on your budget and your intended type of usage. Xiaomi has managed to check most of the necessary boxes with their very first 360-degree camera. With EIS anti-shaking capabilities, the MiJia Sphere 360 is able to fair well when it comes to shooting a stabilized video footage, which is impressive for a camera at this price point. The camera has an operating range of -10 to 45º C and therefore capable of handling extreme weather conditions. It even delivers when it comes to battery life, as 75 to 90 minutes of recording time is totally acceptable for a camera that's as thin and compact as this one.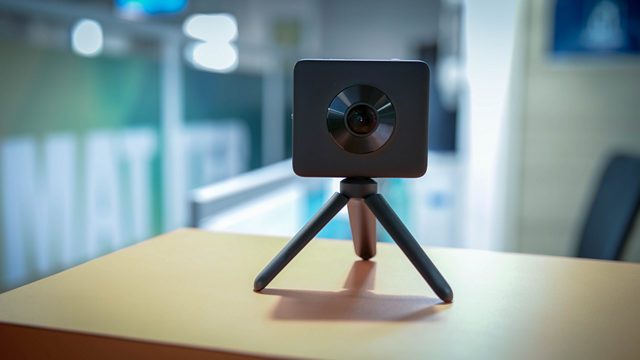 Well, if you're on a very tight budget, you should keep in mind that this is certainly not the most affordable 360-degree camera out there. Samsung's first-gen Gear 360 costs just under 90 bucks and the newer one has a sub-$200 price tag. Additionally, LG's G5 Friends 360 cam is currently available for under 150 bucks if you're trying to save some cash. Therefore, it's pretty clear that your options aren't limited to just one device, but it's safe to say Xiaomi has set a reasonable price tag of $240 for the MiJia Sphere 360. If you have the cash, you'll certainly not be disappointed by opting for this compact 360-degree camera.
Pros:
Compact, light-weight and minimalistic design
Good photos and stabilized 360-degree footage
Video resolution is on point
Battery life is impressive considering its size
Includes a tripod that can also be used as a handle
Affordable
Cons:
Front and back is made out of plastic
Lacks the ability to livestream content
Companion app has a lot of room for improvements
3.5 recording doesn't support 60 fps
Planning to Buy The Xiaomi MiJia Sphere 360 Camera?
We think most of you guys ended up here while researching for a good 360-degree camera. We're glad that you came to the right place. For an asking price of just under 240 bucks, you simply cannot go wrong with the MiJia Sphere 360, because of everything that it has to offer. Sure, this is not the most affordable 360-degree camera that you can buy, but your options are pretty much limited if you're on a tighter budget. Xiaomi has managed to strike the perfect balance between affordability and performance with the Xiaomi MiJia Sphere 360 camera. So, if you're planning to buy a budget 360-degree camera, are you inclined towards getting your hands on the MiJia Sphere 360? Do let us know, by shooting your valuable opinions in the comments section down below.
Buy Xiaomi MiJia Sphere 360 camera ($239.99)
REVIEW OVERVIEW

Design and Build Quality

9

SUMMARY

Xiaomi's first ever 360-degree camera is capable of shooting some impressive spherical stills and does a fair job at recording stabilized video footage. The company has managed to strike the perfect balance between affordability and performance with the Xiaomi MiJia Sphere 360 camera.