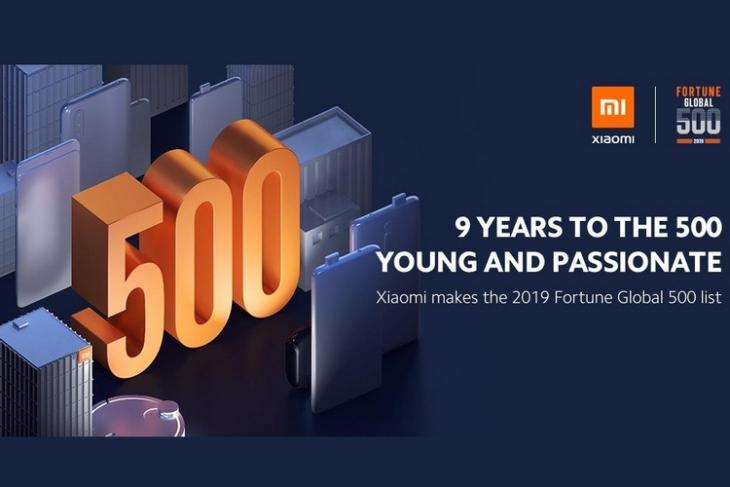 Chinese technology giant, Xiaomi, has announced that the company has, for the first time, broken into the Fortune Global 500 list, nine years after it was incorporated by Lei Jun and his colleagues. The Beijing-based company is the youngest entry on the list this year, ranking 468th, with a revenue of $26.44 billion and a net profit of $2.04 billion in the previous fiscal year. The company also ranks 7th in the Internet Services and Retailing category.
Super excited to announce that @Xiaomi has entered Fortune Global 500 and ranked No.468! We are probably the youngest company (9 years old) to enter this Fortune ranking in recent years. Thank you Mi Fans! Onwards! #FortuneGlobal500 #Xiaomi https://t.co/e1zn5Q2fgQ pic.twitter.com/aC113te3Ru

— Alvin Tse (@atytse) July 22, 2019
In a message to all investors, employees and customers, Lei Jun, Founder, Chairman and CEO of Xiaomi, said: "It took Xiaomi only nine years to make the Fortune Global 500 list, a milestone that we owe a big thank you to all our Mi Fans and users for their unwavering support. We are also the youngest company on this year's list, a proud record that we will keep in mind and bring to another level in the global expansion journey".
Just to recall, Xiaomi was founded in April 2010 as a smartphone company before expanding its portfolio to include other related products, including mobile accessories, audio devices and more. The company has since diversified into several other product categories, including televisions, home appliances, smart shoes, smart lights, etc.
Xiaomi also recently launched the Mi Beard Trimmer in India as part of its strategy to launch more Mi-branded electronic gadgets, accessories and lifestyle products in the country. Then there's also the Mi Truck Builder that was launched in the country earlier this month. The Lego-like DIY toy, which Xiaomi says will help children improve their concentration, creativity and cognition, was oversubscribed 292 percent after being listed for crowdfunding at a price of Rs. 1,199.