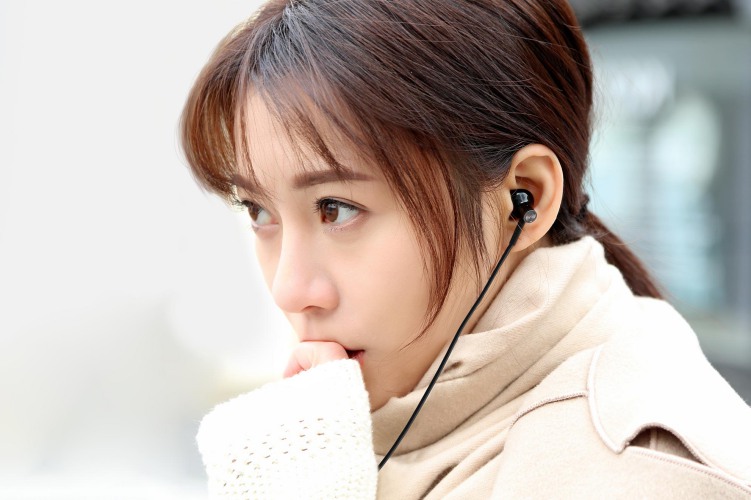 After teasing a new the upcoming launch of a pair of headphones over the past couple of days, Xiaomi has today delivered with the release of its premium half-ear headphones in its home country.
The Mi half-ear headphones have been designed to be minimalistic, with earbuds covered in what Xiaomi calls "a glossy ceramic texture" for a more luxurious feel.
The earbuds feature a half in-ear wearing structure which means part of it will stick out of your ear, just like Apple's Earpods. Xiaomi claims this not only improves the flow of music but also protects eardrums. The company has also upgraded the internals and is now using a multi-layer ceramic driver unit and a moving coil unit in the same headphone cavity. There's also a dynamic circle unit driver, which interprets lower frequencies in a better way to provide you a richer bass experience.
Not only on the outside, Xiaomi is also using ceramic on the inside. A thin ceramic driver unit, which uses bi-directional vibration, is claimed to help deliver sound more accurately. The 3.5mm audio jack is angled at 90-degree, which makes it less prone to sudden yanking when the cord is stretched.
As you might have already noticed, the design of the earpiece closely resembles the half in-ear wear structure of Apple's wildly popular Earpods (and Airpods). However, there's one benefit. You can get these in black too, which is not possible with Apple.
Further, Xiaomi has employed soft TPE material for the cord which it says prevents tangling and keeps it easy to use even in cold temperatures. You also get a three-button remote to play/ pause the music, answer calls, adjust the volume levels. It houses a clear micro-electromechanical microphone as well.
While the build, as well as the aesthetic of this headphone, look extremely premium, Xioami has priced it fairly low. You can snag the earphones from the company's China Mi website for 69 yuan (about ₹700). So, if you've always wanted Apple Earpods-style earphones in black, this pair could be it.
---