After conquering the budget smartphone market, Xiaomi now wants to step foot into every possible boat to stay ahead of everyone on the innovation front. In line with the same, the Chinese giant confirmed the speculations of its investment in gaming smartphone brand 'BlackShark' today on Weibo.
The BlackShark gaming phone, as previously rumored, is being developed by Xiaochang Nanchang Black Shark Technology Co. Ltd. The company has today confirmed on Weibo that it has secured backing from one of the most well-known technology giant in China – Xiaomi.
The Weibo post (loosely translated from Chinese) reads 'Today! BlackShark has come to confirm everyone's guess – right, I'm Xiaomi's investment in game phone brand' and the same has been acknowledged by the Chinese giant. Xiaomi has retweeted (is that correct Weibo lingo) this post and said,
BlackShark gaming phone is a brand new investment [from] Xiaomi. The future will be deep in the field of gaming phones, [so we look forward] to serve more gamers!
As for what all we know about the BlackShark's first smartphone, the specs sheet for the same was spotted on benchmarking site AnTuTu earlier in February. The rumors mill has gone berserk ever since. The device (as confirmed by the company) will be powered by the Snapdragon 845 chipset, which is an obvious choice.
This will be coupled with Adreno 630 GPU, 8GB of RAM, at least 128GB of storage and a taller 18:9 display panel – possibly with a 120Hz panel, which pushes a gaming-oriented purpose. It'll be running Android 8.0 Oreo out-of-the-box.
While the specs are shaping up to top-notch, BlackShark gaming phone's highlight can be the fully-featured gaming controller, with joysticks and trigger buttons on both ends, integrated into the phone itself. We're currently unsure whether it'll be an add-on or not, but the latest leak from Slashleaks claims to show this button arrangement.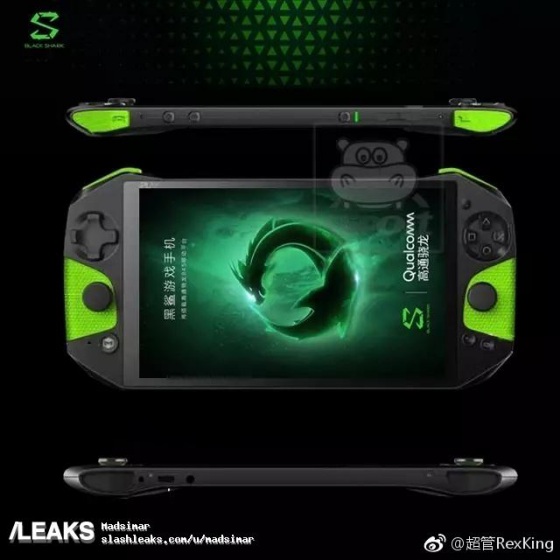 In addition, BlackShark has started sending out press invites for the launch of their first-ever gaming smartphone. The invitation says that the device will be launched on April 13 in Beijing at 3:00 PM (GMT+8)/ 12:30 PM IST, adding another feather to Xiaomi's already cluttered hat.
Xiaomi already sells a myriad of innovative devices, be it a smart rearview mirror or a smart speaker, in its home country. However, the company is now steadily testing the waters of the gaming community. The BlackShark gaming phone is on the lines of Xiaomi's recent surprise launch of the Mi Gaming laptop, alongside the Mi Mix 2S.
Well, with the recent rise of mobile battle royale games, especially PUBG and Fornite, it could turn out to be a surprisingly successful bet for Xiaomi. So, will it be able to match Razer Phone's hype? What are your expectations from it? Tell us in the comments below.