Ever since the PlayStation 4 and Xbox One were launched back in 2013, Microsoft's Xbox One was considered as the inferior console of the two. Due to the inferior perception, the sales of the Microsoft Xbox One were affected by quite some margin. With the release of an updated PlayStation 4 Pro, things got even worse for Microsoft in the sales department, even though they launched Xbox One S, which brought about some cosmetic changes and minor CPU boosts to the older console. However, Microsoft has been hard at work, developing and fine-tuning what they proudly call as "Project Scorpio" ever since its initial announcement back at E3 last year. Microsoft has recently shared some interesting details with us regarding Project Scorpio, and if you've come here expecting to know more about Project Scorpio, you've made the right choice. So, without further ado, let me first tell you what Project Scorpio is:
What is Project Scorpio?
Project Scorpio or Xbox Scorpio is Microsoft's upcoming gaming console, which promises to offer several upgrades over the Xbox One and One S, by bringing some major changes under the hood. Microsoft even went ahead and called it "The Most Powerful Console Ever" during the E3 announcement. With this console, Microsoft promises 4K gaming at the native resolution due to the hardware improvements it has gone through. They also claim that the Project Scorpio can compete against even the high-end gaming PCs on the market, but we'll just have to wait and see if it's actually true or not. Make no mistake, this is not the final name of the console, but expect that to be revealed during E3 2017 in June.
Project Scorpio vs Xbox One: What Has Improved?
Let's face it. Xbox One or the Xbox One S, as you may already know by now, is not as powerful as the PlayStation 4 or the PS4 Pro. Most of the games that are available on both consoles, runs at a lower resolution on the Xbox One, compared to the PS4 version. The Microsoft console isn't very good at being able to maintain a stable frame rate either, occasionally dropping below the 30 fps mark on several AAA games out there. It's clear that Sony's PlayStation 4 has the advantage at the moment, but Microsoft aims at turning the tables with Project Scorpio.
The Project Scorpio promises Native 4K gaming without any upscaling on almost all of the games that will be made available to the console. It's powered by the 8-core x86 custom Jaguar CPU from AMD, which is clocked at 2.3 GHz compared the 1.75 GHz on the older Xbox One. It also features 12GB of GDDR5 memory, although Microsoft says only 8GB will be accessible to developers as the remaining 4GB is required to run the Xbox dashboard at native 4K resolution. This is in fact, still 60% more memory than what's currently available on the Xbox One.
Also, there's 326GB/s of memory bandwidth, which is substantially higher than the 204GB/s of the Xbox One. All of these aside, the biggest change under the hood will be the GPU that promises 6 TFlops of computing performance compared to the 1.4 TFlops that is currently available on the Xbox One S console.
Xbox Project Scorpio vs PS4 Pro: How it Fares?
Unlike the Project Scorpio, PS4 Pro doesn't run most of the games at Native 4K resolution. Most of the PS4 Pro games run at native 1440p or 1600p and from there it's upscaled to 4K with the help of the Checkerboard Rendering technique. On the other hand, there's no upscaling involved with Project Scorpio, as all games are planned to run at Native 4K resolution. There's no catch here. You can call Project Scorpio as the real 4K console that everyone's been waiting for.

The power Scorpio packs is substantially higher than the PS4 Pro as well. The memory bandwidth of 326GB/s on the Scorpio is much higher than 218GB/s offered by the PS4 Pro. The floating point performance offered by the PS4 Pro stands at 4.2 TFlops ,which is considerably lower than what's offered by the Scorpio. The only advantages that the PS4 Pro has over the Scorpio is the availability and price. Sony clearly has the head start in terms of sales launching a full year ahead of Microsoft's console, but the launch pricing of Scorpio could possibly be the game changer.
What About Games?
If you already have an Xbox One and you're planning to upgrade to Project Scorpio, don't worry. Microsoft's upcoming console is fully backwards compatible and will be able to play all the Xbox One and Xbox 360 games without any hassle. These games can take full advantage of the Scorpio's hardware through a patch by the game developers. Even if the patch is not released, the game will still perform better, maintaining stable locked frame rates and zero screen tearing on almost all of the currently available titles.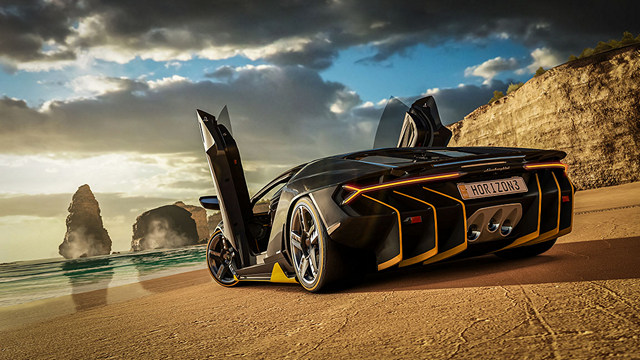 Microsoft has confirmed that there will be no games exclusive to the Project Scorpio, as they do not want to leave anyone behind and split the community. Well, that makes sense because Scorpio is a mid-cycle refresh and not an entirely new hardware generation. It will remain as an eight generation gaming console. Having said that, Microsoft is hopeful of the fact that all of the Xbox games that releases after Project Scorpio's launch will take full advantage of the hardware capabilities it has to offer.
Project Scorpio vs PS4 Pro vs Xbox One S: Specs Comparison
| Hardware | Project Scorpio | PS4 Pro | Xbox One S |
| --- | --- | --- | --- |
| CPU | 8-core custom Jaguar x86 cores clocked at 2.3 GHz | 8-core Jaguar cores clocked at 2.1 GHz | 8-core Jaguar cores clocked at 1.75 GHz |
| GPU | Integrated AMD Polaris GPU clocked at 1172 MHz | Integrated AMD Polaris GPU clocked at 911 MHz | Integrated AMD GPU clocked at 914 MHz |
| Memory | 12 GB GDDR5 | 8 GB GDDR5 | 8 GB DDR3 |
| Memory Bandwidth | 326 GB/s | 218 GB/s | 204 GB/s |
| Floating Point Performance | 6 TFlops | 4.12 TFlops | 1.4 TFlops |
| Hard Drive | 1 TB | 1 TB | 1 TB |
| Optical Drive | 4K UHD Blu-ray | Blu-ray | 4K UHD Blu-ray |
| Virtual Reality | Yes | Yes | No |
| Price | TBA | $399 | $299 |
| Availability | Holiday 2017 | Available Now | Available Now |
Xbox Scorpio: Pricing and Availability
Microsoft has been mum on the pricing of the console so far, but rumors point towards a pricing of around $400-500. Make sure you take that with a grain of salt. Considering the current price of PS4 Pro, it only makes sense if they launch the more powerful Scorpio at a competitive price point in order to gain the momentum in sales. Anything above the $500 mark and we'll probably see Microsoft ending up on the losing side.
As far as availability goes, the console is slated for a November 2017 launch, just in time for the Holiday season to garner the sales. This is in line with most of the previous console launches that have happened in the past.
SEE ALSO: Windows 10 Creators Update: 10 New Features You Should Know
Are You Hyped for the Xbox Project Scorpio?
Microsoft's Project Scorpio or Xbox Scorpio or whatever it's called shows a lot of potential, but only time will tell how it lives up to the expectations. Once it's released, we will be able to check out the actual performance gains over the Xbox One S and the PS4 Pro. Until then, we will have to depend on Microsoft's bold claims and keep waiting for the launch. So, are you looking forward to upgrade to the most powerful gaming console ever? We hope you're as excited as we are. Let us know what you think of Project Scorpio by shooting your opinions in the comments section below.