Wondershare is one of the most popular software developers, and it offers a wide range of products for various utilities. The Wondershare UniConverter 15 is one of its leading products and it has revolutionized the media conversion technology for 17 years with extensive format support. Wondershare UniConverter 15 is a blazing-fast video converter tool that supports a wide range of media formats. It also supports modern video codecs such as AV1 and VP9, leveraging hardware GPU acceleration for faster video conversion. So if you are looking for a video converter tool, let us look at the key features of the Wondershare UniConverter 15.
Wondershare UniConverter 15: Key Features
Lightning Fast Media Conversion
There are numerous video converters in the market, that work online offline, but what makes Wondershare UniConverter 15 stand out from the crowd is its ability to convert videos at ultra-fast speeds. And it is possible because UniConverter 15 is one of the few software that takes full advantage of GPU acceleration to convert videos on the fly. No matter if you are running your computer on Intel, AMD, Nvidia, or Apple hardware, it can unlock and leverage the GPU for lightning quick media conversion.
So much so that, the latest UniConverter 15 app can batch convert up to 20 media files within the time it takes to convert just one file. How crazy is the speed difference? Apart from that, Wondershare UniConverter 15 is the only software in the market that supports hardware GPU acceleration for AV1 codec on Windows PCs. It means you will be able to convert AV1 videos to other formats and vice versa at an unparalleled speed.
As for Macs and MacBooks running on Apple Silicon, UniConverter 15 utilizes the Metal Framework to boost video conversion speeds. The latest UniConverter 15 app shows 9x performance improvement for converting media files while keeping power consumption low. So, to sum up, if you are looking for a video converter that leverages the latest advancements to deliver a speedy media conversion experience, Wondershare UniConverter 15 is the best tool you should use.
Supports Wide Media Formats
Another factor that makes UniConverter 15 an excellent video converter is its support for a wide range of media formats. Yes, it supports more than 1000 media formats, which is awesome. It can convert popular video files, including MP4, MOV, AVI, MKV, WEBM, FLV, VOB, 3GP, and many more media formats.
Wondershare UniConverter 15 can also export videos in alpha channel for MP4 and WEBM formats in case you want extra transparency information.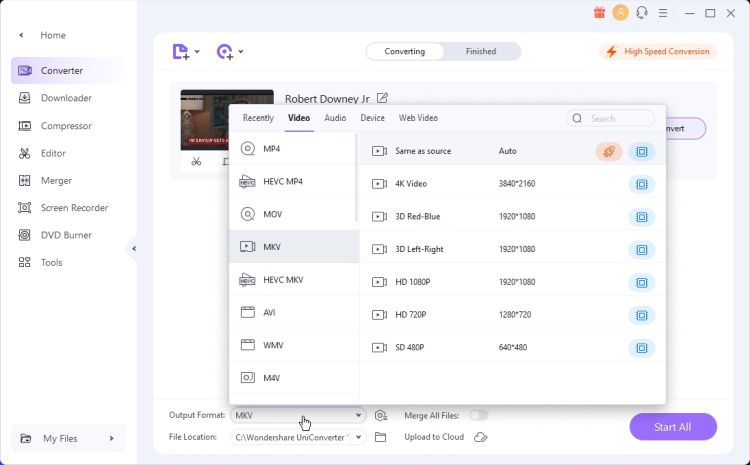 Besides that, UniConverter 15 can convert audio files like WMV, MP3, etc. Not to mention, it can optimally encode and decode media files with AV1, VP9, and VP8 encoders. YouTube, Netflix, and other services are slowly adopting AV1 and VP9 encoders, so it's great to see early support for new codecs being added to UniConverter 15.
Moreover, UniConverter 15 allows you to convert videos based on your device as well. Simply select the device on which you want to play the video and it can automatically select the most compatible video format for the device and convert the media file for you. That's pretty cool too, right?
Lossless Conversion of HD Videos
While converting high-definition videos like 4K, 8K, and HDR, it becomes essential to maintain the quality post conversion. And that's where Wondershare UniConverter 15 excels. It supports lossless conversion, especially for high-definition videos. The converted videos are highly accurate, and you won't be able to find visual differences between the original and the converted video.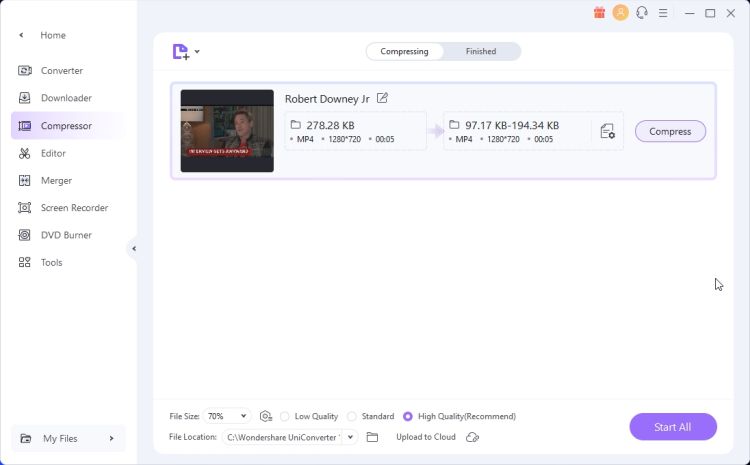 Furthermore, it can reduce the footprint of large-dimension video files by up to 90% without any visible artifacts. And in case you want to set the parameters, you can choose the frame rate, bitrate, resolution, etc. within the app. To give you an idea, you can convert a 1GB video file to 100MB with lossless compression. It uses multi-threaded conversion techniques to improve speed and overall efficiency.
Wondershare UniConverter 15: Pricing
Wondershare UniConverter 15 is a free video converter for Windows and macOS users. However, it includes ads and displays a watermark on converted videos. You can also use the trial version, but it only allows you to convert one-third of the video length at a time. In case you are someone who needs to convert videos regularly, we suggest getting the paid version of Wondershare UniConverter 15 to gain full access to the tool. For individual users, it costs $49.99 per year and $69.99 for a two-year plan. And the popular one-time plan costs $79.99.
As for teams who want to batch convert large swathes of video files, you can go for the Team plan which costs $59.99 per year for one user. And finally, if you are a student, you can get a cheaper monthly plan for just $7.99. The quarterly plan also has 20% off and is available at $23.99. For a one-year plan, students will have to pay only $31.99.
Wondershare is also giving 20% discount to users who join the launch event of UniConverter 15. You can win a $500 cash prize and try your luck to become Wondershare's brand ambassador as well. You can participate in the launch event here.
Check Out Wondershare UniConverter 15